Home
>
African-American Culture
,
Athletics
,
Don Benning
,
Education
,
History
,
Omaha
,
Omaha Black Sports Legends
,
Out to Win: The Roots of Greatness (a series)
,
Race
,
Social Justice
,
Sports
,
Wrestling
,
Writing
> Former UNO Wrestling Coach Don Benning: Man of Steel (from my Omaha Black Sports Legends series, Out to Win: The Roots of Greatness)
Former UNO Wrestling Coach Don Benning: Man of Steel (from my Omaha Black Sports Legends series, Out to Win: The Roots of Greatness)
THE LATEST: Requiem for a Dynasty will be the headline, if I get an assignment to write the story that is, for what transpired as expected with the UNO wrestling program. As anticipated and despite the most heartfelt efforts of the program's coaches, student-athletes, alums, and supporters the NU Board of Regents approved UNO's proposed move to the Summit League and NCAA Division I competition and with it the elimination of the wrestling and football programs.  It's a sad day for UNO when its administrators can discard history and tradition so easily for the sake of convenience. In this disposable culture two programs were thrown out as if they were useless refuse. Losing football hurts, but the rationale for excising it ultimately makes sense because it was never going to come close to making money. Dumping wrestling though to purportedly be in better alignment with the Summit League is pure hogwash. It's really UNO and NU leaders saying that they don't give a rat's ass about wrestling, that they don't really care about all the championships, the scores of All-Americans, the prestige, the community service, the lessons learned, the incredibly strong and tight family bond built up across generations. They don't care that UNO hosted multiple national championships and the largest single day annual wrestling tournament in the country. Why not give a damn about those things universities are there to provide its student-athletes and constituents?  My take is that no matter how much UNO wrestling achieved, and it achieved so very much, it was never accorded the respect or due it deserved.  Not by the regents, not by administrators, not by major university donors, not by the media, not by the general public. It was always considered marginal and therefore expendable. When things got tight, UNO wrestling was an easy target despite being a dynasty.  That sends a disturbing, dysfunctional message to anyone really paying attention.
Getting rid of wrestling was painless for the regents because it was done in the abstract.  By the time the UNO wrestling community appeared before them to plead their case that the program be retained, by the time all the appeals and messages had been made via email and phone, the regents had already made up their minds. The March 25 hearing was perfunctory.  It was a show to merely let wrestling vent and have its say in an open forum. If the regents had bothered to actually visit the UNO wrestling room and to see first-hand the sweat and blood and tears and love and joy that went into making the dynasty, then the program might have had a fair day in court, so to speak. If the regents had seen for themselves the championship banners and the roll calls of All-Americans and soaked up the atmosphere of excellence imbued in that room, it might have been a different story. Or not. This was a business decision made by UNO and given the thumbs up by the regents. Cold, calculated business. The administrators and the regents simply didn't get it or didn't want to get it. They would not be moved by emotion or history. To the end, the UNO wrestling family fought gallantly, never breaking ranks, always showing class, the bonds that hold them together more powerful than any bureaucratic decree, extending beyond the now ended program. UNO wrestling may be gone, but its spirit lives on. The relationships between the men forged in that room and in those duals and tournaments and in all the time spent on the road and cutting weight and hanging out will endure.
Mike Denney
NEW UPDATE: With each passing day any window of opportunity for UNO wrestling to be saved grows smaller. Unless something dramatic should happen between now and March 25th, it appears likely then that the NU Board of Regents will approve the plan advanced by University of Nebraska at Omaha Chancellor John Christensen and Athletic Director Trev Alberts for UNO to move to Division I and to drop football and wrestling in the process.  As a graduate of UNO, as a former Athletic Department staffer, as a UNO sports fan, and as a writer I have a perspective to offer many don't.  Football certainly has a longer tradition than wrestling at the school, but when it comes to sustained success there's no comparison.  Don't get me wrong, I will miss UNO football.  I variously kept stats at and cheered at probably a hundred home games over the years.  Caniglia Field is a great venue to watch a game at and UNO consistently plays at a high standard .  UNO football's been one of the best entertainment bargains in the city.  But the sad truth is the program rarely drew well and even if IUNO football came along for the ride to D-I there's little reason to expect it would draw any better at that level.  UNO football has had its share of winning but it's never won a national title and generally failed in the post-season, on the biggest of stages.  UNO wrestling is a whole different story.  It has been an elite program for more than 40 years.  It's won multiple national titles, produced scores of All-Americans, and basically been the best D-II program over the past 20 years.  No, it'snot  a big draw, although by wrestling standards it does quite well, but in terms of national prestige UNO is one of the best things the university has going for it, period.  The crazy thing is that the UNO administration makes clear it's not finances driving the proposed elimination of wrestling and football, which gets at the heart of it:  UNO administrators don't care about the excellence that UNO football and particularly UNO wrestling represents. It's inconceivable it is prepared to walk away from something so successful, but that is what is about to happen.
Therefore, it seems like a good idea to look back at the wrestling program's early years in order to gain an appreciation for where it came from and the significance it had at a tempestuous time in the university's and  in the city's and in the nation's history.  The story of what Don Benning and his wrestlers did to put UNO on the map and to make UNO wrestling a champion is one of the great legacies of the university, and one it has never really embraced or celebrated to the extent it deserves.  Sadly, wrestling at the school has always been viewed as marginal and expendable, and the words and actions of the UNO administration today bear that out.  So check out the story below — it's my take on the tide of social change that UNO's glorious wrestling program is built on. I wrote it early last year for The Reader, as UNO prepared to defend its national title, which it did, and did again this year.  It's sad to think the story may now be the Requiem for a Dynasty.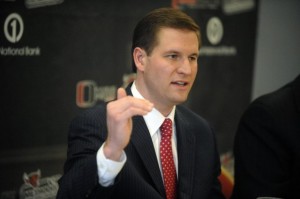 UNO A.D. Trev Alberts
UPDATE:  Trev Alberts has been putting his stamp on the University of Nebraska at Omaha Athletic Department since his from left-field arrival in the job of athletic director two years ago. Chancellor John Christensen hand-picked Alberts to lead a revitalization of UNO athletics and Alberts has surprised many by just how bold his moves have been  – from hiring Dean Blais as head hockey coach to getting major donors whose support had waned to ante up big again for capital improvements.  And now as the Omaha World-Herald is reporting Alberts and Christensen are about to shake the foundation of the school and the athletic department by moving UNO into Division I competition across the board — pending University of Nebraska Board of Regents approval — by joining the Summit League. The news of going D-I isn't that big a surprise in and of itself, as UNO has made clear for more than a decade that is where it wanted to go, but what is is UNO doing it so soon and its decision that in order to make it work long-term it must sacrifice the school's two winningest sports — football and wrestling. Alberts and Christensen say they and others have worked the numbers and the only way UNO can justify the leap into the big-time is by dropping the heavy financial burden of football, whose weight would only increase with the increased scholarships and improved facilities D-I necessitates.  Besides, where football is a revenue generator at many schools it is not at UNO and even the prospect of D-I would likely do little for the program's mass appeal given the shadow of Big Red.  But the real shocker is that UNO is prepared to jettison its shining star, wrestling, whose program just captured its eighth national title over the March 11-12 weekend. UNO could choose to go independent in wrestling but the school is opting not to do that, which is odd because it's perhaps the least financially onerous men's program in terms of scholarships, equipment, travel, facilities.  But more to the point — how do you just dismiss the incredible success that UNO wrestling has achieved?   I would hope that UNO finds a way to preserve the wrestling program.  For a look at some of its remarkable history, see my story below about Don Benning.  This blog also contains my story about how the UNO wrestling dynasty is built on a tide of social change.  You can also find my story about Trev Alberts and his vision for UNO.
It may be a moot point in the end, but the UNO wrestling program is not going down without a fight. Coaches, student athletes, alums, fans, and boosters gathered at UNO Sunday, March 13 in the wake of the startling announcement that the wrestling program will be disbanded.  Coach Mike Denney was seen calmly addressing the gathering and coalescing support. In an interview he gave a local TV sports reporter he pointed out that some schools in the Summit League that UNO has been invited to join do have wrestling programs.  Denney asked the question a lot of people are asking: If they can be in that league and keep wrestling, then why can't we do it?  UNO Chancellor John Christensen and Athletic Director Trev Alberts apparently came to this decision without consulting Denney or the UNO wrestling community or UNO student leaders.  The two men are undoubtedly acting out of good intentions and in the long term interests of the school but to spring this decision without warning and without giving Denney and his assistant coaches and student-athletes the opportunity to weigh in and argue against it is cruel and ill-advised.  I would not be surprised if Don Benning adds his voice to the chorus of disapproval over  Christensen's and Albert's decision to throw away the history and tradition that UNO wrestling represents.
________________________________________________________________________________
This is another installment from the series I wrote about Omaha's Black Sports Legends. That series, Out to Win: The Roots of Greatness, appeared in The Reader (www.thereader.com) in 2004-2005. The subject of this article is Don Benning, who like Marion Hudson, broke barriers left and right. Most of his groundbreaking accomplishments came at Omaha University, now known as the University of Nebraska at Omaha, where he was head wrestling coach, an assistant football coach, and a professor. To find out more about Benning's time as UNO wrestling coach read my story, UNO Wrestling Dynasty Built on a Tide of Social Change, on this same blog site.  Look for more of my stories from the Out to Win series in coming weeks.
Former UNO Wrestling Coach Don Benning: Man of Steel (from my Omaha Black Sports Legends series, Out to Win: The Roots of Greatness)

©by Leo Adam Biga
Originally published in The Reader (www.thereader.com) as part of my Omaha Black Sports Legends series, Out to Win: The Roots of Greatness)
Wrestling is a proving ground. In an ultimate test of will and endurance, the wrestler first battles himself and then his opponent until one is left standing with arms raised overhead in victory. In a life filled with mettle-testing experiences both inside and outside athletics, Don Benning has made the sport he became identified with a personal metaphor for grappling with the challenges a proud, strong black man like himself faces in a racially intolerant society.
A multi-sport athlete at North High School and then-Omaha University (now UNO), the inscrutable Benning brought the same confidence and discipline he displayed as a competitor on the mat and the field to his short but legendary coaching tenure at UNO and he's applied those same qualities to his 42-year education career, most of it spent with the Omaha Public Schools. Along the way, this man of iron and integrity, who at 68 is as solid as his bedrock principles, made history.
At UNO, he forged new ground as America's first black head coach of a major team sport at a mostly white university. He guided his 1969-70 squad to a national NAIA team championship, perhaps the first major team title won by a Nebraska college or university. His indomitable will led a diverse mix of student-athletes to success while his strong character steered them, in the face of racism, to a higher ground.
When, in 1963, UNO president Milo Bail gave the 26-year-old Benning, then a graduate fellow, the chance to he took the reins over the school's fledgling wrestling program, the rookie coach knew full well he would be closely watched.
"Because of the uniqueness of the situation and the circumstances," he said, "I knew if I failed I was not going to be judged by being Don Benning, it was going to be because I was African-American."
Besides serving as head wrestling coach and as an assistant football staffer, he was hired as the school's first full-time black faculty member, which in itself was enough to shake the rafters at the staid institution.
"Those old stereotypes were out there — Why give African-Americans a chance when they don't really have the ability to achieve in higher education? I was very aware those pressures were on me," he said, "and given those challenges I could not perform in an average manner — I had to perform at the highest level to pass all the scrutiny I would be having in a very visible situation."
Benning's life prepared him for proving himself and dealing with adversity.
"The fact of the matter is," he said, "minorities have more difficult roads to travel to achieve the American Dream than the majority in our society. We've never experienced a level playing field. It's always been crooked, up hill, down hill. To progress forward and to reach one's best you have to know what the barriers or pitfalls are and how to navigate them. That adds to the difficulty of reaping the full benefits of our society but the absolute key is recognizing that and saying, 'I'm not going to allow that to deter me from getting where I want to get.' That was already a motivating factor for me from the day I got the job. I knew good enough wasn't good enough  — that I had to be better."
Shortly after assuming his UNO posts his Pullman Porter father and domestic worker mother died only weeks apart. He dealt with those losses with his usual stoicism. As he likes to say, "Adversity makes you stronger."
Toughing it out and never giving an inch has been a way of life for Benning since growing up the youngest of five siblings in the poor, working-class 16th and Fort Street area. He said, "Being the only black family in a predominantly white northeast Omaha neighborhood — where kids said nigger this or that or the other — it translated into a lot of fights, and I used to do that daily. In most cases we were friends…but if you said THAT word, well, that just meant we gotta fight."
Don Benning
Despite their scant formal education, he said his parents taught him "some valuable lessons scholars aren't able to teach." Times were hard. Money and possessions, scarce. Then, as Benning began to shine in the classroom and on the field (he starred in football, wrestling and baseball), he saw a way out of the ghetto. Between his work at Kellom Community Center, where he later coached, and his growing academic-athletic success, Benning blossomed.
"It got me more involved, it expanded my horizons and it made me realize there were other things I wanted," he said.
But even after earning high grades and all-city athletic honors, he still found doors closed to him. In grade school, a teacher informed him the color of his skin was enough to deny him a service club award for academic achievement. Despite his athletic prowess Nebraska and other major colleges spurned him.
At UNO, where he was an oft-injured football player and unbeaten senior wrestler, he languished on the scrubs until "knocking the snot" out of a star gridder in practice, prompting a belated promotion to the varsity. For a road game versus New Mexico A&M he and two black mates had to stay in a blighted area of El Paso, Texas — due to segregation laws in host Las Cruces, NM — while the rest of the squad stayed in plush El Paso quarters. Terming the incident "dehumanizing," an irate Benning said his coaches "didn't seem to fight on our behalf while we were asked to give everything for the team and the university."
Upon earning his secondary education degree from UNO in 1958 he was dismayed to find OPS refusing blacks. He was set to leave for Chicago when Bail surprised him with a graduate fellowship (1959 to 1961). After working at the North Branch YMCA from '61 to '63, he rejoined UNO full-time. Still, he met racism when whites automatically assumed he was a student or manager, rather than a coach, even though his suit-and-tie and no-nonsense manner should have been dead giveaways. It was all part of being black in America.
To those who know the sanguine, seemingly unflappable Benning, it may be hard to believe he ever wrestled with doubts, but he did.
"I really had to have, and I didn't know if I had it at that particular time, a maturity level to deal with these issues that belied my chronological age."
Before being named UNO's head coach, he'd only been a youth coach and grad assistant. Plus, he felt the enormous symbolic weight attending the historic spot he found himself in.
"You have to understand in the early 1960s, when I was first in these positions, there wasn't a push nationally for diversity or participation in society," he said. "The push for change came in 1964 with the Civil Rights Act, when organizations were forced to look at things differently. As conservative a community as Omaha was and still is it made my hiring more unusual. I was on the fast track…
"On the academic side or the athletic side, the bottom line was I had to get the job done. I was walking in water that hadn't been walked in before. I could not afford not to be successful. Being black and young, there was tremendous pressure…not to mention the fact I needed to win."
Win his teams did. In eight seasons at the helm Benning's UNO wrestling teams compiled an 87-24-4 dual mark, including a dominating 55-3-2 record his last four years. Competing at the NAIA level, UNO won one national team title and finished second twice and third once, crowning several individual national champions. But what really set UNO apart is that it more than held its own with bigger schools, once even routing the University of Iowa in its own tournament. Soon, the Indians, as UNO was nicknamed, became known as such a tough draw that big-name programs avoided matching them, less they get embarrassed by the small school.
The real story behind the wrestling dynasty Benning built is that he did it amid the 1960s social revolution and despite meager resources on campus and hostile receptions away from home. Benning used the bad training facilities at UNO and the booing his teams got on the road as motivational points.
His diverse teams reflected the times in that they were comprised, like the ranks of Vietnam War draftees, of poor white, black and Hispanic kids. Most of the white athletes, like Bernie Hospodka, had little or no contact with blacks before joining the squad. The African-American athletes, empowered by the Black Power movement, educated their white teammates to inequality. Along the way, things happened — such as slights and slurs directed at Benning and his black athletes, including a dummy of UNO wrestler Mel Washington hung in effigy in North Carolina — that forged a common bond among this disparate group of men committed to making diversity work in the pressure-cooker arena of competition.
"We went through a lot of difficult times and into a lot of hostile environments together and Don was the perfect guy for the situation," said Hospodka, the 1970 NAIA titlist at 190 pounds. "He was always controlled, always dignified, always right, but he always got his point across. He's the most mentally tough person you'd ever want to meet. He's one of a kind. We're all grateful we got to wrestle for Don. He pushed us very hard. He made us all better. We would go to war with him anytime."
Brothers Roy and Mel Washington, winners of five individual national titles, said Benning was a demanding "disciplinarian" whom, Mel said, "made champions not only on the mat but out there in the public eye, too. He was more than a coach, he was a role model, a brother, a father figure." Curlee Alexander, 115-pound NAIA titlist in 1969 and a wildly successful Omaha prep wrestling coach, said the more naysayers "expected Don to fail, the more determined he was to excel. By his look, you could just tell he meant business. He had that kind of presence about him."
Away from the mat, the white and black athletes may have gone their separate ways but where wrestling was concerned they were brothers rallying around their perceived identity as outcasts from the poor little school with the black coach.
"It's tough enough to develop a team to such a high skill level that they win a national championship if you have no other factors in the equation," Benning said, "but if you have in the equation prejudice and discrimination that you and the team have to face then that makes it even more difficult. But those things turned into a rallying point for the team.
"The white and black athletes came to understand they had more commonalities than differences. It was a sociological lesson for everyone. The key was how to get the athletes to share a common vision and goal. We were able to do that. The athletes that wrestled for me are still friends today. They learned about relationships and what the real important values are in life."
His wrestlers still have the highest regard for him and what they shared.
"I don't think I could have done what I did with anyone else," Hospodka said. "Because of the things we went through together I'm convinced I'm a better human being. There's a bond there I will never forget." Mel Washington said, "I can't tell you how much this man has done for me. I call him the legend." The late Roy Washington, who changed his name to Dhafir Muhammad, said, "I still call coach for advice." Alexander credits Benning with keeping him in school and inspiring his own coaching/teaching path.
After establishing himself as a leader Benning was courted by big-time schools to head their wrestling and football programs. Instead, he left the profession in 1971, at age 34, to pursue an educational administration career. Why leave coaching so young? Family and service. At the time he and wife Marcidene had begun a family — today they are parents to five grown children and two grandkids — and when coaching duties caused him to miss a daughter's birthday, he began having second thoughts about the 24/7 grind athletics demands.
Besides, he said, he was driven to address "the inequities that existed in the school system. I thought I could make a difference in changing policies and perhaps making things better for all students, specifically minority students. My ultimate goal was to be superintendent."
Working to affect change from within, Benning feels he "changed attitudes" by showing how "excellence could be achieved through diversity." During his OPS tenure, he operated, just like at Omaha University, "in a fish bowl." Making his situation precarious was the fact he straddled two worlds — the majority culture that viewed him variously as a token or a threat and the minority culture that saw him as a beacon of hope.
But even among the black community, Benning said, there was a militant segment that distrusted one of their own working for The Man.
"You really weren't looked upon too kindly if you were viewed as part of the system," he said. "On the other side of it, working in an overwhelmingly majority white situation presented its own particular set of challenges."
What got him through it all was his own core faith in himself. "Evidently, some people would say I'm a confident individual. A few might say I'm arrogant. I would say I'm highly confident. I can't overemphasize the fact you have to have a strong belief in self and you also have to realize that a lot of times a leader has to stand alone. There are issues and problems that set him or her apart from the crowd and you can't hide from it. You either handle it or you fail and you're out."
Benning handled it with such aplomb that he: brought UNO to national prominence, laying the foundation for its four-decade run of excellence on the mat; became a distinguished assistant professor; and built an impressive resume as an OPS administrator, first as assistant principal at Central High School, then as director of the Department of Human-Community Relations and finally as assistant superintendent.
During his 26-year OPS career he spearheaded Omaha's smooth desegregation plan, formed the nationally recognized Adopt-a-School business partnership and advocated for greater racial equity within the schools through such initiatives as the Minority Intern Program and the Pacesetter Academy, an after school program for at-risk kids. Driving him was the responsibility he felt to himself, and by extension, fellow blacks, to maximize his and others' abilities.
"I had a vision and a mission for myself and I set about developing a plan so I could reach my goal, and that was basically to be the best I could be. As a coach and educator what I have really enjoyed is helping people grow and reach their potential to be the best they can be. That's my goal, that's my mission, and I try to hold to it."
His OPS career ended prematurely when, in 1997, he retired after being snubbed for the district's superintendency and being asked by current schools CEO John Mackiel to reapply for the assistant superintendent's post he'd held since 1979. Benning called it "an affront" to his exemplary record and longtime service.
About his decision to leave OPS, he said, "I could have continued as assistant superintendent, but I chose not to because who I am and what I am is not negotiable." A critic of neighborhood schools, he did not bend on a practice he deems detrimental to the quality of education for minorities. "I compromised on a lot of things but not on those issues. The thing I've tried not to do, and I don't think I have, is negotiate away my integrity, my beliefs, my values."
Sticking to his guns has exacted a toll. "I've battled against the odds all my life to achieve the successes I have and there's been some huge prices to pay for those successes."
Curlee Alexander
His unwavering stances have sometimes made him an unpopular figure. His staunch loyalty to his hometown has meant turning down offers to coach and run school districts elsewhere. His refusal to undermine his principles has found him traveling a hard, bitter, lonely road, but it's a path whose direction is true to his heart.
"I found out long ago there were things I would do that didn't please every one and in those types of experiences I had to kind of stand alone or submit. I developed a strong inner being where I somewhat turned inward for strength. I kind of said to myself, I just want to do what I know to be right and if people don't like it, well, that's the way it is. I was ready to deal with the consequences. That's the personality I developed from a very young age."
Those who've worked with Benning see a man of character and conviction. Former OPS superintendent Norbert Schuerman described him as "proud, determined, disciplined, opinionated, committed, confident, political," adding, "Don kept himself very well informed on major issues and because he was not bashful in expressing his views, he was very helpful in sensitizing others to race relations. His integrity and his standing in the community helped minimize possible major conflicts."
OPS Program Director Kenneth Butts said, "He's a very principled man. He's very demanding. He's very much about doing what is right rather than what is politically expedient. He cares. He's all about equity and folks being treated fairly."
After the flap with OPS Benning left the job on his own terms rather than play the stooge, saying, "The Omaha Public Schools situation was a major disappointment to me…To use a boxing analogy, it staggered me, but it didn't knock me down and it didn't knock me out. Having been an athlete and a coach and won and lost a whole lot in my life I would be hypocritical if I let disappointment in life defeat me and to change who I am. I quickly moved on."
Indeed, the same year he left OPS he joined the faculty at the University of Nebraska-Lincoln, where he is coordinator of urban education and senior lecturer in educational administration in its Teachers College. In his current position he helps prepare a new generation of educators to deal with the needs of an ever more diverse school and community population.
Even with the progress he's seen blacks make, he's acutely aware of how far America has to go in healing its racial divide.
"This still isn't a color-blind society. I don't say that bitterly — that's just a fact of life. But until we resolve the race issue, it will not allow us to be the best we can be as individuals and as a country," he said.
As his own trailblazing cross-cultural path has proven, the American ideal of epluribus unum — "out of many, one" — can be realized. He's shown the way.
"As far as being a pioneer, I never set out to be a part of history. I feel very privileged and honored having accomplished things no one else had accomplished. So, I can't help but feel that maybe I've made a difference in some people's lives and helped foster inclusiveness in our society rather than exclusiveness. Hopefully, I haven't given up the notion I still can be a positive force in trying to make things better."
Related Articles
Categories:

African-American Culture, Athletics, Don Benning, Education, History, Omaha, Omaha Black Sports Legends, Out to Win: The Roots of Greatness (a series), Race, Social Justice, Sports, Wrestling, Writing
Tags:

African-American Culture, Athletics, Black Sports Legends, Don Benning, Education, Nebraska Black Sports Hall of Fame, Omaha, Race, Social Justice, University of Nebraska at Omaha, UNO wrestling, Wrestling
Mini-Profile
Author-journalist-blogger Leo Adam Biga resides in his hometown of Omaha, Nebraska. He writes newspaper-magazine stories about people, their passions, and their magnificent obsessions. He's the author of the books "Crossing Bridges: A Priest's Uplifting Life Among the Downtrodden," "Alexander Payne: His Journey in Film" (a compilation of his journalism about the acclaimed filmmaker) "Open Wide" a biography of Mark Manhart. Biga co-edited "Memories of the Jewish Midwest: Mom and Pop Grocery Stores." His popular blog, Leo Adam Biga's My Inside Stories at leoadambiga.com, is an online gallery of his work. The blog feeds into his Facebook page, My Inside Stories, as well as his Twitter, Google, LinkedIn, Tumblr, About.Me and other social media platform pages.
Personal Links
Calendar of Blog Posts
Categories from A to Z and # of Posts
Subjects/Themes
RSS Links
Ratings
Top Clicks
Goodreads