Archive for the 'Omaha Central High School' Category
Whether you're a Omaha resident who lives here year-round or part of the year, a native returning home, or a visitor here for the first or tenth time, it doesn't hurt to be reminded of some places to see and things to do in the metro.  I prepared the following list for the Omaha World-Herald a few years ago.  At least one of the attractions is now defunct (Project Omaha) and if I were making a new list today I would include some additional sites (including the House of Loom and TD Ameritrade Park).  The point is, it's by no means a comprehensive list but more of a sampler of, as the headline says, some of the obvious and not so obvious sites to check out.
Finding the Essence of Omaha in all the Right Places Leads You to Obvious and Obscure Sites
©by Leo Adam Biga
Originally appeared in the Omaha World-Herald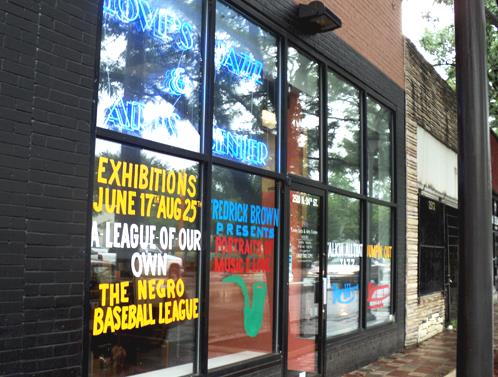 Loves Jazz & Arts Center
Loves Jazz & Arts Center
2510 No. 24th St., 502-5291
Steep yourself in Omaha's rich African-American heritage through photographs, videos and other art/historical materials at this gem of a cultural center in the heart of the black community. See displays on the music and civil rights legacy of black Omaha. Catch lectures, panel discussions, poetry slams, live music jams, film screenings and other educational-entertainment programs.

Project Omaha
South High School
4519 So. 24th St., 557-3640
Reminiscent of a visit to grandma's attic, this one-of-a-kind museum in a public school setting uses artifacts along with student-made videos, books, games and other resources to explore Omaha history, including the stockyards. The collection's size and depth will impress. Note the Brandeis department store Xmas window mockup. Call 557-3640 for a visit or a guided tour of historic city sites.
Jewell Building
The Jewell Building
Omaha Economic Development Corp. offices
2221 No. 24th St.
This National Register of Historic Places and Omaha Landmark designee was home to the famed Dreamland Ballroom, hosting scores of jazz/blues performing legends and overflow dance crowds. Now the offices for the Omaha Economic Development Corp., the restored Georgian Revival building features a large photographic display of those halcyon Dreamland nights of Basie, Ellington and more. A North O shrine.
Nebraska Jewish Historical Society
The Nebraska Jewish Historical Society
Jewish Community Center
333 So. 132nd St., By appointment at 334-6441
Photographs and archival documents depict Jewish life in Omaha from the turn of the last century through today. Special collections highlight the Jewish American experience of local merchants, war veterans and figures of national prominence, including Henry Monsky and Rose Blumkin. Print/video interviews reveal an Omaha Jewish community that was once much larger but that remains vibrant.

Cathedral Cultural Center and the St. Cecilia Institute
St. Cecilia Cathedral campus
3900 Webster St., 551-4888
The history of Omaha's Catholic archdiocese and its cornerstone edifice, St. Cecilia Cathedral, is revealed in artifacts, photos and interpretive panels. The life and work of Thomas Kimball, architect of the Spanish Renaissance worship site, is well-chronicled. The center, located just east of the church in midtown, presents temporary art exhibits, lectures, receptions and other programs. Free admission.
Cathederal Cultural Center
El Museo Latino
4701 1/2 So. 25th St., 731-1137
National touring art exhibits complement a Latino Presence in Omaha section with photographs-narratives drawn from local community founders and elders. Listen to these pioneers' oral history interviews in Spanish or English. Learn how the current Latino immigrant wave echoes earlier migrations in transforming Omaha. The El Museo Latino building was the former Polish Home and the original South High.

Durham Museum
801 So. 10th St., 444-5071
The former Union Station is a beautifully appointed, restored Art Deco railroad terminal now home to interactive Omaha history displays and major touring shows. The Smithsonian affiliate and National Register of Historic Places site exhibits train cars and engines and a model layout of downtown's U.P. yards. Enjoy lectures, discussions and films. The Durham also holds the Bostwick-Frohart collection's 8 X 10 view camera photos of early 20th century Omaha.
Durham Museum
Sokol South Omaha
2021 U St., 731-1065
Omaha's ethnic enclaves celebrate their own and the Czech community is no different. Aside from the classic gymnastics program that's part of any Sokol facility, this site maintains a museum featuring photographs and other memorabilia related to the nearby Brown Park neighborhood as well as local Sokol history, Czech traditions and leading Omaha Czechs. Tours by appointment at 731-1065.

Joslyn Castle
3902 Davenport St., 595-2199
Built on a 5.5 acre estate this ornate Gold Coast home of George and Sarah Joslyn reflects the grandeur of early Omaha. The John McDonald-designed 35-room Scottish Baronial castle, now being restored in all its splendor, features exquisite mosaic tiles, in-laid woodwork, a ballroom and a conservatory. A splendid backdrop for teas, receptions and dinners, the mansion's an Omaha Landmark and National Register of Historic Places site. For tours and rentals, call 595-2199.

Joslyn Art Museum
24th and Dodge, 342-3300
Sarah Joslyn's magnificent memorial to her entrepreneur husband, George, opened in 1931. Designed by John and Alan McDonald, with a 1994 Norman Foster addition, the stunning Art Deco temple showcases a comprehensive permanent collection. Enjoy exhibits, lectures, concerts, films and tours. The new sculpture garden provides a major new attraction. The pavilion atrium is a popular gathering spot.
Douglas County Historical Society
Metropolitan Community College Fort Omaha campus
30th and Fort
Library/Archives Center
451-1013
Discover a vast repository of history pertaining to the city of Omaha and to Douglas County through archived newspapers, clipping files, maps, plats, atlases, documents, diaries, letters, books, artifacts, photographs and audio visual materials. Located in Building 11A on the historic MCC Fort Omaha campus. Call 451-1013 to schedule research visits.

General Crook House Museum
455-9990
The restored 1879 Italianate quarters for Indian Wars campaigner Gen. George Crook includes Victorian era decorative arts, costumes and furnishings. Classes and a reference collection on the history/appreciation of antiques are available. Tea aficionado Mona Christensen hosts proper teas. Call 455-9990 to arrange tours or private functions. Located in Building 11B on the historic MCC Fort Omaha campus.
Gen. Crook House
Orsi's Italian Bakery
621 Pacific St., 345-3438
It's a bakery/pizzeria not a gallery but walls of family and neighborhood photos depict Omaha's Little Italy section through the years, including Santa Lucia festivities, Mason School graduation classes and local Italian-American sports icons. Orsi's is an anchor business in the trendy nouveau residential urban community emerging in this historic district south of the Old Market.

Omaha Central High School
124 North 20th St., 557-3300
Omaha's oldest all-grades public school dates back to 1859 but the stately National Register of Historic Places building on Capitol Hill was completed in four phases from 1900 to 1912. John Latenser's Renaissance Revival design included an open courtyard. This school known for academic rigor boasts many distinguished grads. Exterior markers note the school-site's rich history. Call 557-3300 to arrange viewing interior displays.

The Omaha Star
2216 No. 24th St., 346-4041
Since 1938 the Omaha Star newspaper has carried the collective voice of the local African American community in calling for equal rights and decrying bias. A beacon of hope on North 24th Street, the Star was a mission for its late founder and publisher, Mildred Brown. The apartment she kept in back has been preserved just as she left it. The National Register of Historic Places building is undergoing restoration.

Boys Town Hall of History
132nd and Dodge, 498-1300
The story of this fabled American institution is told in audio, video, artifact displays. Learn how Rev. Edward Flanagan's original home for boys grew into a childcare leader at satellite campuses across the nation. See how the school's band, choir and athletic teams helped put Boys Town on the map. View the Oscar Spencer Tracy won portraying Flanagan in the 1938 movie, Boys Town. Marvel at the many notables who've visited the Omaha campus.
Orsi's Italian Bakery
Omaha Central High School
The Omaha Star
Boys Town Hall of History
W. Dale Clark Library
215 So. 15th St., 444-4800
Omaha history can be found in hundreds of books and videos as well as in decades-worth of local newspapers on microfilm. Inquire about Omaha history talks.
Omaha Community Playhouse
6915 Cass St., 553-0800
The Omaha Community Playhouse represents a significant portion of local live theater history. The original site at 40th and Davenport is where legends Henry Fonda and Dorothy McGuire got their starts on stage. At the height of their stardom they returned for benefit performances of The Country Girl that raised money to construct the current Playhouse, which contains a collage of famed players who've trod the boards there.

Livestock Exchange Building
4920 So. 20th St.
For nearly a century the Omaha Stockyards and Big Four meatpacking plants ruled the roost. The hub for the booming livestock market was the 11-story Livestock Exchange Building, an example of Romanesque and Northern Italian Renaissance Revival design. The stockyards are gone but the National Register of Historic Places structure lives on as an apartment-office site. The grand ballroom still in use today. Historical monuments outside the building describe its lively past.

Ford Birthsite and Gardens
32nd And Woolworth Ave.
Markers and descriptive panels commemorate the birthsite of the 38th President of the United States, Gerald R. Ford, who was born Leslie King on July 14, 1913 in a Victorian style home at 3202 Woolworth Avenue in Omaha. The surrounding gardens in honor of former First Lady Betty Ford make the spot a popular choice for weddings, receptions and other events.
Gerald R. Ford Conservation Center
1326 So. 32nd St., By appointment at 595-1180
In addition to dedicated laboratories for examining, evaluating and conserving historical and art materials, the facility features a small exhibition on President Gerald R. Ford. The center's state-of-the-art facilities include a microscopy laboratory and a digital imaging laboratory. There's also a library of reference works on conservation and collections care.
Nebraska Black Sports Hall of Fame
Boys & Girls Clubs of Omaha, North Unit
2610 Hamilton St.,  North BGCOO 342-2300, NBSHF 884-1884
Until a permanent structure is built a wall of descriptive plaques honor Hall of Fame inductees, whose ranks rival that of any state athletic hall in the country. We're talking history-makers in Bob Gibson, Bob Boozer, Gale Sayers, Ron Boone, Marlon Briscoe, Don Benning, Johnny Rodgers and many more. Looking at the names and achievements arrayed before you a story of staggering dimensions emerges.
Malcolm X Memorial Birthsite
3448 Pinkney St., 1-800-645-9287
The struggle to build a brick-and-mortar memorial to the slain activist is symbolized by the stark 10 acres of land the Malcolm X Foundation has been trying to develop for decades at his birthsite. Only a simple sign marks the spot. Paving stones lead to nowhere. A fence encloses an empty lot. Dreams for a visitors center, museum and plaza remain deferred. A most forlorn National Register of Historic Places site.
Prospect Hill Cemetery
3230 Parker St., 556-6057
Omaha's oldest cemetery was founded in 1858 and is the internment site for many early city leaders, their familiar names still adorning streets and structures today. Some notorious figures also lie there. Often referred to as Omaha's pioneer burial ground, Prospect Hill remains an active cemetery as well as a historic site open for visitation daily. A state historical marker describes its rich heritage. Free admission.
Gerald R. Ford Birthsite and Gardens
Prospect Hill Cemetery
Malcolm X Memorial Foundation
Mormon Trail Center at Historic Winter Quarters
3215 State St., 453-9372
A heroic, tragic chapter of the Mormon Migration played out in what's now north Omaha when thousands of Church of Jesus Christ of Latter-day Saints spent the winter of 1846-1847 in an encampment. 325 died there. An audio-visual display details the struggles encountered in reaching this Winter Quarters, the camps's harsh conditions and the arduous journey to the Salt Lake Valley. View a pioneer cabin, pull a handcart and visit the Mormon Pioneer Cemetery. Free admission.
Lewis and Clark National Historic Trail Headquarters and Visitor Center
601 Riverfront Dr., 661-1804
Learn about the historic Corps of Discovery expedition led by famed explorers Lewis and Clark, including information about sites along the trail. A National Parks Service ranger can answer questions and help you plan a site trip. The Riverfront Books store offers an array of educational materials for sale that can enhance your experience on the trail.
Union Pacific Railroad Museum
200 Pearl St., Council Bluffs, (712) 329-8307
Artifacts, photos and interpretive panels chart the development of the transcontinental railroad and its role in helping pioneers settle the West. View displays about the heyday of passenger travel and innovations made by the nation's largest railroad, Union Pacific, which is headquartered in Omaha. The museum's housed in the Bluffs' historic, newly restored Carnegie Library.

Historic General Dodge House
605 3rd St., (712) 322-2406
This restored 1869 Victorian home was the residence of Civil War veteran and railroad builder Gen. Grenville M. Dodge, a military, political, financial wheel whose counsel was sought by presidents. The 14-room, 3-story mansion commands a terrace view of the Missouri Valley. Note the exquisite woodwork and "modern" conveniences unusual for the period. The home is used for a variety of receptions and other events.
Western Historic Trails Center
3434 Richard Downing Ave., Council Bluffs, (712) 366-4900
Discover the history of four historic western trails — Lewis & Clark, Oregon, Mormon and California — through exhibits, sculptures, photographs and films at this State Historical Society of Iowa center designed and built by the National Park Service and local partners.
Union Pacific Railroad Museum
Related articles
A highly anticipated project long-in-the-making is Joan Micklin Silver's documentary,
The Bagel: An Immigrant's Story
.   She's best known as a feature filmmaker (
Hester Street
,
Between the Lines
,
Chilly Scenes of Winter
,
Crossing Delancey
).  With this project she has a great take on a favorite and familiar food that's too easily taken for granted.  Like any food that has ethnic origins, the bagel didn't just show up out of nowhere in the States, it was brought here, in this case from Europe, and then it experienced its own assimilation process that saw it go from obscure ethnic enclave staple to ubiquitous item found in most any grocery store or bakery or coffeeshop or convenience store.  It's even in some vending machines.  The bagel's become Americanized to the point few people associate it anymore with its Jewish provenance.  But the bagel has a very particular history and heritage and its journey to America and its experience in the America melting pot parallels that of the human immigrants who brought it here, complete with its own labor disputes.   Former Food Maven columnist and best-selling author (
Jewish Food: The World at Table
) Matthew Goodman is the documentary's writer.  I don't know when the film will be completed and officially ready for screening, though you can find excerpts and rough cuts of it on the Web.  My story below about the film actually appeared some years ago when Silver and Goodman were just launching the project and trying to find investors and sources for it.  You'll find several more stories by me about Joan Micklin Silver on this blog.
©by Leo Adam Biga
Originally published in The Jewish Press
Bagels occupy much of acclaimed feature filmmaker Joan Micklin Silver's time these days. That's because the Omaha native and Central High School graduate, best known for
Hester Street
(1975) and
Crossing Delancey
(1988), two films about the Jewish experience in
America
, is preparing to shoot a new documentary that tells the history of the bagel in the U.S. in terms of the classic immigrant success story.  The film is slated to be called,
The Bagel: An Immigrant's Story
.
Joan Micklin Silver
Silver was turned onto this story by noted food writer Matthew Goodman, author of the book Jewish Food: The World at Table and the former Food Maven columnist for The Forward. Co-producers on the project, Silver will direct Goodman's script.
The bagel film project arose from a meeting Silver arranged with Goodman for his insights into the food of the Catskills, the famous East Coast Jewish resort that is the subject of a second documentary Silver is prepping. In the course of their Catskills conversation he mentioned his findings on the bagel and suggested it might make an interesting film.
According to Goodman, long an admirer of Silver's films, she said, "'Would you like to work together on it?' Of course, I was delighted. I think she has a wonderful literary sensibility when it comes to her work."
As research by these first-time collaborators reveals, the rise of the bagel has strong reverberations with the greater immigrant story in America and the assimilation and discrimination that is part of it. "It came from Poland, it struggled and strained and went through everything most other immigrants do before it prospered," Silver said. "That caught my imagination so totally when we figured that out that we decided, Okay, let's do this."
Immigrant tales have long fascinated Silver, whose parents, the late Maurice and Doris Micklin, came here in the wake of the Russian revolution. Hester Street explores turn of the century life for newly arrived Jews on the Lower East Side and their struggles to blend in. Crossing Delancey eyes contemporary Jewish life in Manhattan and the conflict of traditional versus modern values.
The now ubiquitous bagel was brought here by Eastern European Jews, among whose members were artisan bakers steeped in the closely guarded tradition of Old World–read: handmade–bagel baking techniques.
"This was artisanal baking. These guys were the holders of the keys of the kingdom, as it were, when it came to bagels. This was the knowledge of the correct way to bake a bagel that had been passed down from generation to generation, going all the way back. The way to do it was a pretty tightly held secret," Goodman said.
"They took great pride in their ability. It was not easy to do. The ovens were not easy to work. The dough unwieldy. It took a long time. You had to apprentice awhile before you became a member. So these guys really were craftsmen," he said.
Unfortunately one of the things lost over time is that sense of artisanship, he added.  "They were masters at making bagels. There was an art to it," Silver  said. "They were artists and they really cared about the quality of the product."
Old-style bagels, much smaller than the modern variety, were distinctive for their hard crusts, chewy interiors and savory flavor. The International Bagel Bakers Union Local 338 formed to protect the recipes, methods and interests of the master bagel bakers. Only sons or nephews of current members could join. Every bagel in New York City came out of a union shop.
With the advent of bagel-making machines that churned out bagels faster than any hands could, the oldways became obsolete and the bagel assimilated into the cultural melting pot, turning blander and fatter in the process.
"Part of the story we're telling in this film is that the demise of the union really led to the demise of the bagel as well," Goodman said. "The machine just couldn't make as good a bagel as the men could, for a number of reasons. One reason being the traditional bagel dough was too stiff to go through the bagel machine. It kept breaking down the machines. So bakery owners started adding water to the dough so it would go through the machines better, but that ended up making the bagel softer. And bagels since that time have gone through all sorts of changes with the addition of dough conditioners, which most bakeries use now, to relax the gluten in the dough immediately so bagels don't have to sit overnight. It's a big money saver for the bakery owners, but it reduces the flavor of the bagel significantly.
"A lot of places don't even boil their bagels anymore before baking them, which is the hallmark of the bagel — boiled before baked. They just sort of steam them because they don't want that hard crust. They think people don't want to chew that hard."
Goodman said the bagel's transformation from hand-crafted, ethnic food stuff to homogenized, mass-produced staple reflects "the American public's taste. The American public likes big, soft, bland, white baked goods. But that's part of the story, too — that as the bagel became less Jewish and more mainstream American it had to take on more of mainstream America's tastes." A similar thing happened with pizza and many other ethnic foods whose authentic characteristics were diluted or distorted on the path to Americanization.
The story of the bagel in America is also the story of the IBBU Local 338. Bagel bakers fought hard to improve the arduous conditions they worked in, using their union as leverage in negotiations with employers.
"The conditions were terrible. The heat of the bakery while they were baking got to be like 110 degrees. Bakers often slept on benches in the bakery. They went through a lot. After a great deal of effort, they built a strong union. It was a terrific thing," said Silver, who is doing much of her studies at the famed Yivo Institute of Jewish Research in New York, where former Omaha resident Leo Greenbaum is associate archivist-acquisitions archivist.
Goodman "discovered" the IBBU while doing research for an essay on the history of the bagel published in the Harvard Review. He'd never heard of the union.
"I just thought it was a fantastic thing, you know, a union composed entirely of bagel bakers," he said. "And the more I looked into it the more fascinated I became by the story of a union that for several decades controlled all of the bagel bakeries in New York City and then within a span of less than a decade had been wiped out. I thought this was a really poignant story. It's a little-known story. And also a story that allowed the telling of a larger story about the way ethnic foods assimilate in the larger society and also the demise of the labor movement."
 Murray Lender helped speed along the bagel's assimilation
The IBBU, whose exclusive ranks never exceeded 300-some members at any one time, reached beyond New York, although that's where it was centered.
"My sense of it is if you were a bagel baker anywhere in the country you were a member…It happened that the vast majority of bagel bakers were in New York, but I believe there were members in places like Chicago and Boston," Goodman said.
Long before bagel machines replaced them and broke their union, Local 338 brethren faced challenges from bakery owners, who, Goodman said, used "strikebreakers and scabs" to try and crush their solidarity. Resistance to the union included the emergence of "non-union shops," said Goodman, "many heavily subsidized by organized crime. So, there was certainly a lot to deal with."
By the mid '70s the union was no more.
"The older guys retired. Some ended up working in non-union shops, working in much poorer conditions than they had been working in previously. Some joined the general bakers union and went to work in other union shops, not necessarily baking bagels. A lot of the guys left New York and took off around the country to open their own bagel shops. That's how bagels really got introduced to different parts of the country that had never known bagels before. That's the first time places like Albuquerque or Sacramento had seen fresh baked bagels," he said.
Goodman and Silver say a fair number of IBBU bakers are still around, but no one's quite sure exactly how many. The filmmakers' plans call for on-camera interviews with many of these men, some quite aged now. There's a sense of urgency to record and preserve the bakers' stories before the legacy of their craftsmanship and union is irretrievably lost. For his Harvard Review essay on the bagel Goodman interviewed some of the men, tapping memories of long ago.
Memories of favorite foods, especially aromas, are known to be among the strongest our brains store. As the bagel is a food bound up in ritual, whether along family ethnic lines or urban lifestyle lines or breakfast staple lines, it is a food that serves as a nostalgic "touchstone," Silver said.
"People think about it and it's sort of like Proust's (Marcel) madeleines. It has kind of ringing memories for people." Her own remembrances of things past take her back to when she was a little girl and her father brought her to a downtown Omaha bakery for "the best rye bread you can imagine and wonderful bagels." Goodman too recalls the traditional bagels of his childhood.
The filmmakers are counting on the public's bagel nostalgia, including memorabilia, to help illustrate their story. In a letter recently emailed to Jewish newspapers nationwide, the filmmakers made an appeal: "As part of our research for the film, we are interested in obtaining all manner of visual material concerning the history of bagels in America: old photographs of bagel shops or bagel bakers, home movies that include bagels, newspaper or magazine advertisements for bagels, etc."
Readers with materials are asked to respond to bagelmovie@hotmail.com. The filmmakers' letter ends with, "We would be very grateful for any assistance you might provide. We look forward to hearing from you."
The pair hope to start production in late fall. They must first secure funding.
In a new immigrant twist on the bagel's evolution in America, the filmmakers say the rare bagel made today in the traditional manner is usually crafted by…Thais. Oy vey!
Related articles
UPDATE: I have no idea if Akoy Agau is even considering Nebraska or Creighton or UNO, but any local hoops fan has to hope that one of the three in-state Division I programs manages to land him. If you saw Agau lead Omaha Central High to the Class A state title against Omaha South the other night then you saw what a difference maker he can be.  If you didn't see him, then all you need to know is that he had 16 points, 13 rebounds and 14 blocks.  That's right, 14.  It's not the first time he's put up numbers like these in the state tournament and with his senior year to go and Central returning far more than just him it's a sure thing, barring injury, that he will dominate the tournament again next year. The University of Nebraska needs him the most.  The program is mired in medicority and it needs a boost to go along with whoever the new head coach is going to be because it's going to be players not coaches who turn things around and Agau is the type of player you can build a program around, especially if you surround him with eight or nine other legit prospects.  Creighton is of course a rock solid program by comparison but a mid-major like CU is always in a precarious position and it needs him to infuse local talent into a program whose best players come from Iowa and everywhere else but Nebraska.  When Antoine Young departs after this season there will not be a single scholarship player from the state left in the program.   The fact that Agau is an Omaha Public Schools student and a rare quality big man would help solidify the program over the next five-six years.  UNO is the least likely to get him but imagine what Agau's presence could do in raising the profile of this fledgling D-I program.  He could help turn it from a pretender to a contender in a very short time.  Chances are, Agau will not stay home but instead take his considerable upside somewhere else.  I hope I'm wrong.
Most of my writing these days covers the arts-culture-creative scene but I still jones to do a sports story every now and then, and here's a new one for The Reader that I am fond of.  It profiles Akoy Agau, a 17-year-old junior at Omaha Central High School, where he is both a top student and a major college basketball recruit whose team is heavily favored to win its third consecutive Class A (largest class in Nebraska) state title.  Agau is not only very tall at 6'9 he is highly skilled and athletic, which makes him the rare quality big man in these parts.  His story takes on another dimension when you add to it the fact that he and his family are Sudanese refugees who were displaced by war in their homeland and he was only introduced to basketball after he came to the States, where he's adapted remarkably well and progressed his game at an exceedingly fast pace. He has another year of high school ball ahead of him, and then it will be off to play collegiately somewhere.  Whether or not he becomes an impact player at that next level is beside the point given how much he'sovercome and how far he's traveled.
Having Survived War in Sudan, Refugee Akoy Agau Discovered Hoops in America and the Major College Recruit is Now Poised to Lead Omaha Central to a Third Straight State Title
©by Leo Adam Biga
A truncated version of this story was published in The Reader (www.thereader.com)
In this sparsely populated state where basketball's never fully taken root, the annual hoops crop is slim pickings, especially when it comes to big men. Only rarely does a promising post player emerge on the high school scene here and it's even rarer for one to do much at the next level.
All of which explains some of the intrigue attending Omaha Central junior Akoy Agau, the intimidating 6'9, 230-pound inside presence for the two-time defending state champion and season-long No. 1 ranked Eagles. Only recently turned 17, he's still growing physically and adding to an already formidable skill-set. A scary proposition for opponents. An enticing prospect for the many colleges recruiting him.
With five championships in the last six years, Central's a dynasty program. Success only begets more, as the metro's best talent now flocks to the old downtown school on the hill. Despite producing many all-state players, Central hasn't had a really good big man since star-crossed Dwaine Dillard in the late 1960s. Until Agau.
He's not only tall, he possesses a huge wing-span, can jump and run the floor better than most kids half his size and shows uncanny timing and instincts for blocking shots. Though he must work on his post moves, ball-handling and jumper, he displays a soft touch around the rim, in the lane and outside.
Adding to interest in him is how this South Sudan native, who never heard of basketball in Africa, came to be in Omaha at all, much less play at a high level. He lived with his refugee family in Khartoum, Sudan and in Cairo, Egypt for the first six years of his life owing to civil war and famine in his homeland.
His Christian Dinka family came to the United States. through a church-based NGO, settling outside Baltimore, Maryland in 2002. All his mother, Agaw Makeir, knew about the U.S. was that it was far off. Fears about not knowing English or American ways were eased by assurances that just as missionaries helped them in Africa other good samaritans would help them here.
"We put that in our head and our heart and said, 'OK, let's go.' It was our dream to come here and for our kids to be able to come here and go to school and have clothes and shoes and sleep at night and not worry about the gun and that people are going to attack you in your home," she says. "It was a very beautiful thing to come here."
After a year in Maryland the family moved to Omaha, where refugee relatives preceded them. Omaha is where Agau was introduced to basketball. Central coach Eric Behrens first laid eyes on him when the then-14-year old was shooting hoops one summer day at the outdoor court adjoining the Mason Apartments that the Agaus and other Sudanese families resided in. The youth's size naturally peeked the coach's curiosity. Behrens got to know him at Norris Middle School, where Agau attended and where Central often practices. As the Norris basketball team would wind up workouts Behrens and Co would arrive. The two formed a bond. Yet Behrens was surprised when Akoy elected to go to Central because most Sudanese student-athletes were opting for Bryan.
Sudanese players have made their mark in the metro since the mid-2000s. Koang Duluony went to Indiana State. Mading Thok is headed to Ball State. But Agau is, as Husker hoops color man and former player and coach Andy Markowski puts it, "the whole package" compared to those earlier "projects."
Agau's made most of his considerable progress since 7th grade, when he first got serious about playing. He's excelled with Team Nebraska select clubs, balling all over the city, often with older players. The last few summers he's gone to elite AAU camps and tourneys around the nation to hone his game and raise his stock.
Upon meeting him the first thing that impresses you beyond his size is his composure and confidence. Struggling to survive and assimilate gave him life experiences rare for an American teen.
"It was a wild journey," he says of the his family's crucible.
He's sure the journey wizened and toughened him.
"Sudan's a lot different than here obviously. We had to work for a lot more things. When we needed to get things we had to go a far distance. I didn't go to school, it was too far away. It was really hard. I think some of my maturity is because I really had to work hard when I wanted things. My parents taught me you have to work for everything you want. It's just something that's carried on and helps with everything I do."
The war in Sudan did more than disrupt life, it claimed the lives of several loved ones. Akoy's father Madut Agau lost his first wife. Akoy's mother lost her father and five siblings.
The tranquility and pristine countryside Makeir knew growing up was shattered by conflict. "Then come the war, you could see all the grass and trees burned down and it didn't look like home no more," she says. "A lot died there. We saw a lot of people dying. We couldn't help them."
The family fled attacking government forces and warring factions. Once, Makeir fled with 3-year-old Akoy on her back an infant in her arms. Months on foot exposed them to danger and death by starvation, disease, wild animals, violence. Years of subsistence living in tent city refugee camps short on food and water gave way to starting over in America, where the family scraped for every dime and depended on the kindness of strangers until Akoy's father found steady work at the IBP meatpacking plant in Denison, Iowa. The elder Agau stays there during the week, coming home weekends to be with his wife and children.
Having made it out the other side alive, Akoy exhibits a poise beyond his years. As a tall African refugee with a talent for the game, he's the center of attention wherever he goes but he seems comfortable in his own skin.
"Very mature, very much so," says his coach, Eric Behrens. "All those things that make you stand out, you can handle it in one of two ways – either you embrace it and you go the extroverted route or you kind of shy away from it and squeak into the corner. It's hard to be in the middle when you're a guy that gets a lot of attention like that. He's definitely embraced it and fits in really well.
"He's very outgoing. He knows kids from every different social setting. He's a real popular kid. He's good with adults, too, Very articulate. He knows how to speak to teachers. He's like in four honors classes. He's a really bright kid."
And he can play a little, too.
Observers rate Agau as the state's best Division I college basketball prospect, period, since Erick Strickland and Andre Woolridge in the early 1990s. Strickland and Woolridge were small guys though.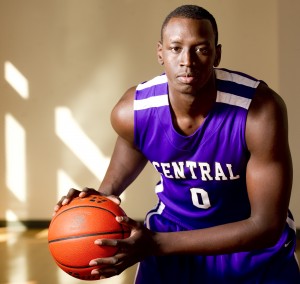 Behrens, a standout at Central himself in the early '90, says, "I think defensively he has to rank among the all-time greats in Nebraska. His offensive game continues to develop but he has a chance to be really good on that end as well."
The few big men from Nebraska who've attracted power conference suitors and made an impact in big-time college hoops include Rich King, Dave Hoppen and Chuck Jura.
"I didn't get to watch Chuck Jura or Dave Hoppen or guys like that," says Behrens, "so limiting the conversation to the last 15 or 20 years, Akoy's as good as anybody since I've been around it. I can only think of Matt Hill (Lincoln Southeast / Texas) who would be in the same conversation as far as big guys go."
Ranked a 4-star, top 100-150 recruit, Agau's projected as a legit major or mid-major contributor in college at the power forward spot. The fact he's come so far in such a short time bodes well for his future hoops.
He was barely 15 when he started for Central as a freshman. He was a factor right away but still largely a role player. His profile dramatically rose in the 2010 state finals when he erupted for a monster game versus Norfolk, recording 18 points, 15 rebounds and 9 blocks. His near triple double helped lock up the title and served notice Central would be all but unbeatable with him around.
He didn't look it, but that big stage freaked him out.
"Well, first of all, that was probably the most nerve wracking game ever. When we were in the locker room Coach Behrens was like, 'There's a packed house and probably most of them are for Norfolk.' I went out ready to warm up, looked up and saw so many people, and I turned around and ran right back to the locker room. I was so nervous, it was the scariest thing. But then once the game started everything was just normal. I basically just played and didn't think about it.
"And truthfully I didn't think I had that great of a game. I just went out there and played like I usually do, and then they told me the stats and I couldn't believe it."
A year later at state he and his team once again found themselves matched up with Norfolk, only in the semifinals, and this time he got his triple double with a 11-10-10 line. He went on to lead Central to the championship against Bryan.
Norfolk head coach Ben Ries, whose No. 2 ranked Panthers could face Agau and Central again at state this year, says, "He is the most dominating defensive player to compete at our level. His timing, length and athleticism pose a great challenge for every team. What has been impressive is his ability to be unselfish and know his role. When Central combines their athleticism on the perimeter with Akoy's ability to protect the basket it becomes a struggle to score."
With Agau and 6'6 Tre'Shawn Thurman choking the paint, contesting any shot launched near the basket, and smaller teammates pressing, Central held foes to a stingy 34 percent field goal mark. In the regular season the Eagles had 153 blocks to their opponents' 22. They forced 470 turnovers, committing only 309.
At 27-0 entering the 2012 state tournament, Central is the overwhelming favorite to repeat as Class A champs this weekend at the Devaney Center in Lincoln. The Eagles dominated the regular season, winning by an average score of 71 to 45, and its most dominating player by far is Agau. He normally puts up modest stats, averaging about 12 points, 6 rebounds and 2.5 blocks per game. But as anyone who's ever seen him play will tell you, it's the intangibles that make him a difference-maker on a remarkably well-balanced squad that pressures foes with quickness, height, leaping ability, a deep bench and effective passing.
They get lots of steals that lead to fastbreak layups and dunks.
The way Central shares the ball explains why no one averages more than 12 points a game. Any one of seven guys can go off any given night. Agau could easily double his point total if Central force fed him the ball. He's cool the way it is.
"We're all really good players, we're all capable of 20-plus point games. If any one of us went to a different team we'd be able to score a lot. It's just something we all know we can do. If a guys gets 18 or 20 points, no one has a problem with it because the next game it's someone else. Our individual scoring is something we don't really look at as long as we're winning."
Behrens appreciates his big man not being a prima donna.
"He's a great teammate. For as much attention and for as many Division I scholarship offers as he has he's very unselfish. He's really just focused on winning – whatever that takes, and that's a really nice thing for us coaches and for his teammates to have, and it's kind of rare.
"And he's a real leader on the team. He's really good at knowing when a guy needs a kick in the butt or a pat on the back. Plus, he's a hard worker, both in the team stuff we do but also in terms of individual skill work he does outside of that, and that's why he's got so much better – he works at it, he works very hard at it. And he works hard in the weight room, so he's gotten a lot stronger."
On a team without a star, Agau is its MVP. When he fouled out of the regular season finale versus Bellevue East the Chieftans made a run. He sat out the district  opener recovering from minor knee surgery and in his absence lowly Northwest played Central even until the Eagles pulled away at the end, among the few times anyone's hung withthem  that long. The lead is usually double digits at the half and the game long decided before the final quarter.
If Agau leads Central as expected to the Class A title, he will be three-fourths of the way toward a goal he set as a 13-year-old.
"It's a funny story," he says. "Since middle school I've been saying to my friends I'm going to win four state titles. I have this big thing where I would win four state titles and then when I win the fourth title when they interview you on TV after the game that's when I'll make my (college) decision public. But I don't know if it'll be all that."
Local fans would love to see him end up a Husker, Bluejay or Maverick, but his offers extend far beyond Nebraska. He's not hinting which way he's leaning, though his mother makes no bones about preferring him to stay close to home.
"That's something we talk about a lot," she says. "We tell him if he would go to a different state it would be hard for us. Bur if he goes away that will be fine with us, too."
Her fondest wish for the family's move to America was for Akoy, her eldest, "to try and help himself for his future" and for all her kids to take advantage of opportunities unavailable in Sudan.
"I always tell them, 'You guys are blessed to be here, and you should be happy for what you have,' because what they have – me and their dad we didn't have that. We didn't have good school, good home."
She's thankful her kids can "focus on school and education." She's thankful, too, that Akoy is thriving and setting a good example for his brothers and sisters. "He's a good big brother. We hope his brother Magay will follow him." Magay is a very tall and talented freshman at Central.
The fact that Akoy still retains the Dinka language and some Arabic also pleases his mother, who keeps Sudanese cultural traditions alive at home.
There's a conspiracy of hearts when it comes to Akoy, whose mother counts as allies and advisors Scott Hammer and Coach Behrens. With so many adults looking after his best interests, she says, "we teach him from both sides."
Agau says his parents "don't really understand" the sport or the success he's enjoying, though his mother understands enough to say, "basketball is good for his college." A family that had no prior exposure to the sport will likely have part of its American Dream realized through it. None of it may have unfolded under different circumstances but as Agau says, "We don't dwell on what would have happened if we would have stayed back in Sudan, we just focus on being happy where we are now and what we have. We're very grateful. Being able to go to school and get our education is most important. Getting to play basketball is an extra."
Still, he's keenly aware basketball is his ticket to larger opportunities. He's also aware of the attendant expectations and hype that come with success.
"I can't really get focused or take too seriously all these things people are saying about me. I just keep focusing on what I'm doing and just keep going to the gym and getting better because, personally, I don't think I've done anything yet. I'm still in high school, there's the next step of graduating from high school and then going to college. I still have a lot to do."
That same low-key, taking-care-of-business attitude permeates the Central program. It helps explain why the Eagles have played consistently well, avoiding the lulls that happen when teams take opponents for granted or get too far ahead of themselves or get too full of themselves. It's why the pressure to live up to being the Nebraska prep version of the high-flying Phi Slamma Jamma hasn't derailed them.
Typically, Akoy takes it all in stride.
"That pressure is there now because everyone expects us to be good. We've been playing really well, so everyone expects us to win the state tournament. We just have to make sure we keep on getting better individually and as a team in order to be able to win state again."
He has another year of high school ball ahead of him, and then it will be off to play collegiately somewhere. Whether or not he becomes an impact player at that next level is beside the point given how much he's overcome and how far he's traveled.
Related articles