Posts Tagged 'African American'
North Omaha's prospects are looking up, even as longstanding problems remain a drag on the largely African-American community, and a strong, established leadership base in place is a big part of the optimism for the area's continued revival.  These leaders are in fact driving the change going on.  Working side by side or coming up right behind that veteran leadership cohort is a group of emerging leaders looking to put their own stamp on things.  The following article for The Reader (www.thereader.com) takes a look at this next generation of North Omaha leaders and their take on opportunities and vehicles for being change agents.
Thomas Warren and Julia Parker
Next generation of North Omaha leaders eager for change: New crop of leaders emerging to keep momentum going
©by Leo Adam Biga
Now appearing in The Reader (www.thereader.com)
If redevelopment plans for northeast Omaha come to full fruition then that long depressed district will see progress at-scale after years of patchwork promises. Old and new leaders from largely African-American North Omaha will be the driving forces for change.
A few years and projects into the 30-year, $1.4 billion North Omaha Revitalization Village Plan, everyone agrees this massive revival is necessary for the area to be on the right side of the tipping point. The plan's part of a mosaic of efforts addressing educational, economic, health care, housing, employment disparities. Behind these initiatives is a coalition from the private and public sectors working together to apply a focused, holistic approach for making a lasting difference.
Key contributors are African-American leaders who emerged in the last decade to assume top posts in organizations and bodies leading the charge. Empowerment Network Facilitator Willie Barney, Douglas Country Treasurer John Ewing, Urban League of Nebraska Executive Director Thomas Warren and Omaha City Councilman Ben Gray are among the most visible. When they entered the scene they represented a new leadership class but individually and collectively they've become its well-established players.
More recently, Neb. State Senator Tanya Cook and Omaha 360 Director Jamie Anders-Kemp joined their ranks. Others, such as North Omaha Development Corporation Executive Director Michael Maroney and former Omaha City Councilwoman and Neb. State Sen. Brenda Council, have been doing this work for decades.
With so much yet to come and on the line, what happens when the current crop of leaders drops away? Who will be the new faces and voices of transformation? Are there clear pathways to leadership? Are there mechanisms to groom new leaders? Is there generational tension between older and younger leaders? What does the next generation want to see happen and where do they see things headed?
Some North Omaha leaders
The Reader asked veteran and emerging players for answers and they said talent is already in place or poised to assume next generation leadership. They express optimism about North O's direction and a consensus for how to get there. They say leadership also comes in many forms. It's Sharif Liwaru as executive director of the Malcolm X Memorial Foundation, which he hopes to turn into an international attraction. It's his artist-educator wife Gabrielle Gaines Liwaru. Together, they're a dynamic couple focused on community betterment. Union for Contemporary Arts founder-director Brigitte McQueen, Loves Jazz and Arts Center Executive Director Tim Clark and Great Plains Black History Museum Board Chairman Jim Beatty are embedded in the community leading endeavors that are part of North O's revival.
Seventy-Five North Revitalization Corp. Executive Director Othello Meadows is a more behind-the-scenes leader. His nonprofit has acquired property and finished first-round financing for the Highlander mixed-used project, a key Village Plan component. The project will redevelop 40 acres into mixed income housing, green spaces and on-site support services for "a purpose-built" urban community.
Meadows says the opportunity to "work on a project of this magnitude in a city I care about is a chance of a lifetime." He's encouraged by the "burgeoning support for doing significant things in the community." In his view, the best thing leaders can do is "execute and make projects a reality," adding, "When things start to happen in a real concrete fashion then you start to peel back some of that hopelessness and woundedness. I think people are really tired of rhetoric, studies and statistics and want to see something come to life." He says new housing in the Prospect Hill neighborhood is tangible positive activity.
Othello Meadows
Meadows doesn't consider himself a traditional leader.
"I think leadership is first and foremost about service and humility. I try to think of myself as somebody who is a vessel for the hopes and desires of this neighborhood. True leadership is service and service for a cause, so if that's the definition of leadership, then sure, I am one."
He feels North O's suffered from expecting leadership to come from charismatic saviors who lead great causes from on high.
"In my mind we have to have a different paradigm for the way we consider leadership. I think it happens on a much smaller scale. I think of people who are leaders on their block, people who serve their community by being good neighbors or citizens. That's the kind of leadership that's overlooked. I think it has to shift from we've got five or six people we look to for leadership to we've got 500 or 600 people who are all active leaders in their own community. It needs to shift to that more grassroots, bottom-up view."
Where can aspiring North O leaders get their start?
"Wherever you are, lead," John Ewing says. "Whatever opportunities come, seize them. Schools, places of worship, neighborhood and elected office all offer opportunities if we see the specific opportunity."
"They need to get in where they fit in and grow from there," says Dell Gines, senior community development advisor, Omaha Branch at Federal Reserve Bank of Kansas City.
Empowerment Network board member and Douglas County Health Department health educator Aja Anderson says many people lead without recognition but that doesn't make them any less leaders.
"There are individuals on our streets, in our classrooms, everywhere, every day guiding those around them to some greater destiny or outcome," Anderson says.
Meadows feels the community has looked too often for leadership to come from outside.
"A community needs to guide its own destiny rather than say, 'Who's going to come in from outside and fix this?'"
He applauds the Empowerment Network for "trying to find ways to help people become their own change agents."
Carver Bank Interim Director JoAnna LeFlore is someone often identified as an emerging leader. She in turn looks to some of her Next Gen colleagues for inspiration.
"I'm very inspired by Brigitte McQueen, Othello Meadows and Sharif Liwaru. They all have managed to chase their dreams, advocate for the well-being of North Omaha and maintain a professional career despite all of the obstacles in their way. You have to have a certain level of hunger in North Omaha in order to survive. What follows that drive is a certain level of humility once you become successful. This is why I look up to them."
LeFlore is emboldened to continue serving her community by the progress she sees happening.
"I see more creative entrepreneurs and businesses. I see more community-wide events celebrating our heritage. I see more financial support for redevelopment. I feel my part in this is to continue to encourage others who share interest in the growth of North Omaha. I've built trusting relationships with people along the way. I am intentional about my commitments because those relationships and the missions are important to me. Simply being a genuine supporter, who also gets her hands dirty, is my biggest contribution.
"Moving forward, I will make an honest effort to offer my expertise to help build communication strategies, offer consultations for grassroots marketing and event planning and be an advocate for positive change. I am also not afraid to speak up about important issues."
If LeFlore's a Next Gen leader, then Omaha Small Business Network Executive Director Julia Parker is, too. Parker says, "There is certainly a changing of the guard taking place throughout Omaha and North O is not an exception. Over the next several years, I hope even more young professionals will continue to take high level positions in the community. I see several young leaders picking up the mic." She's among the new guard between her OSBN work and the Urban Collaborative: A Commitment to Community group she co-founded that she says "focuses on fostering meaningful conversation around how we can improve our neighborhoods and the entire city."
Parker left her hometown for a time and she says, "Leaving Omaha changed my perspective and really prompted me to come home with a more critical eye and a yearning for change."
Like Parker, Othello Meadows left here but moved back when he discerned he could make a "meaningful" impact on a community he found beset by despair. That bleak environment is what's led many young, gifted and black to leave here. Old-line North O leader Thomas Warren says, "I am concerned about the brain drain we experience in Omaha, particularly of our best and brightest young African-Americans students who leave. We need to create an environment that is welcoming to the next generation where they can thrive and strive to reach their full potential." Two more entrenched leaders, John Ewing and Douglas County Commissioner Chris Rodgers, are also worried about losing North O's promising talents. "We have to identify, retain and develop our talent pool in Omaha," Ewing says.
Tunette Powell
Omaha Schools Board member Yolanda Williams says leadership doors have not always been open to young transplants like herself – she's originally from Seattle – who lack built-in influence bases.
"I had to go knock on the door and I knocked and knocked, and then I started banging on the door until my mentor John Ewing and I sat down for lunch and I asked, 'How do younger leaders get in these positions if you all are holding these positions for years? How do I get into a leadership role if nobody is willing to get out of the way?' They need to step out of the way so we can move up.
"It's nothing against our elder leadership because I think they do a great job but they need to reach out and find someone to mentor and groom because if not what happens when they leave those positions?"
Ewing acknowledges "There has been and will always be tension between the generations," but he adds, "I believe this creative tension is a great thing. It keeps the so-called established leaders from becoming complacent and keeps the emerging leaders hungry for more success as a community. I believe most of the relationships are cordial and productive as well as collaborative. I believe everyone can always do more to listen. I believe the young professional networks are a great avenue. I also believe organizations like the Empowerment Network should reach out to emerging leaders to be inclusive."
Author, motivational speaker and The Truth Hurts director Tunette Powell says, "It's really amazing when you get those older leaders on board because they can champion you. They've allowed me to speak at so many different places." Powell senses a change afoot among veteran leaders, "They have held down these neighborhoods for so long and I think they're slowly handing over and allowing young people to have a platform. i see that bridge." As a young leader, she says, "it's not like I want to step on their toes. We need this team. It's not just going to be one leader, it's not going to be young versus old, it's going to be old and young coming together."
Yolanda Williams
In her own case, Yolanda Williams says she simply wouldn't be denied, "I got tired of waiting. I was diligent, I was purpose-driven. It was very much networking and being places and getting my name out there. I mean, I was here to stay, you were not just going to get rid of me."
LeFlore agrees more can be done to let new blood in.
"I think some established leaders are ignoring the young professionals who have potential to do more."
Despite progress, Powell says "there are not enough young people at the table." She believes inviting their participation is incumbent on stakeholder organizations. She would also like to see Omaha 360 or another entity develop a formal mentoring program or process for older leaders "to show us that staircase."
Some older leaders do push younger colleagues to enter the fray.
Shawntal Smith, statewide administrator for Community Services for Lutheran Family Services of Nebraska, says Brenda Council, Willie Barney and Ben Gray are some who've nudged her.
"I get lots of encouragement from many inside and outside of North Omaha to serve and it is a good feeling to know people trust you to represent them. It is also a great responsibility."
Everyone has somebody who prods them along. For Tunette Powell, it's Center for Holistic Development President-CEO Doris Moore. For Williams, it's treasurer John Ewing. But at the end of the day anyone who wants to lead has to make it happen. Williams, who won her school board seat in a district-wide election, says she overcame certain disadvantages and a minuscule campaign budget through "conviction and passion," adding, "The reality is if you want to do something you've got to put yourself out there." She built a coalition of parent and educator constituents working as an artist-in-residence and Partnership 4 Kids resource in schools. Before that, Williams says she made herself known by volunteering. "That started my journey."
Powell broke through volunteering as well. "I wasn't from here, nobody knew me, so I volunteered and it's transformed my life," says the San Antonio native.
"The best experience, in my opinion, is board service," OSBN's Julia Parker says. "Young leaders have a unique opportunity to pull back the curtain and see how an organization actually functions or doesn't. It's a high level way to cut your teeth in the social sector."
JoAnna LeFlore, ©omahamagazine.com
Chris Rodgers, director of community and government relations at Creighton University, agrees: "I think small non-profits looking for active, conscientious board members are a good start. Also volunteering for causes you feel deeply about and taking on some things that stretch you are always good."
The Urban League's Thomas Warren says, "We have to encourage the next generation of leaders to invest in their own professional growth and take advantage of leadership development opportunities. They should attend workshops and seminars to enhance their skills or go back to school and pursue advanced degrees. Acquiring credentials ensures you are prepared when opportunities present themselves."
Gaining experience is vital but a fire-in-the-belly is a must, too. Yolanda Williams says she was driven to serve on the school board because "I felt like I could bring a voice, especially for North Omaha, that hadn't yet been heard at the table as a younger single parent representing the concerns and struggles of a lot of other parents. And I'm a little bit outspoken I say what I need to say unapoligitically."
Powell says young leaders like her and Williams have the advantage of "not being far removed from the hard times the people we're trying to reach are experiencing." She says she and her peers are the children of the war on drugs and its cycle of broken homes. "That's a piece of what we are, so we get it. We can reach these young people because our generation reflects theirs. I see myself in so many young people."
Just a few years ago Powell had quit college, was on food stamps and didn't know what to do with her life. "People pulled me up, they elevated me, and I have to give that back," she says. In her work with fatherless girls she says "what I find is you've got to meet them where they're at. As younger leaders we're not afraid to do that, we're not afraid to take some risks and do some things differently. We're seeing we need something fresh. Creativity is huge. When you look at young and old leaders, we all have that same passion, we all want the same thing, but how we go about it is completely different."
Powell says the African-American Young Professionals group begun by fellow rising young star Symone Sanders is a powerful connecting point where "dynamic people doing great things" find a common ground of interests and a forum to network. "We respect each other because we know we're all going in that direction of change."
Sanders, who's worked with the Empowerment Network and is now communications assistant for Democratic gubernatorial candidate Chuck Hassebrook, says AAYP is designed to give like-minded young professionals an avenue "to come together and get to know one another and to be introduced in those rooms and at those tables" where policy and program decisions get made.
Aja Anderson believes Next Gen leaders "bridge the gap," saying, "I think this generation of leaders is going to be influential and do exceptionally well at creating unity and collaboration among community leaders and members across generations. We're fueled with new ideas, creativity and innovation. Having this group of individuals at the table will certainly make some nervous, others excited and re-ignite passion and ideas in our established group."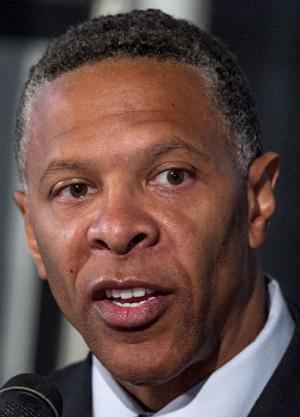 John Ewing
County treasure John Ewing sees the benefit of new approaches. "I believe our emerging leaders have an entrepreneurial spirit that will be helpful in building an African-American business class in Omaha."
While Williams sees things "opening up," she says, "I think a lot of potential leaders have left here because that opportunity isn't as open as it should be."
Enough are staying to make a difference.
"It's exciting to see people I've known a long time staying committed to where we grew up," 75 North's Othello Meadows says. "It's good to see other people who at least for awhile are going to play their role and do their part."
Shawntal Smith of Lutheran Family Services is bullish on the Next Gen.
"We are starting to come into our own. We are being appointed to boards and accepting high level positions of influence in our companies, firms, agencies and churches. We are highly educated and we are fighting the brain drain that usually takes place when young, gifted minorities leave this city for more diverse cities with better opportunities. We are remaining loyal to Omaha and we are trying to make it better through our visible efforts in the community.
"People are starting to recognize we are dedicated and our opinions, ideas and leadership matter."
Old and young leaders feel more blacks are needed in policymaking capacities. Rodgers and Anderson are eager to see more representation in legislative chambers and corporate board rooms.
Warren says, "I do feel there needs to be more opportunities in the private sector for emerging leaders who are indigenous to this community." He feels corporations should do more to identify and develop homegrown talent who are then more likely to stay.
Shawntal Smith describes an added benefit of locally grown leaders.
"North Omahans respect a young professional who grew up in North Omaha and continues to reside in North Omaha and contribute to making it better. Both my husband and I live, shop, work, volunteer and attend church in North Omaha. We believe strongly in the resiliency of our community and we love being a positive addition to North Omaha and leaders for our sons and others to model."
With leadership comes scrutiny and criticism.
"You have to be willing to take a risk and nobody succeeds without failure along the way to grow from," Rodgers says. "If you fail, fail quick and recover. Learn from the mistake and don't make the same mistakes. You have to be comfortable with the fact that not everybody will like you."
Tunette Powell isn't afraid to stumble because like her Next Gen peers she's too busy getting things done.
"As Maya Angelou said, 'Nothing will work unless you do,' I want people to say about me, 'She gave everything she had.'"
Read more of Leo Adam Biga's work at leoadambiga.wordpress.com.
Categories:

African-American Culture, African-American Empowerment Network, Community/Neighborhoods, JoAnna LeFlore, North Omaha, Omaha, Othello Meadows, Tunette Powell, Writing, Yolanda Williams
African American, African-American Empowerment Network, JoAnna LeFlore, John Ewing, North Omaha, North Omaha Leadership, Othello Meadows, Thomas Warren, Tunette Powell, Yolanda Williams
I wrote the following  feature and sidebar exploring some trends about the changing face of Neb. and the University of Nebraska at Omaha, my alma mater.  Slowly but surely the state and some of its institutions are becoming more diverse.  Some of the changes can be readily seen already, others not so much, but in a few decades they will be more obvious.   It's a healthy thing that's happening, though diversity is still taking far too long to be fully felt and lived and embraced in all quarters, but that's for another story.
Nebraska's Changing Face
©by Leo Adam Biga
Nebraska's "Plain Jane" sameness has long extended to its racial makeup. Diversity hasn't held much truck here. Even when the foreign-born population was at its peak in the state's first half century, the newcomers were predominantly of European ancestry.
An African-American migration from the Deep South to Omaha in the early 1900s established the city's black base. Until a new immigration wave in the 1990s brought an influx of Africans and Latinos-Hispanics to greater Neb., the composite face of this Great Plains state was decidedly monotone.
The perception of Flyover Country as a bastion of white farmers has never been completely accurate. The state's two largest metropolitan areas, for example, have always boasted some heterogeneity. Urban areas like Omaha and urban institutions such as the University of Nebraska at Omaha express more racial-ethnic diversity because of longstanding minority settlement patterns and the university drawing heavily from the metro.
But it is true Neb.'s minority population has always been among the nation's smallest, which only supported the stereotype.
Finally, though, its minority numbers are going up and its diversity broadening.
Still, if Nebraskans posed for a group portrait as recently as 1980 more than 9 of every 10 would have beeb white. Only 6 percent identified as African-Americans, Latino-Hispanics, Native Americans or Asians.
The lack of diversity extended virtually everywhere. The largest minority group then, blacks, was highly concentrated in Omaha. Despite slow, steady gains blacks still account for only 13 percent of the city's population and 4 percent of the state's population.
But as recently announced by UNO researchers, Neb. is changing and with it the face of the state. A group picture taken today would reveal a noticeable difference compared to a quarter century ago, with whites now accounting for 8 of every 10 residents. Indeed, the state's minority population has more than doubled the past four decades, with by far the largest increase among Latinos-Hispanics, who now comprise the largest minority segment. Latinos-Hispanics are on a linear growth trajectory. They tend to be young and their women of childbearing age.
Minority growth has been even greater in select communities, such as Lexington, where meat processing attracted newcomers.
Celebrated native son filmmaker Alexander Payne's new movie "Nebraska" – set and shot primarily in the northeast part of the state – accurately portrays a slice of Neb.'s past and present through a large ensemble of characters, all of whom but two are white. The exceptions are both Hispanic. The Oscar-winning writer-director may next make a partly Spanish-language feature about the impact of the immigrant population on Neb.'s towns and cities.
New UNO Center for Public Affairs Research projections posit that by 2050 the state's portrait will dramatically change as a result of major demographic trends well under way. Within four decades minorities will account for about 40 percent of the entire population. Nearly a quarter of the projected 2050 population of 2.2 million, or some 500,000, will be Latino-Hispanic.
It's a sea change for a state whose diversity was traditionally confined to a few enclaves of color. Immigration, migration and natural causes are driving this new minority surge.
Everything is relative though. So while CPAR Research Coordinator David Drzod says, "Our diversity will increase," he adds, "Neb. is one of the less diverse places countrywide and other states are going to become more diverse as well."
Still, the snapshot of Neb. is changing due to real demographic shifts with significant longterm consequences. Just as the majority white base is holding static or declining, non-whites are proliferating. The results can be seen in the ever more diverse profiles of some communities, neighborhoods, schools and other settings.
Thus, for the first time in Neb. diversity is becoming more lived reality than aspirational goal.
Economic conditions were the main driver for the sharp rise in Latinos-Hispanics migrating here. Plentiful jobs, a low cost of living, coupled with aggressive industry recruitment, lured people to move here from places with comparatively weak economies, high cost of living and job shortages. Neb. grew its Latino-Hispanic base from points of origin in California, Texas. Mexico, Central America and South America, The state also saw its African and Asian populations increase as refugees from Sudan and Bhutan, for example, resettled here.
Drozd says, "People are not coming as directly for new jobs like in the '90s when the meat processors were expanding and recruiting. We expect to see some regional migration that Neb. has typically seen from smaller locations to more urban locations that tend to have a diverse pool of job opportunities within various industries."
While migration has slowed from its peak waves it's expected to continue in fits and starts. Migration, researchers agree is "a wildcard" that can't be accurately forecast, but Office of Latino and Latin American Studies Research Associate Lissette Aliaga Linares notes an uptick in Latinos-Hispanics from Arizona, which OLLAS Director Lourdes Gouvia attributes to that state's anti-immigrant policies.
Drozd says Neb.'s minority experience is consistent with some surrounding states and inconsistent with others.
"We are typical of the Great Plains in that we tend to suffer from outmigration especially of young college-aged whites, which is counteracted by in-migration and increase in the minority population groups. On the other hand Neb. is unique in that we are growing faster in some of our metropolitan areas and not holding our population as well as some of the more rural areas."
The emergence of more minorities is perhaps most visible in urban inner city public schools, where student enrollment naturally reflects the heavily minority communities these schools serve. Minority enrollment in the Omaha Public Schools stands at 68 percent.
"The diversity of UNO will continue to grow and one only has to look at the demographics in the metro area to understand that traditional middle school and high school students will increasingly be students of color," says UNO Senior Vice Chancellor for Academic and Student Affairs B.J. Reed.
Some outstate school districts are now majority Latino-Hispanic.
The impact of diversity in this small population state that suffers from brain drain cannot be overstated.
"There's a large part of Neb. that would be having population decline if it were not for minority growth," says Drozd. "There's all sorts of implications with respect to aging, the workforce, health care, education. From a gerontology standpoint you have the possibility of seeing a younger, more diverse working-age population caring for a predominantly white non-Hispanic aging population and will there be any issues associated there. With programs like Social Security you're going to be relying more and more on an immigrant population to support payments for predominantly white people collecting from the program. So there are potentials for tension there and of course political ramifications and all sorts of factors."
Gouveia, a sociology professor, reminds that "Latinos are going to imitate some trends of the larger population the more urban and educated they become," adding. "The more women are able to work outside the home fertility rates will drop and the population will begin to age. It's the life cycle."
As minorities grow they become a larger sector of the tax and voting base that elected officials and prospective candidates must recognize.
Drozd says communities must adapt, whether offering English-as-a-Second Language programs or multicultural competency classes, in order to best serve minorities and their particular needs.
As more minorities graduate high school educators and employers hope that many of these college-bound grads and working-age young adults will attend school and find jobs in-state.
"As people have become upwardly mobile in Neb.'s past that has led to outmigration out of the state," says Drozd. "It's going to be a very policy relevant factor because people born in the early '90s are now hitting age 18. Even if they choose a Neb. college where are they going to go to work? Will there be jobs and associated positions for them here in the state or will they go out of state?"
Just as preparing students to succeed in school is critical, so is preparing a workforce for today's service and skilled jobs.
"Let's make no mistake about this, without immigration Nebraskans may have to rethink how they are going to have a viable economy that produces not only jobs but payrolls that produce taxes from which an aging population will benefit greatly," says Gouveia. "Without this population there won't be services this Boomer population and this aspiring mini-global city of Omaha depends on. These are increasingly service economies and that means it's very important for the economy to increasingly be based on higher pay jobs likely to grow, such as information technology or biotechnology.
"That also means educational institutions need to be able to truly know how to train this generation of children of immigrants. The children may not be immigrants themselves but a large number have immigrant parents who endured very poor, disadvantageous conditions that tend to disadvantage the educational achievement of their children. We have to have multidimensional. multidisciplinary perspectives to understand who this population is. And that goes to our research also."
She believes minorities will succeed to the extent opportunities allow.
"We haven't addressed the serious barriers to education that would guarantee that new face of America and of Neb. becomes a face with equal opportunities to participate in the prosperity all of us will want to share." She says if barriers to upward mobility aren't removed "it may prevent Neb. from truly harnessing what we call this demographic bonus that's been gifted to this state. A state that was losing population were it not for minority growth and international migration would be in serious trouble today to have a viable economy and future."
Daniel J. Shipp, UNO associate vice chancellor for student affairs, says schools must find ways to support minority students.
"When combined with the typical struggles of new college students the demographics of race-ethnicity will create even more difficult challenges in both access to and success in college. Not only must we continue to open our doors wider to traditionally under-served student populations but once on campus it is critical for all of us to see their success as a top institutional and community priority."
UNO Associate Vice Chancellor for Academic and Student Affairs Pelema Morrice urges educators and employers to appreciate diversity's many forms.
"We always focus on racial-ethnic diversity but I think intellectual diversity, geographic diversity, cultural diversity, all those different forms of diversity, really add a lot of value to everyone's experience. There's plenty of evidence that the more diverse environment we're in the more we all have opportunities to learn from each other.
"So I think it's incredibly important for an institution to be a welcoming and diverse environment where folks can learn from each other at a higher level. I think that adds to the educational experience and it provides students with really good training to go out and be productive citizens and to be successful in the workplace."
Diversity is also the way of this flatter, interconnected world.
Reed from UNO's Academic and Student Affairs office, says "Our students will grow up in a much more global environment requiring exposure to difference cultures and different experiences."
Where diversity often must be programmed, Gouveia is heartened by students' inherent embrace of it. "About this new Neb. mosaic, one thing I'm particularly hopeful about is the younger generation. I love our new students. From any background they are so much more prepared and so much more ahead of where we are as professors or department chairs or deans in terms of knowing how to do diversity. We are the ones who are often behind them."
As Neb. becomes more multi-hued, UNO's Morrice says representative stakeholders should discuss what diversity holds for the state.
"With these new demographics coming forward it means our student base will obviously be more diverse than it is now and that means the outcomes will be more diverse and so we'll see more diverse workplaces and communities within the state. We're just a piece of that puzzle but I think it's a good collective conversation for everyone to have as the state continues to grow and it becomes clear that there will be different faces at the table."
UNO's Changing Face
©by Leo Adam Biga
The same demographic trends on pace to make the United States a minority majority population by 2050 and making Neb. a more racially-ethnically diverse place in the second decade of the new millennium, are increasingly being expressed at the University of Nebraska at Omaha.
Roughly a quarter of UNO's 2013-2014 freshman class is minority and just under 20 percent of the school's entire undergraduate enrollment is minority. Both are record marks for the school. In 2000, for example, UNO's minority enrollment stood at 9 percent. The minority numbers are even greater among graduate students.
The 11 percent rise in UNO minority enrollment from 2000 until now reflects in large measure the Latino-Hispanic boom that happened in-state from 1980 to 2010, when that segment increased from about 37,000 to 167,000. The Latino-Hispanic population is expected to add another 370,000 residents by 2050, according to UNO's Center for Public Affairs Research.
As a public institution with a state-wide reach, UNO's a model for the changing face of Neb. Drawing principally from the Omaha metropolitan area, which as the state's largest urban center has always been Neb.'s most racially-ethnically diverse spot, UNO is, as expected, one of the most diverse campuses in the University of Nebraska system.
At the University of Nebraska-Kearney minority undergraduate enrollment has nearly doubled since 1995. Today, nearly a quarter of its students are non-white or non-resident alien. Meanwhile, the University of Nebraska-Lincoln reports the most diverse student body in its history. UNL's  2,328 minority undergrads are about 12 percent of the undergraduate total, a 9 percent increase just from last year. Just as at UNO, the largest minority gains at each school are in the Latino-Hispanic and international students categories,
As minorities comprise a growing segment of the state's mainstream and of its public schools' enrollment, institutions are tasked with incorporating these populations and responding to their needs.
"The good news for Omaha is that UNO has a proud tradition of supporting minority students through various educational equity and learning community investments such as Goodrich, Project Achieve and the newer Thompson Learning Community," says UNO Associate Vice Chancellor for Student Affairs Daniel J. Shipp. "These programs provide student participants with a network of caring and concerned faculty, staff and peer mentors that help students to succeed and thrive in college. Moving forward, I expect we will continue to build on our national reputation for attracting and supporting the growing numbers of minority students and their families in the Omaha area and beyond."
"Minority students are an important population but they are only one of an increasing mosaic of diversity at UNO, whether they are military, first generation, students of color or adult learners or transfer students," says UNO Senior Vice Chancellor for Academic and Student Affairs B.J. Reed. "We are working every day to ensure that these students feel welcome at UNO and have the type of support services and environment that will make them want to be want to be here and to be successful. We do this for all our special populations of students. We have programs and learning communities as well as staff specifically directed at helping ease their transition to UNO and success in their academic goals."
Reed says hiring faculty and staff who reflect the changing face of UNO "is a top priority," adding, "We have made important strides in diversifying our staff but we lag behind where we want to be here and also with recruiting and retaining a more diverse faculty. We are working on reviewing existing policies and procedures and looking at incentives and support efforts to increase the diversity of faculty and staff to reflect the changing demographics of our student body."
There's wide agreement that diversity is a net sum experience for all involved.
"The benefits are substantial," Reed says. "The workplace is becoming increasingly diverse and employers need and want an increasingly diverse group of employees. We cannot underestimate the shift occurring here. We need to provide a strong educational workforce for employers and UNO must be positioned to do that effectively."
Office of Latino and Latin American Studies Director and Sociology Professor Lourdes Gouveia agrees that educators at UNO and elsewhere must increasingly consider diversity and its impact.
"We have to educate our professionals and student populations in ways that allow them to be skilled about global issues and diversity and to have multicultural competencies as the world is very connected," she says. "But also we need to address structural barriers that may prevent Neb. from truly harnessing what we call this demographic bonus that has been gifted to this state. A state that was losing population if not for minority growth and international migration would be in serious trouble today to have a viable economy and a future."
Categories:

African-American Culture, Education, Latino/Hispanic, Nebraska, OLLAS (Office of Latino and Latin American Studies), Omaha, Race, University of Nebraska, UNO (University of Nebraska at Omaha), Writing
African American, Demographics, ethnicity, Latino/Hispanic, Nebraska, Office of Latino and Latin American Studies, Population, Race, University of Nebraska, University of Nebraska at Omaha
Omaha has lost one of its most respected and exibited artists, Wanda Ewing.  As a memoriam to her, I am posting for the first on this blog a story I did about an exhibition of hers some years ago.  When the assignment came I already knew her work and like most folks who experienced it I was quite impressed.  I very much wanted to do a full-blown profile of her but I only got the go-ahead to focus on the exhibit.  She was very gracious with her time in helping me understand where she was coming from in her work.  Her untimely death has taken most of us, even though who knew her far better than me, by complete surprise.  Facebook posts about her are filled with shock and admiration.
You can appreciate her work at http://www.wandaewing.com.  The Omaha World-Herald should have a notice in the next day or so.
Wanda Ewing Exhibit: Bougie is as Bougie Does
©by Leo Adam Biga
Originally appeared in The Reader (www.thereader.com)
Wanda Ewing is at it again. The Omaha printmaker known for her provocative spin on African-American images has created a sardonic collection of reductive linocuts and acrylic paintings that considers aspects of beauty, race and social status. The work has been organized in the solo exhibition, Bougie, at the Sheldon Memorial Art Gallery in Lincoln, where it continues through December 2.
The title comes from a slang term, derived from the French word bourgeois, used in the black community as a put down for anyone acting "uppity," said Ewing, an assistant professor in the Department of Art and Art History at the University of Nebraska at Omaha. "It speaks to the level of acceptance due to your social and economic background, your physical appearance, all of it."
She explores bougie through the template of popular magazine culture and its vacuous lifestyle advice. The heart of the show is 12 faux glossy covers, each a reductive linocut with vinyl lettering on acetate, depicting a slick monthly women's mag of her imagination called Bougie. The garish covers are inspired by Essence and other Cosmo knockoffs whose content places style over substance.
Among the "bougie markers," as Ewing calls them, are black cover girls with straight or long hair and "story tags" that embody those things compelling to bougie women — shopping, how to lose weight, money and getting a man. Some of the teasers get right to the point: "Not Hood enough? 25 ways to get ghetto fabulous." Another reads, "It's what's on the outside that counts." Among the many double entendres are, "Tom Tom Club, back on the scene" and "I'm dreaming of a white Christmas."
"I wanted to achieve something that was funny to read, but had some grit to it," she said.
Each "issue" is adorned by a head and shoulders illustration of a black glamazoid female, the features made just monstrous enough that it's hard to recognize the real-life celebs Ewing based them on. One vixen is based on home girl Gabrielle Union. Other iconic models include Halle Berry, Mariah Carey, Beyonce, Tyra Banks, Janet Jackson, Eve, Star Jones and Queen Latifah.
Ewing "distorted" the images, in part, she said, as "I didn't want them to be necessarily commentary on the celebrity, because it's not about that,"
These cover girls represent impossible beauty standards and thus, in Ewing's hands, become primping, leering creatures for the fashionista industry. Like the figures in her popular Pinup suite, she said, bougie women "are not shrinking violets."
Contrasted with the plastic mag images are big, bold, beautiful head portraits of more realistically rendered black women and their different hair styles — bald, straight, permed, afroed, cornrowed — executed in intense acrylic and latex on canvas. These are celebratory tributes of black womanhood. The figures-colors jump out in the manner of comic book or billboard art. "I'm still holding onto being influenced by Pop Art," Ewing said. "I love color. I'm not afraid of color." The Hair Dresser Dummy works, as she calls them, are a reaction to the stamped-out glam look of the old Barbie Dress Doll series. Ewing's "dolls" embody the inner and outer beauty of black
women, distinct features and all. We're talking serious soul, here.
There are also fetching portraits of women that play with the images of Aunt Jemima and Mammy and that refer to German half-doll figures Ewing ran across. Another painting, Cornucopia, is of a reposed woman's opened legs amid a cascade of flowers — an ode to the source of life that a woman's loins represent.
All these variations on the female form also comment on how "the art world likes to celebrate women," she said, "especially if they're naked and in pieces."

Bougie examines women as objects and the whole "black is-black ain't" debate that Ewing's work often engages. Glam mags help inform the discussion. Ewing said black models were once shades darker and displayed kinkier hair than today, when they have a decidedly more European appearance. "I grew up looking at these images and felt bad because as hard as I tried, I couldn't achieve what was being shown," she said. At least before, she said, publications offered "a variety of the ways black women looked. Now, these magazines idealize the same type of woman with the same kind of features. I find that interesting and damaging on so many levels."
Like the figures in her Pinup series, Bougie's women are too self-possessed or confident to care what anyone thinks of them.
Leave it to a master satirist, Omaha author Timothy Schaffert, to put Ewing's new work in relief. In an essay accompanying the show, he comments:
"The women…demonstrate a giddy indifference to their objectification, defying any interpretations other than the ones they choose to convey. See what you want to see, the women seem to be saying. You can't change who I am, they taunt. Ewing portrays women in the act of posing, women possibly conscious of their degradation yet nonetheless seducing us with their self confidence. For Ewing's women, the beauty myth becomes just another beauty mark…
"And yet the politics of fashion are what give Ewing's work its sinister and satirical bent. Just beyond the coy winks and the toothpaste-peddling smiles and curve-hugging skirts of these fine black women is the sense that the images aren't just about them" but about "the various co-conspirators in the invention of glamour. In Ewing's work, black women assert themselves into the commercial, white-centric iconography of prettiness, and the result is at times funny, at times sad, at times grotesque, but often charming. Her women rise above the didactic, each one becoming a character in her own right, in full control of her lovely image."
In the final analysis, beauty is in the eye of the beholder.
"Although this work is coming from an artist who is black, it is not limited to just the black community," Ewing said. "Ultimately, the work is about beauty. That's a conversation everyone can contribute to."
A conversation is exactly what her work will provoke.
The Sheldon Gallery is located at 12th & R Streets. Admission is free. For gallery hours, call 402.472.2461 or visit www.sheldonartgallery.org.
Related articles