Posts Tagged 'Race'
I wrote the following  feature and sidebar exploring some trends about the changing face of Neb. and the University of Nebraska at Omaha, my alma mater.  Slowly but surely the state and some of its institutions are becoming more diverse.  Some of the changes can be readily seen already, others not so much, but in a few decades they will be more obvious.   It's a healthy thing that's happening, though diversity is still taking far too long to be fully felt and lived and embraced in all quarters, but that's for another story.
Nebraska's Changing Face
©by Leo Adam Biga
Nebraska's "Plain Jane" sameness has long extended to its racial makeup. Diversity hasn't held much truck here. Even when the foreign-born population was at its peak in the state's first half century, the newcomers were predominantly of European ancestry.
An African-American migration from the Deep South to Omaha in the early 1900s established the city's black base. Until a new immigration wave in the 1990s brought an influx of Africans and Latinos-Hispanics to greater Neb., the composite face of this Great Plains state was decidedly monotone.
The perception of Flyover Country as a bastion of white farmers has never been completely accurate. The state's two largest metropolitan areas, for example, have always boasted some heterogeneity. Urban areas like Omaha and urban institutions such as the University of Nebraska at Omaha express more racial-ethnic diversity because of longstanding minority settlement patterns and the university drawing heavily from the metro.
But it is true Neb.'s minority population has always been among the nation's smallest, which only supported the stereotype.
Finally, though, its minority numbers are going up and its diversity broadening.
Still, if Nebraskans posed for a group portrait as recently as 1980 more than 9 of every 10 would have beeb white. Only 6 percent identified as African-Americans, Latino-Hispanics, Native Americans or Asians.
The lack of diversity extended virtually everywhere. The largest minority group then, blacks, was highly concentrated in Omaha. Despite slow, steady gains blacks still account for only 13 percent of the city's population and 4 percent of the state's population.
But as recently announced by UNO researchers, Neb. is changing and with it the face of the state. A group picture taken today would reveal a noticeable difference compared to a quarter century ago, with whites now accounting for 8 of every 10 residents. Indeed, the state's minority population has more than doubled the past four decades, with by far the largest increase among Latinos-Hispanics, who now comprise the largest minority segment. Latinos-Hispanics are on a linear growth trajectory. They tend to be young and their women of childbearing age.
Minority growth has been even greater in select communities, such as Lexington, where meat processing attracted newcomers.
Celebrated native son filmmaker Alexander Payne's new movie "Nebraska" – set and shot primarily in the northeast part of the state – accurately portrays a slice of Neb.'s past and present through a large ensemble of characters, all of whom but two are white. The exceptions are both Hispanic. The Oscar-winning writer-director may next make a partly Spanish-language feature about the impact of the immigrant population on Neb.'s towns and cities.
New UNO Center for Public Affairs Research projections posit that by 2050 the state's portrait will dramatically change as a result of major demographic trends well under way. Within four decades minorities will account for about 40 percent of the entire population. Nearly a quarter of the projected 2050 population of 2.2 million, or some 500,000, will be Latino-Hispanic.
It's a sea change for a state whose diversity was traditionally confined to a few enclaves of color. Immigration, migration and natural causes are driving this new minority surge.
Everything is relative though. So while CPAR Research Coordinator David Drzod says, "Our diversity will increase," he adds, "Neb. is one of the less diverse places countrywide and other states are going to become more diverse as well."
Still, the snapshot of Neb. is changing due to real demographic shifts with significant longterm consequences. Just as the majority white base is holding static or declining, non-whites are proliferating. The results can be seen in the ever more diverse profiles of some communities, neighborhoods, schools and other settings.
Thus, for the first time in Neb. diversity is becoming more lived reality than aspirational goal.
Economic conditions were the main driver for the sharp rise in Latinos-Hispanics migrating here. Plentiful jobs, a low cost of living, coupled with aggressive industry recruitment, lured people to move here from places with comparatively weak economies, high cost of living and job shortages. Neb. grew its Latino-Hispanic base from points of origin in California, Texas. Mexico, Central America and South America, The state also saw its African and Asian populations increase as refugees from Sudan and Bhutan, for example, resettled here.
Drozd says, "People are not coming as directly for new jobs like in the '90s when the meat processors were expanding and recruiting. We expect to see some regional migration that Neb. has typically seen from smaller locations to more urban locations that tend to have a diverse pool of job opportunities within various industries."
While migration has slowed from its peak waves it's expected to continue in fits and starts. Migration, researchers agree is "a wildcard" that can't be accurately forecast, but Office of Latino and Latin American Studies Research Associate Lissette Aliaga Linares notes an uptick in Latinos-Hispanics from Arizona, which OLLAS Director Lourdes Gouvia attributes to that state's anti-immigrant policies.
Drozd says Neb.'s minority experience is consistent with some surrounding states and inconsistent with others.
"We are typical of the Great Plains in that we tend to suffer from outmigration especially of young college-aged whites, which is counteracted by in-migration and increase in the minority population groups. On the other hand Neb. is unique in that we are growing faster in some of our metropolitan areas and not holding our population as well as some of the more rural areas."
The emergence of more minorities is perhaps most visible in urban inner city public schools, where student enrollment naturally reflects the heavily minority communities these schools serve. Minority enrollment in the Omaha Public Schools stands at 68 percent.
"The diversity of UNO will continue to grow and one only has to look at the demographics in the metro area to understand that traditional middle school and high school students will increasingly be students of color," says UNO Senior Vice Chancellor for Academic and Student Affairs B.J. Reed.
Some outstate school districts are now majority Latino-Hispanic.
The impact of diversity in this small population state that suffers from brain drain cannot be overstated.
"There's a large part of Neb. that would be having population decline if it were not for minority growth," says Drozd. "There's all sorts of implications with respect to aging, the workforce, health care, education. From a gerontology standpoint you have the possibility of seeing a younger, more diverse working-age population caring for a predominantly white non-Hispanic aging population and will there be any issues associated there. With programs like Social Security you're going to be relying more and more on an immigrant population to support payments for predominantly white people collecting from the program. So there are potentials for tension there and of course political ramifications and all sorts of factors."
Gouveia, a sociology professor, reminds that "Latinos are going to imitate some trends of the larger population the more urban and educated they become," adding. "The more women are able to work outside the home fertility rates will drop and the population will begin to age. It's the life cycle."
As minorities grow they become a larger sector of the tax and voting base that elected officials and prospective candidates must recognize.
Drozd says communities must adapt, whether offering English-as-a-Second Language programs or multicultural competency classes, in order to best serve minorities and their particular needs.
As more minorities graduate high school educators and employers hope that many of these college-bound grads and working-age young adults will attend school and find jobs in-state.
"As people have become upwardly mobile in Neb.'s past that has led to outmigration out of the state," says Drozd. "It's going to be a very policy relevant factor because people born in the early '90s are now hitting age 18. Even if they choose a Neb. college where are they going to go to work? Will there be jobs and associated positions for them here in the state or will they go out of state?"
Just as preparing students to succeed in school is critical, so is preparing a workforce for today's service and skilled jobs.
"Let's make no mistake about this, without immigration Nebraskans may have to rethink how they are going to have a viable economy that produces not only jobs but payrolls that produce taxes from which an aging population will benefit greatly," says Gouveia. "Without this population there won't be services this Boomer population and this aspiring mini-global city of Omaha depends on. These are increasingly service economies and that means it's very important for the economy to increasingly be based on higher pay jobs likely to grow, such as information technology or biotechnology.
"That also means educational institutions need to be able to truly know how to train this generation of children of immigrants. The children may not be immigrants themselves but a large number have immigrant parents who endured very poor, disadvantageous conditions that tend to disadvantage the educational achievement of their children. We have to have multidimensional. multidisciplinary perspectives to understand who this population is. And that goes to our research also."
She believes minorities will succeed to the extent opportunities allow.
"We haven't addressed the serious barriers to education that would guarantee that new face of America and of Neb. becomes a face with equal opportunities to participate in the prosperity all of us will want to share." She says if barriers to upward mobility aren't removed "it may prevent Neb. from truly harnessing what we call this demographic bonus that's been gifted to this state. A state that was losing population were it not for minority growth and international migration would be in serious trouble today to have a viable economy and future."
Daniel J. Shipp, UNO associate vice chancellor for student affairs, says schools must find ways to support minority students.
"When combined with the typical struggles of new college students the demographics of race-ethnicity will create even more difficult challenges in both access to and success in college. Not only must we continue to open our doors wider to traditionally under-served student populations but once on campus it is critical for all of us to see their success as a top institutional and community priority."
UNO Associate Vice Chancellor for Academic and Student Affairs Pelema Morrice urges educators and employers to appreciate diversity's many forms.
"We always focus on racial-ethnic diversity but I think intellectual diversity, geographic diversity, cultural diversity, all those different forms of diversity, really add a lot of value to everyone's experience. There's plenty of evidence that the more diverse environment we're in the more we all have opportunities to learn from each other.
"So I think it's incredibly important for an institution to be a welcoming and diverse environment where folks can learn from each other at a higher level. I think that adds to the educational experience and it provides students with really good training to go out and be productive citizens and to be successful in the workplace."
Diversity is also the way of this flatter, interconnected world.
Reed from UNO's Academic and Student Affairs office, says "Our students will grow up in a much more global environment requiring exposure to difference cultures and different experiences."
Where diversity often must be programmed, Gouveia is heartened by students' inherent embrace of it. "About this new Neb. mosaic, one thing I'm particularly hopeful about is the younger generation. I love our new students. From any background they are so much more prepared and so much more ahead of where we are as professors or department chairs or deans in terms of knowing how to do diversity. We are the ones who are often behind them."
As Neb. becomes more multi-hued, UNO's Morrice says representative stakeholders should discuss what diversity holds for the state.
"With these new demographics coming forward it means our student base will obviously be more diverse than it is now and that means the outcomes will be more diverse and so we'll see more diverse workplaces and communities within the state. We're just a piece of that puzzle but I think it's a good collective conversation for everyone to have as the state continues to grow and it becomes clear that there will be different faces at the table."
UNO's Changing Face
©by Leo Adam Biga
The same demographic trends on pace to make the United States a minority majority population by 2050 and making Neb. a more racially-ethnically diverse place in the second decade of the new millennium, are increasingly being expressed at the University of Nebraska at Omaha.
Roughly a quarter of UNO's 2013-2014 freshman class is minority and just under 20 percent of the school's entire undergraduate enrollment is minority. Both are record marks for the school. In 2000, for example, UNO's minority enrollment stood at 9 percent. The minority numbers are even greater among graduate students.
The 11 percent rise in UNO minority enrollment from 2000 until now reflects in large measure the Latino-Hispanic boom that happened in-state from 1980 to 2010, when that segment increased from about 37,000 to 167,000. The Latino-Hispanic population is expected to add another 370,000 residents by 2050, according to UNO's Center for Public Affairs Research.
As a public institution with a state-wide reach, UNO's a model for the changing face of Neb. Drawing principally from the Omaha metropolitan area, which as the state's largest urban center has always been Neb.'s most racially-ethnically diverse spot, UNO is, as expected, one of the most diverse campuses in the University of Nebraska system.
At the University of Nebraska-Kearney minority undergraduate enrollment has nearly doubled since 1995. Today, nearly a quarter of its students are non-white or non-resident alien. Meanwhile, the University of Nebraska-Lincoln reports the most diverse student body in its history. UNL's  2,328 minority undergrads are about 12 percent of the undergraduate total, a 9 percent increase just from last year. Just as at UNO, the largest minority gains at each school are in the Latino-Hispanic and international students categories,
As minorities comprise a growing segment of the state's mainstream and of its public schools' enrollment, institutions are tasked with incorporating these populations and responding to their needs.
"The good news for Omaha is that UNO has a proud tradition of supporting minority students through various educational equity and learning community investments such as Goodrich, Project Achieve and the newer Thompson Learning Community," says UNO Associate Vice Chancellor for Student Affairs Daniel J. Shipp. "These programs provide student participants with a network of caring and concerned faculty, staff and peer mentors that help students to succeed and thrive in college. Moving forward, I expect we will continue to build on our national reputation for attracting and supporting the growing numbers of minority students and their families in the Omaha area and beyond."
"Minority students are an important population but they are only one of an increasing mosaic of diversity at UNO, whether they are military, first generation, students of color or adult learners or transfer students," says UNO Senior Vice Chancellor for Academic and Student Affairs B.J. Reed. "We are working every day to ensure that these students feel welcome at UNO and have the type of support services and environment that will make them want to be want to be here and to be successful. We do this for all our special populations of students. We have programs and learning communities as well as staff specifically directed at helping ease their transition to UNO and success in their academic goals."
Reed says hiring faculty and staff who reflect the changing face of UNO "is a top priority," adding, "We have made important strides in diversifying our staff but we lag behind where we want to be here and also with recruiting and retaining a more diverse faculty. We are working on reviewing existing policies and procedures and looking at incentives and support efforts to increase the diversity of faculty and staff to reflect the changing demographics of our student body."
There's wide agreement that diversity is a net sum experience for all involved.
"The benefits are substantial," Reed says. "The workplace is becoming increasingly diverse and employers need and want an increasingly diverse group of employees. We cannot underestimate the shift occurring here. We need to provide a strong educational workforce for employers and UNO must be positioned to do that effectively."
Office of Latino and Latin American Studies Director and Sociology Professor Lourdes Gouveia agrees that educators at UNO and elsewhere must increasingly consider diversity and its impact.
"We have to educate our professionals and student populations in ways that allow them to be skilled about global issues and diversity and to have multicultural competencies as the world is very connected," she says. "But also we need to address structural barriers that may prevent Neb. from truly harnessing what we call this demographic bonus that has been gifted to this state. A state that was losing population if not for minority growth and international migration would be in serious trouble today to have a viable economy and a future."
Categories:

African-American Culture, Education, Latino/Hispanic, Nebraska, OLLAS (Office of Latino and Latin American Studies), Omaha, Race, University of Nebraska, UNO (University of Nebraska at Omaha), Writing
African American, Demographics, ethnicity, Latino/Hispanic, Nebraska, Office of Latino and Latin American Studies, Population, Race, University of Nebraska, University of Nebraska at Omaha
If you've noticed I write a lot about race, you're right.  That is to say I do revisit the subject in various ways in assorted stories, though truthfully race makes up a very small percentage of what I write about.  But there are reasons why I keep returning to the topic and some of them are very personal to me.  The following  cover story for The Reader (www.thereader.com) about interracial relationships will appear in that newspaper's Valentine's issue.  Why interracial relationships?  Well, I've been in three in a 14-year period.  Each with an African-American woman.  The first of these was of long duration, 12-plus years.  She died in October 2012.  The next was of very short duration.  The most recent is with my girlfriend of six months.  We intend to get married one day.  My interest in dating interracially can be traced in part to my growing up experience.  I was raised in a northeast Omaha neighborhood that was almost entirely white until I was 10 or 12.  I was born in 1958 and it wasn't until the late 1960s that blacks could get homes as far "west" as 42nd Street in North Omaha because of restrictive covenants and red lining tactics.  We lived at 42nd and Maple.  As the landmark TV series All in the Family became a sensation in the very early 1970s my older brothers and I used to joke that our father was our family's own Archie Bunker.  It was an exaggeration to call him that but he definitely had some bigoted attitudes.  For proof that God has a sense of humor the first black family on the block moved on one side of us, the second black family on the block moved on the other side of us, and for good measure a single black woman moved across the street.  My father and mother got along famously with our black neighbors.  My brothers were too old to be playmates or friends with the black neighbor kids but I wasn't and so I spent a fair amount of time over their homes as they did over my home playing Army Man, ping pong, pool, and just exploring the neighborhood.  My folks and the black adults next door to us and the black woman across from us enjoyed amiable, cordial, even warm relationships.  While this was playing out on my home turf I had a very different experience when visiting my Italian-American and Polish-American relatives in South Omaha.  Many of them said racist things, freely using the "n" word and criticizing my parents for staying put as our neighborhood became increasingly integrated and within a few years predominantly black.  My uncles and aunts said things like, "How can you live with those people?  Why don't you move?"  But my folks didn't feel right joining the white flight bandwagon.  My mom actually worried about the message that would send to our black neighbors, who by the late '70s were all around us.
By the time I became a journalist in the mid to late 1980s I had personally observed the transformation of my neighborhood from virtually all-white to nearly all-black.  I would remain in that neighborhood, in the house I grew up in, until 2005, my parents having long since moved out.  I saw a lot of things play out in The Hood that gave me a certain appreciation for and understanding of African-American life from a social justice, sociological, cultural, anthropological perspective.  By the mid 1990s I had begun interviewing and profiling African-Americans and reporting on black subjects, past and present, and that work began giving me additional perspective.  I've filed a few hundred stories by now related to various aspects of black culture.  It doesn't make me an expert, but I am an interested and careful observer and I hope my work synthesises some of the complex history, issues, and context that inform these subjects.  My work in this area led me to develop many sources, acquaintances, and friends among blacks, male and female, young and old, from all walks of life.  I've long admired black women and I've found many attractive but I never acted on that interest or impulse until I was 42.  My first interracial dating experience ended up being a long-term committed relationship with a wonderful woman named Joslen whom I met at the same American Red Cross job we worked.  Twelve-plus years with her afforded me my most intimate window yet into Black America.  She passed away far too young at age 53.  I'm still very close with her family.  The next relationship only lasted four months but it gave me an intense immersion into the life of a talented singer, devout Christian, and outstanding mother.  Her name was Carole.  My current relationship, though only six months old, is quite serious and shows every indication of being for keeps.  Pam is a writer, photographer, mixed media artist, and community activist-advocate with a strong faith life.   She's the mother of two adult children.  Through her I'm obviously getting a whole new exposure to the  journey of a woman who happens to be black and it's only enriching me even more.  Of course, in the vast majority of my time spent with these partners race didn't-doesn't enter the picture.  We engaged-engage as a couple, as man and woman, as distinct personalities with both shared and divergent interests, not as racial tokens or archetypes.
Though the following story is not about me or my interracial datiing history, my background with regards to intermixing inevitably, inescapably infuses what I write and how I write about it.  I did quite intentionally choose to make black-white couples the focus of my piece because that has been my own lived experience in relationships these past 14 years.  Besides, the black-white dynamic is the core racial dynamic in America and I feel at least that any examination of racial relations, and in this case racial mixing, needs to begin and end there, even though I fully recognize there are many other interracial pairings beyond this that could very well and should be examined.  But I'm just one writer and this is just one story.  I chose to write this article because it's closest to my heart and head.  Someone else will have to write that other story.
Color-blind love: Five interracial couples share their stories
©by Leo Adam Biga
Soon to appear in The Reader (www.thereader.com)
Two bodies in the mirror:
one's me, the other's you,
with two far different cultures
some say will bring just strife.
A DIFFERENT SHADE OF LOVING,
a different color of life.
Valentine's Day is a reminder that though love comes naturally, it's not without obstacles.
Given America's apartheid legacy, interracial romance has historically been taboo, scandalous or confined to back-door liaisons. As recently as 1967 Southern anti-miscegenation laws criminalized having intimate relations with or marrying someone of another race.
If you think America's beyond all this, consider that a Louisiana justice of the peace denied an interracial couple a marriage license in 2009. A Cheerios commercial depicting a black-white couple and their biracial child elicited complaints in 2013. Interracial love portrayals are still rare enough to make news. Hollywood treatments range from treacly (Guess Who's Coming to Dinner?) to melodramatic (Monster's Ball) to sophomoric (Guess Who?) to banal (Something New).
Whether your interracial poster couple is Kim and Kanye or newly elected New York City Mayor Bill De Blasio with his black wife and their biracial children high profile images such as these reinforce the emerging mosaic. The phenomenon is real, not hype. In 2012 the Pew Research Center found interracial marriages in the U.S. reached a record 4.8 million or an all-time high of 8.4 percent of all U.S. marriages. More recent Pew studies find broad acceptance of interracial coupling among all major racial-ethnic groups and the increase of biracial children blurring color lines as never before.
This organic movement is a result of individuals pairing off according to the law of attraction, not social constraints.
Newly elected New York City Mayor Bill De Blasio and family
Even when mixing risked not just gossip or indignation but danger and imprisonment, it still went on. Some couples openly defied convention and ostracism. Some challenged race laws in court. It seems human heart desires trump artificial efforts to keep different persuasions apart.
There's also the intrigue of exploring the other side. Online adult sites promote interracial hookups that range from romantic dates to one-night-stands to paid sexual encounters.
When it comes to amour, anecdotal currents say race is not a driving factor for mixed couples though it can be for those around them.
In teh 1960s Richard and Mildred Loving were an interracial couple living in Virginia, where interracial relationships were once illegal. Their union brought to the nation's attention this issue with the US Supreme Court case Loving v. Virginia of 1967. The case changed the face of love across the States, forever transforming the fabric of what the U.S. accepted as true love.

Interracial marriage was and still is a civil rights issue
Five metro couples, all variations of black-white twosomes, recently shared their stories. None of the individuals involved went looking for a partner of another race, it just happened. While their relationships are not racialized, race is an undeniable factor in their lived experience.
Emily Pearce and Travis Mountain are 30-somethings who each dated interracially before getting together. He has two children from previous relationships, including a son whose mother is white. Emily, a fitness instructor and elementary school vocal instructor and Travis, a U.S. Marine veteran, personal trainer and rapper, are parents of a girl, Rebel Mountain.
They're keenly aware being interracial matters to some.
"I do think it makes a difference to people," Emily says. "I don't think we'll ever live in a post-racial world, honestly. Neither of us thinks of us as being in an interracial relationship but other people do, and it does bother me."
"As far as interracial couples, like it or not it's something popular now," says Travis, aka Aso. "It's just more accepted. If people do have a problem with it it's more just kept to themselves."
Not always.
"It does get thrown in your face ," Emily says. "If you go somewhere    without a lot of diversity you do get looks."
She says at some schools she's taught at black women staffers became unfriendly when they discovered she was dating Travis.
"They treated me differently. They were nasty to me."
"Her dating me has opened her eyes about how differently she's treated by dating somebody that's black," Travis says. "Black women hate to see 'a good black man' date a white woman because they look at it like you're taking that black man away from our community but I don't look at it that way.
"People want to put you in a category and it's so stupid."
Travis Mountain and Emily Pearce
The two hail from widely divergent backgrounds. She's from an intact middle class family in Enid, Oklahoma. He was the only male in a single mother-headed home in North Omaha projects. She says her educator parents brought her up to be color-blind and never had an issue with her dating outside her race. He says the matriarchs of his family disapproved of interracial dating but didn't have a problem when he did it. Each feels accepted by the other's family.
"It's like homosexuality – you can have a problem with it if you want to but what happens if it's your brother or your kid? So be careful what you're really hating because it might just happen to you," says Travis.
"Neither of us set out to be in an interracial relationship, we just liked each other and we really balance each other out and I think it is because of the totally different experiences we have," says Emily.
Dell and Lena Gines are another 30-something couple. They too faced little family resistance. She's white and he's the product of interracial parents. Together 23 years, Dell and Lena have five children. They feel America's moved forward on race but has far to go.
Lena, a fitness instructor, says Dell's parents have "shared some of their struggles and we definitely didn't have to go through the same struggles. I think their generation kind of paved the way a little bit. It's come so much further from even when we were dating. Seeing that progress is encouraging but it's very slow."
"It's going to take more time," says Dell, senior community development director with the Omaha Branch of the Federal Reserve Bank of Kansas City. "I've never met somebody that's past the race thing but I know people who are comfortable with interracial relationships while acknowledging the race thing. I do think we're more aware of race and are more willing to recognize people can get together and function in relationships regardless of race."
Dell grew up in multicultural northeast Omaha, where he says he came up with "tons of mixed kids." Self-identifyng as black, he and his biracial friends dated both black and white girls.
"It was a normal thing."
Lena didn't grow up around people of color. Her first interracial dating experience was with Dell, whom she took for Middle Eastern. When she discovered he was black, she says, "I didn't think it was that big of a deal."
For them, it's never been about race. "We fit and that was it," she says.
Dell says, "I think it's very important to note our similarities outweigh our differences."
"I didn't even think about the racial thing until he came to my family's Christmas party, where everybody else was white and I was like, 'Oh, this looks different.' Then he took me to an African-American church and it was like reversed," says Lena.
Dell and Lena Gines
The couple intentionally reside in North O for the diversity it exposes their biracial children to.
One of the few times someone confronted her about being with a black man was when a woman at a hair salon called Lena a n_____-lover.
"It took me by surprise," she says. "That's when it kind of became real. I didn't have any friends, black or white, who had any issues with it, but I had other black women say things to me like, 'You're taking one of ours' and 'Why don't you leave him to us?'"
Dell says racial baiting is "past the tipping point" now that interracial relationships are trending up, adding. "East of 72nd it's such a common sight. Maybe if I lived out west I would have a different experience. You're rarely going to hear it from black guys anyway. You're much more likely to hear it from black girls. I've never had anybody actually come up to me and challenge or question me on that. I would dare anybody to say anything about it to my face."
He believes intermixing will create a new racial narrative in America.
"You're going to have kids like me or my children identifying along lines that aren't so clear anymore. It's going to change the way people look at race and ethnicity. It has to. Once you can get past identifying people as a class or a group and you identify them as individuals then it's hard to keep gross intolerance in play.
"The rise of interracial relationships is going to force change because it means families that probably haven't intermixed now have to. When you meet people on that basis then you begin to see things other than ethnicity or race."
Ron and Twany Dotzler make their 33-year mixed marriage and large rainbow family – they're parents to 14  – a living symbol of inclusion and tolerance through their Abide Network and Bridge Church.
The mid-50ish couple met at now defunct Tarkio (Mo.) College, where both played basketball. He came from insular all-white rural Iowa. He was naive about his own prejudice and the plight of Black Americans. She came from an almost exclusively black Washington D.C. neighborhood and the discrimination her family endured made them wary of whites. Twany says she once couldn't conceive of being with a white man because "I just couldn't see what two people from different backgrounds would have in common."
The Dotzlers, Twany and Ron (holding baby), 5th and 6th from left, back row
When they got together in the early 1980s his family had no problem with his choice of mate but many residents of his hometown did.
"A lot of people were outraged. A big uproar."
Twany's family opposed their union. It took time, but acceptance came.
Each partner also had to work on their own racial hangups, especially when they began having children.
The family's encountered welcome and disdain. The first few years the Dotzlers were married they lived in Broken Bow, Neb. They moved to the burbs, where Ron says, "Everybody seemed to accept us." After entering the ministry the pair committed themselves to mission work. North Omaha became their calling. Racial incidents began happening.
"We were at a restaurant in Fort Calhoun and this guy at the bar yells, 'Hey, you n––––r, yeah, you n––––r, get out of here.' At a church picnic one of my kids goes to kick a ball and another kid kicks it and says, 'Aw, go get it n––––r."
When the couple applied to have their kids attend a small Washington County school local residents turned out en mass at a school board meeting to oppose their admission.
"Other families had been accepted. Our family had been rejected. We were denied access to the school," Ron says.
"That was a real blow," Twany says. "They didn't want us to come."
Overturning fear-based perceptions is what the Dotzlers do through Abide sponsored home renovation projects, neighborhood cleanups and justice journeys that bring diverse people together.
"I think that's why I love what we do," says Twany. "We can be a bridge to expose people to those differences, to people who may not think like you do, act like you do, look like you do, yet if you can just be intentional about getting to know them through relationships you'll see what we do have in common and what we can do together.
"It's all relational – seeing a person different from you and being able to value them right where they're at. We've been getting people together to build relationships, to break down those denominational walls, those racial walls, those economic walls, for a long time. When you have to be together for a long period of time you learn some things about yourself and about others."
Somehow some folks are threatened
by what we represent,
Although to make a statement
was never our intent.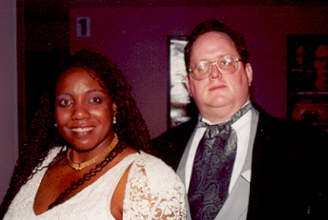 Michael and Cassandra Beacom
When Michael and Cassandra Beacom began dating in the '80s he was not only a newbie at interracial romance but to people of color having grown up in white-centric Keystone and attending white Catholic schools. Moving with her father's Union Pacific job, she was exposed to both integrated and segregated environs. She dated mostly black guys in college, though a white boyfriend did propose marriage.
The Beacoms fell head over heels upon first meeting at a party. When they became a couple not everybody approved.
"The girl that introduced us was not thrilled with us being together," Cassandra, says, "so you find out who your friends are or at least their viewpoints anyway."
"Some friends said we support you, we're behind you all the way," Michael says, "and some others cut and ran or had their thing about it."
He says her parents were cool but while his folks liked her as his friend they were "definitely not prepared" for him to have a black girlfriend.
"They said horrendous, horrible, evil, terrible things, to the point where I understood I would have to be saying goodbye to my family."
Nothing negative was said to her, an administrative assistant with the Omaha Public Schools, only to Michael, a senior agent at PayPal.
"They gave him all the grief, they didn't give me the grief," says Cassandra, who adds she only found out much later the extent of his family's unease.
Rather than cause a scene, the couple eloped and kept their marriage secret. Michael says, "I was terrified." When Cassandra got pregnant with their first child, the family embraced her. The big wedding the couple put off was finally held. She and her late father-in-law became close and she's tight today with her mother-in-law.
Their biggest hurdles with race have been with institutions. They say racist assumptions forced their son into foster care before a court intervened. That separation trauma still hurts. As do double standards that have seen her treated one way because she's black and him another way because he's white. Then there's the times people assumed they couldn't possibly be a couple.
Tim Shew and Brigitte McQueen Shew
Union for Contemporary Art founder-executive director Brigitte McQueen Shew upsets expectations in northeast Omaha. Not only is she a mix of African-American and Iranian-Chaldean, she's married to a younger white man, chef Tim Shew.
"I have run-ins with people who say I'm not black enough to understand the African-American crisis. I do feel because of my work here, my advocacy for North Omaha and the fact I live in this community there's an element of surprise when people realize my husband is not African-American. This is nonsense. Could we stop doing this to each other?"
The couple's experience differs from that of her parents, whose extended families wanted nothing to do with Brigitte and her siblings.
"We were the yellow kids with funny hair. We were different and were always treated as such."
She says she's glad things have progressed to where she and Tim don't have to go through what her interracial parents "went through in the '60s," adding, "It's interesting how much of a non-issue that factor is in our relationship."
Brigitte, who grew up in Detroit, dated interracially from the jump.
"Race is not a criteria. It's not something I think about, it's more about personality and who the person is than what color they might be," she says. "With my mom it never mattered. I had moments with my siblings where it was like, 'Why is it you always seem to be dating white guys?'
It wasn't an issue, it was more of an observation. I don't think anybody would say that if you were dating someone who was blonde or brunette. I realize not everybody has that sort of blindness to it."
Tim, who grew up in west Omaha, was curious about brown girls but never did anything about it until Brigitte. Their families have always been fine about their relationship. She says the only time her race has come up with them was at a birthday party for one of his nephews.
"I made a chocolate cake. We were all at the table and I was sitting across from this sweet little boy who said, 'Why are you the same color as the cake?' Some people were really embarrassed and Tim's brother totally defused things with, 'I'm glad somebody finally asked that question, I've been wondering that since you started coming around.' It was just this perfect moment."
The Shews plan to have children one day. Though aware biracial kids can have a tough time they take solace in the fact their families and friends don't hold the prejudices earlier generations did.
"I'm excited for our child to be part of the family we've created," she says. "It's a brilliant thing."
We sense their eyes upon us:
the glance, the stare, the gaze.
Some puzzled, some condemning,
some burn with inner rage.
With but a few accepting,
some hurl the jagged knife.
A DIFFERENT SHADE OF LOVING,
a different color of life.
Lyrics are from "A Different Shade of Loving" by Mick Terry.
Over the past 20 years I have had the opportunity of stumbling upon some filmmakers from my native Nebraska whose work has inspired me and many others. I first became aware of Alexander Payne back when I was programming art films in the late 1980s-early 1990s.  This was before he'd directed his first feature. I read something about him somewhere and I ended up booking his UCLA thesis film, The Passion of Martin, for screenings by the nonprofit New Cinema Cooperative. Hardly anyone came, but his work was unusually mature for someone just out of college. That lead to my interviewing him in the afterglow of his feature debut, Citizen Ruth, and his making Election. I've gone on to interview him dozens of times and to write extensively about his work.  I even spent a week on the set of Sideways. I almost made it to Hawaii for a couple days on the set of his film, The Descendants. I may be spending weeks on the set of his next film, Nebraska. It's been an interesting ride to chart the career of someone who has become one of the world's preeminent filmmakers.
More recently, I was fortunate enough to get in on the evolving young career of Nik Fackler, whose feature debut, Lovely, Still, shows him to be an artist of great promise.
More recently still I discovered Charles Fairbanks, a true original whose short works, including Irma and Wrestling with My Father, defy easy categorization. He is someone who will be heard from in a major way one day.
In between Fackler and Fairbanks I was introduced to Omowale Akintunde, an academic and artist whose short film Wigger became the basis for his feature of the same name. Akintunde and Wigger are the subjects of the following story, which appears in The Reader (www.thereader.com). The small indie film, made entirely in Omaha, is getting some theater exposure around the country.
This blog contains numerous stories about these filmmakers and others I've had the pleasure to interview and profile.
Omowale Akintunde's In-Your-Face Race Film for the New Millennium, 'Wigger,' Introduces America to a New Cinema Voice 
©by Leo Adam Biga
As published in The Reader (www.thereader.com)
Make no mistake about it, filmmaker Omowale Akintunde intends for his 2010 racially-charged Omaha-made feature, Wigger, to provoke a strong response.
After premiering here last year, and in limited theatrical release around the country, the dynamic looking and sounding film returns for a 7 p.m., July 28 red carpet screening at the Twin Creek Cinema. It's back just in time for Native Omaha Days (July 27-August 1), the biennial African-American heritage celebration.
The film, definitively set in North Omaha, plays off a young white man, Brandon (David Oakes), so enamored with African-American culture he's adopted its trappings. He pursues a R & B career amid skeptics, users and haters. His interracial relationships, both platonic and romantic, are tinged with undercurrents.
"He feels he has transcended whiteness," says Akintunde, chair of the University of Nebraska at Omaha Department of Black Studies. "On the other hand, his father is a very overt racist who calls people nigger, talks about fags and Jews. He's very open about his biases. So Brandon sees himself as disconnected from his father."
Brandon's best friend, Antoine, is black. As pressures build, the two have a falling out, each accusing the other of racism, unintentionally setting in motion a tragedy.
"There's just some things you learn in a black household you don't get in a white    household, and vice versa," says Eric Harvey, who plays Antoine and co-produced the film, "so that line between them keeps them from being as close as they really want to be. They're both in denial of self-conscious racism.
"It's not a bad thing, it's a reality. We do things without thinking about it. Seriously, it's been embedded for so long it's just the norm."
This is the prism through which Akintunde, who produced, wrote and directed the film, examines polarizing attitudes. Nearly everyone in the film exhibits some prejudice or engages in some profiling. Race and privilege cards abound.
"I thought this story…was the perfect premise to get into some real deep stuff," says Akintunde. "It's about these two characters with this improbable dream. This white boy who loves black culture and wants to be accepted comes from a background that says, why would you want to be like THEM? And then them telling him you're not one of US. And how does one make that fit?"
The film suggests a post-racial world is a fallacy short of some deep reckoning or ongoing discussion. It's message is that not confronting or deconstructing our racial hangups has real consequences. Akintunde can spout rhetoric with the best, but his film never devolves into preaching.
He does something else in offering a raw, authentic slice of black inner city life here with glimpses of Native Omaha Days, the club scene, neighborhoods, church. He avoids the misrepresentations of another urban drama set here, Belly (1998).
"This is the first film that really deals with North Omaha and attempts to make icons of the things that have become emblematic of it," says Akintunde. "I really did want to show this city and that community some big love. It was very intentional I made the location a character in this film."
Rare for any small independent, even more so for a locally produced one, Wigger is managing theatrical bookings at commercial houses, albeit mostly one-night engagements, coast to coast. In classic roadshow fashion, the filmmaker is brokering screenings through his own Akintunde Productions. He pitches exhibitors and when he sells a theater or chain on the flick he often appears, film in hand, to help promote it. He often does a post-show Q & A.
Meshach Taylor
In May the film got national mention when co-star Meshach Taylor plugged it on The Wendy Williams Show.
The success is the latest affirmation for Akintunde, who has a solid reputation as a serious artist and scholar. His 2009 nonfiction film, An Inaugural Ride to Freedom, which charts the bus trek a group of Omahans made to the Obama presidential inauguration, won a regional Emmy as Best Cultural Documentary.
The Alabama native has heeded his creative and academic sides for as long as he can remember. "I always wanted to be a university professor and I always wanted to make films," he says. "I wanted to make films because there are so many people who will never attend a university, who will never be involved in a high level ivory tower discussion, and movies reach everybody. What I always wanted to do is to meld those two worlds — to use film to teach academics."
In a career that's seen him widely published on issues like white privilege and diversity, he's penned academic texts, short stories, a novel and a children's book. He says he always conceives his stories cinematically. Well into his professional career though, the cinephile still hadn't realized his dream of filmmaking.
"It was one of those things you always wanted to do but everyone discouraged you from because they felt you needed a real job," he says. "No one ever thought that was a credible goal. I finally reached a point where I realized credibility was determined by me, and if I had a passion for filmmaking I needed to do what…makes me happy. That was one of the missing things in my life."
During a sabbatical he attended the New York Film Academy's Conservatory Filmmaking Program. His thesis project was a short version of Wigger. Another of his shorts, Mama 'n 'Em, was selected for the Hollywood Black Film Festival.
An expanded Wigger script became his feature debut. He and producer Michael Murphy financed the film themselves. Akintunde imported principal cast and crew from outside Nebraska, including film-television actors Meshach Taylor (who was in the short) and Anna Maria Horsford, cinematographer Jean-Paul Bonneau and composers Andre Mieux and Chris Julian.
"I didn't follow any of the traditional methodologies in terms of even making Wigger, much less how I promote it and get it out there."
David Oakes
Kim de Patri (Kim Patrick), who plays Antoine's girlfriend Shondra, says the script's unvarnished truth grabbed her.
"It said every single thing most people think (about race) but would never actually say. It was the way it was said and the voice it was speaking from, these characters. It was so real and so honest and it came from a very genuine place."
Taylor, a big advocate of Akintunde's, says he likes how the film "challenges people's concepts of what racism really is" by dealing with "the reality of institutionalization racism," adding, "It's not an overt thing, it's really built into the system." He says he and Akiintunde just click. "I like what he's trying to do. It's really wonderful to have someone who has an intellectual approach to filmmaking but still has the artistic sensibility to make it fun and interesting to watch."
To date, Akintunde has arranged limited bookings in mid and major markets, ranging from Minneapolis and Birmingham to Denver, Las Vegas and Los Angeles. It's one continuous run was at the Edge 12 in Birmingham, the home of Tim Jennings, who has a supporting role. Akintunde says an Edge Theaters official "became a big fan and supporter" of the film and offered a one-week run.
Future screenings are scheduled in Chicago, Atlanta, Washington D.C. and New York City. He's negotiating with Edge for new, multi-date runs.
Kim de Patri (Kim Patrick)
With Wigger, he's taken a subject and set of conventions rife with stereotype and exploitation possibilities and dramatized them as an extension of his scholarship. His goal is as much to frame a dialogue as to make a profit.
"My biggest objective here was to really put a story out there that would compel people to talk about institutionalized bias in a way that I don't think we've had. I really wanted to have a national conversation about this."
In the tradition of Do the Right Thing and A Time for Burning, which was shot in Omaha 45 years ago, Wigger makes a full-frontal assault on our expectations.
"Obviously, I chose a very provocative and incendiary title because I want it to evoke a very strong, visceral response. I want to incite people. I want to grab America by the collar and just shake them," he says. "The title itself is very problematic for people because we live in a society where we won't even pronounce the word nigger. It becomes the "n word" in any context in which we use it.
"In many of the (Q & A) discussions we talk about why I gave the film such a provocative title — it's because I want people to stop and think. Certain words are simple, symbolic representations of a much deeper social problem that we tend to mask by using silly euphemisms, as if we do not know what they mean, instead of looking at why the actual word bothers us."
The film deftly handles topics usually glossed over or overdone without becoming pedantic or sensationalistic, though it does get melodramatic. As an "ethnic" genre pic, it draws largely black audiences, but enough of a mix that Akintunde is able to gauge how it plays to black and white viewers.
"There has not been a huge disparity in response and I think that's because Wigger takes on multiple kinds of institutionalized biases. What I find is people see in a sense the mirror being held up to themselves."
If nothing else, he hopes the film encourages viewers to see past the taboo or race.
"In our society we're taught the way you demonstrate you're not racist is to pretend you don't know race exists. Because of this color blind mentality we're all supposed to be adopting, we have come to a point where we can't discuss the 600 pound gorilla in the room, and what Wigger does is give people an opportunity to discuss the 600 pound gorilla.
"But it goes beyond that — to our gender, our class, our sexuality, our religious beliefs. These are so interwoven and so inextricably bound that it is impossible to construct yourself in any of those domains without taking into consideration the others."
Wigger shows how racism, sexism and other isms thrive in both white and black culture. Everyone is guilty of some kind of bias.
"I try not to make a compelling argument of black versus white," says Akintunde, "but about what it means to be either and how we can transcend these boundaries, these ridiculous social constructions, these radicalized expectations that keep us divided. I believe we have the ability to cross these boundaries and truly become a society resolute in its solidarity.
"I think the reason people don't leave that film feeling as if they're more divided is because of the way the film is structured. I think you cant help but see how really alike we are. It's hard to walk away from this movie seeing the world in, no pun intended, black and white."
Relegating someone to a narrow category or box, he says, diminishes that person and in the process only widens the gulf between individuals and groups.
"I don't think they are things that exist on their own. I don't think people are born heterosexist or are racist or Christian. We are taught these positions, we are taught these ideologies, and we reinforce them in our social context in such discreet ways that we're formed and shaped into opinions and ideas long before we understand that's what has happened to us.
"Nobody can be plugged comfortably into one of these slots. It ain't that damn simple. It never has been that simple. It's a very complex thing."
The film unabashedly "goes there" by unearthing the fear and anger alternative lifestyles generate, from gay revelations to interracial affairs to wigger mainfestations.
"Society paints a picture of what it wants to see and some people just don't want to see certain things," says de Patri (Patrick).
Overcoming these barriers, in Akintunde's view, starts with recognizing them for what they are and how complicit we are in maintaining them.
"The thing I want to get across to people is that it's all of our problem. Even if you think you're just a victim, you're not, you are a participant. It's not a white problem, and it's not a black problem, and it's not a gay problem. It is a human problem."
Omowale Akintunde reviews script with cast
Akintunde enjoys the canvass film provides for expressing multi-layered themes.
"I'm very attracted to film as a way of telling that story because I think it allows you more complexity."
Wigger marks the beginning for what he hopes is a string of films, but for now, he says, "it's the fruition of my life's work." He's justifiably proud the film's getting seen.
"For an independent filmmaker to even get a film to run continuously anywhere for any length of time is an extraordinary achievement, and I got that to happen."
The exhibition schedule is being revised as new screening opportunities surface.
"I had this carefully laid out plan, man, with absolute linearity, and instead things are happening in the moment."
Zaina Ark'Keenya
He says the film's well received wherever it plays and is invited back in some cases for additional screenings, including Las Vegas and Birmingham.
"Obviously, I would love to see the movie in an even larger roll out and I think that that is happening," he says. "I didn't plan that Edge Theaters was going to pick up the movie. I didn't plan these people in Vegas and Birmingham would want me to come back. I'm going to go with what happens in that moment and just enjoy it. I'm sort of like riding the wave."
He says there's been preliminary talk about Rave Theaters pickiing up Wigger. He's also following up a lead about potential interest from BET in acquiring the film for network broadcast. Wigger will eventually go to Blu-Ray and DVD.
"I am still seeking a distribution deal."
Considering its small marketing budget, he's pleased with the film's performance.
"We sell out the house wherever we play. I'm not making a killing, but certainly making back the money invested to bring the movie to these theaters. I have a real job, so for me it's not so pressing my movie makes a lot of money, Of course, I want it to make money if for no other reason then to allow me to make more films."
His unpublished novel, Waiting for the Sissy Killer, is the basis for a new feature he's planning. The partly autobiographical story concerns a young black man trying to cope with identity issues in the 1960s South. Akintunde hopes to begin pre-production in the fall. He plans shooting the project in his native Alabama.
Omaha rapper ASO headlines the 6:30 p.m. Wigger pre-show at Twin Creek Cinema. Performing at the Blue Martini after-party is co-composer Andre Mieux.
Tickets are $20 for the screening, pre-show and party and available at http://www.WiggerThe Film.com, Youngblood's Barber Shop, Loves Jazz & Arts Center and Twin Creek.
Related articles