Home
>
African-American Culture
,
Authors/Literature
,
Celebrity
,
Entertainment
,
Jazz
,
Laura Love
,
Music
,
Omaha
,
Personalities-Characters
,
Pop culture
,
Preston Love
,
Race
,
Writing
> The Smooth Jazz Stylings of Mr. Saturday Night, Preston Love Sr.
The Smooth Jazz Stylings of Mr. Saturday Night, Preston Love Sr.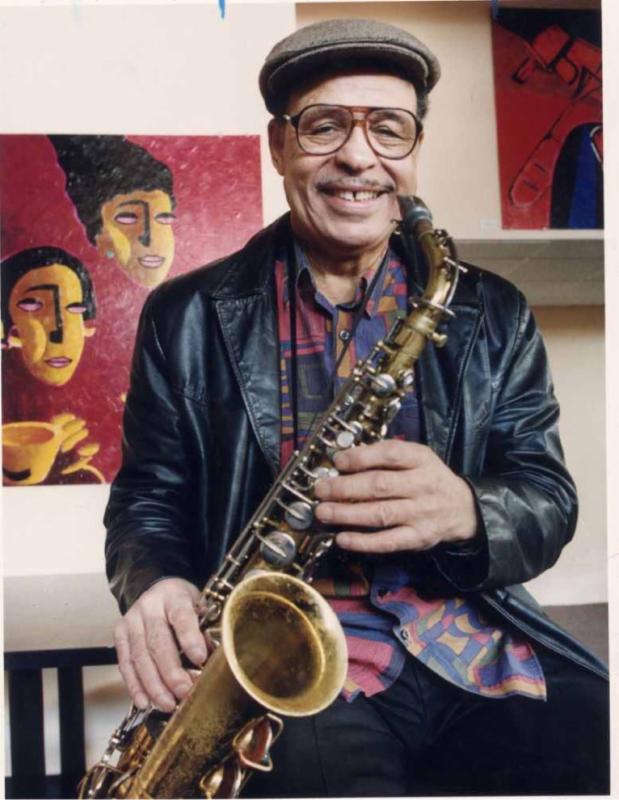 An unforgettable person came into my life in the late 1990s in the form of the late Preston Love Sr. He was an old-line jazz and blues player and band leader who was the self-appointed historian and protector of a musical legacy, his own and that of other African American musicians, that he felt did not receive its full due.  Love was a live-life-to-its-fullest, larger-than-life figure whose way with words almost matched his musicianship.  As I began reporting on aspects of Omaha's African American community, he became a valuable source for me. He led me to some fascinating individuals and stories, including his good friend Billy Melton, who in turn became my good friend. But there was no one else who could compare to Preston and his irrepressible spirit.
I ended up writing five stories about Preston.  The one that follows is probably my favorite of the bunch, at least in terms of it capturing the essence of the man as I came to know him.  The piece originally appeared in the New Horizons.  Aspects of this piece and another that I wrote for The Reader, which you can also find on this site, ended up informing a profile on Preston I did for a now defunct national magazine, American Visions.  Links to that American Visions story can still be found on The Web.  I fondly remember how touched I was listening to the rhapsodic praise Preston had for my writing in messages he left on my answering machine after the first few stories were published. After basking in his praise I would call him back to thank him, and he would go off again on a riff of adulation that boosted my ego to no end.
I believe he responded so strongly to my work because I really did get him and his story.  Also, I really captured his voice and pesonality.  And this man who craved validation and recognition appreciated my giving him his due.
Near the end of his life Preston hired me to write some PR copy for a new CD release, and I approached the job as I would writing an article.  I've posted that, too.
The last story I wrote about Preston was bittersweet because it was an in memoriam piece written shortly after his death. It was a chance to put this complex man and his singular career in perspective one more time as a kind of tribute to him.  A few years after his death I got to interview and write about a daughter of his he had out of wedlock, Laura Love, who is a fine musician herself. Her story can also be found on this site.
The Smooth Jazz Stylings of Mr. Saturday Night, Preston Love Sr.,
©by Leo Adam Biga
Originally published in the New Horizons
An early January evening at the Bistro finds diners luxuriating in the richly textured tone and sweetly bended notes of flutist-saxophonist Preston Love, Sr., the eternal Omaha hipster who headlines with his band at the Old Market supper club Friday and Saturday nights.
By eleven, the crowd's thinned out, but the 75-year-old Love jams on, holding the night owls there with his masterful playing and magnetic personality.  His tight four-piece ensemble expertly interprets classic jazz, swing and blues tunes Love helped immortalize as a Golden Era lead alto sax player and band leader.
Love lives for moments like these, when his band really grooves and the crowd really digs it: "There's no fulfillment…like playing in a great musical environment," he said.  "It's spiritual. It's everything.  Anything less than that is unacceptable. If you strike that responsive chord in an audience, they'll get it too – with that beat and that feeling and that rhythm. Those vibes are in turn transmitted to the band, and inspire the band."
His passion for music is shared by his wife Betty, 73, the couple's daughter, Portia, who sings with her father's band Saturdays at the Bistro   and sons, Norman and Richie, who are musicians, and Preston Jr.
While the Bistro's another of the countless gigs Love's had since 1936 and the repertoire includes standards he's played time and again, he brings a spontaneity to performing that's pure magic.  For him, music never gets tired, never grows old. More than a livelihood, it's his means of self-expression.  His life.  His calling.
Music has sustained him, if not always financially, than creatively during an amazingly varied career that's seen him: Play as a sideman for top territory bands in the late '30s and early '40s; star as a lead alto saxophonist with the great Count Basie Orchestra and other name acts of the '40s; lead his own highly successful Omaha touring troupe in the '50s; and head the celebrated west coast Motown band in the '60s and early '70s.
He's earned rave reviews playing prestigious jazz festivals (Monterey, Montreux, Berlin). Toured Europe to great acclaim. Cut thousands of recordings, including classics re-released today as part of anthology series.  Worked with a who's-who list of stars as a studio musician and band leader, from Billie Holiday to Aretha Franklin and Ray Charles to Stevie Wonder.  Performed on network television and radio.  Played such legendary live music haunts as the Savoy and Apollo Theater.
After 61 years in the business, Love knows how to work a room, any room, with aplomb. Whether rapping with the audience in his slightly barbed, anecdotal way or soaring on one of his fluid sax solos, this vibrant man and consummate musician is totally at home on stage. Music keeps him youthful.  Truly, he's no "moldy fig," the term boppers coined to describe musicians out-of-step with the times.
"As far as being a 'moldy fig'…that'll never happen.  And if it does, then I'll quit.  I refuse to be an ancient fossil or an anachronism," said Love.  "I am eternally vital.  I am energetic, indefatigable,  It's just my credo and the way I am as a person.  I play my instruments as modern as anybody alive and…better than I've ever played them."
Acclaimed rhythm and blues artist and longtime friend, Johnny Otis,  concurs, saying of Love: "He has impeccable musicianship.  He has a beautiful tone, especially on solo ballads, which is rare today, if it exists at all.  He's one of the leading lead alto sax players of our era."
Otis, who lives in Sebastopol, Calif., is white.  Love is black.  The fact they've been close friends since 1941 shouldn't take people aback, they say, but it does.  "Racism is woven so deeply into the fabric of our country that people are surprised that a black and a white can be brothers," Otis said.  "That's life in these United States."
Love's let-it-all-hang-out performing persona is matched by the tell-it-like-it-is style he employs as a recognized music authority who demands jazz and the blues be viewed as significant, distinctly African-American art forms.   He feels much of the live jazz and blues presented locally is "spurious" and "synthetic" because its most authentic interpreters – blacks – are largely excluded in favor of whites.
"My people gave this great art form for posterity and I'm not going to watch my people and our music sold down the road," he said.  "I will fight for my people's music and its presentation."
Otis admires Love's outspokenness.  "He's dedicated to getting that message out.  He's persistent.  He's sure he's right, and I know he's right."
Love's candor can ruffle feathers, but he presses on anyway.  "No man's a prophet in his hometown," Love said. "Sometimes you have to be abrasive and caustic to get your point over."
Orville Johnson, Love's keyboardist, values Love's tenacity in setting the record straight.  "He's a man that I admire quite a bit because of his ethics and honesty."
Love has championed black music as a columnist with the Omaha World-Herald, host of his own radio programs and guest lecturer, teacher and artist-in-residence at colleges and universities.
With the scheduled fall publication of his autobiography, "A Thousand Honey Creeks Later," by Wesleyan University Press, Love will have his largest forum yet.  Love began the book in 1965 while living in Los Angeles (where he moved his family in 1962 during a lean period), and revised it through a succession of editors and publishers.  He sees it as a career capstone.
"It's my story and it's my legacy to my progeny," he said.  "They'll know what I'm like and about by the way I said things, if nothing more."
He started the book at the urging of a friend, who typed the manuscript from his handwritten scrawl.  After Love and his family returned to Omaha in 1972, he "totally rewrote" it, adding chapters on his Motown years (1966-1972) and on Omaha.  "I did a lot of it at that desk in there," he said, indicating his cubbyhole office at the Omaha Star, where he is advertising manager.  Helping him shape the book over the years has been noted jazz authority Stanley Dance and, more recently, Wesleyan contributing editor George Lipsitz, who wrote its glowing introduction.
Love long ago rejected the idea of a ghost writer.  "It's no longer you then," he said.  "Even if I wasn't articulate enough or didn't have the literary background to write it, I wanted to reflect Preston.  And it sure and the hell does, for better or worse." As a veteran writer and avid reader, he does feel on solid ground as an author.  He said ideas for the book consumed him.  "All the time, ideas raged in my brain.  And now I've said 'em, and according to Wesleyan, I've said them very well."
An outside reviewer commissioned by Wesleyan described Love's book as more "than an account of a musician's career," but also an important document on "African-American social history, the history of the music business and institutional racism in American popular culture."
Love is flattered by the praise.  "I'm very proud of it," he said.  "Before the editorial staff acts on your book, they always bring in an outside reader, and what that person has to say has a big bearing on what's going to happen.  It had a big bearing on the contract I signed several weeks ago."
Love feels his far-flung experience has uniquely qualified him to tell his story against the backdrop of the black music scene in America.  "The fact that mine's been a different, unlikely and multifaceted career is why publishers became interested in my book."
To appreciate just how full a life he's led and how far he's come, one must look back to his start. He grew up the youngest of Mexie and Thomas Love's nine children in a "dilapidated" house, jokingly called "the mansion," at 1610 North 28th Street.  His auto mechanic father died in Love's infancy.  Although poor in possessions, the family was rich in love.
"My mother did the best she could," he recalls.  "There was no welfare in those days.  No ADC. This brave little woman went out and did day work for 40 cents an hour, and we survived.  There were no luxuries. "But it was a loving, wonderful atmosphere.  Our house was the center of that area.  Naturally, guys courted my sweet, beautiful sisters and girls pursued my gorgeous brothers."
He was steeped in music from a young age.  He heard the period's great black performers on the family radio and phonograph and hung-out on then teeming North 24th Street to catch a glimpse, and an autograph or two, of visiting artists playing the fabled Dreamland Ballroom and staying at nearby rooming houses and hotels.
"Twenty-fourth street was the total hub of the black neighborhood here.  This street abounded with great players of this art form."
By his teens, he was old enough to see his idols perform at the Orpheum and Dreamland.  He recalls the Dreamland with great affection:
"All of the great black geniuses of my time played that ballroom.  Jazz was all black then, number one, and here were people you admired and worshiped, and now you were standing two feet from them and could talk to them and hear their artistry.  To hear the harmony of those black musicians, with that sorrowful, plaintive thing that only blacks have.  That pain in their playing.  That indefinable, elusive blue note.  That's what jazz is."
He'd rush home after a night there to play the sax his brother "Dude" had saved up for and bought.  "Dude" eventually joined a touring band and passed the sax onto his brothers.  Love taught himself to play, picking up pointers from veteran musicians and from the masters whose recordings he listened to "over and over again."
He began seeing music as a way out.  "There was no escape for blacks from poverty and obscurity except through show business," Love said.  "I'd listen to the radio's late night coast-to-coast broadcasts of those great bands and I'd go to sleep and just dream of going to New York to play the Cotton Club and dream of playing the Grand Terrace in Chicago.  I dreamed of someday making it – and I did make it.  Everything else in my life would be anticlimactic, because I realized my dream."
He traces the spark for his dream and its fulfillment to an August night in 1938 at the Dreamland, when, at 17, he met his main idol – Earle Warren – Basie's lead alto sax man. Warren later became Love's mentor.
"That was the beginning of my total dedication and my fanaticism for this thing called jazz.  He was the whole inspiration for my life."
With Warren as his inspiration, Love made himself an accomplished musician.  "I had the natural gift for sound – a good tone – which is important.  Some people never have it.  I was self-motivated.  No one had to make me practice.  I did it all on my own.  And being good at mathematics, I was able to read music with the very least instruction."
His ability to sight read was rare among blacks then and became his "forte."  His first paying gig came in 1936, at 15, as a last-minute fill-in on drums with Warren Webb and His Spiders at the Aeroplane Inn in Honey Creek, Iowa.  The North High graduate eventually played scores of other small towns just like Honey Creek, hence the title of his book.
His breakthrough came in 1943, when Warren recommended Love as his replacement in the Basie band.  Love auditioned at the Dreamland and won the job.  It was his entry into the big time.  "I was ready," he said.  "I knew I belonged."  It was the first of two tours of duty with Basie.  In storybook fashion, Love returned to play the very sites where his dreams were first fired – the Dreamland and Orpheum.  He went on to play many of the famous, glittering big city clubs he'd envisioned.
Love enjoyed the spotlight playing with Basie and the bands of Lucky Millinder, Lloyd Hunter, Nat Towles and Johnny Otis.  "Touring was fun," he said.  "You played the top ballrooms, you dressed beautifully, you stayed in finer hotels.  Big crowds.  Autographs.  It was glamorous." Life on the road agreed with he and Betty, whom he married in 1941.  "The itinerant thing is what I love.  The checking in the hotels and motels.  The newness of each town.  The geography of this country.  The South, with those black restaurants with that flavorful, wonderful food and those colorful hotels.  It was my culture, my people."
His book vividly describes it all.  Including the difficulties of being black in America and the reversals of fortune he's experienced.  He has some harsh things to say about Omaha, where he's witnessed the Dreamland's, demise, North 24th Street's decline and the black music scene dry up.
He's left his hometown many times, but has always come back.  Back to where his dream first took flight and came true. Back to the mistress – music – that still holds him enthralled.  To be our conscience, guide, our inspiration.
That January night at the Bistro, a beaming Love, gold horn slung over one shoulder, tells his audience, "I love this.  I look forward coming to work.  Preston Love's an alto player, and you want to hear him play alto, right?  Listen to this." Supplying the downbeat, he fills the room with the golden strain of "Mr. Saturday Night."  Play on, Mr. Saturday Night, play on.
Related Articles
Categories:

African-American Culture, Authors/Literature, Celebrity, Entertainment, Jazz, Laura Love, Music, Omaha, Personalities-Characters, Pop culture, Preston Love, Race, Writing
Tags:

A Thousand Honey Creeks Later, African-American Culture, Aretha Franklin, Authors/Books/Literature, Billie Holiday, Count Basie, Entertainment, History, Jazz, Johnny Otis, Laura Love, Music, New Horizons, Omaha, Orville Johnson, Pop Culture, Preston Love, Race, Ray Charles, Stevie Wonder, United States
Alexander Payne: His Journey in Film
Check out my brand new Facebook page & Like it–
Alexander Payne: His Journey in Film
https://www.facebook.com/AlexanderPayneExpert/
The work-in-progress page is devoted to my acclaimed book about the Oscar-winning filmmaker and his work.
"This is without question the single best study of Alexander Payne's films, as well as the filmmaker himself and his filmmaking process. In charting the first two decades of Payne's remarkable career, Leo Adam Biga pieces together an indelible portrait of an independent American artist, and one that's conveyed largely in the filmmaker's own words. This is an invaluable contribution to film history and criticism – and a sheer pleasure to read as well." –Thomas Schatz, Film scholar and author (The Genius of the System)
The book sells for $25.95.
Available through Barnes & Noble, on Amazon, for Kindle and at other bookstores and gift shops nationwide.
Purchase it at–https://www.amazon.com/dp/B01MRORX1U?ref_=k4w_oembed_c1Anr6bJdAagnj&tag=kpembed-20&linkCode=kpd
You can also order signed copies by emailing the author at leo32158@cox.net.
Mini-Profile
Author-journalist-blogger Leo Adam Biga resides in his hometown of Omaha, Nebraska. He writes newspaper-magazine stories about people, their passions, and their magnificent obsessions. He's the author of the books "Crossing Bridges: A Priest's Uplifting Life Among the Downtrodden," "Alexander Payne: His Journey in Film" (a compilation of his journalism about the acclaimed filmmaker) "Open Wide" a biography of Mark Manhart. Biga co-edited "Memories of the Jewish Midwest: Mom and Pop Grocery Stores." His popular blog, Leo Adam Biga's My Inside Stories at leoadambiga.com, is an online gallery of his work. The blog feeds into his Facebook page, My Inside Stories, as well as his Twitter, Google, LinkedIn, Tumblr, About.Me and other social media platform pages.
Personal Links
Join 7,010 other subscribers
Calendar of Blog Posts
Categories from A to Z and # of Posts
Subjects/Themes
RSS Links
Top Clicks
Goodreads
Upcoming Events
No upcoming events