Home
>
African-American Culture
,
Education
,
Family
,
Mentoring
,
North Omaha
,
Omaha
,
Social Justice
,
Social Work
,
Writing
,
Youth
> Where Hope Lives, Hope Center for Kids in North Omaha
Where Hope Lives, Hope Center for Kids in North Omaha
My blog features a number of stories that deal with good works by faith-based organizations, and this is another one. Northeast Omaha's largely African-American community suffers disproportionately in terms of poverty, low educational achievement, underemployment and unemployment, health problems, crime, et cetera. These challenges and disparities by no means characterize the entire community there, but the distress affects many and is persistent across generations in many households. All manner of social services operate in that community trying to address the issues, and the subject of the following story, Hope Center for Kids, is among those.  I filed the story for Metro Magazine (www.spiritofomaha.com) and I came away impressed that the people behind this effort are genuinely knowledgable about the needs there and are committed to doing what they can to reach out to youth in the neighborhoods surrounding the center.
Where Hope Lives, Hope Center for Kids in North Omaha
©by Leo Adam Biga
Originally published in Metro Magazine (www.spiritofomaha.com)
Northeast Omaha's largely poor, African-American community is a mosaic where despair coexists with hope. A stretch of North 20th Street is an example. Rows of nice, newly built homes line both sides of the one-way road — from Binney to Grace Streets. Working class families with upwardly mobile aspirations live there.
Yet, vacant lots and homes in disrepair are within view. God-fearing working stiffs may live next door to gang bangers. To be sure, the good citizens far outnumber the thugs but a few bad apples can spoil things for the rest.
Endemic inner city problems of poverty, teen pregnancy, drug abuse, gun violence, unemployment, school dropouts and broken homes put a drag on the district. Church, school and social service institutions do what they can to stabilize an unstable area. Meanwhile, the booming downtown cityscape to the south offers a vista of larger, brighter possibilities.
One anchor addressing the needs is the faith-based nonprofit Hope Center for Kids. Housed in the former Gene Eppley Boys Club at 2209 Binney, the center just celebrated its 10th anniversary. An $800,000 renovation replaced the roof and filled in the pool to create more programming space. Four years ago the organization opened Hope Skate, an attached multi-use roller rink/gymnasium that gives a community short on recreational amenities a fun, safe haven.
In the last year Hope's received grants from the Kellogg Foundation, the Millard Foundation and Mutual of Omaha to expand its life skills and educational support services. Additional staff and more structured programs have "taken us to a whole new level," said founder/executive director Rev. Ty Schenzel.
Clearly, the 50,000 square foot, $1.2 million-budgeted center is there for the long haul. Hope serves 400 members, ages 7 to 19. Most come from single parent homes. Eight in 10 qualify for free or reduced price lunch at school. Hope collaborates with such community partners as nearby Conestoga Magnet Center and Jesuit Middle Schools, whose ranks include Hope members. University of Nebraska at Omaha students are engaged in a service learning project to build an employability curriculum. Creighton med students conduct health screenings. Volunteers tutor and mentor. Bible studies and worship services are available.
Some Hope members work paid part-time jobs at the center. Members who keep up their grades earn points they can spend at an on-site store.
Per its name, Hope tries raising expectations amid limited horizons. It all began a decade ago when two Omaha businessmen bought the abandoned boys club and handed it over to Schenzel, a white Fremont, Neb. native and suburbanite called to do urban ministry. He was then-youth pastor at Trinity Interdenominational Church., a major supporter of Hope.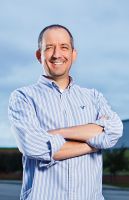 Ty Schenzel
He first came down to The Hood doing outreach for Trinity in the mid-'90s. He and volunteers held vacation bible studies and other activities for children at an infamous apartment complex, Strehlow, nicknamed New Jack City for all its crime. He met gang members. One by the street name of Rock asked what would happen to the kids once the do-gooders left. That convinced Pastor Ty, as Schenzel's called, to have a permanent presence there. In a sea of hopelessness he and his workers try to stem the tide.
"What we believe is at the root of the shootings, the gang activity, the 15-year-old moms, the generation after generation economic and educational despair is hopelessness," he said. "If you don't think anything is going to change and you don't care about the consequences then you lose all motivation. You have nothing to lose because you've lost everything.
"Our vision is we want to bring tangible hope with the belief that when the kids experience hope they'll be motivated to make right choices. They'll start to believe."
Schenzel said what "differentiates Hope is that the at-risk kids that come to us probably wouldn't fit in other programs. The faith component makes us different. The economic development-jobs creation aspect. The roller rink."
He said former Hope member Jimmie Ventry is a measure of the challenge kids present. Older brother Robert Ventry went on a drug-filled rampage that ended in him being shot and killed. Jimmie, who's been in and out of trouble with the law, had a run in with cops and ended up doing jail time. Schenzel said, "One day I asked Jimmie, 'How do I reach you? What do I do to break through?' And the spirit of what Jimmie said was, Don't give up on me. Don't stop trying." Hope hasn't.
Schenzel said results take time. "I tell people we're running a marathon, not a sprint, which I think is what Jimmie was saying. We're now in our 10th year and in many ways it feels like we're still starting." Hope Youth Development Director Pastor Edward King said kids can only be pointed in the right direction. Where they go is their own decision.
"It's one thing when they come here and we're throwing them the love and it's another thing when they go back to their environment and the drug dealers are telling them not to go to work," he said. "We're here telling them: You do have options; you can make honest money without the guilt and having to look over your shoulder; you don't have to go to prison, you can graduate from school — you can go to college.
"We provide hope but the battle is theirs really. When you don't believe you can, when everything around you is hopelessness, it takes a strong person to want to make the right choices."
Chris Morris was given up as a lost cause by the public schools system. Hope rallied behind him. It meant long hours of counseling, prodding, praying. The efforts paid off when he graduated high school.
"The Hope Center helped me in a positive way. Just having them around gave me hope," said Morris.
King said several kids who've thought of dropping out or been tagged as failures have gone on to get their diploma with the help of Hope's intervention.
"It took a lot of hard work for people to stay on them and to push them through," said King. "We're so proud of them."
The kids that make it invariably invite Hope teachers and administrators to attend their graduation. That's affirmation enough for King. "It's the thing that keeps me coming back," he said. "When I hear a guy talk about how coming here keeps him out of trouble or makes him feel safe or that he enjoys hanging out with my family at our house, that lets me know we're doing the right thing."
For many kids the first time they see a traditional nuclear family is at a Hope staffer's home. It's a revelation. Staff become like Big Brothers-Big Sisters or surrogate parents. They go out of their way to provide support.
"Our staff go to kids' games, they connect with them on the weekend, they're involved in the lives of the kids. Pastor King's house should probably be reclassified a dormitory," Schenzel said.
King comes from the very hard streets he ministers to now. Like many of these kids he grew up fatherless. He relates to the anger and chaos they feel.
"It breaks my heart to see the killings going on. I couldn't sit back on the sidelines and not do anything. I feel like it's my responsibility to be here. I know what it's like to have resentment for not having a dad around. A lot of the young men don't have a positive male role model at home to be there for them, to discipline them."
Hope educators work a lot on discipline with kids. Positive behavior is emphasized –from accepting criticism to following instructions. Hope slogans are printed on banners and posters throughout the center.
There, kids can channel their energies in art, education, recreation activities that, at least temporarily, remove them from bad influences. A Kids Cafe serves hot meals. King supervises Hope's sports programs. "If we can get them involved in our rec leagues, then it's less time they can be doing the negative things," he said. "There's nothing like the discipline of sports to keep a guy in line. We get a chance to teach life skills to the guys. "
Ken and Rachelle Johnson coordinate Hope's early ed programs. An expression of the couple's commitment is the home they bought and live in across the street.
"For me personally it's not a job, it's a ministry it's a lifestyle, it's our life." Rachelle said. "We love being around the kids in the neighborhood. The kids deal with a lot of abandonment-neglect issues. They all have their own story. We wanted to say, Here, we're committed, we're not going anywhere, because it takes a long time to build relationships."
Relationship building is key for Hope. Staff work with families and schools to try and keep kids on track academically. Programs help kids identify their strengths and dreams. To encourage big dreams teens meeting certain goals go on college tours.
"Increasingly we want to create this culture of connecting our kids to higher education," Schenzel said.
Optional worship services are offered but all members get exposed to faith lessons through interactions with staff, who model and communicate scripture.
"Here's our mantra," Schenzel said: "You can only educate and recreate so long but unless there's a heart change through a relationship with the Lord it's putting a Band Aid on wet skin."
Hope strives to have about 100 kids in the building at any given time. "Much more than that feels a little bit like a daycare. We don't want to be a daycare. We want to do some transformation," he said.
Schenzel sees "little buds of tangible hope going on" in what he terms Omaha's Ninth Ward. He and residents wonder why "there's seemingly an unholy bubble over north Omaha" preventing it from "getting in on the growth" happening downtown and midtown." Those frustrations don't stop him from dreaming.
"We would love to do mini-Hope satellites in the community, maybe in collaboration with churches, as well as Hope Centers in other cities. We envision an internship program for college students who want something to give their hearts to. We could then exponentially impact more kids. We want to create cottage industries that generate jobs and revenue streams. Some day we want to do Hope High School."
Keep hope alive, Pastor Ty, keep hope alive.
Related articles
Alexander Payne: His Journey in Film
Check out my brand new Facebook page & Like it–
Alexander Payne: His Journey in Film
https://www.facebook.com/AlexanderPayneExpert/
The work-in-progress page is devoted to my acclaimed book about the Oscar-winning filmmaker and his work.
"This is without question the single best study of Alexander Payne's films, as well as the filmmaker himself and his filmmaking process. In charting the first two decades of Payne's remarkable career, Leo Adam Biga pieces together an indelible portrait of an independent American artist, and one that's conveyed largely in the filmmaker's own words. This is an invaluable contribution to film history and criticism – and a sheer pleasure to read as well." –Thomas Schatz, Film scholar and author (The Genius of the System)
The book sells for $25.95.
Available through Barnes & Noble, on Amazon, for Kindle and at other bookstores and gift shops nationwide.
Purchase it at–https://www.amazon.com/dp/B01MRORX1U?ref_=k4w_oembed_c1Anr6bJdAagnj&tag=kpembed-20&linkCode=kpd
You can also order signed copies by emailing the author at leo32158@cox.net.
Mini-Profile
Author-journalist-blogger Leo Adam Biga resides in his hometown of Omaha, Nebraska. He writes newspaper-magazine stories about people, their passions, and their magnificent obsessions. He's the author of the books "Crossing Bridges: A Priest's Uplifting Life Among the Downtrodden," "Alexander Payne: His Journey in Film" (a compilation of his journalism about the acclaimed filmmaker) "Open Wide" a biography of Mark Manhart. Biga co-edited "Memories of the Jewish Midwest: Mom and Pop Grocery Stores." His popular blog, Leo Adam Biga's My Inside Stories at leoadambiga.com, is an online gallery of his work. The blog feeds into his Facebook page, My Inside Stories, as well as his Twitter, Google, LinkedIn, Tumblr, About.Me and other social media platform pages.
Personal Links
Join 7,010 other subscribers
Calendar of Blog Posts
Categories from A to Z and # of Posts
Subjects/Themes
RSS Links
Goodreads
Upcoming Events
No upcoming events