Designing Woman: Connie Spellman Helps Shape a New Omaha Through Omaha By Design
Connie Spellman, the subject of this story, speaks softly but carries a big stick in the form of her sterling reputation for getting things done and the insider organization she heads, Omaha By Design, which under her leadership is doing nothing short of steering Omaha toward a more cohesive and aesthetically pleasing New Urbanism design.  See a related story on this blog (in the City Planning/Urbanism category) about the three Omaha city planning directors who helped nudge Omaha in this same direction.
Designing Woman: Connie Spellman Helps Shape a New Omaha Through Omaha By Design

©by Leo Adam Biga
Originally published in the New Horizons
Connie Spellman's imprint on Omaha grows every day. As director of Omaha By Design, the Omaha Community Foundation (OCF) initiative attempting to do nothing less than change the face of the city, she has her hands all over the metro.
When she joined what was then called Lively Omaha in 2001 Spellman was already a passionate advocate of the city from her prior Greater Omaha Chamber of Commerce career. Her Chamber experience gave her a keen understanding of how the private and public sectors work in Omaha.
"I'd had a wonderful career at the Chamber and couldn't imagine having another position that was as fun and meaningful and rewarding as that," she said. "I'd had a year of retirement and other opportunities that sounded like jobs. And I wasn't ready. And this one came along…"
"This one" refers to her Omaha By Design position, which is that of facilitator and visionary. She brings diverse people together to brainstorm ideas, design guidelines, write zoning-construction codes and develop projects that embody aesthetically pleasing, eco-friendly, cohesive urban planning. The aim is to improve Omaha's appearance and the way people interact with their lived environment. She works closely with the city, neighborhood groups and the private sector to do that.
She took the newly formed post, she said, because "I love Omaha. I enjoy challenges. I thought the timing was right because sometimes timing is everything. The city was really ready for looking beyond its historic attributes to look at its environment in a bigger picture."
When then-OCF chairman Del Weber recruited her to the job Omaha was in the throes of an identity crisis. The city embodied stolid Midwestern values predicated on friendliness and work ethic but could claim few signature public spaces. The adverse effects of suburban sprawl, inner city neglect and scattershot development were everywhere.
"We're a great city of individual projects that were developed without consideration of how they're connected to each other," she said.
Studies confirmed Omaha lacked a positive image and that residents, especially younger ones, found the city dull and drab. Spellman said a Gallup survey found only a small percentage of Omahans thought the city attractive.
"I was appalled," she said. "I thought, What a shame. It means we really haven't paid attention to it and we didn't have much pride in it. How can we be competitive and expect our kids to stay here if we think our city is unattractive?"
Foundation supporters, who include some of Omaha's movers and shakers, hired Minnesota consultant Ronnie Brooks to assess the city's Wow! factor. He suggested Omaha needed to be more" connected, smart, significant, sparkling and fun." The foundation created Lively Omaha in 2001 to do just that, but it floundered trying to put into action what sounded so abstract or, as Spellman put it, "nebulous." Meanwhile, Omaha's doldrums and inferiority complex festered.
Still, she said, those words by Brooks "in one way or another kept coming back to everything we do — to how we look and how we act…"
Then something happened that brought the organization's mission into focus. When the downtown-riverfront construction boom began — one that ultimately resulted in $2 billion in new development — Lively Omaha saw the potential for an Omaha makeover on a citywide scale.
The Omaha World-Herald's Freedom Park, Union Pacific's and First National Bank's new headquarters, the Holland Performing Arts Center, the Qwest Center, the Gallup campus, the National Parks Services building, Creighton University's soccer stadium and new dorms and a beautified Abbott Drive created a dynamic new downtown-riverfront corridor. What had been unsightly was now a picture postcard destination district. These projects signaled a major turnaround in not only Omaha's appearance but in the way Omahans felt about their city.
More energizing projects followed, including the Saddle Creek Records build-out with Slowdown and Film Streams and nearby hotels in NoDo. More is on the drawing boards, notably the $140 million downtown baseball stadium slated to open in 2011.
The cityscape is changing far beyond downtown as well. Improvements around 24th and Lake Streets and along the South 24th Street business strip, the transformation of the former stockyards site and the mixed use developments going up on the Mutual of Omaha and Ak-Sar-Ben campuses are examples of the New Omaha.
Spellman said such projects are changing residents' and visitors' appreciation for a town that's long battled an image problem.
"That translates into so many things," she said. "You can't help but feel good when you're downtown today or driving into our city. There's an energy here that's coming back because people have a vision that is being realized. And I think that attitude can accelerate the implementation of the vision because once you get a taste of it you want more, faster."
She's certain if a survey were done today sampling the city's "It" quotient there would be a very different result than a decade ago.
"I think people would feel better about their community. I think there is a contagion that is going on because of the continued development that's happening downtown and the revitalization of suburban areas like Village Pointe.
"I see it everywhere — in what people do with their own homes and what they do with their businesses and what they want to see happen with development in general and how they view their city."
As Omaha comes out from under its shell, she said, not just Chamber wags but every day residents are saying, "'Come look at what we've got. Look at what we're doing.'" Publications from the Kansas City to
New York
are taking notice.
It's ironic the woman who has Omaha reinventing itself through sustainable, livable design strategies had to immerse herself in the subject when she got the job.
"I knew nothing about urban design or public space," she said from her office in the historic Blackstone building. She's about a stone's throw away from Mutual of Omaha's Midtown Crossing at Turner Park project under construction — an example of the kind of transformation she advocates. "I have always had an appreciation of art and architecture but I never really put them in the context of public spaces or design. And so the first thing I had to do was educate myself."
That posed no problem for this former teacher who's devoted much of her public service to education. She read, she sounded out experts, she attended trainings.
"Perhaps the basis for most of my education came from Project for Public Spaces (PPS), a national advocacy group," she said. "It grew out of the work of New York planner William Whyte, whose book The Social Life of Small Urban Spaces is fascinating. I learned enough to allow me to ask questions. And then I was fortunate enough to meet people like Doug Bisson, a planner at HDR, who recommended more books."
After PPS training in New York she returned to Omaha to organize Place Making sessions, which she describes "as a way to engage citizens in helping them decide what their own spaces should look like and discover their own neighborhoods' potential." Place Games and Place Definitions workshops were held with neighborhood associations. Program Manager Teresa Gleason leads these sessions today. Ideas get broached, goals set and actions taken to make improvements — from lighting to green spaces to facades.
Through these experiences Spellman and others gained a new sense for how Omaha could be flipped.
"I had to have that 'Ah-ha' moment in looking at Omaha because I've seen it as I've always seen it — family-oriented, hard working, conservative. I loved it but I didn't see it in terms of its potential," she said. "Then I saw it in terms of what it could look like — a lively, more interesting Omaha that is cutting edge, exciting and fun.
"You can never see the city the same way again once you see it as what it could be. That's probably the greatest gift to me — opening my eyes to see what the potential is for this city."
Spellman is unabashedly devoted to Omaha, where she and her husband, attorney Rick Spellman, moved in the '70s. It's where they raised their three kids. Some of Omaha's greatest ambassadors didn't start out here and she's among them. The former Connie Hoy grew up in Wahoo, Neb. Her family moved there from a farm they had near Lincoln. She enjoyed small town life.
"I probably had the most idyllic childhood. I lived a block away from school. The thing about small towns is you're forced to do everything because there aren't enough people. I love the opportunity to sample everything. I think that's useful."
Her role of helping Omaha see itself in a new light is in keeping with her background.
"I am first and foremost an educator because that's what I went to school to be," the 1965 University of Nebraska-Lincoln graduate said.
She taught high school in Ashland, Neb. for two years while her husband Rick was in law school. Even then she showed a knack for getting broad coalitions of people involved as she started a speech and theater program. Under her direction community productions of South Pacific and Our Town were staged.
"We got the whole town engaged in these productions," she said.
Sound familiar? She built coalitions as a volunteer with the Junior League, a women's group that promotes community involvement and leadership development. Her work there led to her involvement with the Chamber, where she spearheaded corporate leadership and public school education initiatives.
In a sense, what this designing woman does today is direct an epic scale version of Our Town where the props and the players are real and the stakes are for keeps.
The more she steeped herself in what constitutes good design the more she saw Omaha for the first time. The striking new face that began emerging downtown and on the riverfront offered a preview of what could be. It increased expectations.
"With the downtown redevelopment we were beginning to see that transformation is possible and energizing and positive. It was a wonderful catalyst to begin to say, Boy, if we can do it downtown, why can't we translate this throughout our entire city? We can still be hard working and family-oriented but we can also be cutting edge and exciting and fun. We can be competitive in a regional market which we really hadn't been. All of that, I think, gives a sense of pride, a sense of energy."
‹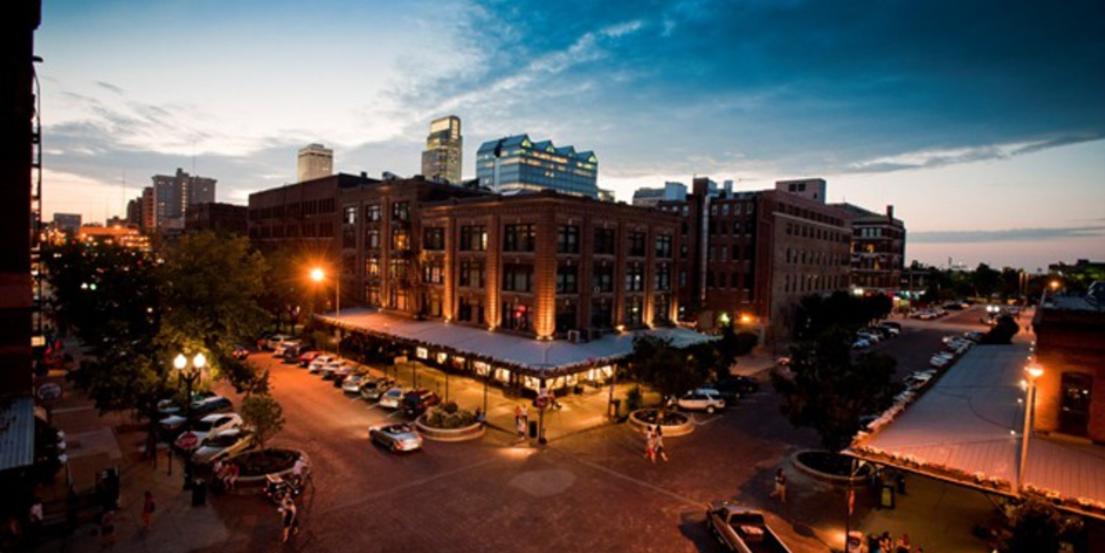 What became known as Omaha By Design evolved from studies, surveys and discussions prompted by Foundation donors. This led to public meetings where citizens weighed in. The work continues today.
"It's all citizen-led," she said. "One of the terms we use is, 'The citizen is the expert — the community is the expert.' They know best what they want for their community. We just help them see it differently."
All the feedback called for a citywide approach focusing on key neighborhoods, districts, corridors, sectors that took a more considered approach to development — from signage to setbacks to lighting to landscaping to public art.
The idea's to create organic, splendid, interconnected, pedestrian-friendly spaces that make Omaha a more pleasant place to live and therefore a more competitive market for attracting and retaining companies and individuals.
"Besides the feel-good aspect there's an economic component to this as well," Spellman said. "If you design a building well, if you have a shopping center that's easily accessible for pedestrians and exciting and attractive, that's going to be a return on investment."
The real work began in response to a pair of new Wal-Mart stores slated for Omaha. Objections arose over the plans for the big box projects and their ugly concrete footprints, which all but ignored elements like greenery or enhanced lighting. Spellman, local elected officials, Omaha Planning Department staff and other concerned citizens concluded if the city wanted projects with more curb appeal than design standards must be adopted that compel developers-builders to conform. Rules and regulations with oversight-enforcement teeth were needed.
"In order to create the vision there had to be a change," she said. "Otherwise, you would have continued to perpetuate the development that's gone on before."
Holland Performing Arts Center
Wal-Mart was Omaha's line-in-the-sand.
"We weren't content to take the bottom drawer of a Wal-Mart or any box store," she said. "We were confident enough to say we won't accept that anymore. We deserve more."
That's when her organization decided to undertake a comprehensive plan, called the Urban Design Element, which meant identifying and articulating areas of the city in need of revitalization and redesign. This required the collaboration of a cross-section of city departments, design firms, real estate developers, lawyers, utilities providers, neighborhood associations and others.
Philadelphia planner Jonathan Barnett helped devise Omaha's plan. He divided it into three focus areas — Green, Civic and Neighborhoods. "That was one of the best organizational tools we could have come up with," Spellman said, "because it helps you so much describe it, define it, categorize it, implement it. This way you break it down into very visual, concrete segments that anybody can see. There's something for everybody."
A list of goals for each segment is now in place and projects have been targeted within each goal.
The Urban Design Element was not the end game, however.
"It was written not as a plan but as a specific element that once adopted went right into the (city's) master plan," she said, "which I think was a brilliant thing. We didn't want it to be a report that sat on the shelf. Just because it's part of the master plan doesn't mean it has the force of law or automatically gets done. It doesn't unless attention is given to it.
"The highest priority was the implementation of those recommendations that required codification in order to be effective. That became our next major effort."
In August of 2007 the Omaha City Council unanimously adopted the Urban Design Element into the city's official master plan. Ideas and goals had been turned into tangible, enforceable codes. As a result, Omaha no longer has to settle for what a developer or builder decides is a sufficient design but the city now has specific standards in place that, by law, must be met.
She said the effort needed both the private and public sectors involved "to make this work and we did have that from the very beginning. It was a wonderful blend that was strategically thought about to make sure that every sector had a voice."
Spellman got diverse players to sit at the same table and work out the details. Her talent for "bringing people together to get things done" is one of the skills she learned in her 20 years at the Commerce. She managed its Leadership Omaha and Omaha Executive Institute programs and led its education and workforce development initiatives, Omaha 2000 and the Omaha Job Clearinghouse, respectively. Her successes made her a player.
Typical of Spellman, she prefers deflecting attention away from herself and onto others. For example, she credits the Omaha Planning Department with helping make the Urban Design Element a reality.
"I can't say enough about the role of the Planning Department in making this happen," she said. "Steve Jensen, Lynn Meyer and Co. are trusted and respected by the development community and they've been a real factor in working this through. They were totally professional and patient."
Heartland of America Park
Her work, however, has been much recognized, including being named The World-Herald's 2007 Midlander of the Year. She's previously been the recipient of the Ike Friedman Community Leadership Award and other awards noting her community focus and consensus building.
She said as arduous as creating the Urban Design Element was, "codifying these design standards" was a classic "the-devil's-in-the-details process" that required innumerable meetings. An expert committee addressed the codification, which among other things put the standards into language that was clear and binding. There was much discussion, argument and compromise.
"It was more technical. It was a smaller, tighter group having to deal with the codes," she said. "We added more developer-real estate-leasing agent-finance people that really understood the implications of what was going to be asked of them and coupled it with the design community — architects, landscape planners, city department heads — all at the table.
"We thought it was going to be a year's process. It turned out to be two years. It was the best thing that we did take the two years because nobody had ever done this before. We're really trying to address so many things from so many different perspectives."
Spellman said no U.S. city has ever tackled such a sweeping, all encompassing design plan to code.
"Where others had done major sections of code it was usually in a city like Santa Fe, where everything is the same, uniform Southwest look, or a Santa Barbara, where there's very strict requirements. Well, we didn't want Omaha to look all the same, so that meant our code doesn't fit all. Therefore, we really needed to make sure there were no unintended consequences.
"We had to test and reevaluate and retest. There was a several month period where we studied (design) surettes of (mock) urban settings and suburban settings to see how the codes would affect those. Then we learned how topography affects those. It was a true education in how important it is to do it right the first time. It takes time."
Ak-Sar-Ben Village
Developers, builders and others who will be working within these codes on future projects expressed various concerns.
"There's a fear factor," she said. "What if it doesn't work? What if it's going to cost more? What if it's going to prohibit development? Those are legitimate issues. That's why it took so long — to be sure that all of us were comfortable with the outcome. The last thing any of us want to do is to hamper economic development. We're all in this for economic development and quality of life."
Consequently, nothing's set in stone. By its nature, urban design is evolutionary.
"It's not hard and fast," she said. "Something this big and this broad can't be perceived as perfect the first time out. That's why the Technical Advisory Committee decided to stay together to be that sounding board. If the language doesn't meet the intent then let's by all means change it. We're already working on some issues that we discovered need to be changed."
The committee also serves on the city's Design Review Board, which is charged with interpreting the codes.
Redesigning Omaha carries the responsibility of being true to all those who've participated in the process.
"In a way we're protecting the interests of all the people that attended meetings and voiced their opinions," she said. "So we really felt this was a mandate from the community. We went through this process not just as an exercise but as something we want to see because we love our city and we want to make it better. I take that as a responsibility and I don't want to stop until we're done."
Omaha By Design recently released its Streetscape Handbook. This primer for project managers, developers and design professionals offers guidelines for creating enhanced streetscape environments that give careful attention to street fixtures rather than treat them as afterthoughts.
"It deals with all of the street furnishings in the public right of way," she said. "Signage, street lights, wires, bike racks…If you think about the placement of this stuff you have to have anyway, if you think about maintenance and sustainability and how it relates to each other and how it looks on the street, it makes a whole different visual impression."
The committee that generated the handbook was made up of architects, landscape designers, city planners, public works professionals, roads experts and "anyone that had something to do with the placement of street furnishings or the streetscape," she said. "We worked together for 27 months, once a month, to figure out what we needed to do and how we could do it. I think we're proud of what we're presenting. It's an example of people working together because there's a vision of what we want out city to be some day."
None of this could happen, she said, without broad support and participation. "We rely heavily on volunteers and community leadership to make these things happen," she said.
Where is Omaha By Design's work taking shape?
Projects have now been identified in each of the Urban Design Element's goals, "which I think is very exciting," Spellman said. Keep Omaha Beautiful is undertaking one of the first projects — a landscaped highway's edge at I-680 and Center.
Other efforts are in progress or soon to start. Omaha By Design acts as project manager for some, including the Benson-Ames Alliance, a comprehensive plan for integrating the design of commercial centers with their neighborhoods. The goal is mixed-use centers that blend retail, residential and office in a balanced manner. The plan also addresses transportation, housing and public space issues.
The Alliance has two projects underway — the Cole Creek Project and the Maple Street Corridor Project. The first entails various stormwater construction to help cleanse runoff and moderate the amount of water flowing into Cole Creek; the second designs functional-decorative streetscapes along the Maple corridor and builds on the entrepreneurial growth under way in downtown Benson with a goal of spurring development in neighboring sectors.
All this activity requires Spellman attend many meetings.
"My to-do lists are pages long," she said.
But she's doing exactly what she wants to do.
"I'm very fortunate. It's just a gift. I am totally content and most days very excited about the potential of what we're doing."
The Slowdown and Film Streams development in NoDo or North Downtown

Related articles