Archive for June 9, 2012
I never met the late Mary Galligan Cornett during her long, legendary tenure as Omaha City Clerk, only when she'd been retired some years, but her reputation as a cantankerous, bigger-than-life personality preceded her and I was not disappointed when I finally did catch up with her.  Sheds lost none of her bite or her blunt, blue-streak manner of speaking.  She's gone now but she's definitely one of my most unforgettable characters.  My profile of her appeared in the New Horizons in 2002.
One Helluva Broad: Mary Galligan Cornett
©by Leo Adam Biga
Originally appeared in the New Horizons
For more than half-a-century, Mary Galligan Cornett gave as good as she got with the boys at City Hall.
In her colorful 53-year civil service career she saw hundreds of elected officials come and go. In a 1961 to 1997 reign as Omaha City Clerk she served 13 mayors (counting acting and interim chiefs) and dozens of council members. She saw Omaha transition from the commission form of government to the city charter home rule system to the present structure featuring district council elections. She was a stabilizing presence as Omaha endured scandals, bitter fights over equal rights and public works and abrupt changes in leadership. She helped Omaha retain its Triple AAA credit rating by selling bonds in New York's financial district.
Along the way, she earned a reputation as a tough woman valued for the knowledge and history she brought to city business and as one not to be trifled with in the political wrangling game. This blunt, unadorned woman, who says of the wrinkles in her face — "I've earned every one" — is one helluva broad.
Unafraid to speak her mind and uncowed by the rough-and-tumble maneuvers of smoke-filled, back-room deliberating, Cornett was a trailblazer in the male fraternity called politics. For years, she was among only a handful of women city clerks in major U.S. metropolises. So, how did she survive under so many different regimes and surrounded by so many powerful men of often clashing politics and personalities? "Very simple, I became one of the good old boys. I made friends with their wives, their secretaries and their mistresses, and I got along just fine," she said from her terraced antique and bric-a-brac-filled home on the busy Northwest Radial Highway. As former City Councilman Subby Anzaldo said, "Having Mary in a group of men was not uncomfortable. If a cross word flew out of someone's mouth it wasn't a situation where you had to worry about it. Mary understood and she could throw a few out herself if she had to. She was one of a kind. They don't make 'em like that anymore."
At her home, family photographs are prominently displayed in the living room, where the pet dog and cat roam freely. Most pictures are of Cornett's only child, Irene A. Cornett (Stranglin), now a 10-year veteran with the Omaha police force and the new mother of twin girls. Cornett raised Irene alone after the death of her husband, surety executive Bob Cornett, in 1976. Slowed by a broken hip suffered last March, she has a nurse tech, Raissa Franklin, help at home. About her patient, Franklin said jokingly, "She's ornery. She's worse than the agitator in the washing machine." Ever the politician, the chain-smoking Cornett recently had pictures of herself taken sans cigarettes. After the photo session Cornett called out, "Raissa, honey, could you hand me a pack of cigarettes now that the photographer is gone?"
As far as being a woman in a man's world, Cornett had only to look at the domineering women in her own life for role models.
Both of her grandmothers worked outside the home in addition to raising families. Her maternal grandma came from sturdy ranch stock and went on to become a music teacher in towns across Nebraska. Her paternal matriarch was a railroad brakeman as well as a seamstress. Her mother was a political operative and helped run the family produce business.
"I grew up with the idea a woman could be anything she wanted to be," said Cornett. That's why when she started working at City Hall as a building clerk in 1945 she chafed at the resistance she met from the all-male contractors who had to go through her to obtain permits. "Well, the men contractors had a hard time with that because they didn't think a woman could look at a set of blueprints and figure out anything. It was a whole new thing for them. They had a hard time accepting it and I had a hard time accepting their chauvinism. My attitude was, 'The hell with it. I'm here. I'm the one that issues the permits. Show me your (expletive) blueprints. Take me or leave me.' I think I've always felt that way."
Armed with her sharp tongue, astute mind and vast experience, she had the ear of mayors and council members. According to her successor, current City Clerk Buster Brown, whom she trained, "If she had something to say, people listened. Yes, she influenced decisions behind-the-scenes. She was an institution. She knew the ins-and-outs." Rather than challenge her "strong personality," he said, officials would "back away." Former City Councilman Robert Cunningham said, "She handled things with authority. She was respected." In her capacity as clerk and confidante,  Cornett was the keeper of city records and secrets. She recalls how attorney Eddie Shaston, an associate of former Mayor A.V. Sorensen, "always said 'I was the woman that knew and never talked.'"
Retired since 1997, Cornett is not telling tales out-of-school now, at least not on the record. If she did tell her story, the 77-year-old said she'd borrow the title from the Frank Sinatra anthem, "I Did It My Way." The only trouble with that, she asked rhetorically, is "which of my lives would I be talking about? My private life? My political life? My life as a bondswoman?" To which Pat Wright, a friend and former assistant who popped over during a recent interview quipped, "Where does one stop and the other end? Sometimes you don't even know," which prompted Cornett to reply, "I know that." Wright added, "Cornetts real. She tells it like it is."
No doubt, Cornett thrived in the political arena because public service was, in a sense, a birthright by virtue of her family's longtime involvement in the field. Her Irish-Scottish immigrant family's political legacy extends back to the town's wild-and-whooly beginnings to a pair of paternal grand uncles: former fire chief Jack J. Galligan and former police chief Michael Dempsey. Then there was her mother, Fairrie Irene Cameron Galligan, a wheel in the state and Midwest Democratic central committees. Mary often accompanied her to conventions, even meeting future president Harry S. Truman in Kansas City when he was still a ward leader for the Tom Pendergast machine. There was also a familial tie to the politically active Warners of Nebraska. "Everyone in my family, on both sides, was in politics," Cornett said. "That's been my whole life."
Public service has been a passionate thing for the Cornett clan. "It was and it still is with me" she said. "My family at one time were all immigrants and this was the country that welcomed them. They felt they owed it something because of the freedom and the education and the employment they found here. And for all of that, there's gotta be some payback. And, so, I think the whole family felt a personal responsibility to be part of government and to devote a lot of their lives to it. I devoted my entire life to it." Politics also suited Cornett's gregariousness. She said her capacity for getting along with people and putting aside personal differences for the public good is "an ability you have to have" to succeed in politics. Her skill at mixing with people from all walks of life and her hunger for being right in the thick of the action is why it all came naturally to her.
"I guess I'm a people person. I guess that's why I picked this as my retirement house," she said, referring to her residence. "It's right on the street. Life goes on. There isn't a time the rescue squad isn't going that-a-way or a fire truck isn't going this-a-way or a police car isn't going another way. I can lay in bed and tell from the traffic what time it is."
Cornett likes the neighborhood and its mix of young families and retirees. "I lived for many years in a big home at 61st and Decatur and I hated it. Everybody went to bed at like 8:30 or 9, and being a night owl, I'd be up till 1 or 2 in the morning. Also, I cannot imagine living in one of these retirement places where everybody's old, where there's no children, where there's no dogs or cats. Why would you want to shut yourself off from the world? You've got to have some life going on around you," she said above the din of rushing traffic and barking dogs outside.
For her, city government was where the action was. How apt then that this lifelong devotee of Italian grand opera found herself immersed in the drama and machinations of big city politics, with all its brokering, backstabbing and symbolic bloodletting. Because politics truly is in her blood, she still keeps close tabs on City Hall. Asked if leaders still come to her for counsel, she answered, "Let's put it this way, I get a lot of telephone calls. I still have an excellent grapevine together. Remember, it's been 53 years or so building it. I can tell you what's going on in every (expletive) department down there. I keep track of things."
After years directing the clerk's office, which besides keeping records supports the functions and enforces the rules of the City Council, she has a rather proprietary feeling about that august body. The last council she worked with had a contentious relationship with former Mayor Hal Daub, whom she felt was not well served by some members, which makes her glad the present council, with its five new faces, is working so well with Mayor Mike Fahey. "I'm very proud of the new council. I think they're doing a very good job. This council and the mayor are communicating. I think that's a necessary part of good government. You can disagree, but you need to communicate at least your disagreements."
In Cornett's view the previous council "made life miserable for Mayor Daub," adding: "I always felt very sorry for Daub. Did he make mistakes? Yes. Could he have maybe communicated with two or three of them better? Yes. But there were four of 'em on that council that no matter what he would have done they would never have moved off what they wanted. And it wasn't a matter of what was best for the city or what was good for the taxpayer. It was a matter of their own personal egos and their desire to stay in power. Well, you know what happened to most of 'em? They were beaten out in the last election."
In past administrations Cornett became a liaison or conduit between mayors and councils locked in stalemates. "When some mayors were not talking to certain council members they used me as a go-between," she said. "They about wore my voice out, too." She also frequently sat in on cabinet meetings.
One of Cornett's closest cronies in city government was the late Herb Fitle, the longtime city attorney with whom she enjoyed a salty relationship that sometimes found them feuding. As years passed, Cornett and Fitle, along with officials George Ireland and S.P. Benson, became the wise old sages in city government. Cornett and Fitle were "the staunchest supporters and absolute protectors" of the city charter that came into effect in the late-1950s.
"We had a long, long tenure together," she said. "If we stood together, all hell and high heaven could not have moved us — I don't care if it was mayors, councils, outside influences, whatever. But our disagreements also were legend. He'd write his opinions and although I wasn't an attorney I sometimes wouldn't agree with his opinion and I wasn't very amiss to tell him so.
"Once, we disagreed over some political or legal issue and we stopped talking to each other. I'd send my assistants up to his office for answers and he'd send his attorneys down to my office for answers. Well, the help got tired of that and came to me and said, 'Look, you guys have got to stop this. We can't take it anymore.' I said, 'OK, fine.' It was near Christmas and we used to have this event called The Christmas Sing where we all gathered in the council chambers with an orchestra to sing carols, and so I asked someone to get peace doves. While this program was going on I said to Herb, 'I think we should make up,' and I let the birds go. They were scared as hell and flew all over the place. Well, it turned out they were pigeons and, you know, they pooped on everybody and everything…the musicians, the councilmen, the chairs, the desks. I think it took the night help two or three hours to clean up."
Despite the mess, her goodwill gesture was accepted and The Great Cornett-Fitle feud ceased.
In her watchdog role with the council Cornett provided oversight to ensure proceedings followed protocol. She served as sergeant of arms, called roll, recorded results and supplied information requested by councilmen on resolutions, ordinances, liquor licenses, etc.. The job also involved training new council members in how municipal government operates. Not everyone comes prepared to govern. "You get newly elected officials that never saw a charter before," she said. Former councilman Subby Anzaldo said her influence was felt. "She had input. We came to her for answers. She told it like it was. She was like the eighth council member."
She provided continuity when, in 1981, the move from at-large to district elections brought seven new council members and a new mayor into office and then, in the late 1980s-early 1990s, when Omaha went through six mayors due to recall, death, defeat, election, resignation. At times like those, City Clerk Buster Brown said, "She was very vital to making sure city government ran smoothly." The way she sees it, she helped by "just being there."
Then there's the delicate matter of sorting out potential conflicts of interest. As Cornett explained, "Everybody comes to government bringing their own baggage in terms of outside influences. There may be something in the charter that can favor an official in getting a contract" or a business advantage. "Will officials try to use their influence? Of course they will. In my downstairs office at home I have reams of settled rulings on certain sections of the charter where somebody tried to do something they couldn't (legally) do."
At the countless council meetings she oversaw, she heard everything from dissident voices to impassioned pleas to whimpers to cheers. Among those she had removed from the premises was a deputy sheriff who arrived with a warrant during a council session. When she informed the deputy it was not permissible to serve a sitting body but that he would instead have to wait until the meeting ended, he persisted, whereupon she called security, ordering police to "remove this man," which they did, much to the deputy's chagrin. Cornett said she was so upset that someone was "obstructing or interrupting MY council meeting" she never even "bothered to find out" who or what the warrant specified.
Another time, during the racially tense 1960s, Cornett recalls how marching civil rights demonstrators descending upon City Hall sent most officials scurrying for cover. Typical of Cornett, she stood her ground. As it turned out, the group included a large contingent of church-based elders whose intent was conciliatory. "With all the public officials having taken to the hills, I was the only one left, so the marchers came to my office. I called the switchboard and told them I didn't want any calls and I told my staff to give these elderly ladies the cushions off their chairs to kneel on. That's how I came to have a pray-in in my office."
For the most part, however, Cornett plied her political savvy not in public view but behind-the-scenes. Of the many mayors she worked with, she said, "Almost every one of 'em really cared about this city. I loved every one of 'em, whether I fought with 'em or not and whether they disliked me or not. Different mayors at different times had difficult personalities. I wouldn't say who were my favorites, but I would say who taught me the most — A.V. Sorensen (1965-69). He made it a point to teach me…government, finances, investments, organization, management. He expected everything to be organized. He hated a messy desk."
She said Sorensen was a model of efficiency who demanded subordinates follow suit. "If you couldn't give him an answer in 5 minutes…forget it." She recalls how when she and former City Council President Art Bradley questioned why he gave "both of us directives" to hunt up the same data, his honor replied — "'Because you come back with different answers, and half way between the two of them is the truth.' That was A.V."
Sorensen restored faith in Omaha's elected leadership in the wake of corruption at City Hall. His predecessor, the dashing young Jim Dworak (1961-65) was indicted but later acquitted on bribery and conspiracy charges involving rigged real estate zoning laws. Other city officials were convicted. While Cornett is convinced Dworak did not accept any bribes, she believes he was a victim of his own fast-living ways. "Wine, women and song were his problems. He just had too much too soon."
Where Dworak was a free-wheeling playboy, Sorensen was a circumspect elder statesman. Tough facade aside, Cornett maintained a soft spot for old A.V. "I felt so close to him. He was one of the few people who hurt my feelings. He had been out of office a few months when he came to visit me. My office, for some reason, was all cluttered up. He didn't say Hello or How are you? — no, he said, 'I thought I taught you better than that,' and walked out. Well, I sat there and cried."
Another mayor whom Cornett says "taught me a great deal" was brash Hal Daub (1993-2001). She feels his greatest strength — a facile mind — often proved his undoing when combined with his impatience. "Hal is an extremely brilliant man," she said. "He has almost a complete retentive memory for facts and figures. But he thinks so fast that he's always jumping the gun on people." The two respected each other enough that mere weeks after retiring from the clerk' s office she accepted his request to assume an eight-month job researching issues related to city-county government merger, a subject she calls "near and dear to my heart."
Over the years Cornett said she rejected notions of running for public office and spurned opportunities to enter the private sector. Life as an elected official held no interest, she said, because she "didn't want to play the game" and disliked the idea of being beholden to "outside influences." Besides, she added, elected officials don't have the real control — civil service administrators do. The prospect of leaving City Hall altogether was equally unimaginable.
"I was offered two or three very good jobs paying twice what I made in city government, but I decided, no, that's where I belonged." It's why she looked forward going to work every day and thought nothing of putting in overtime even though her post didn't qualify her for extra pay.
"This sounds kind of corny, but I always felt the Lord put me in the right spot at the right time in my life," she said. "Every day there were new problems. Every day there was something else. You never knew when you got there in the morning what was going to transpire. And, so, if you wanted an interesting life you couldn't have had a better job. I loved every minute and I kept going as long as I could."
Related articles
In the course of my work I meet folks I would ordinarily never meet if I were in some other profession, and one of those is the subject of this profile: Leo Geeenbaum.  Even though we both share Omaha as a hometown, we are years apart in age and come from two very different backgrounds.  I was born and raised here Catholic.  The Jewish Greenbaum was born in Israel and lived there until his teens.  I attended parochial school.  He received traditional Jewish training and attended public school.  We do share, however, the same alama mater for our undergraduate studies, the University of Nebraska at Omaha, though we were separated there by more than a decade.   He long ago left Omaha for the east coast and for several years now he's worked as an archivist at the YIVO Institute for Jewish Research in New York City, where he's found an apt home for his scholarly interests and familial-cultural legacy.  The story of the institute itself – it got its start in Europe – and how its founders, workers, and supporters took extraordinary measures to preserve its collections in the face of Nazi persecution is dramatic and heroic, is shared here.  You'll also learn some things about Greenbaum's personal connection to the Holocaust.
Leo Greenbaum is collector of collectors of Jewish Artifacts at YIVO Institute 
©by Leo Adam Biga
Originally appeared in the Jewish Press
In early November the Jewish Press caught up with former Omaha resident Leo Greenbaum, accessioning archivist at the famed YIVO Institute for Jewish Research in New York City. Greenbaum was in town to visit friends and family. While here he stayed at the home of author Oliver Pollock, with whom he's collaborated on articles about the Yiddish Theater and Workmen's Circle in Omaha. Greenbaum's mother, Mina, resides at the Blumkin Home. His father Joshua died last year.
Begun in 1925 in Vilna, Poland, YIVO is both a major repository and disseminator of Jewish culture through institute publications, exhibitions, classes, activities and programs. Individuals accessing the collections come from all over the world and all walks of life. The holdings are utilized by historians, authors, journalists, artists, filmmakers, scholars, educators, students and every day folks.
Filmmaker Joan Micklin Silver said that in "researching at YIVO" to inform her and Matthew Goodman's new documentary on the bagel's immigrant history in America, she met Greenbaum, whom she described as a "lovely guy, very bright and helpful."
Inquiries about topics and materials are fielded every day and cover the gamut of Jewish life, as YIVO is well known for the wide scope of its vast archives and library. The collections encompass commerce, politics, religion, the arts, labor, education, family life…you name it. Nothing less than the totality of Jewish endeavor can be found there. Marketing materials refer to YIVO as "the world's leading organization for the study of Eastern European Jewry and their descendants" around the globe. On shelves, in files and in store rooms lay books, official records, diaries, letters, posters, photos, films, recordings, art works, et cetera. Some are quite rare. Reading rooms and audio/video booths are available for perusing printed materials, listening to recordings or watching films. Walk-ins are welcome but a call ahead of time is advised. Select materials can only be accessed by appointment.
As chief collector for an archive that boasts some 25 million documents spanning the breadth of Jewish experience, Greenbaum is responsible for not only preserving and cataloging the history of a people, but adding to it. Always adding to it. He said the position is a good fit for someone like himself, who is ever curious about history and ever in search of treasures which help illuminate that history.
"It has become my specialty," he said.
His being there is apt given the tumult that the institute and his own family experienced in the Holocaust. Some of the holdings in his charge today were rescued by brave YIVO staff members, volunteers and sympathizers at the height of the Shoah. Most YIVO artifacts, like most of its workers and supporters, were lost in the war and in the genocide, just as were the members of Greenbaum's extended maternal and paternal family. His parents only made it out alive by luck and guile. Viewed in this light, his work at YIVO is a testament to all the people and history destroyed. Their legacy is in his hands. The extant articles represent an inheritance for him to safeguard for future generations.
"It's our job, I suppose," he said.
He acknowledges his work has perhaps even deeper meaning for him than for others. "I have sort of personal motivation for YIVO in this respect because I lost my family on both sides in the Holocaust. My father had a large family and they were all wiped out except for himself and one of his brothers. My mother's family was entirely wiped out. So that's a personal thing, you know."
YIVO's preservation of Yiddish culture resonates with the Greenbaums' own Yiddish heritage, from the institute's collection on the Yiddish Theater, which his mother was involved in, to its renowned summer classes that teach the Yiddish language, which his family spoke. "My mother was active in the Yiddish Theater in the Soviet Ukraine," he said. "She performed with a semi-professional group. Also, my parents spoke Yiddish and I learned it from them. So I have a personal interest. Not all the staff members at YIVO have this background. In fact, some of our archives staff don't have a Jewish background at all."
Greenbaum came with his parents to the United States, by way of Israel, as a teen in 1961. The Omaha Central High School and University of Nebraska at Omaha grad was from an early age fascinated by current affairs and the currents of time. Until age 10 he lived in Poland, a bittersweet land for Jews, and the birthplace of YIVO. From ages 10 to 13 he and his family lived in Israel, the sanctuary for so many displaced Jews in search of an ancestral homeland and a new life. It's no wonder then he pursued post-grad studies, at now defunct Dropsie University, in a field dedicated to archiving fragments of history that inform the past and the present.
YIVO's Jewish scholarship mission was part of a larger heritage movement led by Jewish intellectuals, scholars and educators in Europe and elsewhere. The idea was to give the masses ownership of their own history. The academy model for YIVO was designed by Max Weinreich, a Yiddish linguist who became its first director. At the start, the fledgling institute was based in Weinreich's apartment, but it soon grew to a set of rented rooms before constructing a permanent headquarters building in Vilna. Emblematic of Europe's troubled history, Vilna was variously part of Poland and Lithuania during YIVO's 20-year lifespan there.
Vilna was chosen as the base for YIVO, Greenbaum said, as its Jewish residents were not as assimilated as those in Warsaw or, for that matter, Berlin, where Jews looked down on Yiddish culture. Besides, he said, "the Vilna Jewish community was a highly developed cultural community. It had several Jewish libraries in it, some of them with quite old and valuable collections."
Even early in its life, YIVO enjoyed prominent supporters. The original board of directors included Albert Einstein and Sigmund Freud. Impressive names on a letterhead didn't do much for YIVO's perpetually short resources though. It largely depended on donations of time and money and materials from those sharing its ideals. Then, as now, YIVO could not afford to pay for acquisitions. Beyond Weinreich and the cadre of professionals he gathered to establish the aims of YIVO and to catalog, exhibit and publish its findings, the institute depended on an extensive network of volunteer zamlers or collectors, working in groups or circles throughout Eastern Europe, to do research and to collect artifacts.
In keeping with its egalitarian, grass roots philosophy, YIVO supplemented its small staff with this army of volunteers who scoured attics, basements, flea markets, antique shops, book stores, public records and all manner of sources and sites for historical finds. YIVO also trained university students in the methodologies of conducting Jewish studies. "The volunteers played a huge role," Greenbaum said. "They were going around copying communal registers, interviewing folks." Even today volunteers play a vital role in handling and cataloging YIVO's huge collections.
He said until YIVO's formation, Jewish studies tended to be limited to the elite and the old guard, focusing on the distant past, not modern times, and on religious, high-brow subjects rather than secular, working-class ones. Where things like communal registers, periodicals and contemporary Yiddish works of fiction, iwere ignored before, he said, YIVO made these prime areas of study. And where the entrenched old school paid scant attention to the new social sciences, YIVO embraced sociological studies, sending researchers out into the field to interview the proletariat for their impressions and memories and stories.
Special YIVO committees were formed in America, London, South America, Africa and Palestine. A steady stream of artifacts flowed in. The early 1930s were good to YIVO. Yet tempering this sense of pride and surge of interest in a shared Jewish consciousness was anti-Semitic tension. The threat of pogroms was always present for Jews in Europe. Adding to the unease was a post-World War I economic depression and the rise of political parties and social movements that targeted Jews as scapegoats and worked against Jewish coalitions.
By the late '30s the climate was poisonous. The Nazi-Communist pact made life miserable for Jews throughout Europe and the Soviet Union. Jewish institutions in places like Kiev and Minsk, where similar initiatives to YIVO had blossomed, were closed. When Poland was invaded by the Germans and Russians in 1940, YIVO's "trouble started," Greenbaum said. At first, Vilna was under Soviet occupation. Soviet officials incorporated YIVO into the Lithuanian Soviet Academy of Sciences. They replaced Weinreich with a hand-picked puppet. During the occupation Weinreich was on vacation with his family and ended up surviving the war and relocating to America, where he reestablished YIVO in New York City.
"They (Soviets) were looking for what they considered politically reliable people," Greenbaum said. "They put somebody who was a fairly low level researcher at YIVO in charge. They changed the personnel. They brought into YIVO material from the Soviet institutions they'd closed. They dumped everything there."
When the Nazis took over, YIVO was shut down as part of sweeping restrictions that stripped Jews of all enterprises, possessions and rights and isolated them into a ghetto. A special Nazi unit plundered YIVO and other Jewish cultural institutions of treasures for a planned Institute for the Study of the Jewish Question in Frankfurt-am-Main. The remaining YIVO materials were removed and put aboard wagons to be shipped by train to sites where the precious cargo would be "turned to pulp," Greenbaum said. To carry out this desecration, the Nazis selected a group of Jewish workers from the ghetto. However the Nazis did not realize the strong sentiments among the prisoners for the heritage bound up in these items. In acts of defiance and resistance right under their captors' noses, the prisoners, who came to be known as the Paper Brigade, risked their lives to save and secret out YIVO materials for safekeeping in the ghetto and in the homes of sympathetic non-Jews. "Some of the stuff was literally buried underground," Greenbaum said.
Eventually, the Vilna Ghetto was liquidated and most of its inhabitants, including most YIVO staff, killed. Some in the resistance movement survived, escaping to the outlying forests, to continue their fight against the Nazis. In the fluid chaos of war, Vilna kept changing hands. Near the end, the city came back under the Red Army's control. In the immediate post-war years, a salvage effort was undertaken by the U.S. Army on behalf of YIVO to locate as much of the confiscated treasure as possible. The few stashes unearthed and few train wagon loads discovered, some in Czechoslovakia and some in Germany, where the artifacts awaited disposal, recovered a portion of YIVO's holdings. Other wagon loads were never found. "At least one wagon was still in Vilna after the war ended," Greenbaum said, "and the people working at the train station did not know what it was. They thought it was junk paper and it was pulped. So that material was lost. I don't think it was done intentionally. It was a mistake. Another wagon disappeared in Czechoslovakia and we don't know what happened to the materials to this day,"
He said estimates put the amount of original YIVO materials that survived the war at 30 to 40 percent. Even long after the war, caches of scholarship from various Jewish sources continued to surface in the Soviet Union, Lithuania and Poland. part of the plundered YIVO collection was found in Paris, including copies of communal registers. After the Soviet Union fell YIVO negotiated with the new Lithuanian government to copy and catalog a large collection of records, some 100,000 pages worth. In the post-war years YIVO also acquired a host of materials, ranging from Nazi reports on the Jewish question to Nuremberg Trial documents.
Max Weinreich
Within YIVO's own struggles are the stories of heroes who risked their lives to save artifacts. His parents did not save historical artifacts as such, but their survival meant life for Greenbaum and the birth of his interest in Jewish studies, which led him to YIVO and the work he does preserving history. It's all intertwined.
The life undone his parents faced mirrored that of millions of refugees. Before the war his mother, Mina, acted part-time in the Yiddish Theater and worked part-time in a factory in Kremenchug, Ukriane. His father, Joshua, was from a family of bakers in Zawiercie, Poland. They did not know each other prior to the trouble. Each faced danger alone during the Holocaust, only meeting after the war.
"My mother jumped on the last train out of her hometown in the Ukraine," Greenbaum said. "She saw people running and her instinct told her to jump the train. She ended up in Tashkent in Central Asia. My father ended up in Russia during the war. He was immediately arrested and put in a Siberian labor camp. It was a very tough camp. He barely survived it. When Russia was invaded by the Nazis he was released as a Polish citizen. He wanted to join the Polish Army but was denied. He worked in factories" the rest of the war and trained as a tailor after it.
The pair met in a refugee camp in Tashkent, Russua. The couple fulfilled Joshua's wish to return to Poland, settling in the territories, where their only child, Leo, was born in Wroclaw (Breslau). His parents applied to go to America, where Leo's uncle Jacob emigrated, working the ovens at Adler's Bakery in Omaha, but a visa was refused. Poland's Communist regime enforced strict emigration policies. Finally, in the late '50s, the restrictions eased enough to allow the family's move to Israel.
The family settled in Beit Shenesh, then a small, undeveloped immigrant town thick with Moroccan and other North African refugees. History was all about. "Near our yard you could pick up these fragments, like jar handles and things, from Biblical times," Greenbaum said. "There was an archeological dig done by an Englishman
in the 1920s. He found interesting things and he left all the shards" on the site.
Times were hard in Israel and so Greenbaum's father left for America in 1960, joining his brother in Omaha. Here, Joshua Greenbaum found work as a tailor at Charles Asmann Clothing Company. A year later he sent for Mina and Leo to join him. Leo had a rough go of it his first full year of school at Central.
"I didn't know very good English," he said. "I think I was the only immigrant in the whole school. The teachers were not that sympathetic to me. They would not give me slack on the language thing. I was kind of isolated. But I got my grades and passed all the classes."
YIVO staff and associates unpacking crates in New York, ©yivo.org
Between school and television, he said, "I picked up the language. By the time I was a sophomore I was fluent in English. I was able to keep up with the other students." As a history major at UNO he would have enjoyed Jewish studies, but none were offered then. A sleight young man, he was deferred from military service during the Vietnam War because he was under the minimum weight, which suited him fine. "I was very skinny and I was not very military-minded anyway," he said.
His interest in Russian and Eastern European studies led him to Dropsie College in north Philadelphia. Once a leading Jewish studies institution, the nonsectarian Dropsie transformed into the Annenberg Research Institute and was later absorbed into the University of Pennsylvania. To pursue his interest in modern Jewish history he commuted to New York, where he was offered a job with the Bund Archives, the repository for the Jewish Labor Bund, a secular socialist party in the late 19th and early 20th centuries. He moved to New York in 1978 to work at the archives and in 1989 he was hired by YIVO. Eventually, the Bund Archives merged with Yivo.
Seventeen years into his YIVO career, Greenbaum said he is "now one of the veterans" on staff. He's seen the institute's impact continue to grow. Many books, films and exhibitions, for example, have drawn on YIVO's archives. YIVO's produced works of its own, notably Image Before My Eyes, an exhibition, a book and a documentary about Jewish life in Poland.
Since YIVOs reincarnation in New York, it's focused more and more on Jews in America, compiling thousands of case history files of Jewish immigrant applicants, autobiographies of Eastern European Jewish immigrants and home movies made by Jewish Americans touring Europe before and after WWII. As YIVO continues accumulating new finds, he said, "we're running out of space. Every archive has the same dilemma — where to store stuff and how to preserve it." Part of the challenge, he said, is that at YIVO "we collect pretty much everything. We have a pretty wide scope. I'm pretty liberal with what I keep."
YIVO gets donated items from some unlikely sources. For example, it works with the New York State Insurance Department Liquidation Bureau to access the records of retiring Jewish mutual benefit societies, of which there are fewer and fewer. Serving insurance, charitable, social, even political functions for members, these societies offer a revealing window into various aspects of Jewish American life.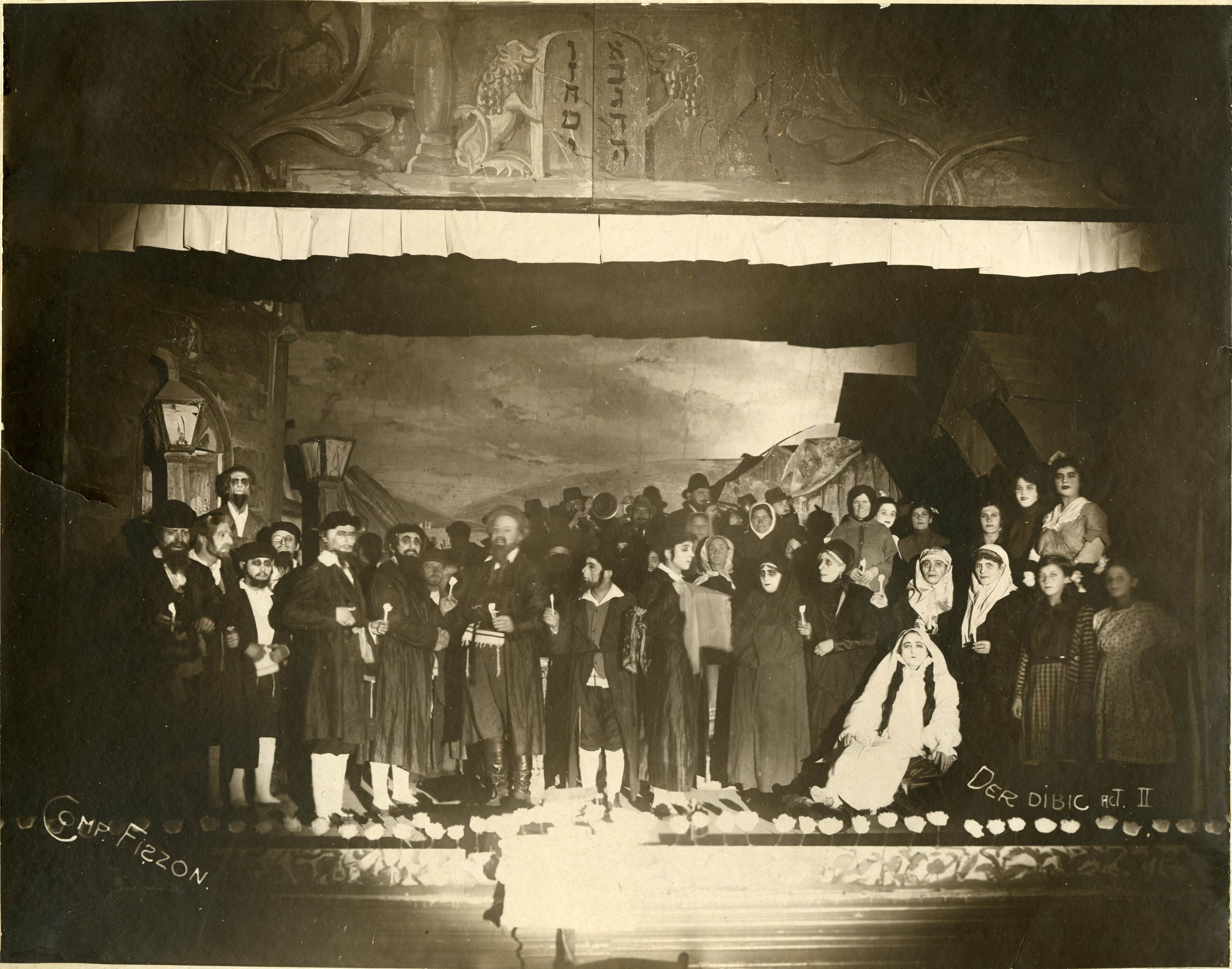 YIVO RG 8 Esther-Rachel Kaminska Yiddish Theater Museum, Box 94
Greenbaum fields calls all the time from people who stumble upon old items and call to ask if he wants to see them. He almost always does. "You never know what you'll find," he said. Landlords who would otherwise junk stuff that tenants leave behind call. The same with employees from the public or private sector. "They notice something old and interesting and they call us and say, 'Come over before I throw it out,' and I come over and pick it up. At least once a passerby on the Lower East Side saw somebody throwing out these huge records on the street and called us, saying, 'Better come before it's trashed.' We came over, along with people from the Museum of Broadcasting, and found these broadcast disks for recording old radio shows like Fibber Magee and Molly. They're very fragile."
He said a good proportion of the research done at YIVO today is by lay people digging into their family roots. "It's third generation nostalgia," he said. "The first generation is immigrants. The second generation wants to be Americanized. The third generation becomes nostalgic for grandpa's culture." He's not so keen on genealogy himself, preferring instead to explore the arts or politics. He's a devotee of ballet and opera. He reads a lot. But as he's learned, you can't dismiss any area of investigation. After all, you never know what you'll find.
YIVO is located at 15 West 16th Street in New York. It is closed on Jewish holidays and most federal holidays. For details, call 212-246-6080 or visit www.yivo.org.
Related articles