Home
>
Alexander Payne
,
Celebrity
,
Cinema
,
Entertainment
,
Film
,
Film Streams
,
Hollywood
,
Movies
,
Omaha
,
Oscar Winners
,
Writing
> Jane Fonda Takes Center Stage at Film Streams, Where Her Life in Film is Celebrated this Summer
Jane Fonda Takes Center Stage at Film Streams, Where Her Life in Film is Celebrated this Summer
The Omaha art cinema Film Streams is making a habit of saluting prominent American screen actresses.  The way it works is a guest star comes for a special evening in which Film Streams board member and world acclaimed filmmaker Alexander Payne interviews her live on stage, ala Inside the Actors Studio.  A repertory series of her work is part of the deal.  Laura Dern got the treatment the first time.  Debra Winger came next.  Jane Fonda is this year's feted subject. Depending on your age or aesthetic or political affiliation Fonda means different things to different people.  For some, she's an enduring star.  For others, a faded one.  Depending on your tastes, she boasts an impressive body of stand-the-test-of-time work or else a decidedly uneven euvre outside a few notable exceptions.  Many still find unforgivable her anti-war protests and vilify her every move.  Many more feel affectionate and nostalgic about her as the daughter of Henry Fonda and as one of the 1960s and 1970s biggest stars.  She's prettty much done it all as a cinema diva – from ingenue to sex symbol to serious Method actress, the star of box office hits and critically acclaimed prestige pics, gobs of Golden Globe and Oscar nominations, two Academy Award wins for Best Actress, an Emmy for Best Lead Actress.  Retiring from the screen at age 50 and making a comeback at nearly 70.  Now, of course, as a woman of a certain age (74) she's a supporting player or character actress who brings a rich persona and background to any role she takes.  Part of the context of Jane Fonda today is that her adventurous personal life informs her work.  Her boarding school and debutant upbringing.  Her early modeling career.  Studying under Lee Strasberg.  Her marriages to Roger Vadim, Tom Hayden, and Ted Turner.  Her activist years.  Becoming a Hollywood Player as a producer.  Making herself a fitness guru.  Her forever strained relationship with her famous father.  And her identity today as a healthy aging advocate and author.  You'll find plenty of film stories by me on this blog.  Many happy cinema returns.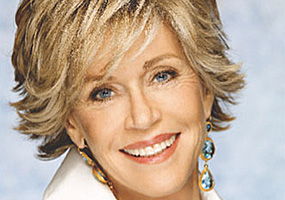 Jane Fonda
Jane Fonda Takes Center Stage at Film Streams, Where Her Life in Film is Celebrated this Summer
©by Leo Adam Biga
Appeared in the July issue of Metro Magazine
The Fonda Legacy
This summer Film Streams celebrates the many faces of actress Jane Fonda.
She and one of her biggest fans, Alexander Payne, converse live on stage July 22 at the Holland Performing Arts Center for Feature Event IV, the art cinema's annual fundraiser. A Fonda repertory series runs through August 30.
The Fonda legacy in Nebraska looms large. Her late iconic father Henry Fonda was born here. He started acting at the Omaha Community Playhouse, where Jane and brother Peter trod the boards. Henry retained deep ties to the state and the Playhouse. He once brought the entire production of his Broadway triumph Mister Roberts to town. In 1955 he, fellow Playhouse alum Dorothy McGuire and 17-year-old Jane appeared in a benefit production of The Country Girl directed by Joshua Logan.
Peter, who attended the University of Omaha, occasionally visits the Playhouse.
When the only film pairing the famous father and daughter, On Golden Pond, made its Midwest premiere at the Orpheum she came.
Unlike her father's beloved public persona, Jane's is complex.
Incarnations
For much of the 1960s she was a spirited ingenue and sometime vixen plying her cover girl looks and wiles more than her acting chops in cinema trifles. Her comedic work in Cat Ballou and Barefoot in the Park hinted at star potential.
Film Streams founder-director Rachel Jacobson, an admirer, says Fonda "always had a deeper, more introspective quality even when playing the lighter roles."
When Fonda's French filmmaker husband Roger Vadim exploited her sex symbol status in Barbarella she could have been typecast. Instead, she did a makeover from vapid party girl and blonde bimbo to social activist and serious actress.
She earned acclaim for her dramatic turns in They Shoot Horses Don't They? (1969) and Klute (1971), the latter earning her the Best Actress Oscar. That's when "she came out from behind the shadow of both her father and brother" (Peter made it big with Easy Rider), says film historian Bruce Crawford of Omaha.
She also drew ire for her anti-war comments and protests. By the time she divorced Vadim and married activist Tom Hayden she was branded "political." Fonda made socially conscious projects in Julia (1977), Coming Home (1978) (another Best Actress Oscar) and The China Syndrome (1979).
Her career peaked in the late '70s-early '80's with Nine to Five, On Golden Pond and her Emmy-winning performance in TV's The Dollmaker (1984). By then she'd morphed into a home workout video diva. After divorcing Hayden she surprised many by marrying media tycoon Ted Turner and promptly retiring from the screen at age 50. Her recent return to movies comes on the heels of her best-selling memoirs and healthy aging advocacy.
"She's continually reinvented herself and her image," says Jacobson. "She's just very deliberate about how she thinks about herself and her own evolution. She's a fascinating person."
Payne curates the Feature Event and in Fonda, 74, he's once more chosen a dynamic figure to talk cinema shop, following Steven Soderbergh, Debra Winger and Laura Dern. Jacobson says, "The people he's interested in having conversations with are really strong artists with great careers." She says Payne won Fonda over by saying her appearance would support the arts in Omaha. "That's why she's coming."
 As the title character in Cat Ballou
As the title character in Barbarella
As Gloria in They Shoot Horses Don't They? 
As Bree Daniels in Klute 
As Lillian Hellman in Julia 
As Sally Hyde in Coming Home 
As Kimberly Wells in The China Syndrome 
As Chelsea Thayer Wayne in On Golden Pond 
The series:
Cat Ballou
She hits all the right notes as an aspiring schoolmarm turned outlaw seeking to avenge her father's death. Lee Marvin steals the show in the dual roles of killer Tim Strawn and gunman Kid Shelleen.
Barbarella
She fearlessly plays an over-the-top sex object in highly suggestive scenes bordering on soft-core porn in this tripped-out fantasy directed by Vadim.
They Shoot Horses Don't They?
Her transformation began with this unadorned portrayal of a desperate, ill-fated dance marathoner under the direction of Sydney Pollack.
Klute
As high end call girl Bree Daniels she's a raw-nerved neurotic mixed up in a dangerous liaison with small town detective Donald Sutherland in the big city.
Julia 
Fonda plays the kind of strong woman, Lillian Hellman, she clearly emulates. Her playwright character embarks on a dangerous mission abroad for a friend, Julia (Vanessa Redgrave), opposing the Nazis.
Coming Home
She makes believable the evolution from naive war bride to anti-war sympathizer who falls for paraplegic activist vet Jon Voight. The fictional awakening reverberates with Fonda's own coming-of-age.
The China Syndrome
Playing an ambitious TV reporter fighting to cover a nuclear reactor accident the authorities want suppressed Fonda is in her element. Her subdued conviction is a welcome contrast to high-strung Jack Lemmon and Michael Douglas.
Nine to Five
Sardonic Lily Tomlin and sassy Dolly Parton are long-suffering office workers harassed by womanizing boss Dabney Coleman. Pert Jane is the innocent newbie. The women execute a militant plan to turn the tables in this feminist farce.
On Golden Pond
Jane plays out real life issues with her dad in this tale of an estranged daughter starving for affection from a father who has trouble giving it. Katharine Hepburn co-stars in the poignant drama.
Tickets for the 6:30 p.m. Feature Event are $35. For pre and post-event party tickets and for series screening dates-times, visit www.filmstreams.org.
Related articles