Archive for June 29, 2012
Returning citizens.  It's a term used to describe men and women exiting the prison system to restart their lives on the outside.  America's propensity to incarcerate large numbers of offenders results in a huge prison population and this means a constant turnover of individuals going into and coming out of confinement.  Many are repeat offenders.  Keeping folks from going back inside is a major focus theses days of national, state, and local programs because the expense of imprisonment is so high and penal facilities are so overcrowded and then there's the social cost of people who leave prison and are unable to function as productive citizens in the free world.  The fallout of incarceration and the criminalized underclass has far reaching effects.  It impacts families and jobs.  There are emotional, psychological, physical, and economic consequences that can last generations.  The emphasis today is on preparing folks getting ready to leave prision to cope with the real world and providing them programs and services once they're out to help them find their way in that world.  A place to live.  A job.  Counseling.  A support network.  Some of these efforts are by large organizations and others are by small ones like Compassion in Action in Omaha, whose founder-director Teela Mickles is the subject of this profile.  She's one dedicated lady fighting the good fight.  You'll also find on this blog a story I wrote about a larger returning citizen effort, the Transformation Project, and profiles of individuals who've come out of prison to lead transformed lives, including Morris Jackson, Servando Perales, and Aisha Okudi.
Teela Mickles
Nurturing One Lost Soul at a Time, Teela Mickles Returns Citizens Back to Society
©by Leo Adam Biga
Originally appeared in the New Horizons
Teela Mickles is a self-described "goodie two-shoes" who's never so much as gotten a jaywalking ticket, yet much of her life is devoted to assisting current and former prison inmates. Her work with our throwaway society's discarded is done as a certified Assemblies of God minister and as founder/director of her own community nonprofit, Compassion in Action, which offers pre-release and reentry services/programs.
This one-woman band prepares individuals transitioning from prison back into society. CIA operates two transitional homes in northeast Omaha, one for women and one for men. Volunteers interface with clients and their families, some as pen pals, others "adopting" inmates' kids while mom or dad is away in prison. She works with an array of professionals in carrying out her missionary work.
She also does a program, Sister to Sister, that steers at-risk girls away from bad choices by exposing them to positive life skills and education/career opportunities. Additionally, she hosts a public access television show, Living the Life, and writes a column in Go-Ahead Entertainment Magazine.
Her work with offenders extends from pre-sentencing to sentencing to incarceration to pre-release to reentry to reestablishment. She attends court hearings, writes letters of support and advocates for inmates who "consistently work" her program. She lets the parole board know she has a place for parolees once they're out. Once an individual is released, she works with parole and probation officers to ensure her program supports their mandates and that participants comply. Along the way, she hooks up participants with clothing, housing, transportation, jobs, et cetera.
Above all, she remembers she's dealing with human beings, not statistics. It's why she and others in the field now call clients "returning citizens" rather than ex-cons.
"We became weary of tagging them with the life-long stigma of ex-felons or ex-offenders," she said. "That just drags out their sentence, which they have completed during their incarceration. 'Returning citizens' puts things into perspective with regard to the importance of community support and acceptance."
Just getting the public to think about people with records and mug shots as parents with kids who need care, she said, is hard to do. So is finding volunteers to get involved in the lives of kids whose parents are locked up or piecing their lives together on the outside. Too often, she said, society is judgmental about people who've run afoul of the law, discounting or dehumanizing them.
Teela's holistic approach is all about "embracing the person, rebuilding the family and breaking the cycle."
Although never in trouble with the law, she knows something about overcoming hard times. Personal trials she endured led to a conversion that brought the healing and insight necessary to do the prison ministry she's followed ever since.
Spend any time with her and you fall under the spell of her serene demeanor, her colorful turns-of-phrase, her devotion, her deep knowledge and her abundant compassion, which is more than a title but a genuine expression of her heart.
Little in her early years suggested the path she'd follow, except she always exhibited energy and empathy to serve others. She developed a strong sense of self in the 1950s and '60s amongst her close, proud, large extended African-American family, the Bryant-Fishers, whose annual reunion in Omaha is attended by hundreds of relatives from around the nation. A famous "cuz" who comes in for the gathering is actress Gabrielle Union, whom Teela's had interact with Sister to Sister participants.
Growing up in South Omaha, North Omaha, and the hills outside Council Bluffs, Teela was raised Catholic. She was a good student often showing off her fine singing voice in school and church. As a young woman she sang in nightclubs. She still occasionally sings at special events. She married early and became a mother of five children, all, like her, musically inclined. She was busy in church, school, community — serving as a Girl Scout, Cub Scout, Brownie leader, room mother, liturgical director. She seemed a contented stay-at-home-mom in a stable, happy relationship.
Behind closed doors though she suffered in "a turbulent marriage" marked by "a lot of violence and abuse." Despite the dysfunction, she said, "I was determined to stay, to stick with it, because that's all I knew how to do." Co-dependency prevents domestic violence victims from fleeing. She finally summoned the courage to leave when her oldest daughter revealed her father, Teela's husband, violated her.
"I took my five kids and never went back to that house, and was homeless for almost three months behind that."
That wrenching break with the safe and familiar came in 1982. Her children then were ages 12 and under. Adrift, with five hungry mouths to support, her marriage over, Teela didn't know where to turn for help.
"Because of that situation I didn't trust anyone — mother, father, sister, brother. I trusted no one with my children. I didn't trust me because I hadn't a clue what had been going on, so that was on me. I felt empty and pointless. I felt like such a failure. I figured I failed my husband, I failed my children. I became a topic of gossip among my close family, so I felt like I was a bad daughter, bad sister, bad everything. I had these little kids, they're looking at me going, What are we supposed to do? I had no clue. I was a single parent, I had never worked outside the home except for six months prior to my leaving. This whole thing was brand new."
Scary, too. Faith became the pathway for rebuilding her tattered self.
"Even though I was a very religious person, I did not have a personal connection with God to where I felt like I could really live a life free of all this pain. I had this burn inside of me to find this God. It was a quest and the Lord did surround me with a lot of different individuals who would become significant in leading me down that path."
She found solace and direction at Trinity Hope Four Square Gospel Church, where she attended a Pentecostal revival service and felt the call.
"I did become born again after nine months. That changed everything. The experience was a total transformation mentally, spiritually, physically, and God really impressed upon me I did count, my life did matter."
That epiphany is the core of the empowering, faith-based message and curriculum she delivers to those coming out of prison. Not unlike a 12-step recovery program, she tends to broken people by giving them the tools and principles for rebuilding themselves and their lives in healthy ways,
Her own crucible came in 1983, when her life went from chaos to clarity. "My born again experience gave me such a peace. I had an understanding and an awareness I was not alone." Doors began opening her to new opportunities. She got a job with a realty company, managing rental properties, including Section 8 housing. When a five-bedroom unit became available she and her kids moved in. Then, as if by providence, she landed a better job at a company seeking a black Christian woman.
The church she belonged to at the time sponsored a small choir that visited prisons to proclaim the Good News. As Teela always did, no matter what congregation her family attended, she enlisted her kids to perform.
"I have very gifted, talented children. My kids sang, they danced, they were the bomb."
And so she took lead of the choir and of a youth group she formed to bring scripturally-based music to inmates at the Nebraska Correctional Center for Women near York, Neb, and the Youth Rehabilitation & Treatment Center in Geneva, Neb. More visits to more venues followed.
"We went to different substance abuse rehabilitation centers, we went to different churches, we just kind of toured and shared the songs, shared the testimony. That's how that door opened," she said.
At the invitation of corrections authorities she began conducting monthly chapel services for the captive audiences in York and Geneva. These are hardened characters. She didn't pretend she knew their life but she was sure she had something to offer because of the hell she'd been through and the healing she'd found.
"I had enough pain and enough gain that they complemented one another. I was raw enough that I didn't make any assumptions of what I was stepping into. I knew that God was able to heal and that He's open for everybody, and I knew that most people didn't know that. I didn't and I was a goodie-two-shoes, so how could someone that had a rough life know that?
"I've never done drugs or alcohol, I don't even have a traffic citation, I just had a bad marriage but I'm acquainted with pain and the kind of pain you can't get relief for from a person. I was still in a process of healing myself and it was amazing how the Lord knitted us together. They (clients) think I bless them but they'll never know what a blessing they are to me. And that's how ministry works."
Embracing the person, rebuilding the family and breaking the cycle.
Teela feels her ability to relate to ex-offenders lies in her "sensitivity to the value of each person and helping them understand they are valuable in spite of what took place to have them go there. Their issues started before they got in prison."
Nebraska Department of Corrections Deputy Director of Programs and Community Services Larry Wayne was warden at the York facility when he first met Teela. He's impressed by how she helps inmates improve decision-making, problem-solving, conflict-management skills from a faith-based approach. "What drives her is her faith," he said. "You can't really know Teela unless you know that aspect of her and how she's motivated."
Though she mainly works with women she also assists men. She's visited the Douglas County Corrections center, the Nebraska State Penitentiary, the Lincoln Correctional Center and the Tecumseh Correctional Institution. She said in all the countless visits she's made to prisons and jails she's never been afraid, even when the lone female among a large group of male inmates and guards. Her fearlessness, she said, is a direct result of her faith and of the compassion she has about this population.
"I believe when God calls you He prepares you. I didn't have any preconceived ideas. Once I saw the people they were just people. In fact, my heart just broke because it was almost like, there's another side to this story. The person that would act the worst, all hateful and mean and I-dare-you-to-touch-me or I-dare-you-to-get-over or I-dare-you-to-make-me-feel-anything, is the one I would hurt the most for because it's obvious they hurt the most and had built up all these walls. What he or she was attempting to portray was not who they really were."
The dignity she shows inmates is returned.
'The men have always offered me the upmost respect. I have felt more respect and more protection walking across the (prison) yard then walking in some churches. When a man looks at me a certain way another man will check them, 'No, you don't look at her that way and you don't think whatever it is you're thinking.' There's just this aura of respect I've always received. I've never had any fear." Besides, she said, "I present myself as untouchable in terms of any game playing. I say, 'I'm here because I care and my care is for real, so don't play with it,' they haven't."
Invariably, she said, individuals caught up in the penal system carry a hurt they've buried deep inside. Behind bars or on the outside survival dictates they show no weakness. Part of her job though is breaking that wall down so clients can feel again." That healing, she said, has "gotta be personal, it's gotta be on their terms."
"We're constantly after validation — validate to motivate to educate. Most people want to educate first — but what's your motivation to be educated? Well, if you see yourself as a valuable person, your goals and behavior and objectives might be totally different. That's always the goal we're going after.
"I don't tell anybody what they have to do, I just present options and I turn a light on, and if they're open to explore that light they will. If they're scared and it's just way too much truth for them to digest they'll back off, but always with respect."
She said "once a person begins grasping the root causes" of why they act out in harmful ways, "they can create their own options."
She used to spend more time in prisons before she inadvertently crossed the line.
"Aa woman I visited in prison gave me a mother's prayer card for her son, who was in another prison, and I mailed it to him. I didn't know it was wrong. You would have thought I busted the system. They shut me down, I couldn't go in any correctional facility. My heart was so hurt because the last thing I would do is break any rules."
This happened before Teela formed CIA. The inspiration for it came after her banishment, when she received a flood of cards and letters from inmates saying how much they missed her. "All of a sudden I'd been taken away from them," she said. The correspondence had a similar refrain — individuals got out of prison only to reoffend and wind up back inside. The recidivism alarmed and saddened her.
One woman's letter particularly touched Teela. "I had already walked her out of prison and helped her get some clothes and connect with her kids, I thought she was doing OK, only to find out she's back in prison for the fourth time. She wrote, 'I'm sick of this and this and this, I believe I'm institutionalized.' That's when I broke at my job and started crying. I thought, I can't help these ladies, I'm not doing enough."
It was obvious something more was needed to sustain people on the outside. Right then in her cubicle the concept and name for Compassion in Action came to her. On a yellow legal pad she outlined CIA's mission based on the woman's laments.
"It dawned on me that we have to work with them before they get out — there's too much pressure, not enough time. We have to connect with their kids. We have to get volunteer families to work with the children while mom's incarcerated, let the kids know they are being brought into an environment of safety and education and help build some bridges prior to mom getting out. The women need practical things, like maybe job skills, education, a place to live, transportation. They need all these things in place before they get out."
Her new ministry got its start via a U.S. Department of Education Urban Community Service grant administered by the University of Nebraska at Omaha's family support program to provide parent education to women in prison. She conducted six to eight-week classes that met twice a week, with some 20-30 women per class.
"We had some really good results," said Teela, who designed the curriculum.
Around this time she got downsized at her job and she used her severance pay and an education grant to continue working in prisons and to better inform herself about the population she served. "I had to learn and understand more than I did," she said. "I got a chemical dependency counseling associate's degree from Metro (Community College). I was 47 and it was my first time in college. I had a fun time and I graduated with honors. It's easy to do when you know what you want to be when you grow up."
Practicums at the Santa Monica and New Creations transitional living programs gave her "a glimpse" of what CIA would evolve to.
When the parent education grant funding ended she continued teaching classes with support from churches. But shorter inmate stays and tighter prison security meant less access, rendering the program impractical. Her curtailed prison privileges didn't help.
But "a bigger vision" awaited. It began to be realized in 2000 when she obtained a former Uta Halee residence on Florence Blvd. to serve as CIA's All the Way Transitional Home for Women. She recruited volunteers and matched them with clients according to volunteers' interests and the women's needs.
Last year she obtained a house for CIA's first men's transitional living program. In 2005 her work with men expanded when CIA became a partner with the Nebraska Department of Corrections providing services for the federally-mandated Serious and Violent Offender Reentry Initiative.
She insists CIA homes are not half-way houses but "places for transition for residents to get themselves prepared for independent living." That includes making residents employable. "I network with ENCAP (Eastern Nebraska Community Action Partnership). They have a program for former felons to prepare them for employment," said Teela.
She said CIA's sterling reputation has traditionally gotten clients "right in the door" for jobs "but in this horrible economy," when folks with degrees compete for the same entry level jobs as people with records, "it's not working now." She said the ladies currently in residence at All the Way "are frustrated they can't find work. They're way behind on their resident fees. It's a financial strain on us as well."
Much groundwork is laid with clients before they ever get out of prison.
"We work with them three to six to nine months prior to their release," said Teela. "We're able to determine how best to serve them, to connect with family members they want us to connect with, and to prepare a support team tailored to their development and interests. For example, if they're in for a drug-related crime then we know we have to get a team together to address that piece."
She said renewing family ties can be a sensitive thing because of abuse that occurred. That's why reconciliation can take time and the focus must first be on recovery.
Education is another emphasis. "The GED program is offered in prison but most people don't take advantage of it," she said.
It's a mixed bag in terms of how CIA participants do once they're out of prison.
"For the most part I've learned not to have expectations," said Teela. "There have been times when I thought, OK, we did this this and this and therefore this result should happen, and it didn't happen. and it made me feel like I failed and it made me try to figure out what was missing, as if it depended upon me." Now, she's come to realize her job "is to plant seeds and treat everyone with respect and unconditional love, but it's not up to me to fix them."
That changed expectation, she said, "has helped." It's more realistic because in the end people do what they want to do. "You can present the same opportunities to people and some individuals will not only misuse and abuse that but they will end up back in prison," she said. "No matter what we do, no matter what we provide, it depends on their willingness to make it happen."
She does have her success stories and she said they all share something in common.
"Everyone that's succeeded has a real, genuine, personal relationship with God," noted Teela. "Their gifts and their plans had to be spiritually connected, because they tried everything else and it didn't work. Once they recognize this is the part that makes it happen and they stick with it, they succeed."
That was the case with All the Way's first resident, Andrea. "We worked with her prior to her sentence, during her sentence, then when her sentence was complete she was here," said Teela. "She had a plan, she stuck with her plan. She got a job at Creighton Medical Center. Now she's living and working in Kansas City, and having a house built." In another case, Teela recruited and trained a family to adopt Tracie and her three sons. While Tracie was incarcerated the family took her boys to visit her and the family did various activities with the youths. The family remained engaged with her and the boys until she was free and reunited with her sons. "In that match," said Teela, "we crossed everything — racial, cultural, religious, socioeconomic barriers." As Teela likes to say the adoptive family got to see the other side of the story — that "Tracie's a great mom, she was just in the wrong place at the wrong time." Tracie's earned a college degree while working as CIA's program manager. She's now pursuing a master's in health and human services.
Lataunya is another shining example. "She had such little belief in herself and she accomplished so much. She got a great job, she got her own car and a three-bedroom apartment, then her own home. She was pardoned by the mayor, and now she's trying to work as a professional in the field. An amazing woman," said Teela.
Two men recently helped by CIA are doing well on their own. Allen manages a store at the Westroads Mall and Pierre is working and raising his three sons, who stayed with him at the men's transitional home. It's not often residents have their children with them in transitional homes but exceptions are made if circumstances warrant it.
The impact her work makes isn't always readily apparent. Like the revelation a female physician made to her.
"Twenty years ago this woman was a 14-year-old troubled youth in Geneva who had been in and out of foster care. She remembered me coming there and the ministry I shared. She stated her 'relationship with God and sports' turned her life around. So here she was 20 years later, my doctor! You can't imagine how I felt at that moment."
For a long time Teela felt she was doing her work in isolation but recent developments have encouraged her she's not alone. "One of the exciting things happening now is the community finally is becoming more involved in the reentry piece," she said. A driving force, as she sees it, is the federal reentry initiative. "It opened the door to invite the community in so that law enforcement and corrections were introduced to the other side of the story."
In line with her own work, she said the new emphasis is on "trying to keep people out of prison by trying to accommodate their reentry needs." It only makes sense, she said, because "it's too expensive to keep people housed in prison when you can spend less money preparing them to become a taxpayer and a contributing member of the community. Agencies are being forced to consider this population as individuals rather than as a number or a label and so there's a lot of community awareness. The community's connecting to the fact these are people. Prior to that it was cuff 'em and stuff 'em. Now they're being asked to hug-a-thug."
The shift took some doing. "It went from one dynamic to the other and it was an education for everyone. Now everybody's on the same page. There's better communication between the state, county and city agencies, plus the different community groups." Now, entities and organizations that had little to do with each other before are working together and CIA is playing its part.
She and others are working on putting more "faces in places" — having more community members visit prisons to educate inmates on things they can do to better prepare themselves for life on the outside, whether getting a GED or working a recovery program. She said in lieu of specific options many inmates cop the attitude, "I don't see the point, I'm just going to do my time and get out of here."
Teela trains others to serve this population. "I avail myself as a resource person or consultant in the area of pre-release, reentry and transition. We're on the front lines with the background we have. We've been doing this for so long." Society's focus on these issues, she said, can't come soon enough given "the prison population is growing and getting younger and the situations are becoming more difficult."
Metro College community liaison Tommy Wilson is leading community Table Talks on reentry services and she said Mickles is one of the first persons she called to participate. "I'm very impressed with what Teela does and she does so much with so little. Teela knows where the gaps are, she's been there, she knows what needs to be done with this reentry piece. She brings a lot of valuable resources to the community," said Wilson, who's accompanied Teela behind bars, where she said her reputation precedes her. "Everybody knows Miss Teela does this or Miss Teela does that — she can tell them how to get some housing or some transportation."
Larry Wayne said Teela's "integrity" earns her credibility inside the walls and on the street, because she's earned the trust of people who've been let down before. "She's walked a mile in their shoes, not in prison necessarily, but she's faced up to challenges that look a lot like what they're struggling with." He said ex-offenders respond to her "unconditional love" and her "being there for them. They know she will follow through with them. She has a proven track record and that carries a lot."
Networking is vital to what she does and that means attending many meetings. She also makes several presentations a year. Then there's this Church Lady's weekly bible study, worshiping at Sunday services — she's an equal opportunity church-goer who explores different places and styles of worship — and monthly Christian Business Women's Association luncheons. She estimates she works 60 hours a week. No two days are alike. Her son Mark helps her run CIA's behind-the-scenes operations. Her other children have helped, too. But beyond a part-time office staffer and a small corps of volunteers it's Teela's baby. Volunteers and funds are harder to come by these days, she said. The needs are many. But Teela just keeps on trucking along.
"Somehow we make it," she said.
She looks forward to a day when there's more community awareness of the population she serves and their needs. She's sure if basic values of self-worth and respect for others were more widely taught at an early age her caseload would be cut to a fraction because fewer would end up imprisoned. That'd be just fine with Miss Teela.
When it comes to history we can never get complacent or assume there's nothing more we need to know about a subject.  When that subject is the Holocaust and the setting is a high school the importance of educating students about this chapter of human history should compel teachers to do all they can to make what happened real and relevant to their own lives. By whatever means possible students should be thrust into what-if scenarios that encourage them to think critically about what they would have done if they found themselves in the very circumstances that gave rise to the horror.  Because, as history has shown, genocide happened before and after the Holocaust.  It could happen again.  Trying to understand what it means to be stripped of all human rights and marked for death is one step to ensuring atrocities don't recur.  Exercises that put yourself in the position of the persecuted or the onlooker take it from the abstract to the concrete. If you had been in Nazi Europe to witness the unfolding terror that threatened co-workers, neighbors, friends or strangers, what would you have done?  That's what teachers and students at Omaha Westside High School considered as part of a Holocaust curriculum new at the time I reported on it in 2002.  This blog contains many more Holocaust-related stories I've written over the years, including profiles of survivors and rescuers.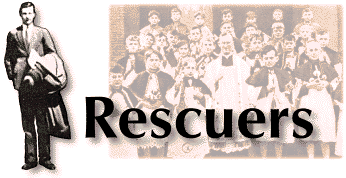 Rescuer curriculum gives students new perspective on the Holocaust
©by Leo Adam Biga
Originally appeared in the Jewish Press
This past spring, about 45 Westside High School seniors in two Advanced Placement European History classes participated in a new Holocaust studies unit. The program got its first trial run anywhere at the District 66 school.
The curriculum program was developed by the local Hidden Heroes of the Holocaust Foundation. Using the materials, Westside instructors Bill Hayes and Gina Gangel first had students immerse themselves in the events that gave rise to Hitler, Nazism and the persecution of Jews.
Then, in a new twist to the school's traditional approach to the Holocaust, the instructors followed the lead of the foundation's adjunct curriculum and broke their classes into small groups to research documented rescue efforts from the Shoah. This was in preparation for each group devising and discussing a hypothetical rescue plan of their own. Students based their plans on accounts in books and on the Internet.
The idea behind placing students in the context of witnesses was to offer a deeper understanding of the peril faced by Jews. As Jews and other minorities desperately sought safe harbor there were moral choices involved for onlookers, risks incurred by those who interceded as rescuers and obstacles to doing good in a culture of hate or indifference.
A visitor to Hayes' classroom in April found his students demonstrating a keen interest in the Holocaust materials and a facile grasp of the situation and its moral implications. The students were smart, attentive and engaged as they grappled with some of the more troubling questions raised by events far removed from their own experience. In the end, students confronted both the nobler and baser aspects of humankind and came away with conclusions to some questions and a sense that answers may never be found to some others.
An early session featured small group discussions in which students explored the ramifications of being a rescuer and the nuts-and-bolts of actual rescue operations, and a later session found students presenting their plans for the assembled class. Through it all, Hayes acted as monitor, catalyst, advisor, provocateur — providing context at various points and challenging some assumptions at other junctures.
The students' plans ranged widely in scope, methodology and feasibility: one, closely modeled after successful operations in Hungary, featured the use of safe passes and safe houses and back room negotiations with government-military officials in an effort to keep refugees unharmed; another proposed a multi-national military strike force to lead raids on trains and camps to free Jews; a third plan imagined a group of sympathizers warning Jews of the Nazis' intentions and providing the means for their escape; a fourth scheme depended on a vast international monetary network to undermine German interests and to fund Jewish resistance and escape efforts. As far-fetched as some plans were, they revealed students had done their homework and understood some of the difficulties posed by any rescue effort and some of the measures actually employed in rescuing Jews.
Hayes reminded the class of the harsh realities at work during the Holocaust, including the fact that governments washed their collective hands of the Jews' predicament and took no extraordinary means to aid them. He also drew a parallel to the moral imperatives at work then to the dilemmas posed by the current Israeli-Palestinian conflict.
He asked: "Is it realistic to think we can do something to help people who are suffering? Are we being realistic, historically? Could we adapt rescue efforts of the past to modern times? Will it work? Is there a risk? Is it worth the risk?" To which a boy responded, "There's always an inherent risk in any plan." Then, an earnest girl spoke up and said, "I think we should never limit our possibilities to try to save people. There's always room for compromise."
Westside senior Carrie Jenkins, a well-spoken, fresh-faced young woman with eyes full of curiosity, felt the process of projecting one's self into the treacherous waters tread by Holocaust rescuers and their charges, helped shed light on some of the problems and hazards faced by these heroes.
"It makes you realize the absolute risks that were involved. When you're trying to devise a plan you realize it's not easy to find money, to find other resources and to figure out how you're going to get refugees out, where they're going to go and who's going to help them. It's extremely challenging," she said. "It's given me a new insight into how difficult it must have been for those few who did accept the challenge."
Chris Gerdes, a studious-looking young man, said, "It took a lot of guts and a lot of heart for any of these rescuers to attempt what they did. They realized the risks and they realized what was on the line — even their lives — when they tried to help Jews. The rescuers usually had a strong religious background or a strong belief in humanity and, so, in the end they thought it was all worth it."
Given the threats rescuers faced, Jenkins said, "I think it's amazing there were so many people willing to risk their lives and their families' lives."
Westside High School
But, as students discovered in their research, relatively few individuals, and even fewer governments and organizations, actually did anything to try and halt the Final Solution, much less aid individual Jews and other persecuted individuals.
"When you take it as a percentage of the population, not many helped," said sober Ian Peterson. "It just makes you wonder. There were probably people who were afraid of resisting and others who didn't think there was anything to resist and others who didn't really care. If you were selfish in the least bit you wouldn't do anything because if you started to act as a Jewish sympathizer you'd get brandished in society and the Gestapo would come to your house. It was just incredible pressure. It would be like in this country if you went around burning the flag. It'd be really hard."
The price of being a nonconformist and outcast is something that resonates strongly with teenagers, whose lives revolve around fitting-in. Simply put, said Pat Gaule, being a subject of the Nazi regime meant "you had peer pressure." Jenkins added that anyone daring to express pro-Jewish or anti-Nazi sentiments meant "you got basically black-marked" or worse. The tall, thoughtful Gaule said the small numbers of rescuers and resistance fighters can be explained, if not excused, by human nature.
"I think there's initially a natural want to deny that anything bad is going on or an assumption that it's not as bad as some say it is. When I was doing research on the rescuers I found it took them witnessing a Nazi raid on a Jewish ghetto or a roundup of Jews onto trains en route to the concentration camps — or something equally horrific or violent — to make them want to get involved. I think, naturally, there's that hesitation to not do anything and sometimes it just took something to push them over the edge."
Doug Sherrets, the bright-eyed editor of the school paper, feels the impulse for self-preservation prevailed.
"Well, you're going to take care of yourself, first, and I think that shows up most with Switzerland and all the ill-gotten money from Germany it squirreled away in bank accounts," he said. "They saw this huge powerhouse in Nazi Germany that seemed like it was going to take over a large part of Europe and be there for a very long time. The Swiss said, Fine, we're going to do whatever it takes for you not to invade us. They looked after themselves and not at where the money being diverted to Swiss bank accounts was coming from, which was right off the backs and teeth and hard work of the Jewish people."
When a student suggested rank-and-file Europeans may not have known what ultimate dark fate lay behind the oppression and deportation of their Jewish neighbors, a visibly upset Jenkins used an analogy to point out the absurdity of that rationalization.
"Okay, say if every black person in Omaha suddenly disappeared…wouldn't you think something was going on? I mean, if all of the Jewish or black people in your town are gone, wouldn't you think the worst? How could you not know?"
Before her antagonist could reply, instructor Bill Hayes poked his head in the group to suggest students review a section of the book Hitler's Willing Executioners for some added perspective on just how prevalent looking-the-other-way was among the countless millions who witnessed the atrocities unfolding around them and yet did nothing about it.
For Jenkins, who is part German, it was a harsh discovery to find that few Germans interceded on behalf of their victimized countrymen and in fact most implicitly or complicity condoned the horror. "I have a German background and learning about this is just very hard," she said. In response, a sympathetic classmate told her, "It doesn't mean your people are bad. This kind of thing happens all over the world."
A new perspective on the Holocaust, a close identification with rescuers and victims and a jumping-off point for historical-political-moral discussions is just what designers of the curriculum had in mind.
Curriculum author Christina Micek said she wants students using the materials "to get a personal connection to history" and has therefore created lesson plans allowing for discussion and inquiry. She said when dealing with the Holocaust, students should be encouraged to ask questions, search out answers and apply the lessons of the past to their own lives.
"I really want students to feel they're historians…I want them to take a personal interest in the subject and to analyze the events and to be able to identify some of the moral issues of the Holocaust and to discuss them in an educated manner."
Westside's Hayes feels Micek's goals were largely met.
"I thought it was real useful. I think for the final project the kids had to think a lot and read a lot and study a lot in order to get where they did with their rescue plans. Every kid had a chance to look at several different examples of rescuers. Traditionally, in our two-week unit on the Holocaust we've looked at what the Nazis did and at the Jews who were killed and that was the extent of it.
"We never looked at it from the rescuers' standpoint and we never dealt with the idea that the average person could really do something. And I think that's the real value in this unit. I think it gives a message to kids that you don't have to just stand by — there is something you can do. There may be some risk, but there is something you can do." He said it is likely the rescuer curriculum will remain a part of Westside's history units.
Micek, a 3rd grade teacher at Springlake Academy in Omaha and a Holocaust Studies graduate student with the Spertus Institute, wrote the curriculum program with the input of Swiss historian Theo Tschuy, author of the definitive book about Lutz and his heroic work in Hungary, Dangerous Diplomacy: The Story of Carl Lutz, Rescuer of 62,000 Hungarian Jews (2000, Eerdmans Publishing Co.).
The program includes a teacher's guide, grade appropriate lesson plans, reading assignments, discussion activities and classroom resources, including extensive links to selected Holocaust web sites. The foundation eventually wants to make the Lutz curriculum available, at no cost, to schools in Nebraska and across the nation. The program is designed for three levels — the sixth grade, the eighth grade and high school. The foundation hopes to pilot the 6th and 8th grade curriculum programs next school year. In addition to the current curriculum package, plans call for making an interactive CD-ROM, as well as Tschuy's book, available to schools. Hidden Heroes has contracted Redstone Communications in Omaha to develop the materials.
The materials field tested at Westside are the first in a proposed series of school-age programs from the Foundation, whose mission is building awareness about an often overlooked chapter of the Holocaust — the rescuers, that small, disparate, courageous band of deliverers whose actions saved thousands from genocide.
The mostly Christian rescuers came from every station in life. They hid refugees and exiles wherever they could, often moving their charges from place to place as sanctuaries became unsafe. As a means of protecting those in their safekeeping, custodians provided new, non-Jewish identities. While not everyone in hiding survived, many did and behind each story of survival is a story of rescue. And while not every rescuer acted selflessly, the heroes that did — and there are more than commonly thought — offer proof that even lone individuals can make a difference against overwhelming odds. The Foundation's mission is telling these heroic stories for the lessons they impart.
"Educating young people is our number one concern," said Foundation board member Ellen Wright. "Our youths' heroes today are athletes and entertainers, which is an interesting commentary on our times. What we want to do is add to that plate of heroes by taking a look at rescuers" whose good works can serve as models for how ordinary people can stand up to injustice and intolerance.
"If we can get even a few children interested enough that they will feel committed to ensuring the Holocaust doesn't happen again, then we have taught a new generation," said fellow board member Deenie Meyerson. Hidden Heroes' next curriculum projects are to focus on: the late Portuguese diplomat Aristides de Sousa Mendes, who while stationed in France during WWII signed thousands of visas that spared the lives of recipients; and the extensive humanitarian network in Belgium that successfully hid more than 4,000 children.
According to Tom Carman, head of the department of social studies in the Westside Community Schools, the rescue curriculum is an attractive addition to the district's standard Holocaust studies.
"The material allows us to look beyond Oscar Schindler and Raoul Wallenberg, whose rescue efforts some people view as an aberration, in showing there were a number of people, granted not enough, who did some positive things at that time. Lutz and others said, This is wrong, and did something about it, unlike most people who took a much safer route and either feigned ignorance or looked the other way. It gives examples of people who acted correctly and that teaches there are options out there."
Carman said the lesson plans prepared by Micek, who collaborated with Westside educators in refining the materials for the district, are "done very well" and are "really complete." District 66 superintendent Ken Bird said it's rare for a non-profit to offer "a value-added" educational program that "so nicely augments our curriculum as this one does."
While students agree they can never fully apprehend what it means to be a rescuer, they say being assigned the task of imagining themselves in their shoes and working-out solutions to life or death dilemmas afforded them a new perspective on what these roles meant. Where, in the past, students said they examined the Holocaust from a dry, abstract distance, this new exercise put them right in the mix of things and, so, made it more intimate and direct and lent it more flesh-and-blood immediacy.
"It's always been from a textbook perspective," said Carrie Jenkins, "where you're reading historians' views and everybody has different statistics and reasons and explanations. With this class, we started there by gathering data, but then we moved past that into trying to create something out of that. It's definitely a different perspective."
Gaule said, "In a textbook, it's going to say this percentage of people died and this percentage of people were saved, but in this way we get to quantify the morality. Like, it may seem that a few thousand people saved here and there was not very much, but in reality, as we found out, it took a tremendous amount of work and determination and moral values to stand-up for Jews who were being subjected to tyranny."
For Ian Peterson, the curriculum "sort of completes the perspective I've gained. Now, we've seen it from a lot of different angles and it sort of comes together as a more complete whole. It makes a little more sense." Doug Sherrets said, "It's always good to observe history from a bunch of different angles. Personally, I really hadn't heard a lot about the rescuers prior to taking this unit. Outside of Schindler's List, I really didn't know much at all.
"It's been said that you should always learn from the past and from the Holocaust we should learn not to make those mistakes again. It should make governments think more about getting involved. I now understand if more governments would have got involved there would have been a greater chance of stopping the damage from being so great."
In the end, students concluded that putting one's self on the line for another expresses the best in humanity.
"I think that represents like the highest point of human willingness to give everything you have," said Peterson. "I mean, that's like the ultimate good you could do in your life." That sentiment prompted Carrie Jenkins to posit, "Compared to that, what value does anything else have?" Peterson added, "I know. It makes charity seem pointless when there are people that did so much and risked so much."
Related articles
Alexander Payne: His Journey in Film
Check out my brand new Facebook page & Like it–
Alexander Payne: His Journey in Film
https://www.facebook.com/AlexanderPayneExpert/
The work-in-progress page is devoted to my acclaimed book about the Oscar-winning filmmaker and his work.
"This is without question the single best study of Alexander Payne's films, as well as the filmmaker himself and his filmmaking process. In charting the first two decades of Payne's remarkable career, Leo Adam Biga pieces together an indelible portrait of an independent American artist, and one that's conveyed largely in the filmmaker's own words. This is an invaluable contribution to film history and criticism – and a sheer pleasure to read as well." –Thomas Schatz, Film scholar and author (The Genius of the System)
The book sells for $25.95.
Available through Barnes & Noble, on Amazon, for Kindle and at other bookstores and gift shops nationwide.
Purchase it at–https://www.amazon.com/dp/B01MRORX1U?ref_=k4w_oembed_c1Anr6bJdAagnj&tag=kpembed-20&linkCode=kpd
You can also order signed copies by emailing the author at leo32158@cox.net.
Mini-Profile
Author-journalist-blogger Leo Adam Biga resides in his hometown of Omaha, Nebraska. He writes newspaper-magazine stories about people, their passions, and their magnificent obsessions. He's the author of the books "Crossing Bridges: A Priest's Uplifting Life Among the Downtrodden," "Alexander Payne: His Journey in Film" (a compilation of his journalism about the acclaimed filmmaker) "Open Wide" a biography of Mark Manhart. Biga co-edited "Memories of the Jewish Midwest: Mom and Pop Grocery Stores." His popular blog, Leo Adam Biga's My Inside Stories at leoadambiga.com, is an online gallery of his work. The blog feeds into his Facebook page, My Inside Stories, as well as his Twitter, Google, LinkedIn, Tumblr, About.Me and other social media platform pages.
Personal Links
Join 7,011 other subscribers
Calendar of Blog Posts
Categories from A to Z and # of Posts
Subjects/Themes
RSS Links
Top Clicks
Goodreads
Upcoming Events
No upcoming events