Archive for November 1, 2015
The more the University of Nebraska football program's woes continue and indeed only get worse, the more capital I believe my semi-mock diagnosis of the program's mental imbalance has actual traction. But I'll let you be the judge.
AN OPEN LETTER TO THE HUSKER FOOTBALL PROGRAM-
MY OLD FRIEND, YOU ARE BADLY IN NEED OF A 12-STEP INTERVENTION RECOVERY PROGRAM
Offered in the spirit of satire or don't take any of this too seriously.
Dear Nebraska Football Program:
It is with great concern and compassion that I appeal to your better angels and ask you to accept a therapeutic regimen that can address your chronic mental illness. Please consider letting those who have your best interests at heart intercede on your behalf so that you can get the help that you need in order to return to health, which is to say sanity, sobriety and serenity.
Let us not mince words but rather state the obvious – you are sick. There is no use in denying it. You have all the symptoms. Low self-esteem. Depression. Performance anxiety. Paranoia. Anger issues. Irrational, inconsistent decisions and behaviors. Inability to develop trusting relationships. Doing the same thing over and over again and failing at it and yet expecting a different result, which as any rational person knows is a classic marker for insanity.
But, my troubled friend, you are so deeply lost in your illness that you cannot see these things for yourself.
The first step to getting better is to admit that you have a problem. Simply going about business as usual and acting as if everything is normalt is a self-deluding proposition that will only keep you right where you are at – in the depths of your addiction.
I can hear you protesting already – I'm no addict…what addiction? Your addiction my friend is to self-inflicted pain. Since 2004 and even before then, you have struggled to find your way as one by one the caring, supporting, guiding figures in your life left you and the infrastructures that once made you strong began falling away. You have had trouble adjusting and transitioning to the succession of leaders who have followed because of your profound abandonment and identity issues.
The near constant scrutiny and criticism directed at you have weighed on you and frayed your nerves and impaired your decision-making.
So much has changed in your environment from those days when you were well and robust and the envy of so many others. As that landscape has become increasingly competitive and pressure-filled and as you have lost what few supports you had around you, you have more and more come to interpret the world as a cruel, harsh place. Negative thoughts have replaced positive thoughts. You live in fear and doubt that the next shoe will drop or that the current regime will let you down just as surely as the previous ones did.
When you get in close games, you freeze up or, well let's just say, have difficulty doing the right thing.
You have endless rationalizations for why these things happen, but that is only deflecting the problem from the true source: yourself.
Just when you need stability, one leadership team is replaced by another and you have to learn new ways of dong things before you even mastered the old ways.
All of this feeds your insecurity. Little problems get inflated into big problems. Your sense of isolation is increased. You revert to unhealthy old habits and patterns that become ever more entrenched the more you act on them. You have trouble investing in the present or the future because your sense of being all-in is not there. Hope is dim.
When all those around you share the same mindset and tendencies, well, then bad attitudes and behaviors only get reinforced.
In short, your confidence is shattered and your ability to make sound decisions compromised. The more you act out, the more hard wired that becomes, thus making it even harder to enact positive changes.
Making matters worse, many of the decision-makers behind Husker Football and many of your fans, friends and family members are enablers. Out of good intentions they actually fuel your mistaken belief that you are whole and well, when in fact you are broken and sick.
A sure sign of disturbance is when your relationships suffer as a result of your acting out and there are untold examples of how as a program you have alienated, embarrassed, insulted the very fan, alumni and media base that helped give you life and that sustains you. What's worse, you don't seem to care that you have caused injury and estrangement. And yes I know that elements of that same base have said and done hurtful things to you, but this is where balance and forgiveness must prevail. Making amends.
Another sign of illness is, of course, impaired job performance. Here, the record of shortcomings speaks for itself.
Furthermore, you have continually resisted, ignored or criticized genuine efforts to offer you advice and counsel. You must acknowledge that your affliction is unmanageable and that you cannot handle it alone. Your only recourse is surrendering to a Higher Power. But you get highly agitated and defensive when remedies and assitance are broached.
There is also a decided tendency to overreact to things. In the name of progress, you have recklessly trampled on and discarded tried and true traditions that gave the program an identity for new systems and styles that have repeatedly proven a poor fit. You keep trying to be something you are not and were never intended to be and that disconnect only causes you more internal confusion and cognitive dissonance. The more separated you become from your true self and the resources available to you, the less resilient you become to change or challenge.
The longer this crisis has gone on the more you have become used to conflict, chaos, failure, despair and even hopelessness. Oh, you put on a good face, but it is clear that you no longer believe in yourself or in what you're doing.
Things have come to the point where an intervention is called for. Since the board of regents, university administration and athletic department leadership have effectively failed to act responsibly, which is to say without due diligence in making the three most recent head coach hiring decisions, I am proposing that legislation be enacted to take the football program out of their hands and be given to an executive committee comprised of rank and file fans as well as past and present players, coaches and university officials. The majority members would be fans. In so doing, the voices of Nebraskans who are both close to the situation and who have the perspective of outsiders looking in would not only be heard but would have a definite say in things.
Our money, after all, is funding the entire athletics apparatus as taxpayers, season ticket subscribers and boosters. The program would not be what it is without the fans. They should be a part of determining whatever direction the program takes and whatever hires and fires it makes.
Radical? Unrealistic? Never happen? Probably. Then again, Nebraska Football is a unique phenomenon in this state for the disproportionate impact it has on the collective psyche. There is nothing else in the state to unite its disparate, geographically isolated populations the way the program does. The program's crisis and failure, if left unchecked and unmitigated, is likely to get worse before it gets better, that is if it ever does get better. It is the considered opinion of myself and others that the program is actually heading for rock bottom right now. Rather than let another scenario play out whereby the current coaching staff manages to give the program a fix to prop the program back on its feet only to see it fall back into relapse again, I propose a more dramatic and thorough treatment plan that undoes the current model and gives fans a real say in what happens now and moving forward.
Call it crazy if you will, but I prefer to call it recovery.
Then again, it is only football.
Sincerely,
A Fan in Search of Solutions and with Clearly Too Much Time on My Hands
Categories:

Cornhusker Football, Football, Husker Football Program, Huskers, Nebraska Football, Nebraska Football Program, Sports, University of Nebraska Football
Cornhusker Football, Football, Husker Football Program, Huskers, Mike Reilly, Nebraska Football, Nebraska Football Program, Sports, University of Nebraska Football
This past summer Stuart Chittenden formulated an equally brilliant and lovely idea to explore the power of conversation for making community when he struck out on the road for a meandering journey of small talk into the very heart of his adopted state, Nebraska. Traveling by RV, the ex-pat Brit stopped in a series of towns and cities to sit down and talk with people about what community means to them, but mainly he listened to their stories. And he recorded those tales. On his weeks long adventure he met and had conversations with a cross-section of this state's salt-of-the-earth folks and he came away with a new appreciation for this place and for people's diverse lifestyles in it. Read my Journeys piece here about Chittenden and his project for Metro Magazine or link to it at http://www.spiritofomaha.com/Metro-Magazine/The-Magazine/. Or get your copy of the print edition by subscribing at https://www.spiritofomaha.com/Metro-Magazine/Subscribe/
IMAGES FROM STUART CHITTENDEN'S WEBSITE © http://830nebraska.com/ unless otherwise noted.
From the Metro Magazine print edition
How a wayfarer's Nebraska odyssey explored community through conversation
Stuart Chittenden's magnificent obsession led to an epic road trip…a summer sojourn across the state centered around community and conversation
©by Leo Adam Biga
Appearing in the Nov-Dec-Jan issue of Metro Magazine (http://www.spiritofomaha.com/Metro-Magazine/The-Magazine/)
Leave it to an ex-pat Brit to travel Neb. in search of what makes community in this Midwestern place. He did it the old-fashioned way, too, by engaging in dozens of face-to-face conversations with residents across the width and breadth of the state over a month-long journey.
Traveling alone in a rented RV, Stuart Chittenden, 46, stopped in urban and rural settings, on main streets and side streets, in libraries, coffee shops, barber shops, bars, town squares and private homes to chew the fat with folks. He shared the fruits of his travels and conversations across social media via his project website, Instagram posts and Twitter tweets. He also did radio dispatches for KIOS 91.5 FM.
Chittenden made the August 10-September 5 trip for his project A Couple of 830 Mile Conversations. Nebraska is about 430 miles from east to west but his purposely meandering, circuitous route nearly doubled that distance each way.
He will be making public presentations about the project across the state this fall. Beyond that, he's considering what to do with the 100 hours of recorded interviews he collected.
The project received an $8,000 Humanities Nebraska grant matched by monies from an online Indie Go-Go Crowd Funding campaign.
American archetypes
The experience fulfilled a lifelong fascination he's cultivated with American archetypes. He's long wanted to see for himself the places and characters who've fired his "fertile imagination" about pioneers, cowboys, ranchers, rugged individualists. indigenous cultures and immense open spaces. The project gave him an excuse to "follow the archetypal American adventure to go west."
Not surprisingly, the experience made quite an impression.
"My reactions to the state are that it's remarkably diverse, very historic. There are areas of natural beauty really quite remarkable. Physically the state is an intriguing. lovely and delightful place to go and explore. In terms of the culture. I was surprised by how vibrantly pioneering the west of the state feels. In Scottsbluff several people demonstrated this zest for self-determination, for sustaining themselves and coming together as they need to. Billy Estes and others there credit that spirit to the legacy of the pioneers.
"In a more remote community like Valentine it also means you don't have any other choice but to fix things or make things. You do it for      yourself or it doesn't get done. To see that spirit is to really appreciate it. I thought most rural communities would seem somewhat tired and there are those towns that do appear to be in a position of uncertainty – they don't know what circumstances are going to do to them and so they feel in flux. But then there are those other towns that aren't allowing circumstances to dictate what happens. They are looking at the available resources they have and managing those things in ways that make them sustainable."
Individuals made their mark, too.
"Owen Timothy Hake in St. Paul touched on the courage needed in the choice to sit and talk with a stranger."
R. Mark Swanson in Valentine recounted how conversation was therapeutic for him in the wake of his father's suicide and losing his 16-year-old son. He told Chittenden that stories are "a form of freedom."
The project was also an extension of work Chittenden's been doing with conversation as a mediation and relationship tool. He wanted as well to assess the facility of this human communication medium as a means for finding consensus around the idea of community.
He says the project was "founded in my belief conversation is a way we connect better and form community." It was also his opportunity to discover how people across the state talk about community. "I was very aware of the supposed divides between rural and urban. Also I wanted to put to the test my beliefs about conversation to see if it really has that kind of power or potency."
Tom Schroeder in Dannebrog told Chittenden how community requires genuine personal, emotional investment. Community often came up in the sense of the safety it offers. Others spoke about community in terms of the appreciation they have for their town.
Though Chittenden's lived in Omaha many years – his wife Amy is a native – the journey was his first real foray across the state with the intention of finding the heart of things and closely observing and recording them. That's why he opted to follow the road less traveled – taking highways and byways rather than Interstate 80.
Making sense of it all
Still fresh from meeting people wherever he found them, he's been weighing what these encounters and dialogues reveal. He says it was only at the end of the trip he began "to formulate some ideas around what community means to people."
"Some of these incipient thoughts around community are that it's paradoxical," he says. "I heard a lot of people talk about things like it's trusting, it's supporting each other and it's feeling safe and not locking your doors, et cetera, and that's all true. But it didn't really ever quite get to the heart of the matter. And the more people talked the more other elements started to come out that suggested to me community is a paradox. If you try to create it by saying, 'I'm going to make my neighborhood a good community,' it's a very difficult thing to do.
Community instead is a deliberate individual choice to behave and do things in ways that invest in something not directly related to you.
"It's a very individual action and it's a very deliberate choice. The people that are active and altruistic and do something that isn't selfish – the effect of that is community."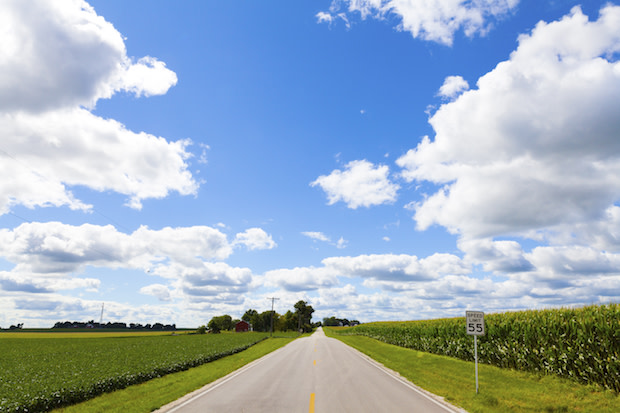 Not his first rodeo
All of this is an extension of a path he's been on to use conversation as a community building instrument. It started when he first came to Omaha to work as a business development director for David Day Associates, a branding agency he still works at today.
"Being new in town required me to network. I found there to be an arid landscape for engagement of a depth beyond one inch and that was not satisfying to me. I didn't want to be in a new community and establish networking connections that had no merit other than just superficial Neb. nice. So that was one provocation that led me to desire more meaningful conversations with people.
"The second track is that the more I look around me in Omaha and in communities across the nation I see increasing division and inequality – wrapped up in very casual stereotypes and bigotry to people on the other side of the fence – and I am morally outraged by that situation.
I've begun to see that my contribution to the better health of our society is just to increase understanding of The Other and the way to do that is to engage people in conversation. You don't have to like them, you don't have to agree with them, but if you can do anything to increase rapport and understanding, you've already taken very bold steps to a more cohesive society."
He felt strongly enough about these things that he and Amy hosted a series of by-invitation-only conversation salon evenings in their mid-town home beginning in 2010.
"People would come together and talk about issues without an agenda and move beyond the superficial," he says.
That morphed into salons led by siimilarly-minded creatives. But after two-plus years it got to be more than the couple could handle at home. At Amy's insistence, he looked long and hard at how much he wanted to continue doing it and the need to take the model out into the world.
"It was something incredibly meaningful and fulfilling for me and therefore I wanted to see if it had merit beyond the personal in our home," Chittenden says.
He then formed Squishtalks, a for-profit platform for conversation-based interventions and experiences he develops and facilitates for organizations, corporations and communities.
The 830 Nebraska project amplified everything Squishtalks represents and reinforced what he feels his purpose in life is shaping up to be.
"Conversation is not only something of benefit to communities and to individuals but what I'm learning is that it's my calling."
"My reactions to the state are that it's remarkably diverse, very historic. There are areas of natural beauty really quite remarkable. Physically the state is an intriguing. lovely and delightful place to go and explore."

"I've begun to see that my contribution to the better health of our society is just to increase understanding of The Other and the way to do that is to engage people in conversation. You don't have to like them, you don't have to agree with them, but if you can do anything to increase rapport and understanding, you've already taken very bold steps to a more cohesive society."

"Conversation is not only something of benefit to communities and to individuals but what I'm learning is that it's my calling."

"The list of people that will stay with me from this project and whom I intend to maintain connection is quite long."
To be or not to be
Calling or not, Chittenden felt the project pulling him in different directions.
"I wrestled with should I heavily promote the project in the places I was going to or not promote things at all but literally just turn up somewhere totally unannounced. The difficulty with over-promotion is that what happens is you run the risk of getting a queue of people who want to talk at you and you miss other people. People self-select for reasons that perhaps aren't the reasons you want them to sit down and talk to you. At the other end, if you just roll in and don't tell anybody – I could be sitting around places and having no conversations with anybody."
He resolved this dilemma by playing it down the middle "so things weren't contrived but I'd also have people to talk to," adding, "That was an interesting dance and I don't know whether it was right or wrong, one could never really know. But I feel as if I struck a balance between reaching out to a few interesting people in advance, reaching out to library directors to work with them, and then just showing up.
"Actually getting on the road, the experience was very much working out – where do people convene, where does anybody convene in any environment for any purpose, where do people go to protest, to celebrate, to feel a safe environment for provocative conversation?
All of these things were occurring to me."
Early into the experience, he says, "I realized I had to adjust my initial formal plan of just setting up in a public space to put myself into places where people did convene and often that meant a bar, more likely a coffee shop or the donut place and maybe stopping at the gas station to ask where the old-timers were. It was that balance between allowing serendipity to reign and if no one came and sat with me for two hours, that's what happened, that's how that was meant to be."
At each stop, he says, "…maybe 95 percent of people would acknowledge me warmly or would respond to my greeting warmly. Maybe 2 in 10 would ask what's going on and then 1 in 10 would sit down. And the reasons why the other people didn't will remain unknown and I think that's totally fine."
Wherever he set up with his sign reading "Hello! Please sit and chat with me" he surrendered himself to take whomever fate offered in this intersection of outsider-meets-local. He was not disappointed.
People he won't soon forget
"The list of people that will stay with me from this project and whom I intend to maintain connection is quite long."
Two unforgettable characters were Lukas Rix and Mark Kanitz in Wayne.
"They're in an open gay partnership in town. They are live wires. Very sophisticated, smart, lovely, generous, warm people running a business on main street called Rustic Treasures. They're very interesting just because of who they are and the choice they made to be openly out in rural America. They talked about how if you do make that choice you can never turn it off – you become the barometer of gay issues for everything. We talked about that tension."
Chittenden also heard their disenchantment.
"The business success they've created there is remarkable yet Lukas spoke of the ambivalence they experience from the Omaha young professional and entrepreneurial scene. That was my first taste of a community or group of people doing things that are genuinely interesting but facing the arrogant antipathy of the big urban center because we think it's all irrelevant beyond the city limits."
He found in college towns like Wayne and Chadron a tension between the campus and town cultures.
"I was told it's like the seasons in how the vibrancy of a town ebbs and flows depending upon the student population. A professor in Wayne made a remark about 'town and gown' and that division between faculty-campus life and in-town residents. He talked about some of those differences and how these groups could do better to maybe be more integrated. In Chadron they call it the 10th Street Divide."
There were characters and then there were characters.
"A guy called Butch Blecher in Neligh had a lot to say for himself between chain-smoking and chewing tobacco and telling me about how he's in poor health. I was just across main street photographing    something and he was on the other side in his wheelchair when he called out to me and I went across and sat down on the pavement for an hour-and-a-half while he talked about everything and anything.
"It was all storytelling. He interjected a tone of casual racism around Latinos being illegal immigrants and criminals and in the same conversation went on to talk about how much he liked a lady called Maria he bonded with. He let her get things from his garden and she cooked exquisite homemade Mexican meals for him. He was sad when  she had to abruptly leave because she was illegal.
"It was fascinating to hear someone move from casual stereotypes into personal stories that defied those stereotypes."
Chittenden says the exchange reminded him "we're always informed in some way by our circumstances and it takes a lot of thought to step outside ourselves and recognize that must be true of everybody," adding, "It's difficult to judge people unless you get a sense of the landscape in which their lives and viewpoints were formed."
In Alliance, Chittenden found a story of transformation and redemption in Native American Edison Red Nest III.
"He spoke powerfully and with brutal candor about the hope of his upbringing, the potential for success and how it all feil off the rails. He started doing drugs, dealing drugs, robbing places. He found himself in a federal penitentiary. He came out of jail, cleaned up and found himself again because Native American elders reintroduced a pride in his culture. He is now working in the community to help Native American children perceive the richness of their history and culture."
More Characters
Near Bayard, Chittenden got a guided tour of Chimney Rock from his ride, Gordon Howard.
"He's by his own description a curmudgeonly S.O.B. and that's exactly what he is. He put me in his truck, smoked his cigars and told me his stories as he drove up remnants of the Oregon Trail. Then we sat outside the rock for awhile."
In Valentine, Chittenden was taken with Episcopal preacher R. Mark Swanson.
"He impressed me with his philosophical take on community and life
and how people adjust to hardships.
Swanson's had his share of hardships and Chittenden says "he's ministered to people who have experienced difficulties."  "
"Mark and his wife Margaret were living up on the Rosebud Reservation. She was a teacher at one of the schools. He just struck me by how sensitive he is to relationships people form between             themselves. There was an intelligence borne of ministering to hundreds if not thousands of people over his lifetime that just made me feel very warmly about him.
"He spoke very intelligently about the nature of the church and community and ministering and how people relate."
In Loomis Tama Sundquist runs a convenience store-diner called Mrs. T's that Chittenden found charming.
"I roll in and I'm chatting with the two girls at the counter and then Tama comes over and like any good proprietor she is all chit-chat and wanting to know what's going on. She and her family race these small go-carts all around the region. She's incredibly bubbly and has a lot of smarts about her. She's the kind of person that fills a room up. She had plenty to say about the nature of town. I asked her what community is and she joked, 'It's a group of people too poor to leave.' But I did have that impression of Loomis."
The snob in him initially discounted having lunch there but the aroma, sight and sound of that day's sizzling steak special won him over.
"This was the best steak I have had for a long time. It was fantastic."
In Dannebrog, where all things are Danish, his visit to the bakery reminded him of an Irish pub. The old cronies enjoying coffee and dunkers there – John Nelson, Mike Hochstetter and Russell Powers –
welcomed the stranger with good-natured ribbing,
"These guys were so funny with their bantering and joking. Russell told how he had been confused by a tourist for Roger Welsch (Dannebrog's most famous citizen for his best-selling books), so he just played it up and persisted in being Roger Welsch.
"John had had some surgery and never spoke, he just smiled, kicked his legs and gestured. Incredibly endearing the way he responded  – the physicality of his presence so affirming.
"Mike is like 6-foot-7. He's gigantic. He just seemed to be the epitome of everything I think about as the pioneering immigrant Scandinavian farmer – just from his look, his size, his poise. He wasn't verbose but what he said was not wasted words. He was smart and intelligent with what he had to say. Like many other people I asked what community means and he just opened his big arms and warmly gestured, saying, 'It's what you see here.' It was this idea that here's this community place where people can come and talk about anything they want to.
"The money's on the counter, non-molested. No one's going to steal.
People pay what they should pay. You're welcome anytime."
Chittenden, who shaves his head, needed a shape-up at one point and got it from Chadron barber Don Dotson, whom he says is in "the great mold of barbers" as philosophers, psychologists and pundits.
"Don talked about community in somewhat predictable terms in the sense of this being a right-sized community, people know each other, that sort of thing. But he also warmly reflected on the fact that as one of only two barbers where Chadron once had more than 20 his place is now an even more important venue for community.
"He made it clear I was welcome to stay as long as I wanted to chat with him and the guys in there."
One of those guys, Phil Cary, is a Chadron State College math professor.
"He came down to Chadron because he wanted a place he felt was the right environment to raise his boys. Since they've grown and left he's come to love the community and doesn't want to leave."
Not everyone Chittenden met and spoke with wanted to be recorded.
One of those who declined was 83-year-old Dee from Broken Bow .
"She asked if I wanted to see a photo of the barn her father had built. I replied yes. She returned with a box. She was showing me some old photos and at one point her eyes lit up and, pointing at one photo, she said, 'I remember!' Dee then looked at me and said, 'Perhaps it is a good thing you are here.' We talked for three-and-a-half hours."
The only two African-Americans he spoke to for the project – the paucity of blacks in greater Neb. dismayed him – declined to be recorded. He surmised they didn't want to go on the record about what it's like being black in a state where they are such a decided minority.
Reflections
Between the 830-mile jaunt and various detours and side trips along the way, Chittenden logged 1.902 miles. The only formal route he followed was from Omaha to Scottsbluff. Everything else, including the return trip, was "random and digressive."
"I had roughly mapped out the trip beforehand. On the road I used Google Maps and asked people for suggestions."
He managed getting lost just once and then for only a brief while. He avoided any traffic tickets. But he did contend with some mechanical problems in the form of a bum water heater and various closet snafus that stops at a repair shop and a Menards, respectively, afforded the necessary if temporary fixes.
Mother Nature spared him any weather extremes.
An enduring sight after a rainstorm was "a delightful double rainbow on my last night out at the westernmost point of the trip in Scottsbluff."
He slept every night away aboard the RV.
In terms of lessons learned or affirmed, he says, in order to engage in conversation "you have to be willing to be vulnerable" "If you don't present yourself, you cant expect other people to do this. If you approach any environment with a sincere openness and willingness to appreciate someone else's voice, then the door opens."
In the end, he may have found out more about himself than anything.
"I don't ascribe things to a divine hand. But if I'm going to make meaning from my life and think the net result of my being here was positive, then maybe conversation is the gift or the tool or the challenge I have before me to make this a meaningful existence."
For more about his project, visit http://830nebraska.com/.
Read more of Leo Adam Biga's work at leoadambiga.com.
Categories:

A Couple of 830 Mile Conversations, Communication, Community/Neighborhoods, Conversation, Nebraska, People, Personalities-Characters, Stuart Chittenden
A Couple of 830 Mile Conversations, Characters, Communication, Conversation, Nebraska, Omaha Community Playhouse, People, SquishTalk, Stuart Chittenden