Archive for July 29, 2016
Come do the Crawl!
NOSA Arts Crawl to feature diverse art and artists – Friday, August 12
The 2016 edition of North Omaha Summer Arts has seen the addition of new events and community partners and now NOSA's gearing up for its 6th Annual Arts Crawl on Friday, August 12.
Founded in 2011 by North Omaha resident Pamela Jo Berry, NOSA is an entirely free, summer-long festival dedicated to the proposition that the arts can heal and build community. Berry, a mixed media artist, saw a need to infuse more art in all its forms into North Omaha and to give artists more opportunities to explore and showcase their work. The festival features some recurring events, such as the gospel concert in Miller Park in June, an Art and Gardening class at the Florence Branch Library in July and the Arts Crawl in August. A weekly women's writing series just concluded and its students' work will be published in an anthology.
New this year to the NOSA schedule are a variety of Pop-Up Art events, including the recent Thoreau Meets the Harlem Renaissance and Painting Bird Houses events. More Pop-Up Art happenings are planned. NOSA often works with community partners to present events, including recent collaborations with Compassion in Action, Girls Inc. and the Intergenerational Human Services Campus.
The highlight of NOSA each year is the Arts Crawl. This walkable, continuous art show presents the diverse work of emerging and established artists at venues on or near North 30th Street. This year's Crawl runs from 6 to 9 p.m. on August 12. It starts at the Metropolitan Community College Fort Omaha campus Mule Barn building and ends at the North Heartland Family Service – with Church of the Resurrection, Nelson Mandela School and Trinity Lutheran in between.
The public is invited to walk or drive to each location to view art in various mediums, enjoy art demonstrations and speak with artists about their practice. Live music will be performed at some venues.
Many of the featured artists are from North Omaha.
For this year's Crawl, each veteran artist is showing alongside a younger or less experienced artist with whom they share a close connection. For example. Gabrielle Gaines Liwaru is showing her art photography beside her daughter Cheamera Liwaru's own photographs and Aaryon Lau Rance Williams is showing his paintings next to art created by youth from the after school arts program he operates.
"NOSA would like to welcome art lovers from around the metro to come out for this each-one-to-teach-one and it-takes-a-village celebration of community, family and art," Berry said. "We are thrilled to be in our sixth year with North Omaha Summer Arts and we are thankful for all the partners, artists and volunteers who help make it happen and keep it a free event."
A reception kicking off the Crawl will be held at the Charles B. Washington Branch Library, 2868 Ames Avenue, from 5:30 to 6:30 p.m.  Tara Evans and the Golden Thread Quilters, sponsored by Community Quilting Center Inc., will feature approximately 40+ quilts throughout the library. Both traditional and artistic quilts will be on display.
Free snacks and refreshments will be abatable at each stop along the Crawl route.
For more information, call 402-502-4669.
Visit the NOSA Facebook page at–
http://www.facebook.com/NorthOmahaSummerArts
Visit the Arts Crawl event page at–
https://www.facebook.com/events/1133908166708406/
Follow and like NOSA at–
https://www.facebook.com/NorthOmahaSummerArts/?fref=ts# or https://www.facebook.com/groups/1012756932152193/
Omaha Fashion Week has a decided youth focus in its efforts to nurture and build the local fashion ecosystem and one of the latest prodigies getting showcased and supported is 16-year-old Ciara Fortun. Here is my profile of Ciara appearing in the August 2016 issue of The Reader  (www.thereader.com).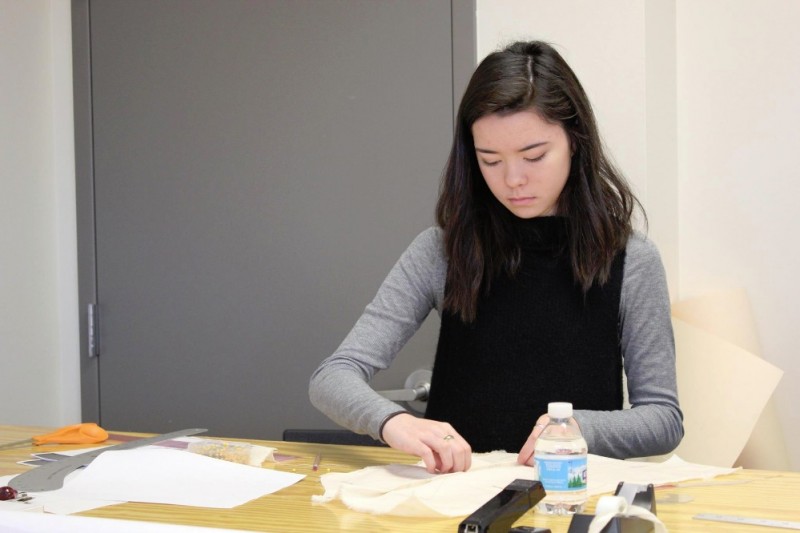 Ciara Fortun
Bright Lights
Teen designer Ciara Fortun mines Filipino heritage in Omaha Fashion Week collection
©by Leo Adam Biga
Appearing in the August 2016 issue of The Reader (www.thereader.com)
The private doodles Ciara Fortun used to make have evolved into working sketches for collections she now produces for Omaha Fashion Week shows.
After debuting at OFW with a formal women's wear show last March, she's unveiling a new collection of dresses inspired by her Filipino heritage in August.
The 16 year-old Elkhorn resident and junior at Concordia High School has been fascinated with style since early childhood. But it wasn't until attending her first Fashion Week in 2015 she realized living in flyover country was no barrier to doing something in fashion.
She attended Omaha Fashion Camp and got inspired by industry professionals working as designers, models, creative directors, stylists and photographers. That led her to sketch out a collection. The designs variously drew on Audrey Hepburn, Old Hollywood and Art Deco. Fortun's tastes run to refined and vintage in apparel and music. She often listens to classic jazz while working.
Regarding her personal sense of style, she said, "It evolves all the time. I may look completely different day to day. Today, I'm wearing overalls, but tomorrow I may be wearing heels and a pencil skirt. I'm kind of minimalistic with everything. I don't like a bunch of patterns. It's pretty clean, pretty simple," she said from her second-story home workroom. The space is filled with sketches, magazine spreads, inspirational words, a tailors dummy draped by a tape measure, an electric sewing machine, clumps of fabric and a wardrobe rack filled with her handiwork.
Photos by Heather and Jameson Hooton
Models by Develop Model Management
She waited until "the last day" to submit her designs and then only after her parents' gentle prodding. Upon being selected to interview she faced a panel of five adults who critiqued her work and asked about aesthetics and aspirations. It was intimidating. She said she learned "you have to really know what your personal style is before you can make something because then you know what your foundation is with fashion."
She waited two excruciating weeks before getting word she made the cut as an invited OFW designer. That's when reality set in she next had to create a wearable, runway-ready collection in four months. The family project involved her parents and younger sister, but Ciara and her father Luis Fortun did most of it together. Though neither has formal training, they have genetics on their side. Ciara's paternal grandmother is from the Philippines, where she sewed. An aunt was a master seamstress and a great-grandfather a master tailor. Ciara's steeped in stories about her ancestral homeland.
Between calling on ancestral skills, watching YouTube how-to videos and "Project Runway" episodes and sounding out OFW staff, this father-daughter combo figured things out through "lot of trial and error," Ciara said.
A GoFundMe campaign helped with buying materials.
She agonized getting every last detail right, but her dad reminded her, "They're not looking for perfection, they're looking for confidence."
Ciara said the finished dresses ended up "a lot different than what we had on paper. We did a lot of tweaking." "On the fly," added Luis.
"I was unsure about a lot of stuff," Ciara said, "but then we just went for. By rack check I was terrified. I was like, 'What if they don't like any of the stuff and the changes I made?' But they were really good about that. They care more about what you feel was the right choice than what will sell. It turned out well,"
During the process, OFW consultants made suggestions and Luis said, "We took most of the suggestions but some we didn't, and they were actually very complimentary about that, saying it shows Ciara"s OK standing by her own decisions. I  was very proud of Ciara."
Dealing with adults has taught Ciara the importance "of being able to hold a conversation" and articulate her vision. "It's caused me to step out of my comfort zone to share what my heart is," she said. "It's great to be pushed to share what you love. It all has a risk factor, but you just have to stick to what you know and love. It's been a really good growing experience, especially in a supportive setting."
"Watching her grow through the whole process has been very encouraging – just taking responsibility for all the things," said her father.
Getting the collection done in time came down to the wire. It meant pulling some all-nighters.
The Fortuns were pleasantly surprised by how accessible OFW staff were answering questions and providing assistance.
"You can go talk to them if you need help with something," Ciara said. "The thing about Omaha Fashion Week is that everyone there is really supportive of the younger generation. They want to bring you through this and show you different steps of making a collection and a brand."
She's found big sisters and kindred spirits in designers Buf Reynolds and Sabrina Jones.
"They're really inspiring. I see them as mentors and people I can look up to."
As a father pressed into duty as a dressmaking production director, Luis Futon appreciates the help OFW provides.
"They do a really good job of framing out major milestones you have to reach in terms of salon, music, model call, rack check. They just don't say, okay, we'll see you in four months. They give you guidance. It's very structured. They kind of walk you through the whole thing and give a lot of pointers and insight."
Ciara's fall collection featured highly structured, muted dresses using neoprene. Her work was well received by patrons and judges at the Omaha Design Center. Her models walked to "Forever Mine" by Andra Day and "New York New York" by DJ Cam Quartet.
By winning her night, she earned a $500 prize. In true entrepreneurial spirit she plowed it right back intto buying fabric. She's discovered what all fashion designers here learn – you must look outside Nebraska for the best fabric and pay a premium for it.
Her new collection, for spring-summer, is lighter, brighter and more flowing with its colored satins. Besides the accent on color, another nod to her Filipino lineage is the incorporation of capiz shells.
She may study art in college to keep her creative options open.
"I'm still trying to figure out things."
If she pursues a fashion career, it helps that OFW has her back.
"It's a really good community we've found. If we lived in New York, it wouldn't be that way. It's really cool being part of this unique group that get me."
Fortun, who creates under her Noelle Designs label, is among 27 designers showing during the August 22-27 Fashion Week. Her collection hits the runway August 23.
For schedule and tickets, visit omahafashionweek.com.
For as long as the movies have been around, Omaha has had a cinema culture of one kind or another. Back in the day, when neighborhood theaters dotted the landscape and grand movie palaces still operated, you could reasonably say that the city's cinema culture – at least in terms of the exhibition and viewing of movies  – was at its peak. This would have been true from the 1920s through the early 1950s. There were theaters all over the city then. Television then began rearing its ugly head and neighborhood theaters started closing. However, a new dimension in moviegoing emerged with the arrival of drive-in theaters and the opening of one of the nation's few Cinerama theaters, the Indian Hills. Additionally, uiversity and museum sponsored film series became in vogue. I helped run two of these series – one at UNO and one at the Joslyn Art Musuem. There were even art cinema oprations here before Film Streams. I was associated with the longest-lived of these, the New Cinema Cooperative. Thus, for a period of a couple decades or so, Omaha boasted a rich mix of moviegoing options that simply doesn't exist today in the same way. Of course, so much has changed. The neighborhood theaters, drive-ins and grand palaces are nearly all gone or being used for other purposes. The Indian Hills is gone. The university and museum film series are no more. But there are some currents happening that may bring back the past. The metro's last remaining neighborhood theater still being used to exhibit movies, the Dundee Theater, closed for remodeling and was on the verge of never reopening again until it landed in the hands of Film Streams. Thanks to its new owners and managers, the Dundee will indeed see new life again. Concurrently, the 40th Street Theater has recently been renovated and reopened after being inactive and unseen for 65 years, although this former vaudeville house turned movie theater is being used for live peformances rather than screenings. That could always change. The old Benson Theatre may have new life again if the funds needed for its renovation are secured. Some new movie viewing options have sprung up in such event-destination style venues as Alamo Drafthouse Cinema. The Omaha Film Festival has made a nice contribution to the cinema scene. More than any single entity, Film Streams raised the film culture here.
Outside of the exhibition-viewing realm, the biggest differecet in film culture enrichment these days is all the local filmmaking going on. It's only in the last 20 years but really more in the last decade and ever more that the technology and means to film production have become highly accessible and affordable. These are, with a few notable exceptions, very small indie projects that fly under the radar but they do give filmmakers experience in practicing their craft and the work does get seen and does find audiences, some of it more than others. Of course, the phenomenon of Alexander Payne, followed by Nik Fackler, has brought Hollywood A-list talent to town and given locals opportunities to work with that talent. Now, some new filmmakers on the investing, producing and artistic sides of the industry are developing projects unlike anything seen here before. Parallel with that movement is the increasing number of locals who are making it in the industry, forging careers in television and film, and some of these folks are coming back here to do things, which is another new wrinkle to the story. If more follow, then a depth of skill sets, connections, finances and faciltiies may build up here to finally give Omaha and greater Nebraska a true film infrastructure. The biggest missing piece, however, remains tax incentives for filmmaking. People are working on making that happen, too.
All of this is background and context for my new Omaha Cinema Culture story in the August 2016 issue of The Reader (www.thereader.com).
Omaha cinema culture provides diverse screen landscape
©by Leo Adam Biga
Originally appeared in the August 2016 issue of The Reader (www.thereader.com)
If there is an Omaha Cinema Culture, it cuts across consumer, exhibitor, artist, aspirational experiences. Being far from traditional film centers poses certain barriers, but rich offerings and showplaces exist. Natives pursue and some achieve screen careers. It's been this way since the industry's start.
In addition to many name actors, Nebraska's produced studio heads (Darryl Zanuck), network execs (Lew Hunter), filmmakers (Joan Micklin Silver) and producers (Monty Ross). Alexander Payne is the only native A-list talent who brings work here. He cut his teeth in local art houses, then studied film at UCLA before embarking on his acclaimed writer-director journey that's seen five of his seven features shot in part or entirely here.
Omaha filmmaker and educator Mark Hoeger said Payne's insistence on setting and shooting movies here is what distinguishes him from his Nebraska counterparts.
Fellow filmmaker Nik Fackler (Lovely, Still) said, "I wouldn't have been inspired to make my own films if it wasn't for filmmakers like Alexander Payne, Mike Hill and Dana Altman. It fuels the fire of excitement for young filmmakers. I was an extra on Election and after being on set for a day, I realized I wanted to be a director.
Hoeger said, "In an industry more akin to the lottery, seeing those winners is essential to keeping the dream alive."
Nebraska Film Officer Laurie Richards said Payne's in-state shoots have an impact.
"Locals get hired, locations used, hotel rooms booked, cars and trucks rented, food-entertainment providers procured."
Then there are branding opportunities for the state, the city and the various other towns and locations utilized.
Other natives with industry clout , such as creator-executive producer of The Blacklist , Jon Bokenkamp, as well as Gabrielle Union (Being Mary Jane), Marg Helgenberger or Andrew Rannells could conceivably bring projects here.
Former Nerbaska state senator Colby Coash, who acts in local movies, said, "Hollywood is full of Nebraskans looking for opportunities to return to their home state to share their art."
Matt Sobel did return to make Take Me to the River. Erich Hover did the same with It Snows All the Time.
Nebraska Cinema Project principals Kevin McMahon and
Randy Goodwin are Hollywood veterans hoping features they're developing build a sustainable in-state film industry.
Chad Bishoff's bi-coastal and Omaha-based Syncretic Entertainment is producing a TV pilot to be set and shot in Omaha.
Film-TV actor John Beasley of Omaha found financing to greenlight a $20 million feature with A-list pedigree he's producing on local sports legend Marlin Briscoe.
Coash said, "Payne, Beasley and others are great role models for Nebraska artists."
Payne also enriches the cinema culture by curating series at Film Streams and bringing major figures (Laura Dern, Debra Winger, Steven Soderbergh, Jane Fonda, David O. Russell, Bruce Dern) for its Feature Event.
Film Streams is an established cultural center in its North Downtown Ruth Sokolof Theater digs. As the metro's first and only fully dedicated art cinema, it's the hub and "home base for the hard core community of cinephiles," Hoeger said.
With the metro's last remaining neighborhood cinema, the Dundee Theater, now under its management, Film Streams educational-community programming will extend to midtown. Reader film critic Ryan Syrek said Film Streams' impact "can't really be overstated," adding, "It's night and day. Before, smaller films simply never came to Omaha. We can now enjoy the movies shown on the coasts. Their repertory series do an excellent job filling in cinematic gaps."
Syrek said the Dundee satellite location opening late 2017-early 2018 is "a big deal because right now you have to go downtown to see art-house movies." Having that venue again after it closed is a boon to "cinema lovers," he said.
Any must-see movies Film Streams misses usually make it to the Mary Riepma Ross Media Arts Center in Lincoln.
Other viewing options include the Henry Doorly Zoo's Lozier IMAX Theatre and a plethora of outdoor screenings metro-wide. Bruce Crawford revives classic films twice a year with the old ballyhoo. Marcus Midtown, Ak-Sar-Ben and Alamo Drafthouse cinema feature enhanced amenities. Historic theaters in Kearney and Scottsbluff have been preserved.
Rachel Jacobson left Omaha only to fall so hard in love with sharing cinema art and history she returned to found and run Film Streams. Filiing the seats is a constant challenge, "You need to create a special experience for people to choose to leave their home," she said. She doesn't do it with frills, but with relevant, inventive, niche programs that engage ideas.
"I really love people who are frequent attendees but did not consider themselves movie lovers before we came along. I'm also impressed by people who have been inspired by the content they've seen on screen. Urban farmers who learned about global food issues watching Food, Inc. or folks working with refugees inspired by a documentary we showed. It's amazing how much impact creating a community around film can have beyond the arts and culture scene."
As a nod to and outlet for a burgeoning Nebraska New Wave, the Omaha Film Festival's added a local feature showcase similar to what Film Streams offers. Mark Hoeger said, "What I love about the Omaha Film Festival is what it does to highlight local films. which means you see some stuff that's not very good. But it's also just really fun to see what local people are coming up with, and some of it's really quite nice."
Local filmmakers also have exhibit opportunities at the White Light City and Prairie Lights festivals in Fremont and Grand Island, respectively. Eastern Nebraska Film Office director Stacy Heatherly said "festivals not only offer local filmmakers a platform to screen their films, they offer collective support."
A one-off theater showing is easier than before, Hoeger said, because in today's digitized environment a filmmaker can have a high quality image projected from a disc or flash drive. Fackler appreciates the access cineplex managers provide in "helping fan the flames of 'film as art' exposure." He added, "I like that they support filmmakers and create relationships with them."
Don't expect seeing Mike Hill, longtime co-editor of Ron Howard's films, at the theater.
"I very rarely go to movies anymore," Hill said. "I get my entertainment from Netflix and TV. "I guess that is my cinema culture now. Breaking Bad, Fargo, House of Cards, Peaky Blinders, True Detective, Game of Thrones, Ray Donovan are cinematic entertainments vastly superior to most theatrical releases. So there is obviously a lot of talent out there. It's just a different delivery system."
Hoeger said the followings some new media content acquires, paired with the means of production being affordable and accessible, reflects a decentralized, democratized production-distribution shift. He predicts the music model that finds even major artists posting work online "is going to happen in film." The Holy Grail big budget movie is "a product increasingly on the way out" as the norm," he said. He expects more micro projects to come out of local-regional markets like Omaha.
"I can see down the road where community film production is just as normal a thing as community theater production. What was cost prohibitive even 10 years ago is not anymore and we have enough people with the right skill-set to do that."
World class mentors are as near as Oscar-winning Omaha residents Payne, Hill and (cinematographer) Mauro Fiore. Others with serious credits reside or maintain close ties here.
The old model still works. One with new legs is L.A. and Omaha-based Night Fox Entertainment. CEO Timothy Christian and local partners find investors for Indiewood features the company helps finance and co-produce. New projects like East Texas Hot Links (Samuel L. Jackson is executive producing) may take Night Fox more on the lead production end. Filming here is possible, but lack of incentives makes it tough.
Mark Hoeger's worked with the Nebraska Film Association and others to muster support for state tax incentives as Hollywood bait. Those efforts stalled but a new tact has gained traction.
"We're working with the Department of Economic Development to come up with a plan that stays away from any parochial view of attracting 'real' moves to Nebraska. Instead, we want to find ways that encourage and support true local productions – everything from commercials to Web series to documentaries to narrative films. The emphasis is on encouraging young creative minds to stay and work here."
He said Gov. Pete Ricketts recognizes film-TV-Web production as an economic engine. There is consensus now, Hoeger said, that content producers are entrepreneurs whose value-add this brain-drained, resource-strapped state cannot afford losing.
Fremont's implemented its own incentives package for film production. Laurie Richards said statewide incentives remain elusive minus "a concerted effort by all islands of filmmaking across the state." Colby Coash said, "Gaining tax incentives has been a challenge – not because they don't work or aren't valuable, but because they aren't prioritized like incentives for agriculture and manufacturing. Lawmakers are starting to see film as a more viable industry that has real impact on economic development and jobs. The trend seems to be more of a focus on regional support where a film may have a tourism value."
While aspiring filmmakers enjoy a robust Omaha Cinema Culture for seeing films and crewing on them, formal education lags. Jacobson said Film Streams fills some gaps and looks to do more at the Dundee site.
"We are growing our film education programs all around film history and criticism and media literacy. Now open almost a decade, the thing I'm most proud of is meeting young adults who grew up attending our free student night and education programs who are pursuing filmmaking. I love hearing someone was inspired to work in film when they saw their first Kubrick film on the big screen at the Ruth Sokolof Theater."
She added, "I'd like to see other organizations develop filmmaking programs. There is a film studies minor at Creighton and film production classes at Metro. UNO is working on a film studies minor. It would be great for one of the major universities to establish a BA in film or even an MFA program for visual arts. We have far to go in film production ed."
There's no ideal cinema culture outside New York or L.A. Natives take what they can from home. Some leave, some stay and others return to realize cinema dreams right here.
Categories:

Alexander Payne, Cinema, Film, Film Streams, Mark Hoeger, Movies, Nik Fackler, Omaha, Omaha Film Event, Omaha Film Festival, Rachel Jacobson, Uncategorized
Film, Film Streams, Mark Hoeger, Nik Fackler, Omaha, Omaha Cinema Culture, Omaha Film Community, Omaha Film Event, Omaha Film Festival, Omaha Film Scene, Rachel Jacobsen