Home
>
Athletics
,
Bruce Rasmussen
,
Creighton University
,
NE
,
Omaha
,
Shawn Eichorst
,
Sports
,
Trev Alberts
,
University of Nebraska
,
UNO (University of Nebraska at Omaha)
,
Writing
> A case of cognitive athletic dissonance
A case of cognitive athletic dissonance
A case of cognitive athletic dissonance
©by Leo Adam Biga
Like a lot of you out there who root for the athletic programs of all three in-state universities competing at the Division I level, I'm feeling conflicted right now. While it does my heart good to see the Creighton men's and women's hoops teams seeded so high in the NCAA Tournament, and this coming off strong performances by the Bluejay men's soccer and women's volleyball teams, I'm disappointed that both the University of Nebraska's men's and women's basketball teams suffered historic losing seasons and didn't stand a chance of making the Big Dance. The fact is that every major Husker men's team sport – basketball, football and baseball – is in a down cycle. Indeed, among revenue generating sports in Lincoln, only volleyball is a year-in and year-out winner with the national prestige and conference-NCAA titles to show for it.
NU softball is still competitive but it's been a long time since one of its teams has made a real run in the NCAA Tournament.
On the men's side, NU used to be able to point to nationally relevant programs across the board as a selling tool to recruits. That just isn't the case anymore. Baseball has been adrift for a while now and it doesn't look like Darin Erstad has what it takes to make it a College World Series contender again.
Men's hoops in Lincoln has been a joke for a long time now and it's no longer funny. The succession of coaches from the early 1980s on has bred instability and NU just can't seem to get it right in terms of hiring the right person for the job. Many of us suspect the real problem is a lack of institutional will and support to make basketball a priority of excellence. While the men have not been able to get their act together, we could usually count on the women to get things right. Yes, the program did go through some bumps with its own succession of coaches before reaching new heights under Connie Yori but then it all unraveled in seemingly the space of one chaotic season that saw Yori forced out amidst a scandal and player revolt. Where it goes from here under Amy Williams is anybody's guess but a 7-22 record was not exactly a promising start, though she admittedly stepped into a program riddled with personnel holes and damaged psyches. Williams has the pedigree and track record to resurrect the program but how it collapsed so suddenly is still a shock.
Even the volleyball program. though still a perennial national contender, has lost ground to Creighton's program. That's actually a good thing for not only CU but the entire state and for the sport of volleyball in Nebraska. It's another indicator of just how strong the volleyball culture is here. But I'm not sure NU ever thought CU would catch up in volleyball. The Bluejays have. The two programs are very close talent-wise and coaching-wise. In fact it's become readily evident the Bluejays possess the potential to overtake the Huskers in the near future, many as soon as this coming season.
Then there's the Omaha Mavericks. Its linchpin hockey program just lost its most important tie to national credibility with coach Dean Blais retiring. He got the Mavs to the promised land of the Frozen Four. Will whoever his successor ends up being be able to get Omaha back there and make the program the consistent Top 20 contender the university expects? Only time will tell. Since that run to the Frozen Four in 2015, hockey's taken a decided step back, but the Omaha men's basketball program has shown serious signs that it could be the real bell-weather program before all is said and done. Omaha came up just short in securing an automatic berth in the NCAA Tournament but still had post-season options available to it only to say no to them, which is strange given the university is desperate for a nationally relevant athletics program.
Ever since Omaha made the near-sighted decision to drop both football and wrestling, which were its two most successful men's sports, the university has hung all its athletics fortunes on hockey. Now that hockey has seemingly plateaued and lost its legendary leader, basketball becomes the new hope. But basketball is a crowded field nationally speaking and no Maverick sport other than hockey has ever really caught on with Omahans. I would like to think that Omaha Maverick hoops could but I won't believe it until I see it.
With basketball still struggling to find a following despite its recent rise, I bet university officials are wishing they still had wrestling and football around to balance the scales and give Omaha athletics more opportunities for fan support and national prestige. The way the NU football program has continued to struggle, a kick-ass Omaha gridiron program at the Football Championship Subdivision level would sure be welcome right about now. Omaha could have kept football and potentially thrived as a FCS powerhouse. But NU regents, administrators and boosters didn't want Omaha to potentially sap Big Red's fan and recruiting base. Too bad, because the two programs could have found a way to co-exist and even benefit each other.
Shawn Eichorst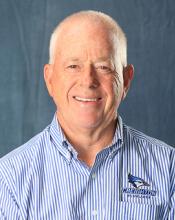 Bruce Rasmussen
Trev Alberts
All of which takes us back to Creighton. Of the three in-state DI universities, CU's proven to have the best contemporary model for successful, competitive and stable athletics. The Bluejays have built sustainable, winning men's and women's programs and they've found the right coaches time after time. Other than two major misses in Willis Reed and Rick Johnson, CU men's basketball has been remarkably well led for more than 50 years. Women's hoops has enjoyed the same kind of continuity and leadership over the last 35 years. And so on with the school's other athletic programs. Over a long period of time the one constant has been Bruce Rasmussen, a former very successful coach there whose performance as athletic director has been nothing short of brilliant.
Culture is everything in today's thinking and CU's culture borne of its values-based Jesuit legacy and direction is rock solid and unchanging. This small private school has turned out to be the strongest in-state DI athletic department in the 2000s. Rasmussen's excellent hires and big picture vision, plus the support of university presidents, have given the Bluejays a foundation that NU must envy. Even CU's drastically upgraded facilities now favorably compare to or exceed NU's.
Trev Alberts at UNO has proven a stronger administrator as athletic director than anyone on the outside looking in imagined, but I believe, though he'll never admit it, that he regrets or will regret giving up the two programs that meant the most to the university. Even with that miscue, he's built a firm foundation going forward. Baxter Arena is a nice addition but there's no proof yet that area fans will pack it for UNO athletics other than hockey. If hoops doesn't fly there, then UNO basketball is never going to capture fans the way it deserves to and that's a shame.
Nebraska, meanwhile, stands on shaky ground. This is the weakest spot NU's been in, in terms of overall athletic success, since the late 1960s-early 1970s. When other sports struggled then, the Husker athletic department always had its monolithic football program to fall back on, bail it out and keep it afloat. After nearly a generation of below par results, if things don't dramatically change for the Big Red on the field and soon then NU's once automatic crutch is in danger of no longer being there. If there's no elite basketball program to pick up the football slack, NU athletics has nothing left to hang its hat on. Does anyone really have faith that NU athletic director Shawn Eichorst is making the right moves to return NU to where it once was? A lot of what's come down is beyond his control, but the hires he makes are very much in his control. The four big questions are whether Mike Riley, Darin Erstad, Amy Williams and Tim Miles are the right coaches leading their respective programs. My opinion is that Riley is not. The sample size at NU is still too small to justify letting him go now but his overall career record indicates he won't get done here what he couldn't do elsewhere. Erstad has had enough time on the job and I'm afraid his excellence as a player hasn't transferred to coaching. He's got to go. Williams will likely prove to be a very good hire as she rebuilds the women's hoops program. Miles is, like Riley, a guy who's shown he has a limited ceiling as a coach and I'm afraid he's been at NU long enough to show he can't get the Huskers past a certain threshold. He should not have been retained.
All this uncertainity is weakening the Husker brand. Part of any brand is an identity and in college athletics that identity is often set by the head coach. Right now, it's hard to get behind any of these coaches because, as an old expression goes, there's no there-there. Winning sure helps but even when NU wasn't winning big in basketball and baseball, it had some coaches who stood out. Joe Cipriano brought some verve and passion the way Danny Nee did. Cipriano got sick and had to step down as coach. Nee eventually wore out his welcome but he sure made things interesting. Between them was Moe Iba, whose own dour personality and his team's deliberate style of play turned off many, but the man could coach. Everyone after Nee has been a let down as a coach and as a brand maker. John Sanders turned NU baseball around but he ended up alienating a lot of people. Dave Van Horn took things to a new level before he was inexplicably fired. Mike Anderson continued the surge until he too was let go after only a couple down seasons.
When NU was dominant in football and nationally competitive in basketball and baseball, tickets were hard to come by. Boy, have times changed. Yes, NU still mostly draws well at home, but not like the old days. A few more losing seasons and it will start to be a sorry sight indeed with all the empty seats.
By contrast, Creighton appears to be in great shape to maintain its success in basketball, both men's and women's, as well as soccer, volleyball and softball. CU is among the nation's kings of college hoops attendance-wise and support for its other programs is very healthy. As NU anxiously faces an uncertain future in terms of success and support and as UNO figures out where it fits into the in-state DI picture, CU boldly adds to its winning ways and is the clear-cut winner in this competition for the hearts and minds and pocketbooks of area sports fans.
Who would have ever thought that?
Categories:

Athletics, Bruce Rasmussen, Creighton University, NE, Omaha, Shawn Eichorst, Sports, Trev Alberts, University of Nebraska, UNO (University of Nebraska at Omaha), Writing
Bruce Rasmussen, College Athletic Programs, College Athletics, College Sports, Creighton University, Shawn Eichorst, Trev Alberts, University of Nebraska, University of Nebraska at Omaha (UNO)