Onward and upward is theme of Yarina Garcia's life and her work with young people
Onward and upward is theme of Yarina Garcia's life and her work with young people
©by Leo Adam Biga
Originally published in El Perico (el-perico.com)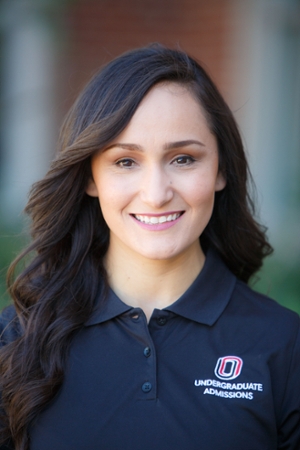 As the first in her immigrant family to graduate high school and college, Yarina Garcia, 29, felt her parents' pride as she advanced in her studies. 
"My dad always emphasized, 'Your job is to go to school and do the best you can.' I remember him repeating to me every day, 'You gotta learn English. That's the only way you're going to be able to do things for yourself in this country.' I took that message to heart," said Garcia, who with her two younger sisters was born in Mexico..
"Once we all learned English, my dad said. 'You guys have to graduate from high school.' He never really mentioned college, but I just took it as I have to go as I high as i can. As a senior I heard all my friends talking about going to college, so I took it upon myself to pursue that."
The Omaha South High and University of Nebraska at Omaha graduate has become the family's trailblazer. She's currently working on her master's degree. After a foray in media and communications, she's found her niche as Assistant Director of Undergraduate Admissions at UNO. The bilingual Garcia helps many first-generation students and their parents navigate the higher ed maze.
"I love helping students who are still learning English and struggling, who are lost in the system because they just got here or they don't understand what's next or how to move forward in their academic goals."
Information is power, so she gives prospective students and families what they need to make informed decisions about options and opportunities.
"I find myself playing the role of an educator more than anything else. Even for our U.S.-born students or students who've been here many tears, the college application process can be tricky and tedious."
It becomes even more daunting when applying to multiple colleges or universities.
"It's complicated. A lot of our Latino parents don't understand how it works. My job is to help parents and students understand what UNO offers and to hold their hand and walk them through the process. It's important they see me as a person they can trust and open up to. The conversations definitely get very personal. If I know exactly what their situation is, it makes it easier for me to find resources.
"Some parents are undocumented and they need to know if their son or daughter can still qualify for financial aid or scholarships. My goal is to make sure there are no barriers for students looking into applying at UNO. I want to help be that bridge between them and the school so that they can fulfill their dreams."
Even though not in her job description, she said she feels duty-bound "helping students not just get here but to actually finish and walk away with a diploma."
"It's very important for me personally to know that what I do matters to somebody, somehow. Seeing those results brings a lot of fulfillment."
She works closely with her alma mater, Omaha South, as well as Bryan High School.
"A big part of my heart is students from Omaha South."
She's pleased her two younger brothers are following her lead. The oldest is a UNO sophomore. The youngest is thinking college, too.
Leaving a legacy is important to Garcia, who's worked hard to realize the family's aspirational goals in America.
"Just last year I was able to become a legal permanent resident through marrying my husband (Roger Garcia).
The middle sister is in the same process. The little sister is still a DACA recipient."
Her brothers were born in Nebraska and are U.S. citizens. Ironically. they're able to travel freely to Mexico and back while Garcia, her sisters and parents have been unable to return to their homeland.
Now that Garcia's new permanent legal status means  she can travel without restrictions, she said, "I'm dying to go back to Mexico. I was really excited to make it this year because it's 20 years since I left." But since she's expecting her second child in January she must wait.
Her own immigrant journey has made her an advocate for Dreamers and DACA recipients. She said she's spoken to elected officials to help them "understand our story and to hear our voices."
"Once a Dreamer, always a Dreamer," she said. "More than anything, it's an experience
A 2014 internship with NBCUniversal Telemundo in Washington D.C. meant working on immigration issues.
"It was journalism on steroids every day."
She returned to be part of the inaugural radio news team at Omaha Noticias (Lobo 97.7 FM). She enjoyed it, but burned-out working long days for little pay.
She tried freelancing but found it too unstable. Then she found her professional home at UNO, whose communications department she started in. Her work brought her in contact with the undergraduate admissions team and when a position opened there she was encouraged to apply. She got hired and was recently promoted.
"I love communications and a lot of my job is creating bilingual outreach pieces. I'm definitely passionate about it. I'm doing an integrated media master's from the University of Nebraska-Lincoln."
She and husband Roger Garcia, executive director of Centro Latino in Council Bluffs, have their own side business, Garcia Consulting Group. The couple apply  her communication and his administrative expertise, along with a shared passion for community advocacy, to Latino-based nonprofits and entrepreneurs.
"We saw a need for a bilingual or Spanish communications group with a specific niche reaching out to Latinos. We both want to use our talents and knowledge to benefit the community."
Read more of Leo Adam Biga's work at leoadambiga.com.
Categories:

Education, Entrepreneurial, Latina, Latino/Hispanic, Omaha, Omaha South High School, UNO (University of Nebraska at Omaha), Writing, Yarina Garcia
Education, Entrepreneurial, Latina, Latino/Hispanic, Omaha South High School, UNO (University of Nebraska at Omaha), UNO Admissions, Yarina Garcia