Archive for the 'Brandeis Department Store' Category
The words Omaha and fashion may seem incongruous, certainly not synonomous, and no one, including this writer, would argue the fact that as a Midwest city far removed from the fashion centers of America this place is in a perpetual state of catching up with and therefore always behind trends in clothing and accessories and other aspects of style.  Of course there's always been a fashion scene and community of its own here, just as there is in any city of a certain size, and no matter how small or insignificant that fashion conscious segment may be by national industry standards it has still produced its share of highlights and notables, even if on a scaled down size. There was a time when high fashion in Omaha was catered to by a whole range of stores, shows, and figures.  Then owing to several factors high fashion activity here faded away.  Recently though there's been a resurgence of interest and activity, much of it coalescing around the wildy popular Omaha Fashion Week, and the fact that this article is for an upcoming issue of Omaha Fashion Magazine is an indicator of just how far things have come around.  Omaha never had a fashion week or fashion magazine before.  And the same people who've made those things happen, Nick and Brook Hudson, now have the Omaha Fashion Institute in the works.  In their own way this power couple has done for fashion in Omaha what individuals and institutions like Elaine Jabenis, Nancy Bounds, J.L. Brandeis & Sons Department Store, and the Clarkson Fashion Show did in an earlier era.  There's more to come in future issues on the fashion institute.  In the meantime, think of this story as a guide to what Omaha's Fashion Past looked like and check out my other fashion stories on the blog:  a profile of fashion illustrator Mary Mitchell, who has a new book and exhibition out featuring her work; a look at Omaha Fashion Week; and profiles of past and present style mavens – Nancy Bounds and Nick and Brook Hudson.
Elaine Jabenis, center, hosting telecast of Omaha Community Playhouse opening
Omaha Fashion Past
©by Leo Adam Biga
Soon to appear in Omaha Fashion Magazine
Fashion Divas
Just as fashion is of the times, so is the infrastructure supporting it, which is why the Omaha fashion scene once looked quite different.
It used to be fashionistas frequented multi-story fine department or apparel stores. Attentive customer service ruled the day. The same way boutiques do, box stores employed a fashion arbiter to select the latest seasonal looks in men's and women's clothing and accessories from the major American and European fashion centers.
The area's penultimate arbiter was Elaine Jabenis, "Omaha's First Lady of Fashion." The radio-television personality and theater actress was fashion director for the pinnacle of department stores – J.L. Brandeis & Sons. She later served the same role for the Crossroads and OakView malls. Twice a year she visited New York, Los Angeles, London, Paris and Milan to view top designer collections.
"There was a whole way of educating the customer about what the trend was and why, and Elaine was in the forefront of that," says designer Mary Anne Vaccaro. "She was always checking on what was in fashion."
"We never let our customers down. People understood what we stood for and what was important," says Jabenis, who found a happy medium between West Coast daring and East Coast sophistication to fit the Omaha market.
 The French Room at J.L. Brandeis & Sons Department Store
Always an innovator, she integrated theatrical elements into her runway shows.
"I felt all the shows I had seen were very boring. Models just walked down and somebody talked forever. It was kind of nothing. I thought there must be a better way to do this. I wanted music, dance, interesting staging. I decided to break it up into scenes and do a color story, a trend story, transition from day to night and night to day. Brandeis really loved that and the audiences loved it too."
"Elaine's shows were great," says stylist David Scott, who with Rick Carey designed hair and makeup for Jabenis shows.
She went over-the-top with sets, actors, singers, musicians, celebrity guests.
"That kind of show could never be done today. You could never afford it," she says.
As corporate fashion merchandiser she implemented themes throughout the entire Brandeis chain, extending to window displays. Models strolled through the stores. In-store fashion illustrators and copywriters carried the themes into print ads, articulating the look and feel of garments in a few strokes and well-chosen words.
The work of fashion illustrator Mary Mitchell is now showcased at Durham Museum.
Always attuned to trends, Jabenis was a pioneer in focusing on plus-sized women. "I was really a maverick," she says. Mademoiselle and Seventeen magazines recognized Jabenis, who's authored fashion merchandising books.
"Elaine is the crowning diva queen of all fashion ever in Omaha," says Scott.
Other fashion forward figures made their own marks. The late modeling agency maven Nancy Bounds put on a smashing graduation show that launched international modeling careers, including Jaime King's.
"Nancy Bounds had a huge impact for not only opening up doors for young models but also creating a great sense of style in Omaha," says retail consultant Wendy Chapman.
Fashion Culture, Then and Now
Upscale retailers abounded (Nebraska Clothing Co., Topps, Zoob's, The Avenue). Stores, large and small, strutted their wares at the Clarkson Fashion Show – "THE huge fashion happening here," says Scott. Trunk shows featured major designer lines and sometimes the designers themselves. Vaccaro met Oscar de La Renta at Brandeis. Scott recalls Michael Kors, Bill Blass, Geoffrey Beene and Halston all coming here.
Mary Anne Vaccaro
Local designers like Vaccaro turned heads too with their custom couture works.
Though the Ak-Sar-Ben Coronation and Ball is not a fashion show per se, socialites used it as a stage to out-dazzle each other in their designer gowns.
"Everybody would wait to see who was going to wear what by these famous designers," says Scott. "Everybody held their breath for Rosemary Daly to come from Paris. As she swept in she would have on Yves Saint Laurent and the crowd would ooh and ahh."
The fabulous traveling Ebony Fashion Fair often stopped here, giving locals a chance to ogle the latest European and American lines.
When the Clarkson show ended after 1999, the era of big Omaha shows, with the exception of bridal wear events, ended too.
"The audiences became less and less. Fashion sort of became passe," says Scott. "It wasn't as prominent in people's lives because then things were coming off the racks and fashion wasn't just a one-of-a-kind thing for a woman. Anybody could go buy it."
Chapman says where the emphasis was on building wardrobes of enduring high style, "I think today some of that is lost because things are more geared to disposable fashion. It's all about getting the look and if the customer knows she's only going to wear it four times, she doesn't care if it's going to fall apart."
Many exclusive department stores, Brandeis included, disappeared. No longer, Jabenis says, did someone tailor selections to the Omaha market. The big chains, she says, "don't buy on a personal level" but rather via "a central buying office." The intimate connection between store and customer faded. "The human touch is gone, service is gone. It's not at all the kind of thing it used to be, consequently the department store is losing its foothold and the specialty shop is doing much better." Nouvelle Eve, Tilly's and Trocadero are among Omaha's high-end boutiques today.
Fashion illustrator Mary Mitchell
Chapman says department stores "need to continue to reinvent themselves to be relevant with customers."
Malls and national chains (Ann Taylor) featuring ready-to-wear designer brands became the new norm. The changing times made it tough on specialty shops too.
"People started going to Target and buying online what they bought in designer stores," says Vaccaro. "In the fashion business if you go sour or you cannot sell one seasons's collection, you're in trouble. That's the way it is. To outlast all the challenges coming at you you've got to have the strength of God practically."
Changing Times, New Directions
"This industry has just changed so dramatically, I wouldn't say either better or worse but just that fashion is moving much faster,"says Chapman. "Things are instantly knocked off and on the streets."
"Today, fashion is about celebrity and it's quick and it's highly competitive," says Vaccaro. "There's not a few big name designers, there's one celebrity designer and stylist after another."
Vaccaro has changed with the times. She still has a design studio, but she's mainly an image consultant these days. She says, "If you're not willing to change then you are not a person of fashion anymore. You have to be what it is."
Scott pines for what once was. "I miss it in the fact it was such a fantasy era," he says.
To the delight of Scott and Co. fashion matters again in Omaha, where magazines, events and organizations support the emerging local design community.
"It's an exciting look back and an exciting look forward with the evolution Omaha's gone through and what's happening now with Omaha Fashion Week," says Chapman.
A runway show at Omaha Fashion Week
Related articles
Categories:

Brandeis Department Store, Brook Hudson, Elaine Jabenis, Entertainment, Fashion, Nancy Bounds, Omaha, Omaha Fashion Magazine, Omaha Fashion Week, Writing
Brandeis Department Store, Brook Hudson, Elaine Jabenis, Mary Anne Vaccaro, Nick Hudson, Omaha Fashion, Omaha Fashion Institute, Omaha Fashion Magazine, Omaha Fashion Week, Wendy Chapman
©Photo by Bill Sitzmann
Cities the size of Omaha or smaller have their local theater legends.  Omaha claims many, including at least two figures, in Henry Fonda and Dorothy McGuire, who became legends on a much larger stage.  One of the local legends who stayed local but whose talent might have played well beyond these confines had she sought to try is the subject of this New Horizons story.  As I was growing up, Elaine Jabenis epitomized glamour by the way she carried herself in theater, in fashion, in television, and at community events.  She was a queen and a diva without the baggage. She seemed apart from yet wholly approachable.  When I finally met her seven years ago I found she is still that charming mix of Grande Dame and down-to-earth hometown girl.  She's still full of vitality and curiosity.  I must admit that I've never seen her perform in the theater, the domain where she perhaps made her biggest impact.  But I saw enough of her on television to appreciate her expressive talents. And even interviewing her at her home I was captured by her magnetic charm. She gives off a positive energy that you can't help but be energized by yourself.
As if I needed proof, not long after my story appeared Elaine appeared with Michal Simpson in the SNAP! Productions staging of Richard Alfieri's Six Dance Lessons in Six Weeks, earning as usual rave reviews. She's gone on to win a series of lifetime achievement awards. Look for a new story about Elaine and her unaging passion in a coming post.
Theater-Fashion Maven Elaine Jabenis
©by Leo Adam Biga
Originally published in the New Horizons
Elaine Jabenis
When considering her charmed life, Elaine Jabenis, that pert, pretty, petite bundle of energy Omahans have come to know as a well-versed radio-television personality, veteran stage actress, longtime fashion maven, seasoned author and perennial woman of style, has to admit it reads like "a storybook."
Take the time she was waiting out a rain storm in the Times Building as a young newlywed in 1944 New York, where her husband Mace, a Kansas City native, was stationed as a flight crew member aboard Army Air Transport Command missions over the Atlantic, when she decided, on a whim, to put in an application at that bastion of American newspapering — the New York Times.
Mind you, she'd never worked on anything but the Omaha Central High School Register staff and had only taken a few courses at Northwestern University's prestigious Medill School of Journalism before her money ran out. But, showing the penchant for imagination that would define her life, she bent the truth a little, well, a lot, by inventing from whole cloth a high-gloss work background, including a fictitious World-Herald reporting stint. What gave her the chutzpah to pull such a cheeky stunt?
"I was really doing it as a kind of lark," she said. "I exaggerated, never in the world expecting to get a job. I was just playing this silly little game. This was the sense of drama in me" coming out, a vivacious Jabenis said in an interview from the home she shares with hubby Mace in Omaha's exclusive Loveland neighborhood. The rich, tasteful decor of the home, featuring art objects from the couple's wide travels to China and elsewhere, is a reflection of Jabenis, whose well-coiffured hair, stylish ensembles and trim figure, still make her every inch the fashionable lady.
After all, there wasn't a chance in hell she'd get on at the venerable Times, right? Wrong. In a case of being at the right place at the right time, she was on her way out the building when a certain Mr. Tootle flagged her down and, much to her disbelief, offered her, on the spot, a temporary job filling-in for a secretary taken ill that day. She accepted and in typical Jabenis fashion she displayed such poise, industry and charm that at the end of her term she was kept on as an assistant in the high-octane city room. Thus, what began as a lark turned into a three-year whirlwind that provided invaluable experience and exposed her to the high-end creative world she would make her life's work. "That application was probably the best piece of fiction I ever wrote," is how she sums up the episode today.
Despite the frivolous attitude she adopted when applying at the Times and the fortuitous manner in which she got hired there, she really did have a hankering to write. Growing up one of three children of Sol and Ida Lagman, Russian immigrant grocers whose Laggie's Market was a north Omaha fixture, she said, "I always had a pencil and pad under my pillow and I was always writing poems and stories." At Central, she was encouraged to pursue writing by journalism department head Anne L. Savidge, who persuaded her to continue her studies at Northwestern.
At the Times Jabenis was first assigned to the Town Hall page and later as an aid to several experienced journalists under whose doting tutelage she learned a thing or two about writing, working under deadlines and trusting her muse. As a young reporter-in-training, she did a little of everything, from fielding phone calls to fixing copy, and sometimes accompanied beat writers on assignment, once to the first meeting of the United Nations security council.
One of her mentors was education editor Benjamin Fine, who advised Jabenis on her ambition to be a serious writer with this admonition: 'Go home and write a million words and then tell me you're a writer. The only way to be a writer is to write all the time.'" And, like a good pupil, she took his sage advice years later when, writing "every single day," she authored a suspense novel, The Burning of Georgia, set amidst the fashion world, an arena she knows well from her years as fashion guru for J.L. Brandeis & Sons Department Stores. In the early 1970s she penned the first of her two long-in-print fashion merchandising college texts published by John Wiley & Sons. She's also written the book for two musical plays. Her Generation to Generation, with music and songs by composer and producer Karen Sokolof Javitch, is "a celebration of life" about a dying Jewish woman passing on her legacy to the grandchild she won't live to see. Generation won the best new script award from the Theater Arts Guild.
Two other Times staffers she worked for, drama critic Brooks Atkinson and film reviewer Bosley Crowther, were living legends whose printed words carried much weight, but none more so than those of Atkinson whom Jabenis describes as "the most feared theater critic of all time. I mean, if Brooks Atkinson put his thumb down on a show, it could close tomorrow. He didn't pull any punches."
Looking back on her Times experience, she said, "It was a wonderful training ground. I gained so much while I was there. I was like a sponge just soaking up all that knowledge." Her association with Atkinson afforded privileged access, via her Times press pass, to stars, including rubbing shoulders with Rex Harrison at the swank Stork Club, and taking in scores of Broadway opening nights for such classics as Oklahoma and Moon for the Misbegotten. Her total Broadway immersion prompted her own passion for theater, until she knew her place was not in the audience anymore but on stage. "I began to think — I don't want to be down here, I want to be up there. I just began to love it. It was always there, that desire to act or to perform. If that basic temperament is there, it only needs cultivation to bloom."
With a hoped-for life in theater or journalism before her, Jabenis was in an envious position, but reality has a way of tempering dreams. It was, after all, wartime and she had more pressing concerns than what professional path she should take. She explains, "My husband was crossing the Atlantic on ATC missions and my mind was more on, Is he coming home safely this trip? than on what I would do" for a career.
A life in the theater did indeed come to fruition for Jabenis, only in her hometown of Omaha, where she and Mace moved a year after the war ended, not in New York, where she longed to study at the famed Actors Studio but never found the time and where she ached to trod the boards but never took the plunge. As she would soon discover, her destiny as an actress lay on the Omaha Community Playhouse stage, not on Broadway. But before launching her six-decade run of success with the Playhouse, which in July honored her with its Dick Boyd Award for lifetime achievement, she had an unexpected brush with Hollywood.
About the same time her thespian ambitions flowered in New York, she said, she was offered a screen test by a major Hollywood studio, she thinks Paramount, a heady thing to have happen to "a country girl" with stars in her eyes and greasepaint in her veins. Flattered and flummoxed by the offer, Jabenis sought the counsel of one of her Times mentors, Crowther, whose resulting bromide may have dramatically changed her life. "
He said, 'Elaine, don't do it.' And I said, 'Why, because you don't think I have the talent or the warmth or something?' He said, 'No, you probably have both, but you don't have a killer instinct and without a killer instinct they'll destroy you. You don't want to be a part of that world and those ruthless people.'" A deflated Jabenis heeded the warning, even though "it was very hard to hear," at the time, she said. "He just decided I was a nice Midwestern girl" unsuited to the cruel vagaries of Hollywood or New York. "Later, I was so grateful because after I got back here (Omaha) I had the best of both worlds. Not only could I have theater as an avocation, I had New York through my fashion career and I was able to raise my children and have a decent life."
In Omaha Jabenis wasted little time embarking on her entertainment career. "Almost immediately I got a job as a continuity writer at WOW Radio," then aligned with WOW-TV. "I wrote commercials and copy for on-the-air people," she said. Then, one day an unlikely chain of events propelled her into the performing spotlight.
As Jabenis recalls, "Shaver's Food Mart wanted a commercial tailor-made for them" and she obliged with one, which the general manager had her put on tape. "I went in the announcer's booth of a little studio and recorded it and they took it over for Mr. Shaver to hear and he liked the concept really well and bought the package." Then, the story goes, when Shaver was told, "We'll get you an announcer" to cut the spot, he balked, saying, "No, I want the voice I heard on that tape." When pointed out to him the voice belonged to a writer, he persisted, "I don't care, I like what she said and the way she said it." Acceding to "the customer is always right" credo, WOW put Jabenis on the air and, she said, "before I knew it I had a show of my own" — Saturday's Scrapbook — and a star was born.
Saturday's Scrapbook, which Jabenis co-hosted with Ray Olson, was what she calls "a forerunner of the talk show." She added, "We talked back and forth. We had music and special topics. We did it quite loosely, but I think that's what made it work."
The program was recognized by Billboard Magazine as one of the best of its kind. Soon, she joined the television side of WOW, serving as spokes-model for commercials on evening newscasts, as featured guest on local morning programs and as host of prime time special event broadcasts, such as the Ak-Sar-Ben ball. It was all live, too. "There was no such thing as teleprompters or idiot boards. You just got up there and talked. It was very stimulating," she said of those halcyon days. "Back then, television was just coming in and none of us knew what we were doing. We just did it. It was, Let's try this, let's try that."
Among the talents at WOW she worked with was a young fire brand named Johnny Carson. At the time he was hosting his Squirrel Cage TV show and one day she came on to read some prepared copy when Carson, already known for his free-spirited, anything-goes ad-libbing, forced her to improvise as she joined him on set.
"I came in scripted and he knew I was going to want to look at those notes and he just tore up the script and cleared off the desk, sending stuff flying across the studio, and he said, 'OK, Lainie, what did you want to tell me?' That taught me." From then on, she said, she knew to be ready to just wing it. Lainie is what Carson always called her and the nickname, which no one else but her mother used, endeared him to her. "It was such fun. He was always doing silly things. We always had a good time together. We were good friends. I like him a lot."
The rapport they enjoyed is evident in a 1966 interview he gave her during one of his rare Nebraska visits. On the tape, the two engage in the easy, intimate banter and horse play of old chums, as she playfully slaps him and they embrace like schoolkids. "It's so funny to be in this position of interviewing you," she tells him.
She and Carson stayed in touch over the years. Once, returning from the West Coast after having given himself a year to make it out there, he tried coaxing Jabenis to join him in L.A., where he predicted great things for her. But she declined. By then, she and Mace had started a family and well, just like the Hollywood opportunity before, who's to say whether she really would have succeeded or not and whether it was right for her or not? "I wasn't that adventurous to pack up and move my family and risk everything on that chance." Mace was in business then with his brother Eli as owners of Travelware Luggage.
In her career Jabenis has had the privilege of working with major talents. There was Carson, who forever put his stamp on the late-night talk format as host of The Tonight Show, and, more recently, there was John Beasley, a top character actor in movies (The Apostle) and television (Everwood). "Absolutely. I have found that when you're around very talented people it just brings your level up," she said. "I know when I played opposite an actor of the caliber of John Beasley in Driving Miss Daisy at the Playhouse it was a thrill because John is such a perfectionist and a professional. He really brought me to places where I never knew I could go."
 Elaine Jabenis, center, hosting live TV special atopening of the new Playhouse
Jabenis got so busy working as a freelance commercial talent with Bozell and Jacobs and its stable of clients that some nights found her hurrying from station to station to pitch products on the evening newscasts.
"I would be booked into a commercial at Channel 3 for Peter Pan Bread, which I'd have to commit to memory and do live, and then I'd get in the car with the script for another spot beside me and as I drove up to WOW I'd be reviewing the lines I had to do for MUD and its new gas ranges. And then I'd go over to host a late-night movie show on Channel 7 and do the live cut-ins." The excitement was intoxicating. "You just had to really move. But, boy, that really taught you to think fast on your feet. I loved the action. I loved the electricity of all those personalities and how ideas bounced off of each other. You began to pick up the pace of that kind of life. It was really wonderful."
While her TV career flourished, she pursued a parallel career in drama.
"There was that pull to go into the theater," she said.
So strong was the pull that in 1952, six weeks after giving birth to her second child, she played the ingenue in Father of the Bride at the Playhouse, then at 39th and Davenport. Years of award-winning lead and character roles followed, the most recent a 2001 supporting turn in My Fair Lady. Like a true calling found, the theater became her second home. "Yeah, I really loved it. I could just hardly wait to get into the next play, but it was very hard at first because I was raising our two children. I kept watching to see what was coming up next that had a good part for me." Her passion extended to all aspects of theater. "There were times I worked backstage…props, costumes…I would do just about anything because I wanted to be in the environment of the thing I loved." She could only pull it all off, she said, with "the support of Mace."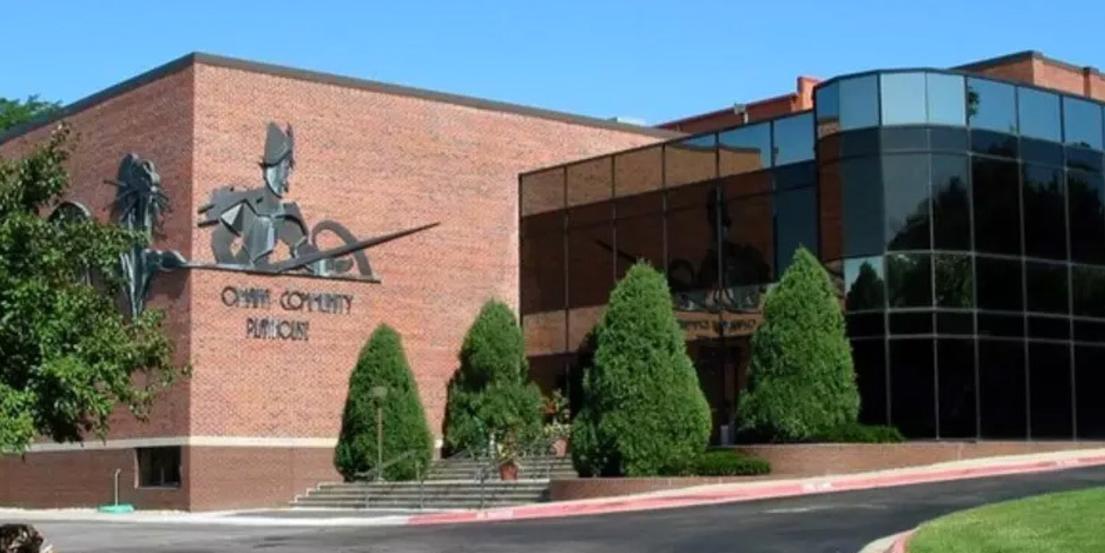 Omaha Community Playhouse
Whether as a radio-TV personality or theater actor, Jabenis proved a natural. Without any formal training, she simply took to it.
"I had an aptitude for it, I guess," is how she explains it. "Nobody had to tell me. I just think it's something you do and you know. I think it's in here," she said, patting her heart. Natural or not, Jabenis still battled stage fright. "I was terrified every time I went on camera, but the minute the light went on I was fine. That's the same way it was with the theater. I'd stand back in the wings and feel like I was going to have a heart attack before the curtain went up, but once on the stage I forgot about Elaine and became whatever I had to become."
Her absorption in her craft is complete. Take her approach to acting.
"What I think is important is to have a moment of truth with the audience…to give an honest interpretation of the author's words. It's exciting when it happens. It really is," she said. Now, forget the glamour of the theater and consider the grind of working a full-time job, as she did 23 years at Brandeis, then coming home to shower and catch a bite to eat before spending hours in rehearsal or performance. "Once I got involved with the Playhouse it was totally consuming," she said. "You have to be up every night." Her devotion is such that one night during the run of Wingless Victory the trouper went on despite a high fever. "I was just going on sheer guts," she recalls. "I just had to do it." After her final exit she was delirious in the wings. "I didn't know where I was. I was really sick. I was in bed the next two days."
Broadcasting and acting success led Jabenis into another creative field — fashion. It happened this way. Having covered the Ak-Sar-Ben ball, Jabenis "got very well acquainted with the buyers and presidents of the stores furnishing gowns for the event. Brandeis invited me to be a guest commentator for fashion shows and this and that. Then, one day I got a call from Dick Einstein of Brandeis asking if I'd like to make it a permanent arrangement."
As Brandeis fashion coordinator and, later, fashion merchandising director, she canvassed the designer market by reading the industry trades and by frequently visiting New York, Los Angeles and Europe to catch the biggest shows and identify the hottest trends. She met the top name designers — from de la Renta to Cardin — and worked with celebrities — from Irene Dunn to Vanna White. She recommended entire lines and styles of clothing for the store to purchase and pitched those fashions via all size and manner of shows.
"I was probably the first one to introduce theatrical pieces into fashion shows here when I started adding singers and dancers and that kind of thing," she said, adding that she drew on her theatrical acumen in staging events. After Brandeis was sold she formed her own fashion production company and dished-out fashion advice as a TV and print commentator. Her biggest fashion forum has become the Woman of the Year Gala she created as a benefit for the Arthritis Foundation. As she said, "All stops are pulled," for the extravaganzas. "That's right up my alley."
Reticent about revealing her age for professional reasons, it's safe to say Jabenis is years removed from traditional retirement age, but she does not concede anything to mere numbers. "I haven't retired from anything, honey," she told a visitor to her home. "I don't believe in that. I'm not going to let chronological years interrupt what I want to do." What she wants to do is continue traveling, writing and acting. She's already planning her next novel and she's awaiting the next prime part to come her way.
"I've always felt there's some kind of little angel sitting on my shoulder guiding me and taking care of me. I feel like I've led a charmed life."
Related Articles
Categories:

Advertising, Brandeis Department Store, Elaine Jabenis, Entertainment, Journalism, Media, Omaha Community Playhouse, Television, Theater, Writing
Brooks Atkinson, Elaine Jabenis, Entertainment, Journalism, Medill School of Journalism, New York Times, Omaha Community Playhouse, Omaha Nebraska, Television, Theater
For anyone of a certain age, shopping at the downtown J.L. Brandeis & Sons Department Store in Omaha was a pinnacle experience for the sheer size, opulence, and wonder of it all. Any city of size had its equivalent, but I didn't grow up in any city, I grew up in Omaha, and Brandeis was all I knew when it came to mega department stores.  It was my Macy's or Gimbels or Marshall Fields. This two-part story is my attempt at taking stock of the Brandeis legacy, which eventually grew to include many stores in many locations, although the downtown flagship store was always the one people remembered.  I certainly did.  I used to go there as a kid with my mom.  It was always an occasion. The family that owned the downtown store and ultimately a whole chain of stores and other business enterprises lived liked royalty, and my story is as much about them as anything. Whether or not you grew up with Brandeis as I did, I hope you will find this interesting if for no other reason than the larger-than-life qualities of that store and that family.  My story originally appeared in the Jewish Press and served as the basis for a script I wrote on the same subject for a documentary film.
Although most remnants of the Brandeis department store empire are long gone, the jewel in the crown, namely, the downtown store building, remains intact, though retrofitted as a condominium tower.  I know a man who lives atop that building in the fabled penthouse, but that's a story for another day perhaps, another forum, not on this blog.
The Brandeis Story: Great Plains family-owned department store empire
Part I: On Becoming an Institution and Tradition

©by Leo Adam Biga
Originally published in the Jewish Press
There was a time when every great downtown featured an immense department store. New York had its Macy's and Gimbels. Chicago had its Marshall Field's. Further west, smack dab in the middle of the Great Plains, Omaha had Brandeis. As local family dynasties go, few evoke the nostalgia the Brandeis name conjures. That's because for a century J.L. Brandeis & Sons ruled the department store market in Omaha, serving hundreds of thousands of customers each year.
In its heyday, the symbol of the company's and the family's success was the downtown store. Period advertisements billed it as "the greatest store in the West." Modeled after Marshall Field's, nothing quite as elaborate as Brandeis could be found from the Windy City to the Rockies.
Another exterior shot
"Any city of any pretension, any city of any caliber developed a huge department store," said Omaha historian Dennis Mihelich. "When Brandeis built that store…Omaha was the 20th most populace city in the United States. That meant a city had arrived. It's kind of like saying you're a major league city today…If we go back to the turn of the century, what gave a city cachet…one thing would be that symbol. 'Look where we get to shop.' They were architectural symbols in the city."
Designed by John Latenser Sr. in the Second Renaissance Revival style, the half-million square foot, brownstone edifice included ornate ceilings, Corinthian columns and marble floors. Its vast, sweeping spaces contained every imaginable good and service. So distinct was the store, it became a destination stop for anyone visiting Omaha. Its sheer size, fabulous amenities, everything under-one-roof selection and first-rate customer service set it apart from the competition.
"Brandeis was really the source of most of the things you wanted. It was where you bought your first suit. It was where you went to have dinner with your friends…it was 10 floors of just a wonderful array of things," Omaha historian Barry Combs said.
All things have their seasons and as downtowns lost their competitive edge to suburban malls in the 1950s and 1960s department stores began to feel the pinch. Many closed in the ensuing years. Omaha and Brandeis were no exception. As the suburbs beckoned, Brandeis followed — building a mall, opening outlets.
At its peak in the early 1970s, the family-owned retail chain grew to 15 stores, 3,000 employees and $100 million in sales. As fewer folks shopped downtown the flagship store became a drag. When, in 1980, Brandeis closed the downtown store as part of a general downsizing, it marked the end of an era.  A leaner Brandeis became profitable again by the time Younkers bought it in 1987.  More than 100 years of Brandeis retailing was no more.
The dynasty dates back to company founder Jonas Leopold Brandeis. This family patriarch set The Great Man precedent. Born in 1837, the Austrian-Jewish immigrant was a tanner by trade in his native Prague. J.L. came to the U. S. in his late teens, part of a flood of immigrants helping settle the  frontier. His self-made success story in America began as a merchant in the wilds of Wisconsin, where he traded with Indians. He married Fanny Teweles of Milwaukee and the couple made a life for themselves and their family in Manitowoc.
A sportsman tradition that runs through the Brandeis family began with J.L., whose prowess with a gun became legendary.
He next set his sights south on Omaha, a booming transportation, mercantile and livestock hub with excellent rail and river access. He, Fannie and their four children, Sara, Arthur, Emil and Hugo, moved to Omaha in the early 1880s. J.L. built the first of what would be several downtown Brandeis merchandising enterprises. The first retail venture, The Fair, opened at 506 South 13th Street. By 1888 J.L. and his boys were full partners when they rented a new site at 114 South 16th Street, calling it The Boston Store, a then-popular name for retail outlets. The J.L. Brandeis & Sons name first appeared over the door there and would appear, on building plates, on all future Brandeis stores.
Business soon outgrew that location and in 1891 the family built a second Boston store on the northwest corner of 16th and Douglas, near what would become the anchor spot for the burgeoning Brandeis empire. J.L. was determined to succeed and not even the total loss of the building in an 1894 fire could deter him. He built a new, larger, better store on the same site.
It didn't take long for the mutton-chopped J.L. to make his mark, drawing much attention with lighted store windows at night and illustrations in newspaper ads. Every Saturday he released a dozen balloons containing coupons redeemable for a free suit of clothes. Thus, from the very start, Brandeis was known as a pacesetter and innovator. These qualities would distinguish the company and the family members who ran it throughout the 20th century.
"It seemed like Brandeis was always very progressive with the things they did," said Omahan Ted Baer, whose father, the late Alan Baer, was a great-grandson of J.L and the company's last owner/president.
As a savvy merchant, J.L. knew a prospering city and Jewish community meant more good will and business for Brandeis and so he and his wife immersed themselves in civic pursuits. He was involved in helping establish one of Nebraska's first synagogues. He, along with Carl Brandeis, a relative he brought to Omaha, actively worked to create a chapter of the Independent Order of B'nai B'rith. An Omaha chapter was founded by Carl, who remained active in Jewish activities.
Fannie organized a sewing class for Russian Jewish immigrants and led efforts to establish the area's first Jewish hospital — Wise Memorial — as a sanctuary from bias. When Fannie died the hospital board paid tribute to her with a resolution:
"With patience and perseverance, undaunted by discouragement, she courageously carried forward her plan of founding a permanent institution…open and free to the afflicted without distinction as to creed or race."
Fannie and J.L. were also on the committee that promoted the largest event in Omaha history — the 1898 Trans-Mississippi & International Exposition, a five month-long fair of more than 4,000 exhibits on 108 city blocks that drew 2.5 million visitors. The Brandeis' also served on the city parks commission that extended the system of parks and boulevards.
By the early 1900s the Brandeis name owned currency with customers and vendors. His sons were already running things and they embarked on the family's biggest expansion to date, construction of the giant Brandeis store, between 16th and 17th and Douglas Streets. Work began in 1906 and the $1 million building opened to much fanfare in 1907, displaying the latest goods from the post London and Paris trade centers.  Eleven-year-old E.John Brandeis — Arthur's son — was accorded the honor of laying the cornerstone.
Originally 8-stories, the building qualified as a skyscraper by that era's standards.  Later additions brought the structure to its present height, complete with an Art Deco-style penthouse bungalow atop the 10th floor.
Ads ballyhooed the new store as "absolutely fireproof," a reference to the fire that destroyed The Boston Store a dozen years earlier.
Brandeis pulled out all the stops to assure the public this store was unlike any before it. Elaborate window displays drew lines of spectators. Mihelich said, "Those window displays were virtual museum exhibits. They would change regularly and would reflect the seasons and the holidays. They were used to entice people in. People literally did window shop."
Former Brandeis VP Gene Griffin of Omaha said it was a showplace: "People came from near and far to see what was going on…"
Gleaming glass counters and mirrors, polished marble floors and overbrimming bins filled the cavernous interior. "The display was key," Mihelich said. "Christmas, of course, would be the most important of all." At Christmas the 10th floor was transformed into Toy Land, a Santa's workshop-inspired seasonal display that thousands of children and parents visited. Lines of kids waited to sit on Santa's lap and to have their picture taken with Old Saint Nick. Ex-Brandeis VP Vic Mason of Omaha said, "People looked forward to going downtown and shopping at the store, especially at Christmas time, when they had those fabulous displays on the 16th and Douglas corner and the big Toy Land up on the 10th floor."
Any time of year the main floor mezzanine was a take-your-breath-away sight with its gilded columns, hanging chandeliers, copper-plated ceiling and brass-fixtured elevators hand-operated by white gloved attendants. A large clock near the 17th Street entrance was a popular meeting spot. A mosaic-tiled balcony offered secluded shopping and custom services. The bargain basement floor attracted teeming crowds. An arcade included an array of eateries — the Pompeian Room, the Tea Room, Hamburger Heaven and a cafeteria.
"…there was a certain elegance to the department store. You had a shopping experience that you certainly wouldn't have in a big box store today," Omaha historian Harl Dalstrom said. "…just the surroundings, the showcases, the decor inside the building, the majestic construction of the buildings themselves, the high ceilings, the display of merchandise and, of course, the windows…"
The Brandeis brand stood for something special, representing an ultimate shopping experience unequaled in these parts. A one-time Brandeis VP, the late Sam Marchese, may have put it best when a newspaper quoted him saying:
"When my grandfather came to this country he could speak only three words of English: 'Hello,' 'goodbye,' and 'Brandeis.' From Omaha there are only four real institutions in the state: the University of Nebraska, the Omaha World-Herald, Creighton and Brandeis."
More than a flagship, the downtown store was THE center for commerce. It's where people shopped and dined and caught up with friends or associates. It's where you went to be seen. Where big wigs did business, sealed deals, made plans. Brandeis hosted fashion shows, parties, receptions, graduations and meetings.
Dalstrom said, "You would find going to the big department stores such as Brandeis part of an overall urban experience. When you look at the Brandeis experience you need to consider it too as part of an overall orientation toward during important things downtown..,and so downtown shopping was very much the thing."

Not to be overlooked, Brandeis was viewed as one of Omaha's own.
"Locally-owned. Local ties. That was different than all the other department stores. It was kind of funny growing up because everybody I knew either had somebody in their family who did work or had worked at Brandeis," Ted Baer said.
Every city has its movers and shakers. Big wheels turned early Omaha from a prairie town outfitting Western Plains settlers into a modern metropolis of railroad, meatpacking, livestock, banking and mercantile interests. The names of those who made it happen — Kountze, Storz, Joslyn, Dodge, Reed, Hitchcock, Clarkson, Millard, Doorly — adorn streets and public places. The Brandeis name lives on, too.
The executives guiding the company were more than merchants. They were part of the elite inner circle that called the shots. Through the years Brandeis family members filled the top executive slots in the company, but with its growth Brandeis increasingly looked outside the family. Family or not, the Brandeis name opened doors. When Brandeis spoke, people listened.
"At one time, Brandeis ran this town," said former VP Helmuth Dahlke. "… in the heyday Brandeis pretty much controlled every corner of downtown Omaha, strategically, so that no one could move in. They controlled the real estate…owned the buildings, the properties. When we wanted something we called and one minute later they called you back. We had muscle."
"Yes, the Brandeis family and other major corporate executives of Brandeis provided substantial leadership in the business community, in civic affairs, in philanthropy," Mihelich said. "They did it individually, serving on things like the board of governors of Ak-Sar-Ben…In all of these numerous kinds of activities the Brandeis family and the Brandeis company certainly for the better part of a century were as influential as any of the other major Omaha players."
Befitting their means, the Brandeis family lived like Midwestern rajahs with their mansions, stables of horses, recreational activities, parties, appointments, titles, world travels and charitable work. Newspapers detailed their comings and goings. Cousins George and E. John Brandeis cut dashing figures with their good looks and active pursuits. Fellow sportsmen, their exploits made much news: George with his prized horses and hunting of fowl in western Nebraska; and E. John riding, yachting, hunting on one of his big-game safaris or squiring eligible young women.
"The Brandeis family were like rock stars," Ted Baer said. "One of them was on the Titanic. E. John lived like the young Howard Hughes, playing polo, flying all over the place and doing pretty much anything he wanted to do."
There would be many stars in the Brandeis firmament, but none quite as bright as J.L. By his death in 1903, the company was already viewed as a linchpin in the local economy. An Omaha Bee article proclaimed:
"…its prosperity has been a part of the growth of the city and its faith in the city has been shown by its constant endeavor to grow within the city."
Even in death, J.L. continued giving, as his will directed generous gifts to several charities, including the Creche, the Omaha Benevolent Society and Temple Israel, beginning a long tradition of charity by Brandeis heirs and descendants.
Following in his footsteps, J.L.'s sons continued as community stewards. Arthur, Hugo and George each served on the Ak-Sar-Ben board of governors. The family's association with the civic-philanthropic organization would last generations.
After J.L.'s passing, his three sons found their niches. Arthur, the visionary, assumed the presidency. Emil, the builder, handled supervised construction and maintenance of the company's early building projects. Hugo, the retailer, sent buyers to foreign markets and managed the store's sales policies.
Cousin George Brandeis joined them at the department store, first at J.L.'s urging and later at Arthur's. George's presence proved invaluable when a series of tragedies struck down J.L.'s boys, leaving George to take over.
The first of these tragedies befell Emil. The lifelong bachelor had concluded his annual overseas trip in the spring of 1912, touring the European continent and Egypt with his niece and her husband. For his return trip, he boarded the Titanic as a first-class passenger and died in its sinking. He was 45. His body was recovered on an ice floe by the MacKay Bennett. He was wearing a dark suit, brown shirt with blue stripes, black shoes and silk socks. Among his effects were diamond cuff links, a gold knife, a platinum and diamond watch chain, a gold pencil case, a gold ring, a gold cigarette case and match box, a pearl tie-pin and a 500 francs note.
Personal accounts of the disaster to reach the Brandeis family placed Emil at a card table when the "unsinkable" luxury liner struck the iceberg that spelled its doom.
An old friend who survived the sinking, Mrs. Henry B. Harris, wired the family her own account of her and her husband dining with Emil on the ill-fated maiden voyage and how he proudly boasted to them of his recent travels. Once the ship was damaged and the evacuation begun, Mrs. Harris was put safely out to sea on a jampacked lifeboat and watched Emil and Mr. Harris remain among the throng of men on deck, stoically awaiting their fate, she reported, "without fear."
Emil was remembered as a solid citizen in a statement issued by the Knights of Ak-Sar-Ben published in the Omaha World-Herald:

"In the consideration of his distinguished services in the upbuilding of Omaha and in appreciation in the loss of his loyal devotion to her interests that his home city has sustained in his tragic death, we…have called a public meeting in memory of our late fellow citizen, Emil Brandeis…"
Upon his death, Emil's will directed funds to the Visiting Nurses Association, an organization the family continues supporting today.
Only months following Emil's death, brother Hugo died, after an operation, leaving Arthur as the only Brandeis at the helm. Soon, Arthur cast his eye to diversify Brandeis interests with development of the Brandeis Theater, which opened up next door in 1910, joining the spate of motion picture houses downtown.
Meanwhile, Arthur's son, E. John, began learning the business as a boy, occasionally accompanying his father on buying trips overseas.
With the loss of his two brothers, Arthur turned to cousin George, then manager of the Boston Store in Chicago, to join the family empire. By 1914 a restless Arthur left the store's leadership to George in order to attend to his extensive realty holdings and to become vice president of Stern Brothers dry goods store in New York, where he took up residence. When Arthur died in 1916, his will left in excess of $1 million in personal property and real estate, in a trust, to his son, E. John.
As a boy E. John had laid the cornerstone of the Brandeis department store. E. John had worked under his father at Stern Brothers, but at 21 was not yet deemed ready to take over the reins at Brandeis, where George remained in charge as general manager. E. John would have to learn the business from the ground up. George mentored the heir apparent.
George's tenure at the top lasted longer than anyone's in Brandeis history. He grew up in Lieben, Austria. His uncle, old J.L., was already a success in America when he visited Lieben in the early 1890s. Impressed by his uncle's tales of riches, young George returned to America with J.L., who put him to work at the family's Boston Store in Omaha. George began humbly enough — checking parcels for customers.
Upon returning to Omaha to help manage Brandeis he told a reporter:
"It was one of the surprises of my life to find…Omaha has grown to such a thriving city. And I was also greatly surprised at the enormous amount of business my cousin is doing. Why, they are selling higher class goods here…than in Chicago."

On his watch George is credited with growing the store's market share. The growth continued despite the Great Depression and two world wars. Just as Arthur Brandeis brought George on board to guide the company, George brought in a key lieutenant of his own, only this time someone from outside the family, Karl Louis, a German immigrant. Brandeis and Louis met at Chicago's Boston Store, where the two men forged a professional and personal relationship that lasted 36 years.
Louis got the nickname "Cyclone Kid," as his arrival coincided with the horrific Easter Sunday tornado that laid waste to miles of Omaha on March 23rd, 1913.

Louis was George's top aide and eventually made vice president and general merchandise manager. Helmuth Dahlke has fond memories of Louis. "He was a great merchant. He was a great guy. He ran the company all those years — under George — but he ran it. Longer than anyone else. I was in total awe of him."
With Louis looking after the store, George Brandeis turned his attention to developing Omaha's downtown business district. Always looking to consolidate the store's position and spur growth around it, George directed the Brandeis Investment Company in providing the land and the impetus for construction of the Fontenelle Hotel, the Omaha Athletic Club, the Elks Club and the Medical Arts Building. All became fixtures on the vital downtown scene.
As Ak-Sar-Ben president George swelled the organization's membership and led the drive to give Omaha toll-free bridges across the Missouri River. He was crowned King of Ak-Sar-Ben in 1931. Ak-Sar-Ben bestowed on him the honorary office of chairman of the board. Active in the Omaha Chamber of Commerce, George's leadership extended to serving as a director of Omaha's Union Stock Yards Company, operator of the world's largest livestock market, and head of the Central Land and Cattle Company.

Mihelich said, "George Brandeis…was a mover and shaker…with a vision and a passion for his city…His name was associated with virtually everything going on."
George raised and trained show horses on his farm west of Omaha. Many of his saddle and harness horses won ribbons on the show circuit. He also owned a prized thoroughbred gelding, Hal Mahone, once valued at $20,000. Long before media titan Ted Turner invested in Nebraska's rich ranch lands, Brandeis purchased a 30,000-acre Sand Hills spread, the T-O, south of Valentine, where he raised cattle.
When Brandeis died in 1948 he was memorialized by newspapers as "a merchant and civic leader" and more:
"Mr. Brandeis' civic-mindedness reached into all corners of Omaha life. The story of George Brandeis…is the oft-told tale of the immigrant who achieved great business success. It is the story of a man who worked to build his community while building businesses."
With George gone, cousin E. John installed himself as president. His early immersion in the family business was interrupted by military service during World War I. E. John was assigned a machine-gun unit at Camp Funston, Kansas and later made inspections of aircraft production. After the war he returned to the fold, opening Brandeis's New York office, from where he networked with big Eastern jobbers and traveled to European markets. He remained in the Army Reserves, retaining a captain's commission. On many of his store buying trips — to acquire textiles, chinaware and leather goods — his companion was the "Cyclone Kid," Karl Louis.
In 1924 E. John came into possession of the Brandeis store and investment company held in trust for him since his father's death. Confident in cousin George's management ability, he leftwell enough alone and remained a background figure.  E. John bided his time, waiting for his chance at the top.  t came in the late 1940s.  He would guide Brandeis through the early 1970s.
A dynamic man with a penchant for high living and the outdoors, he spent most of his time at his ranch in California, where he moved in elite social circles. While on the coast or off on one of his many jaunts around the world, he received regular briefings on Brandeis affairs. On monthly visits to Omaha he attended to business. So it was this largely absentee owner oversaw the company at its time of greatest growth.
Change was in the wind, however, and Brandeis would meet new opportunities and challenges that forever changed the company and hinted at its fate.
The Brandeis Story: Great Plains family-owned department store empire 
Part II: The Dynasty Has It's Last Hurrah

©by Leo Adam Biga
Originally published in the Jewish Press
By 1948 Omaha department store J.L. Brandeis & Sons ruled the roost with its grand downtown emporium. Founder Jonas Leopold Brandeis built an empire that his three sons, Hugo, Emil and Arthur, and a nephew, George, grew. Arthur's boy, E. John Brandeis, took over as president/owner following George's death in '48.
When E. John assumed control Brandeis was still the only game in town. Its 10-story store was bigger, more impressive and offered more goods and services than any competitor around. Downtown was still the center of everything and Brandeis dominated that retail market. Things pretty well remained that way for the next decade. But the winds of change were blowing. By the late '50s-early '60s Brandeis faced an altered landscape. The new playing field changed the company's status and forced a whole new way of doing business. Navigating Brandeis through this transition was E. John and his successor, nephew Alan Baer.
Each Brandeis titan exerted his own style and influence. Without a doubt, E. John proved the most flamboyant. Start with his California retreat, the Open Bar Diamond ranch, whose house was a replica of his favorite big game hunting lodge in Kenya, Africa. A man who indulged his passion for the outdoors, he worked the spread himself. He lived most of the year at the ranch, but stayed in his Omaha penthouse atop the 10th floor of the Brandeis building on monthly Omaha visits. He held court there, playing bridge and hosting parties. The penthouse, appointed in Native American art and big game head trophies he collected, was featured in an Architectural Digest spread. Its interior was inspired by his ranch's rustic decor.
Despite spending much time away from Omaha and leaving daily operations to others, E. John professed a love affair for his hometown:
"I'm a million percent loyal to Omaha. This is my life. I've traveled everywhere, hunted everything, but I still love to come back to Omaha and the store. I was born and raised here and I've got a confidence in the Midwest."
In an address he once made to store employees he spelled out just how closely Brandeis' and Omaha's fortunes were aligned. What set Brandeis apart from its competitors, he said, was its local-ownership and community-mindedness. He articulated how Brandeis ties to the area reaped loyal customers:
"This is the only Omaha store owned by Omaha, owned by Brandeis. Nobody can even touch us because we are Omaha and Omaha is Brandeis. All the other stores take it out of Omaha, but we put it back into Omaha and Nebraska. That's why this is the best store. We are the only store that has EVERYTHING."
The store that has everything became a mantra. For much of the store's history it carried full hard and soft lines, from furniture to clothes, including all accessories and assundries. If Brandeis didn't have something a customer wanted, it got it. No excuses. No questions asked. E. John made the policy crystal clear:
"…if I find we haven't got EVERYTHING, we must have it…"

"We were very, very keen on making sure we had what the customer wanted," former Brandeis vice president Helmuth Dahlke said. "Anytime a customer would come to the store and something wasn't available our clerks had to write it down on a slip and it came through a system to central. It was typed up and then brought back to the buyer with the order, Buy this. The other thing is, we shopped our competition all the time for comparison."
E. John's disciplined habits found him riding and playing tennis most days. He was a regular at the Los Angeles Tennis Club, then the center for tennis in the U.S., and at Omaha's Dewey Park courts. On the coast his playing partners included top pros and movie stars. When he wasn't recreating, he was off on one of his hunting jaunts to Africa, India, Alaska or some other exotic locale. He bagged lions, tigers, rhinos, bears. He was on safari in Africa when word reached him the U.S. had entered World War II. At his request he went back on Army active duty, serving in the Transportation Corps at bases on the west coast. By war's end he'd made the rank of lieutenant colonel. He remained on reserve status for years afterwards.
When at his California ranch, he called daily to get sales reports. A top-line man, he always insisted on 10 percent increases across the board, regardless of conditions. E. John declared:
"…I want the store to be running 10 percent ahead because if you don't run 10 percent ahead you're running behind…"
The bottom line and details didn't interest him. He spent an average of one week a month in Omaha, where he conducted inspections, chaired meetings, presided over special functions and hosted guests. No big changes in the company happened without his approval. Said Dahlke, "There wasn't anything major that would happen when E. John wasn't around, without E. John giving his blessing. He would call every morning from wherever he was and want to know how business is. He knew exactly what was going on."
Punctual to a fault, he expected the same from others, especially for the noon executive meeting or the two o'clock tennis game.
"If you were delayed, if it was even 12:01, you would not dare to enter the executive dining room," Dahlke said. "If you got to the court at 2:01, you wouldn't play. I mean, he was fiendish about it."
E. John's military-style inspections of the downtown store were legendary. With operations manager Ray Powers and other execs in tow, Brandeis would begin his tour on the 10th floor and work his way down to the basement, setting a brisk pace, alert to any speck of dirt or anything askew.

"He marched. He literally marched," former VP Gene Griffin said. "And the executives that were with him — just making sure to keep up. If they saw something out of place they'd try to hide it before he got to it."

"He was totally fanatical about cleanliness. I mean, if he saw anything amiss, he'd let you have it," Dahlke noted.
Always immaculately attired and groomed, he expected the same from his employees, who could expect a stern dressing-down if they didn't look just right. Knowing he despised long hair on men, managers scrambled to hide, out of sight, personnel with offending locks. Even worse was if he overheard an employee say the store didn't carry a certain item.
And one never balked at an E. John order or request. "My predecessor made a big mistake one time," Ray Powers recalled. "Mr. Brandeis was talking to him about something and this guy said, 'Well, that's not my job.' I thought, 'Oh, he's dead,' and he was dead," Fired. On the spot.

"He was quite a formidable man, and you didn't walk up to him just to say hello," said Marcia Baer, whose late husband Alan Baer was E. John's nephew and the man who succeeded him as president.

Dahlke saw another side of E. John. "He was a very direct, very strong, very firm leader. He was a dominant person but a good person and the most loyal person," he said. "In those days we had some people that needed to be let go…and he would not allow it. He was very loyal to his people."
As in any kingdom, Brandeis also had department heads who ruled over their territories like lords. Maury Aresty had the Bargain Basement. Meyer Reuben, "The Famous Fifth," where high-trafficked hard-lines were sold. Lester Marcus, the main floor. Turf wars were common on the sales floor. It's what came with high-pressure jobs, strong personalities and rivalries to see who sold more.
"These were the merchandise managers. They were tough guys. Brandeis was a rough-and-tumble environment. We had people working there that were big shots. I mean, they were kings," Dahlke said.

Away from the fray of the sales floor, things were more serene — usually.
Much as George Brandeis immersed himself in shaping Omaha, E. John made it a point to convene meetings with fellow movers and shakers. These confabs, held in a private executive dining room at the downtown store, would bring Brandeis together with titans of commerce and industry. Their discussions put in motion projects to revive a restructured downtown amidst rapid westward expansion.
Dahlke recalled, "At Brandeis you made it when you became a member of the private dining room and I worked very hard to get there…You would have E. John Brandeis, Alan Baer, Peter Kiewit, Leo Daly, the head of At & T, the head of the World-Herald, and these people ran this town, period. It was a working lunch. Basically, they discussed the city. They discussed projects."
In line with post-war trends that made Americans more dependent on creature-comforts, E. John, with Karl Louis and Ed Pettis now as his right-hand men, began a modernization program that saw the installation of escalators and air-conditioning. Responding to Americans' love affair with their cars and a tight parking situation downtown, E. John ordered construction of the 18th Street parking garage.
Affordable vehicles and gas meant greater mobility, a vital economy meant more disposable income, prompting the Great American migration to the suburbs. All of which led Brandeis to look at expanding beyond downtown. Omaha's mid-town Center Mall was a harbinger of the future. Brandeis kept a close eye on it. When VPs Karl Louis and Ed Pettis broached the idea of leasing land on the outskirts of Omaha, at 72nd and Dodge, for a future outlet, E. John approved the acquisition. Louis and Pettis drafted plans for a dramatic new chapter in Brandeis history.
"They had that property, which was pretty much the end of Omaha. That's where the streetcars and the buses stopped. It was nothing but cornfields. And they were very nervous about it," Dahlke said.

Ted Baer, a son of Alan and Marcia Baer, said, "That was pretty progressive thinking…Stores didn't have outlets like that back in that time. There weren't malls yet really. They probably took a lot of heat for it, too." Marcia confirmed the skepticism, saying, "Yeah, it was, How crazy can they get to think this would work?" But it did work.
Brandeis took the plunge in 1959 qirh construction of the $10 million Crossroads Mall, anchored by the first new Brandeis store in half-a-century. Crossroads opened in 1960 to a lukewarm response before the mall caught on with the public.

"We were very disappointed with the grand opening and the initial performance of Crossroads," Dahlke said. "It was so new, so different. But then gradually it took off and it became a $36-$40 million anchor store for us and a very, very successful shopping center for us."
The project set in motion an era of unprecedented expansion, including the purchase of Gold's department store in Lincoln, Neb. and construction of a massive distribution center in west Omaha.
"…the Brandeis family saw that expansion was necessary, that anchoring the entire business on the one store downtown was not likely to continue," Omaha historian Dennis Mihelich said. Fellow Omaha historian Harl Dalstrom said it showed "Brandeis could and did adapt to the changing times."
Guiding much of the later expansion was Alan Baer, the next generation to rise to prominence in the Brandeis dynasty. A nephew of E. John and a great-grandson of J.L., Baer was an Army veteran. He grew up in the San Francisco area. On summer visits to Omaha he got a taste of the retail trade. After the war E. John invited Alan to take a greater role in the store's operations. Alan moved to Omaha and learned the ropes under Karl Louis, his mentor. With Louis' death in 1959, Baer's influence in the company grew. More and more, E. John deferred to Baer.
"They had a tremendous relationship," Dahlke said.
Considered a visionary, Baer became the chief architect of Brandeis expansion with the addition of new stores in north, south and west Omaha, and for the first time — in out state Nebraska and in Iowa. Dahlke recalled, "Alan would have more ideas in an hour than most people have in a lifetime. He was an amazingly mentally agile person." When E. John was still in charge, Baer would pitch him ideas, pushing for new stores, new ways of doing things. Not everything Baer proposed made the grade but enough did to keep Brandeis ahead of the curve.
"Basically the guy that would sell it to him was Alan Baer. He would sell it to him and he know how to sell it to him and many times he had to…" Dahlke said.
E. John put into words and Alan Baer put into action the Brandeis motto:
"We have to keep rolling. If you don't go ahead, you fall behind."
In his last few years, E. John's active involvement waned except for pronouncements, groundbreakings, ribbon cuttings. He was more ceremonial figurehead than CEO. He continued making inspection tours. He also gave generously: $60,000 for construction of the Hanscom-Brandeis Indoor Tennis Center; and animals and big game trophies to the Henry Doorly Zoo.
Where E. John had little input in day-to-day business, VP Ed Pettis did. "He was a crusty old guy. Very strong," Dahlke said of Pettis.
Pettis carried on the tradition of Brandeis executives involved in civic affairs. Dubbed "Mr. Omaha," Pettis chaired the Golden Spike Days celebration in 1939 and directed Omaha Industrial Development Council activities. He lent his expertise to 4-H, United Community Services and Creighton University. He's best remembered as general chairman of the College World Series when the popular event was still in its infancy. Pettis, along with advertising giant Maury Jacobs and Omaha mayor Johnny Rosenblatt, made the early CWS a success.
"Ed Pettis was the one who really got the College World Series going. Without him and Maury Jacobs, it wouldn't have happened," said former VP Vic Mason.
When Pettis died in 1963, Brandeis executive Jack Diesing Sr. assumed many of his duties, among them chairing the series. Diesing is credited with building the CWS into a national phenomenon and keeping it in Omaha. Today, his son, Jack Diesing Jr., heads College World Series, Inc.
"…I think Brandeis had a lot to do with the College World Series being here. There's a lot of things Brandeis did as a community service," Ted Baer said.

More than anyone except E. John, Jack Diesing Sr. became the face of Brandeis. From the early '60s through the early '70s, the executive team of E. John, Alan Baer, Diesing, Vic Mason, Lester Marcus and Ray Powers charted the course. Where E. John and Diesing were public ambassadors, the others were classic behind-the-scenes men.
Much as George Brandeis did with Karl Louis, E. John found in another German emigre, Helmuth Dahlke, an ambitious young man brought into the Brandeis sphere. As the trusted assistant to Alan Baer, Dahlke became an important cog in the Brandeis machine. He would remain with Baer long after the stores were sold.
E. John's 1974 passing brought an end to an era of bigger-than-life leadership. A newspaper described him as "a fascinating and colorful figure." In his eulogy, Rev. Carl Reinert said:
"Brandeis believed the God-given pleasures of this world are to be enjoyed with zest….He showed a fatherly concern for the large family of Brandeis employees."
He was also a major supporter of the Pratt Institute for Individual Instruction. He left an estate valued at $12.7 million, half of which went to the E. John Brandeis Foundation, now the Alan and Marcia Baer Foundation. He also left $1.5 million to nephew Alan Baer, who took full control of Brandeis upon his death.
Where E. John was a fashionplate who lived large, Baer was an introspective eccentric whose austere, frugal, bargain basement tastes fit his simple lifestyle. In his unconventional way, Baer might plop himself down on the floor during a business meeting. "But that's the way he operated. A little eccentric. But a brilliant mind," former VP Gene Griffin said. "Totally disarming. He was what I call an ice-breaker," Dahlke said.Where E. John made a show of inspections, Baer made himself inconspicuous, passing himself off as a shopper. His door was always open but he wasn't always in his office. He might be out on the floor or playing tennis  — he loved the game almost as much as his uncle — or traveling to some exotic spot.
Baer met his wife, the former Marcia Miller, at Brandeis, where she clerked in the French Room. Besides Dahlke, no one had Alan's ear more than Marcia.
By the late '70s Baer saw the changing retail landscape and realized it posed a threat. The emergence of national discounters like Target and the inroads made by departments store chains like Dillards and Younkers squeezed the market, cutting into Brandeis' share and putting the Omaha company at a competitive disadvantage. A great booster of downtown — just as J.L., George and E. John were — Baer adored the flagship store but realized consumers preferred shopping at suburban malls. The times were making the giant downtown facility a white elephant.
"He was very interested and he was way ahead of the crew because he felt department stores as they existed in the '60s were dinosaurs," Mason said, "and he was kind of right."

"Brandeis was a big deal locally, but when you looked at it in the big picture, Dillards was ten, probably, a hundred times bigger," Ted Baer said. "Brandeis could compete with a Dillards or with a Younkers, but we really couldn't compete with both of them at the same time."

"It was very apparent that going forward a private company like ours would have a tough, tough time staying in business with the big boys — the national companies," Dahlke said.
In a move to streamline operations and maximize profits, Alan brought in new management teams from outside Omaha, the first led by Jim Gibson and the second by Sid Pearlman. Departments were scaled back. Hard line, big ticket items dropped. Brandeis could no longer afford to be "everything to everybody."
The resulting staff downsizings were tough. Tougher decisions followed, none more so than the 1980 closing of the downtown store — the monument of the whole Brandeis empire — along with closing three other stores. The announcement made headlines. The downtown store's last close-out days drew huge crowds. Generations of customers and employees expressed their nostalgia. It was like losing a beloved family member or dear friend.
The building remained as a mixed retail and office center but with Brandeis gone the tradition was lost.
The Brandeis store at the Crossroads became the chain's new flagship. Renovations were made. But try as company officials might, it just wasn't the same anymore. The oomph and awe were gone. Baer's decision to close downtown was not made lightly. It meant letting go people who in some cases worked there decades. In larger terms, it meant abandoning the very core of what Brandeis represented.  But as much as he wanted to keep the downtown store alive, he couldn't.
Ted Baer recalled, "It definitely was not a popular decision, either in the Brandeis community or within the larger community, because Brandeis was really one of the last stores to hang on and keep downtown, downtown. I know it was a very, very tough decision for him. Gut-wrenching. It was a tradition, Brandeis."
Still, Brandeis moved on and rebuilt its financial health. A fifth generation family member, Ted Baer, was being groomed to take over one day. Just as Alan and Marcia did, Ted and wife Kathy met working at Brandeis.
When Dillards and Younkers tendered attractive offers to buy the company, Alan Baer ran the numbers and decided to sell the family business to Younkers in 1987.  The sale price: $33.9 million. It was a classic case of head over heart. He wanted to keep the stores that were his family's legacy but Brandeis neither generated the profits nor owned the capital to stay competitive.
Once the deal was struck he didn't look back, except to offer a hint of regret that Brandeis hadn't parlayed its success to become a regional giant like Younkers.
He told a reporter: "My goal had been to hang in there until I died. If we had the bucks behind us…if we'd had the finances and the courage, we could have done what Younkers is doing."
Alan kept ownership of Brandeis Food Service and began Alan Baer & Associates, an umbrella company for wide-ranging business interests — from coffee and nuts to travel services to publishing to sports teams to butterflies. Ted and his father's longtime assistant, Helmuth Dahlke, joined Alan in the new venture, which gained a reputation for turning around small companies..

Dahlke remains a bit in awe of Alan Baer: "He was a man of incredible curiosity and quick wit. His energy was endless. Alan would ask lots of questions and, to be sure, he knew all of the answers…Alan was a networker. He always worked. He was always on the phone, always talking to someone. He was always exploring something. He went after everything. An uncommon common man."
Father and son continued the family's sportsmen tradition: Alan as an avid tennis player and Ted as a championship-level amateur bowler. They bought an amateur hockey team, the Omaha Lancers, that became a phenomenal success under Ted's guidance. After his father's death Ted went on to own a second amateur hockey franchise, the Tri-City Storm. He's since divested himself of his hockey interests to concentrate his sports holdings in bowling with the Thunder Alley and Thunderbowl centers.
Another Brandeis tradition, philanthropy, has continued. "Alan and Marcia were very generous. A lot of their generosity got no publicity," Dahlke said" Countless examples abound, he said, of them quietly paying the rent or medical/dental bills of Brandeis employees in need. As it has for decades, the Alan and Marcia Baer Foundation grants monies to local cultural, educational and health initiatives.
To the end Alan Baer searched for new endeavors to engage him, always on the look out for businesses to invest in, new challenges to overcome. It's why Baer & Associates had a piece of so many different things.
"You know what I always thought it was? It was like Brandeis, but not under one roof, because we had everything. We did everything," Ted Baer said.

Baer, who died in 2002, lived the credo that was the Brandeis slogan under his uncle. E. John Brandeis:
"To build a business that will never know completion, to create an enviable reputation and be worthy of it, to satisfy every customer individually, through quality merchandise and friendly service."

Marcia Baer admits she doesn't know much about early members of this fabulous family she married into. "I don't know anything about them, except they obviously built a place called Brandeis," she said.

The solid foundation J.L. laid down, and that successive generations added onto, stood Brandeis alone, at the top of the heap among retailers and the city's leadership. All things have their season, and after a century of success, Brandeis left the scene. Except it will never quite be gone. The downtown building where so much of its history was made still stands. It still goes by the Brandeis name. A dynamic new use for it is under way. Then there are the memories, which never quite seem to fade.
Ted Baer said, "When we run into an old Brandeis employee it's like we're seeing an old family member we haven't seen in awhile. It's like old home week." "Yeah, it's like suddenly a step back in time, but it's a good step back," Marcia said.
"Yeah, it's a very nice warm feeling," added Ted.
Related Articles