Archive for the 'Fashion Designers' Category
Omaha Fashion Week has a decided youth focus in its efforts to nurture and build the local fashion ecosystem and one of the latest prodigies getting showcased and supported is 16-year-old Ciara Fortun. Here is my profile of Ciara appearing in the August 2016 issue of The Reader  (www.thereader.com).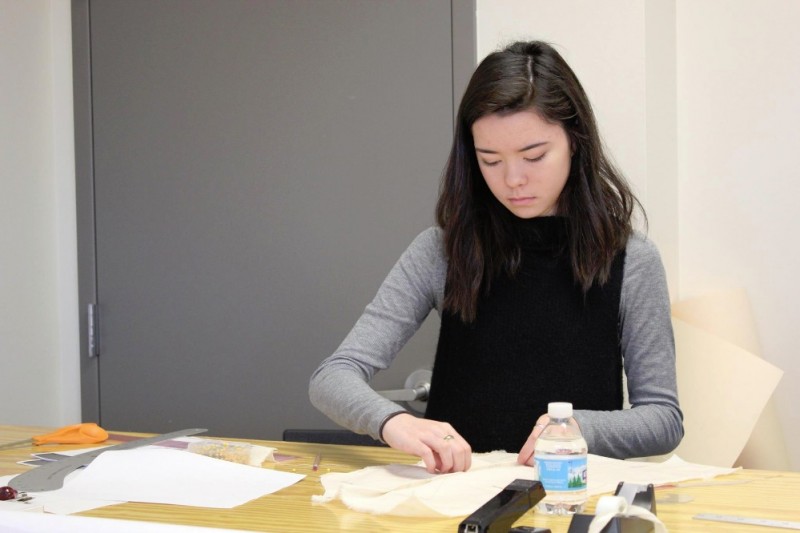 Ciara Fortun
Bright Lights
Teen designer Ciara Fortun mines Filipino heritage in Omaha Fashion Week collection
©by Leo Adam Biga
Appearing in the August 2016 issue of The Reader (www.thereader.com)
The private doodles Ciara Fortun used to make have evolved into working sketches for collections she now produces for Omaha Fashion Week shows.
After debuting at OFW with a formal women's wear show last March, she's unveiling a new collection of dresses inspired by her Filipino heritage in August.
The 16 year-old Elkhorn resident and junior at Concordia High School has been fascinated with style since early childhood. But it wasn't until attending her first Fashion Week in 2015 she realized living in flyover country was no barrier to doing something in fashion.
She attended Omaha Fashion Camp and got inspired by industry professionals working as designers, models, creative directors, stylists and photographers. That led her to sketch out a collection. The designs variously drew on Audrey Hepburn, Old Hollywood and Art Deco. Fortun's tastes run to refined and vintage in apparel and music. She often listens to classic jazz while working.
Regarding her personal sense of style, she said, "It evolves all the time. I may look completely different day to day. Today, I'm wearing overalls, but tomorrow I may be wearing heels and a pencil skirt. I'm kind of minimalistic with everything. I don't like a bunch of patterns. It's pretty clean, pretty simple," she said from her second-story home workroom. The space is filled with sketches, magazine spreads, inspirational words, a tailors dummy draped by a tape measure, an electric sewing machine, clumps of fabric and a wardrobe rack filled with her handiwork.
Photos by Heather and Jameson Hooton
Models by Develop Model Management
She waited until "the last day" to submit her designs and then only after her parents' gentle prodding. Upon being selected to interview she faced a panel of five adults who critiqued her work and asked about aesthetics and aspirations. It was intimidating. She said she learned "you have to really know what your personal style is before you can make something because then you know what your foundation is with fashion."
She waited two excruciating weeks before getting word she made the cut as an invited OFW designer. That's when reality set in she next had to create a wearable, runway-ready collection in four months. The family project involved her parents and younger sister, but Ciara and her father Luis Fortun did most of it together. Though neither has formal training, they have genetics on their side. Ciara's paternal grandmother is from the Philippines, where she sewed. An aunt was a master seamstress and a great-grandfather a master tailor. Ciara's steeped in stories about her ancestral homeland.
Between calling on ancestral skills, watching YouTube how-to videos and "Project Runway" episodes and sounding out OFW staff, this father-daughter combo figured things out through "lot of trial and error," Ciara said.
A GoFundMe campaign helped with buying materials.
She agonized getting every last detail right, but her dad reminded her, "They're not looking for perfection, they're looking for confidence."
Ciara said the finished dresses ended up "a lot different than what we had on paper. We did a lot of tweaking." "On the fly," added Luis.
"I was unsure about a lot of stuff," Ciara said, "but then we just went for. By rack check I was terrified. I was like, 'What if they don't like any of the stuff and the changes I made?' But they were really good about that. They care more about what you feel was the right choice than what will sell. It turned out well,"
During the process, OFW consultants made suggestions and Luis said, "We took most of the suggestions but some we didn't, and they were actually very complimentary about that, saying it shows Ciara"s OK standing by her own decisions. I  was very proud of Ciara."
Dealing with adults has taught Ciara the importance "of being able to hold a conversation" and articulate her vision. "It's caused me to step out of my comfort zone to share what my heart is," she said. "It's great to be pushed to share what you love. It all has a risk factor, but you just have to stick to what you know and love. It's been a really good growing experience, especially in a supportive setting."
"Watching her grow through the whole process has been very encouraging – just taking responsibility for all the things," said her father.
Getting the collection done in time came down to the wire. It meant pulling some all-nighters.
The Fortuns were pleasantly surprised by how accessible OFW staff were answering questions and providing assistance.
"You can go talk to them if you need help with something," Ciara said. "The thing about Omaha Fashion Week is that everyone there is really supportive of the younger generation. They want to bring you through this and show you different steps of making a collection and a brand."
She's found big sisters and kindred spirits in designers Buf Reynolds and Sabrina Jones.
"They're really inspiring. I see them as mentors and people I can look up to."
As a father pressed into duty as a dressmaking production director, Luis Futon appreciates the help OFW provides.
"They do a really good job of framing out major milestones you have to reach in terms of salon, music, model call, rack check. They just don't say, okay, we'll see you in four months. They give you guidance. It's very structured. They kind of walk you through the whole thing and give a lot of pointers and insight."
Ciara's fall collection featured highly structured, muted dresses using neoprene. Her work was well received by patrons and judges at the Omaha Design Center. Her models walked to "Forever Mine" by Andra Day and "New York New York" by DJ Cam Quartet.
By winning her night, she earned a $500 prize. In true entrepreneurial spirit she plowed it right back intto buying fabric. She's discovered what all fashion designers here learn – you must look outside Nebraska for the best fabric and pay a premium for it.
Her new collection, for spring-summer, is lighter, brighter and more flowing with its colored satins. Besides the accent on color, another nod to her Filipino lineage is the incorporation of capiz shells.
She may study art in college to keep her creative options open.
"I'm still trying to figure out things."
If she pursues a fashion career, it helps that OFW has her back.
"It's a really good community we've found. If we lived in New York, it wouldn't be that way. It's really cool being part of this unique group that get me."
Fortun, who creates under her Noelle Designs label, is among 27 designers showing during the August 22-27 Fashion Week. Her collection hits the runway August 23.
For schedule and tickets, visit omahafashionweek.com.
One of Omaha's most successful fashion designers, Yolanda Diaz, has earned many accolades  for her Little Miss Fashion designs and for her entrepreneurial spirit. She was recently honored in Omaha and at the White House in Washington D.C. as Nebraska's Small Business Person of the Year. Her story of perseverance and persistence is one we can all learn from. Her story also reminds me that the most commercially successful artists, in her case designer, are very entrepreneurial and must be in order to make a go of it. Through a lot of hard work she has mastered both the creative side of her work along with the business side. Most artists or creatives fail on the business side of things. She has been determined to not let that happen.
Yolanda Diaz
Yolanda Diaz success story with Little Miss Fashion nets her new recognition
©by Leo Adam Biga
Originally appeared in El Perico
Yolanda Diaz dreamed of being a fashion designer growing up in Monterey, Mexico. Living in poverty far from any fashion capitals, it seemed an unrealistic aspiration to some. Not to her. She actually realized her dream in Mexico and then did so all over again in America. Her clothing manufacturing company in South Omaha, Little Miss Fashion, has become such a success that she's been named Nebraska Small Business Person of the Year.
The recognition comes from the U.S. Small Business Administration. Diaz will accept her award at May 1-2 ceremonies in Washington D.C., where she will be joined by other state winners. The 2016 National Small Business Person of the Year will be announced then.
She is also being honored May 3 at the Nebraska Small Business Person of the Year Award Luncheon and Entrepreneurial Workshops at the Salvation Army Kroc Center at 2825 Y Street. The 8:30 a.m to 12:30 p.m. event is free and open to the public. Registration is required. Call 402-221-7200 to register.
This is not the first time Diaz has been singled out for her entrepreneurial achievements. Her story has captured the imagination of business organizations and media outlets since 2011. Still, this newest recognition was not something she expected..
"Honestly, it surprised me," she says. "However, I feel very happy. Even though my business has not grown as fast as I would like, it has grown in ways I didn't expect. I have been working hard for years and I think the award is recognition not just for me but for all the people who work hard like I do in the community. There are a lot of people around me working hard and there are institutions and organizations helping me.
"It is an honor for me to have the opportunity to get this recognition."
Aretha Boex, lead center director for the Nebraska Business Development Center, nominated Diaz for all that she's done to find success. "She is hard working to the core. Her tenacity and her drive is very contagious. When you work with someone like her you buy into their passion and their idea,." Boex says. Boex's admiration grew when she discovered Diaz has mentored women at the Latina Resource Center and trained correctional facility inmates to sew. "She cares and she's really out there to make a difference."
Diaz's children's collections are sold online through Zulily and Etsy and in select boutiques. The business has seen ups and downs and she's learned many hard lessons, but through business workshops and loans she's grown her operation to where she now employs nine people. Her husband and son also assist.
She says news of the award is encouraging her local network of English-as-second-language entrepreneurs.
"They say, 'Well, one day I will be in the same place as you,' and I say, 'You can do it, you will. If you work hard you will get the recognition one day.'"
Boex says there's plenty in Diaz's story to inspire others. "She's a woman who built her business from the ground up. She moved here from Mexico to pursue the American Dream. There's a lot to take away from her experience and how hard work really pays off. She had the resilience and the courage to build this from scratch. She's a great success story. We love working with her."
Diaz's road to success began in Mexico, where she learned to stitch on an antique sewing machine.
"I really loved doing it, I fell in love with fashion because it gives me everything I want. "
Marta Chavez (front) and Dolores Diarcos (back) working at Little Miss Fashion
---
Diaz holds her best-selling Little Miss Fashion design.
---
Diaz hopes to move Little Miss Fashion production into a location nine times larger in the near future.
(Diaz, owner of Little Miss Fashion LLC, Janell Anderson Ehrke, GROW Nebraska CEO, Laurie Magnus Warner, Central Plains Foundation Board Member)
From an early age she began making her own school apparel from old clothes and fabric scraps. Her ever-changing personal wardrobe drew much attention. Her dreams were encouraged when her talent was identified by a mentor who became her first client and referred other clients to her. Diaz even landed a contract to create school uniforms.
She steeped herself in her craft and built a successful business, learning from seamstresses and studying at design schools. Her business thrived but her then-husband didn't support her pursuits. That proved frustrating to Diaz. who self-describes as "very independent." After she and her family came to the States in 1996, her first marriage ended. She remarried and worked regular jobs searching for her niche here. She made pet tents before making children's clothes. She started her company in 2003 under a different name, at first targeting the Latino market before expanding to the Anglo market. Along the way, she's participated in the micro loan program Grameen America and taken classes at the Juan Diego Center, the Nebraska Business Development Center (NBDC) and Gallup University.
"She built her business while she had a night job, fulfilling all the orders herself, cutting and assembling by hand, which meant long hours, in addition to having a family. So she really believed in this," says Boex.
A regular designer at Omaha Fashion Week, Diaz showed a collection that sparked interest from Zulily. The onset of online sales orders forced her to outsource production to Mexico, where family members pitched-in. Now everything's done in-house in Omaha. An SBA microloan from the Omaha Small Business Network provided working capital to grow her business enough to meet large orders. Little Miss Fashion now averages $10,000 sales a month from online orders. Last May Diaz received a second SBA microloan through Nebraska Enterprise Fund. The loans allowed her to buy additional commercial sewing machines, purchase materials and hire more workers. She gets ongoing management consulting and export support from NBDC. Diaz recently sealed a deal to sale her clothing lines through the German e-commerce company Windelbar.de.
Every step of her journey, from improving her English to learning how to write a business plan to doing budgets to managing employees, has helped her succeed.
"I like challenges. I never say never," she said. "A lot of work, but a lot of fun. I still learn something new every day."
True to her entrepreneurial spirit, Diaz envisions growing into more markets, a larger production facility and her own retail shop. But for now, she's content knowing she's "doing what I've wanted to all my life – I'm following my passion."
Follow Little Miss Fashion on Facebook or visit http://littlemissfashionusa.com/.
Categories:

Business, Entrepreneurial, Entrepreneurs, Fashion, Fashion Designers, Latino/Hispanic, Little Miss Fashion, Omaha, Omaha Fashion Week, South Omaha, Writing, Yolanda Diaz
Business, Entrepreneur, Fashion, Fashion Design, Fashion Designer, Little Miss Fashion, Omaha, Omaha Fashion Week, South Omaha, Yolanda Diaz