Archive for the 'Stan Lipsey' Category
When I studied journalism at the University of Nebraska at Omaha there were three professors in my major area of concentration who stood out:  the late Bob Reilly for his warm personality and engaging storytelling; the late Todd Simon for his brilliant analytical mind; and Warren Francke for his passion in teaching us about the rich history of the Fourth Estate.  I was an odd bird of a student because my rampant insecurities kept me from really ever getting to know any of my fellow J students.  The only prof I got somewhat close to was Reilly, which was no great feat because he was welcoming to all.  Simon probably most stimulated my sensibilities, though his intellect intimidated me.  Francke is someone I wanted to know better and sought more affirmation from, but I don't think I gave him much to work with.  After graduating college and pursuing my career I remained friendly with Reilly, who became a mentor of mine.  I doubt if I would have stuck it out as a freelancer those early years without his encouragement.  After college I never had any contact again with Simon, who just passed away in early 2012.  Francke is someone I likely would not have encountered again if not for the fact that he and I both became contributing writers to the same alternative news weekly, The Reader.  He's a fine writer and human being and I am proud to call him a colleague.  Like his good departed friend and colleague Bob Reilly, he too has had encouraging words for him that I greatly appreciate.  When I did the following New Horizons profile on Francke about a dozen years ago he was just as I remembered him from UNO – a vital presence excited by his craft as teacher and journalist.  I can happily report that he is still that vital presence today.  I hope to have his energy and engagement 20 years from now.
Warren Francke, ©UNO Criss Library
From the Archives: Warren Francke – A passion for journalism, teaching and life
©by Leo Adam Biga
Originally published in the New Horizons
When University of Nebraska at Omaha communications professor Warren Francke gets a certain misty, far-off gaze in his eyes, chances are he's lost in another Rocky Mountain reverie.  As a veteran Colorado summer dweller, he can't help but daydream about hiking where the wild flowers bloom or waking to the warm golden glow of the morning sun glinting off snowy peaks or filling his lungs with the cool crisp ether of pure mountain air or sitting under a canopy of stars from atop a tall ridge at night.
Perhaps he even conjures his long-awaited rendezvous with a bear on some remote mountain trail.
He's been hooked on Colorado's high country life since the early 1970s, when summers first found him hauling his family out west, into the Estes Park region of the Rockies, where they grew enchanted by the languid pace and natural beauty of those rarefied heights and eventually extended their two-week vacations there into months-long visits.
Francke and his late wife of 31 years, Sue, adored life in those far upper reaches.  When she died of a heart attack in 1991 he, son Chris, and daughter Cara scattered her ashes in a place she loved.  Now, he shares the towering landscapes with his second wife, Carol, who suffered the loss of a longtime spouse.  After meeting and surviving what Francke calls "the human comedy that is dating after 30 years," he and Carol married in 1994.              After years renting in the Estes Park area the Francke family finally have a cabin of their own — in the Tahosa Valley, a half-mile north of the town of Allenspark. Situated at 8,500 feet elevation, on a lot dotted with tall ponderosa pines and small aspens, the cabin looks out on Mt. Meeker to the west and the lush valley below.  The couple drive their jeep to secluded spots and make cross-country jaunts on foot to favorite hideaways.
When not sampling the great outdoors he reads books (preferring mystery novels), writes features for the Estes Park Trail-Gazette and pens articles for various professional journals and reference volumes.
Since joining the UNO faculty in 1966, he's always remained a working journalist.  You may remember him best as a a reporter-columnist with the Omaha Sun Newspapers in the 1960s and 1970s and as that curmudgeon media critic Watching the Watchdogs on WOWT-TV in the 1980s.  These days you can find Francke-penned theater reviews in the Council Bluffs Nonpareil.   At UNO he teaches Literary Journalism and  History of Mass Communication courses as well as a graduate seminar.  He feels writing and teaching give him the best of both worlds.
"I love to write.  It helps my teaching and it helps fill some creative need I have.  For my entire 34 years of teaching I've had the good fortune to also do the kind of journalism I enjoy most.  I haven't had to do the routine, mundane, grinding work of daily journalism.  I do stories I like to do and I teach classes I enjoy teaching," he said from his modest Fairacres home, his two faithful old dogs ("the ancient ones") lolling nearby on the floor.
"As I approach retirement it's a source of great enjoyment to me to find that I enjoy writing as much or more than ever.  If I had had to give up writing to be a teacher I don't know that I would have, but I didn't have to.  There's an enormous variety to teaching, especially if you mix it with journalism, and when you get good results it's wonderful."
A past Excellence in Teaching Award winner at UNO, he's seen many former students achieve high success, including Omaha World-Herald executive editor Larry King and Merrill Lynch executive vice president for communications Paul Critchlow.  Among his most memorable years as an instructor came in 1975, when, as part of UNO's Overseas Program, he taught seven months at Ramstein Air Force Base in West Germany.  His wife and children were there for the duration and together they toured the festive wine country and traveled to prime European getaways.  "We had a great time.  We bought a Volkswagon and ran all over Europe," he said.
UNO Arts & Sciences building
Last fall Francke, 62, took a sabbatical from UNO to hole up in his cabin and begin writing the centennial history of Omaha's Dundee Presbyterian Church, where he worships.  He will take a leave of absence next fall and head for his cabin to complete the project, one he's excited about because it combines his thirst for history with his love for a good yarn.  It also means returning to his mountain retreat in time to hear the trumpeting echo of mating elk.
His research into old newspaper clippings, church bulletins and meeting notes is uncovering a rich tapestry of church history that coincides with Dundee's growth and the founding of nearby Omaha University as well as early links with the Buffett and Fonda families.
"You're talking about a church being formed at the turn-of-the-century in a little village called Dundee, fifteen years before it was annexed by Omaha. You read what you think might be dry records of meetings of church elders, trustees and ladies aid members, but as you learn to know these people you can't help but have an enormous admiration for them," he said.  "You become so immersed in the life of this church and of these people that when you turn a page and you find someone — who's been a real pillar and force for good — has died, you feel a personal loss.
"You really come to share the experience of building a church with them.  These people become great heroes and heroines to you.  It's very rewarding to bring the lives of these people back to life, so the people in the church now can know who came before them and what they did.  It provides a wonderful way to understand the story of a church and a neighborhood."
Serving the greater good has been a sort of family inheritance.  His late father, Ted, hailed from a German Lutheran family that produced an unbroken line of ministers dating back to the 1600s.  His father studied for the ministry but was never ordained.  If his father hadn't broken tradition, Francke himself might have been a preacher.  He thought about it.  As things turned out he's followed a similar calling as a writer — giving voice to
people and their stories — and as a teacher — helping young people find their way.  "Sure, teaching is a form of ministry to me.  There's a real common ground there," he said.
His zeal for a finely-crafted story or well-turned phrase shines through whenever he reads aloud his students' work.  Then, his eyes grow wide and voice gains inflection as if the Holy Spirit itself has moved him.  "My students turn in stories from life experiences that are so powerful."
Estes Park
In that way things have of coming full circle, Francke led a church-centered life as a youth, then, in the contrary '60s, drifted away from organized religion — exploring Zen Buddhism — before eventually returning to the fold and even being ordained an elder.  Ancestral currents run deep.
Born and raised in Council Bluffs, Francke and his sister Rhoda grew up in a hilltop home above the Missouri River.      Their father was a study in contrasts.  The former top athlete was a physically-imposing man who worked as a manual laborer, even doing custodial work at the church the family attended, yet delighted in displaying his classical education by reciting Shakespeare.  A bound set of the Bard's works (which the son inherited) was kept in the family's home, along with antique ancestral bibles dating back to the 17th century.  During some hard times his parents sold the bibles to raise much-needed cash.
While Francke's late mother Lydia, who hailed from hearty Iowa farm stock, never got past the 8th grade she was an avid reader who encouraged her children's education.
"She was remarkably good at always taking us to the library and to Joslyn Art Museum," Francke said.  "I had a library card as early as you could get one.  I read all the Paul Bunyan books.  I read every book by John R. Tunis, who wrote a wonderful series about sports."
His introduction to journalism came by way of a neighboring family, the Zimmermans, whose father, Reid, and oldest son, Earl, worked as aWorld-Herald  editor and reporter, respectively.  Francke often joined his boyhood chum, Ken Zimmerman, on weekend visits with the boy's father to the Herald offices in downtown Omaha.
"While Ken's dad was reading galley proofs or doing something else in his office, we'd run around the World-Herald, sliding down the brass pole in the press room or visiting different parts of that plant. Having newspaper people as neighbors did have great significance in my life.  I got the idea a newspaper was an interesting place to work."
He succumbed to the reporting bug at Abraham Lincoln High School, parlaying his interest in athletics (He collected autographs of sports idols, including Iowa's own fireball pitching phenom Bob Feller.) as sports editor for the school paper, Echoes.  Even as a novice newsman he got a kick out of being thrust into the action and reporting about it.
"I loved it.  That experience epitomized the enjoyment of journalism, which is being in the middle of things people are interested in and then writing about them and participating in them. It's the fact that you have the opportunity to experience a rich array of life and then get to make use of that experience by articulating it."
With his reporting appetite whetted, he applied and was hired as a copy boy (copy messenger) at the World-Herald  in the spring of 1954.
"It was an easy step from being sports editor in high school to going to work for the World-Herald within a couple weeks after I graduated.  By that next fall I was doing something I had already done  — covering prep sports.  All it really boiled down to at age 17 or 18 is somebody paying you to go to the games you went to all the time anyway."
Dundee Presbyterian Church, ©The Bouncing Czech
The paper's many strong personalities made an impression on him.  Quiet but firm Don Lee, the venerable sports editor, was "always after you to 'trim it down, trim it down.'" He recalls Fred Ware, "the fire-breathing managing editor," was always "railing against somebody like Lou Gerdes, the distinguished city editor, shouting, 'That damn Gerdes,' and as a copy boy I'd just say, 'Yes, Mr. Ware,' and stand there.  I can remember one morning it was pretty quiet in the newsroom when suddenly there was a horrendous clap of thunder outside and without even looking up Ralph Smith, who worked on the rewrite desk, said, 'Good morning, Mr. Ware.'"
Despite his boss's intimidating presence, Francke said, "There isn't any question who the main influence on my writing was — it was Fred Ware.  He talked about making a story sing.  He wrote a style-book for the World-Herald and along with Strunk's Elements of Style  with the introduction by E.B. White and its emphasis on strong verbs and all that kind of thing, Ware's emphasis on making a story sing had a profound influence on me.  I took it seriously.  Some of the best things I've written are influenced by a real strong sense of the flow and rhythm of language.  If I could make a story a work of poetry I did.  I think Ware started that in me."
A gentler influence was the late, beloved sports writer Wally Provost.
"The writer at the World-Herald who was my hero was Wally Provost.  Wally did everything I think a writer should do.  He was a wonderful, graceful writer, but he also had a conscience and a sense of justice.  Wally was the first person at the paper, as far as I know, to write seriously about racial injustice.  His was a very effective, quiet voice on issues that mattered."
In 1958 Francke left the paper to be a full-time staffer at his hometown daily, the Nonpareil.  As a roving, Tom Allan-like reporter he covered all aspects of Southwest Iowa life.  By the time he joined the staff of Omaha's weekly Sun Newspapers  in 1964, he was dabbling in the freer, livelier New Journalism, whose open literary narrative approach was a bold departure from the rigid, classic journalistic form.  Provost, a devotee of the old-school, ribbed him about the new style's descriptive excesses.
"I can remember running into Wally and him teasing me by saying, 'Well, are you going to write about what kind of tie I'm wearing?'"
But for Francke, whose work grew out of his deep love for and intensive study of literature and drama (he has a master's degree in English from UNO), the new wave of writing was no laughing matter.
"There's no question I tried to change journalism.  When Tom Wolfe and the New Journalists came along I was already doing the things they were talking about and I was enjoying doing that.  I had the freedom at the Sun  to do it.  That's why working there was such a terrific experience.  I couldn't have done that at the World-Herald, which traditionally has not been a place where a writer could work with creative freedom.  The Sun was a place where I could experiment.  My students every week write things better than I have written, but I attempted at least to be out on the edge."
Even today he tries not settling for humdrum work.  "I'm very unsatisfied when I write what I consider a routine review."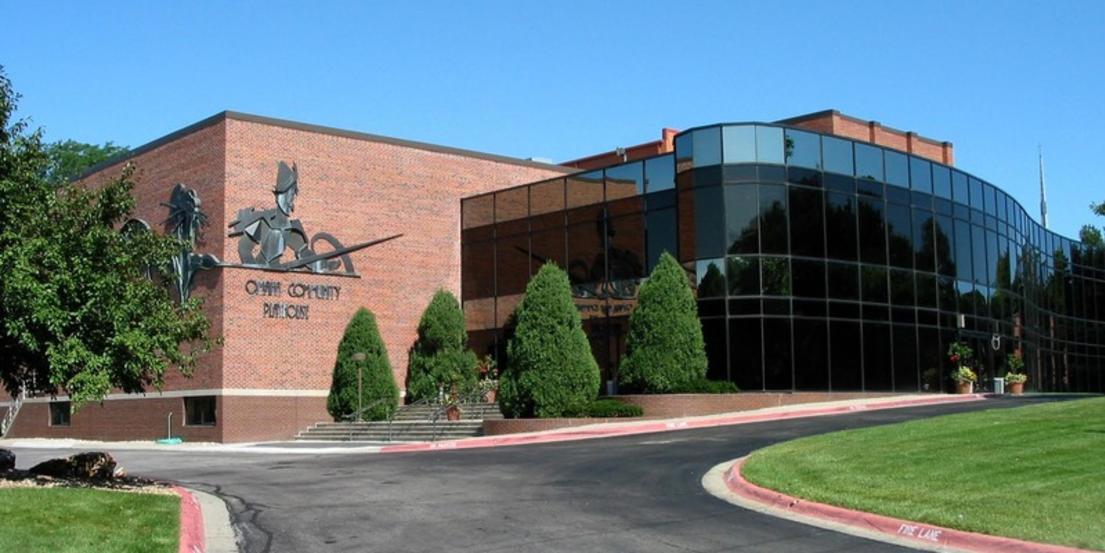 Omaha Community Playhouse
He credits a friend, noted Omaha author and former UNO colleague Robert T. Reilly, for pushing him.  "There's no question working alongside Bob Reilly was important to me."  Another key figure for him was the late Ralph Wardle, former UNO English chairman.  "A great writer and teacher."
Francke's 1968 Sun profile on his celebrated Omaha U. classmate, Peter Fonda, displays how he pushed the envelope then. Fonda, who'd been banished to his famous father's hometown by older sister Jane to get his head straight, had become a youth movie icon via his starring role in the Roger Corman exploitation biker flick, The Wild Angels (Easy Rider was yet to come).  Francke's piece reflects on the unrebel-like Fonda he knew.  A
sweet awkward guy haunted by a messy childhood and distant father.  Smitten by first love (with Carol Robinson).  Desperate to find acceptance.
Francke cleverly frames Fonda's college life in dramatic, playwright terms, an apt approach for describing someone whose life was an open book and who hailed from one of America's preeminent acting families:  "Act I, Scene I — Freshman girl hears the son of Henry Fonda is a classmate.  She asks a circle of respected elders, fraternity men all…'What's Peter Fonda really like? 'A real phony.'
"Scene II — A girl named Judy dates Peter and writes an English 112 composition about a boy who will always walk alone.
"Scene III — Peter and Carol walk together down Administration Building halls.  They're going to class…they're not holding hands.
"Act II, Scene I — Christmas 1958.  Peter takes Carol to New York.  Lauren Bacall throws a cocktail party.  Carol meets Jane and Henry.
"Scene II — Sorority leaders call Carol aside.  They've heard bad reports about her and Peter.
"Scene III — It's spring…on the campus.  Peter's there…Sad, grieving.  What's wrong?  Carol did him wrong.  'Oh, well,' he sighed.  'I guess it can't be April forever.'"
Francke knew Fonda as a fellow contributor to the student paper, The Gateway, and to the literary publication Francke edited, The Grain of Sand.  They also shared a mutual interest in the burgeoning Cool Scene, with its rebellious Beat writers and anti-Establishment musical icons.  The pair weren't above playing their affected rebel image to the hilt — like the time they convinced a KMTV news crew they were radical campus beatniks.
"We didn't really cut it as bona fide beatniks.  We were both full-time students. I held a night reporting job at the Nonpareil.  But we'd both read Jack Kerouac.  We could talk the talk.  We ended up on the 10 p.m. news."
Once Fonda left Omaha for eventual success on Broadway and in Hollywood, Francke lost touch with him.  He's always had it in the back of his mind to "drive up to his ranch in Montana someday" to kick over old times.
Speaking of old times, Francke misses the vital alternative forum for ideas the Sun  offered under publisher Stan Lipsey, managing editor Paul Williams and owner Warren Buffett.  With the paper's folding in 1983, he said Omaha lost "a second voice" it has yet to replace.
"Our constitution is based on the idea of letting truth and falsehood fight it out in the free marketplace of ideas.  The marketplace is not so free when you just have one major voice.  The Sun  took on the important, controversial issues that were being ignored and did a first-class, quality job that won them many national awards, including the Pulitzer Prize for investigative reporting on Boys Town's finances.  None of the alternative publications that followed have had quite the strength of the Sun."
The paper stopped publishing when, as Francke puts it, "it could no longer compete with certain advertising and business practices of the World-Herald," which led to a lawsuit settled out of court.
Francke's fervent but well-reasoned opinions on media and culture are the culmination of his many years as a journalism professional, student, teacher and observer.  He holds a Ph.D. in mass communication from the University of Minnesota. His scholarly work on various facets of the media have earned him a national reputation.  He recently contributed a biographical overview on James Gordon Bennett, a key early journalist, to Oxford University Press for a mammoth reference work it is publishing.
Watchdogs was Francke's last major public forum for wading in on media topics.  He credits then WOWT news director Steve Murphy with allowing him free reign.  "There was no one else in the country doing media coverage and media criticism on television like I was, where I was not only free to criticize the station I was reporting on but to praise people on the other stations.  I criticized the World-Herald more than any other entity, but I often said how much better it covered something than television."
He fears his Herald bashing caused a backlash in terms of lost opportunities for him and his students:  "Their top management deeply resented my criticism.  It created a lot of tension. There's a certain price to pay for…taking on the biggest power in town."  While Watchdogs ended its run in 1990, it was not due to any chilling effect.  Instead, he simply felt he'd said enough after more than 300 commentaries.
The ever feisty Francke has hardly kept silent.  He bemoans what he perceives to be the World-Herald editorial page's move from "a moderate conservative position" to "The Right," and categorizes its treatment of the President as "malice."  He is still asked to comment on current media events, as when KFAB sought his appraisal of Barbara Walters' Monica interview, which he said regrettably only "satisfied our low curiosity."  He looked with dismay at "the sanctifying" of Joe DiMaggio upon his passing, noting the hype still paled next to how Princess Di's legend grew "beyond all reasonable bounds."
But where he used to crave always being "in the mix" of news events — putting his wry spin on things, he no longer minds "being away from the battle for months at a time" in that "other world" that is his mountain sanctuary.  Yes, it's a sure sign his Colorado conversion is complete.
"We lead such a simple life out there.  When we go back in the summer for the first church service and the choir begins to sing, 'There's Something By the Mountain,' I have a very hard time not getting teary-eyed because these things come to combine in a tapestry of meaning about the experiences you've had there and the way in the mountains you feel closer to the grandeur of creation."
Despite the strong pull Colorado exerts, he has no intention of taking up year-round residence there. "No.  I like life in Omaha.  I don't like missing the opening of the theater season in the fall.  I would miss not being here for UNO and Nebraska football.  I would miss my friends."
Related articles
I remember when the Omaha Sun Newspapers' investigative report of Boys Town's finances came out in 1972 my very Catholic mother and my similarly persuaded maternal aunts took it as a low down, dirty attack against "our Boys Town."  The Father Flanagan established youth care center has always been synonymous with the Catholic Church or at least seen as a Catholic institution, which in fact it has been for its entire life, always with a Catholic priest at its head and traditionally with the local archdiocese and archbishop as its ultimate authority. The story's major revelation was that Boys Town still portrayed itself as a poor, humble, perpetually in debt, and on the verge of closing home for boys when in fact it had accumulated a vast fortune through a systematic fundraising apparatus that kept right on churning out teary letters asking for donations — by the tens of million a year –and  taking in millions of dollars above and beyond what it cost to operate the place. Boys Town did not share this bounty with anyone and didn't want anyone to know about it.  There's no doubt the story spurred changes at Boys Town, just as there's no doubt Boys Town is a very different organization today than it was then — now boasting multiple locations around the country and doing business in a very transparent manner.  As for the weekly Sun, which was owned by Warren Buffett at the time, it went out of business a little more than a decade after winning the Pulitzer Prize for the Boys Town investigative report.  The following piece I wrote for The Reader (www.thereader.com) takes a look at that report and, in effect, the story behind the story.
NOTE: Also on this blog see my profile of Stan Lipsey titled "Buffett's Newspaper Man."   Lipsey is back in Omaha for the 2011 Berkshire Hathaway shareholders confab and for an exhibition of his photography at KANEKO. He's also participating in a panel discussion at KANEKO about a life of creativity in business.  For more on KANEKO, see my story titled "Open Minds."
Of course, Warren Buffett and Berkshire are much in the news these days because of the scandal involving David Sokol, the once heir apparent to Buffett as head of Berkshire.
Sun reflection: Revisiting the Omaha Sun's Pulitzer Prize-winning expose of Boys Town
©by Leo Adam Biga
As seen in the The Reader (www.thereader.com)
When readers picked up their March 30, 1972 issue of the weekly Sun Newspaper, they could hardly believe their eyes.
The small but enterprising paper with multiple neighborhood editions had called out a venerable Omaha institution, Boys Town, in crusading journalistic fashion terms. No crime was alleged, but rather the violation of a public trust.
A front page headline asked accusingly, "Whatever happened to Father Flanagan's dream?" That was followed by the stark declaration, "Boys Town: 700 boys with $209 million." Thus the Sun set the incredulous tone and exploited the shocking results of a special eight-page report inside provocatively titled, "Boys Town, America's wealthiest city?"
The subhead, "Give an account of thy stewardship," was a Biblical admonition for a quasi-Catholic organization that cried poverty in syrupy mass donation appeals each Christmas, while hoarding a fortune no one was supposed to know about or, if they did, question.
Some movers and shakers were prominent characters in the story and in the story behind the story. Sun owner Warren Buffett pointed to the records that revealed Boys Town's "hidden" assets. Publisher Stan Lipsey supported the investigation. Managing editor Paul Williams masterminded and ran it.
The power behind Boys Town lay with Monsignor Nicholas Wegner and Omaha Archbishop Daniel Sheehan. Aged civic-social leaders comprised a rubber-stamp board.
The Sun's ambitious owner and brash newspaper took to task an organization grown fat, smug and out of touch with the times and its constituencies. Wegner, who succeeded Boys Town's iconic founder, was still steeped in Depression-era thinking. During much of Fr. Flanagan's tenure the home did struggle, but after the 1938 MGM movie Boys Town, donations sharply increased, particularly after fundraising pioneer Ted Miller designed a massive, frighteningly effective direct mail campaign.
Pleas for money continued even as fortunes swelled. Making matters worse, Boys Town did little with its wealth after a 1948 building project. It shelved new initiatives and rejected best practices, effectively standing still, stuck in time.
The Sun implied Boys Town betrayed Flanagan's mission by staying mired in outdated attitudes and methods. Buffett would later write, "We reported the extraordinary contrast between decreasing services and mounting wealth."
The story won the Sun seven national awards, including a 1973 Pulitzer Prize for local investigative specialized reporting, the same year the Washington Post's Watergate series took the Pulitzer for Public Service. The papers earlier swapped in the same categories at the national journalism society, Sigma Delta Chi, awards.
More importantly, the Sun's probing coverage compelled an organization that after Flanagan's death in 1948 behaved like an imperious empire, paralyzed in what Williams termed "institutional inertia," to enact long overdue reforms.
Today's Boys Town hardly resembles that fossilized institution. Its entire methodology of youth care has been transformed. Boys Town is now recognized as a national leader in parenting and child speech-hearing impairment research and treatment.
The Sun was the liberal, plucky alternative to the conservative, timid Omaha World-Herald. Under Williams, the paper previously won awards for covering Omaha environmental issues and Omaha Transit Company irregularities. Boys Town, however, was a bigger target. While the report did the Sun no harm financially, the paper lost its edge when Williams left a couple years later. In 1980, Buffett sold it to a Chicago publisher. After an anti-trust suit against the World-Herald, the Sun disbanded in 1983.
Nearly 40 years since the story shook Boys Town's foundation, The Reader spoke to key players who worked on the project.
Doug Smith, the youngest, least experienced member of the reporting team Williams assembled, says the irascible editor was the driving force behind "Project B."
"Paul wanted that big recognition, he wanted that big prize … and he really went after it.
"I think he knew this was going to be the biggest story of his career, or not. I thought, maybe we all thought — he's obsessed with this thing. When we got the announcement we won the Pulitzer one of the guys said, 'Ahab has his whale.' Paul was a great leader on this project. He did bring it home."
"The story was really there for the taking by somebody with energy and enterprise, and that's what Paul Williams had," says Randy Brown, hired as associate managing editor just as the Sun launched the investigation. "He was the brains."
As the team dug into the reality behind the carefully cultivated Boys Town facade, it became clear the wary institution was paranoid for a reason.
"I felt the story was really justified," says Smith.
He and his colleagues knew the heart-tugging letters Boys Town sent out suggesting the boys would go hungry without donations were pure hokum.
"I'd say an unethical appeal considering they were sitting on a lot of money," he says.
Team member Wes Iversen, the Sun business editor, was dismayed Boys Town made it appear "as though the wolf were at the door when they had a big pile of money they were doing nothing with."
In the end, Boys Town was its own worst enemy.
"It was a case of they had lost their way, their mission," says Smith. "It was the story of an American institution that had gone off track."
When Smith asked Boys Town post office officials how much mail went through to try and gauge the scope of fundraising efforts, a reluctant staffer was quoted saying: "The reason they won't let me give out the amount of postal receipts is because people will get everything misconstrued."
It turned out up to 50 million appeal letters went out per year. The volume suggested a cash cow system returning huge revenues.
Boys Town officials repeatedly made ill-advised statements that came back to haunt them. In classic investigative fashion Smith and photographer Len Cook burst in on its secret direct mail apparatus, housed in a downtown building, to find 125 women typing the appeal letters and a flustered fundraising director trying to hush it up.
The Sun quoted the director as saying, "Please don't mention this in your article. It's so easy for the public to get the wrong idea. People will think we're rich."
Smith recalls Boys Town as remarkably unsavvy then in handling press inquiries. "At that time they were not equipped to handle this kind of assault by journalists," he says.
Ironically, Flanagan had been a genius at promotion. He invited Hollywood to make two feature films on Boys Town. He cooperated with newsreels, he did national radio broadcasts, he toured the home's band and football team nationwide, he made speaking appearances across the country and he welcomed celebrities to the campus.
By the early ''70s the cautious Wegner isolated Boys Town, making it an island cut-off from the world.
Bulldog reporter Mick Rood interviewed Wegner and caught him in several untruths, including the assertion Boys Town was in debt. Even when confronted by the facts, Wegner and, in a separate interview, Sheehan indicated the fundraising would continue unabated. Business as usual. The arrogant dismissal of serious questions, such as when would enough money be enough, made everything Boys Town said suspect.
"When you as a reporter or newspaper discover that," says Rood, "that makes you want to dig. It makes you forget for a little while that the poor monsignor was in very poor health, it makes you forget that some people wouldn't like the story because people don't need to be deceived like that. That's the motivation right there."
For that interview, Rood was armed with sensitive, though public record documents that delineated the true picture of Boys Town's finances. Buffett had informed the Sun team of a federal tax statement, Form 990, that nonprofits were required to file. He had to file one for his own foundation and it dawned on him Boys Town did, too. It took much wrangling and waiting to pry a copy from the Internal Revenue Service. When all 100 pages arrived the scope of the holdings stunned the team. Boys Town stocks, bonds, properties, though undervalued, gave it a net worth exceeding Omaha's largest bank, and an endowment surpassing all but a few universities nationwide.
"I didn't know quite what to think of it because the numbers were enormous," says Brown. "It was jaw dropping."
Iversen says it was "a money machine."
Until those documents were secured, the team had only been able to speculate about Boy's Town's riches. With the hard numbers in hand, all was exposed.
"This was the whole kit and caboodle," says Rood.
The surviving team members readily credit Buffett with giving them the golden egg that pushed the project over the top.
"Without that it would have been a good story, but not a Pulitzer story," says Lipsey.
Omaha Sun Newspapers newsroom ©Provided by Randy Brown
Buffet also helped the Sun analyze the Boys Town treasure chest.
"I worked with Warren compiling the numbers, making sure they added up, getting all the details straight, ready for publication," says Brown. "And he insisted on double checking everything. We knew we were taking on an institution that's beloved in the community and he didn't want any mistakes — not 25 cents in the wrong column."
Rood says Williams was methodical planning assignments and supervising their execution: "He made very thorough outlines … very detailed things, so we were all well aware of what we were supposed to be doing. It was also a way to make you accountable. I mean, if it was written down there you better have done it. There was no excuse. You had to have made that call you said you were going to make.
"We worked separately most all of the time. We had periodic meetings to compare notes. It was a very disciplined operation — one you wouldn't expect from such a small paper. He was the best editor I ever worked for, ever will work for, and a good friend."
Brown says, "everything was reread and reedited," adding, "It was a grind."
Iversen recalls months of slogging away, interspersed by occasional euphoria.
"A lot of it is just hard, heavy-duty grunt work," he says. "At that time we had no easy way to check things. It's just a lot of legwork, a lot of looking things up in books in libraries and county offices and you name it, running around checking various places and trying to piece things together. At times it could seem like drudgery, at other times when we would get a major insight everybody would say, Ah-ha, now we see where this is headed and we've made a breakthrough here.
"It was really heady times."
Some intrigue did attend the story. Though the stakes were much different from the Post's Watergate coverage, the Sun had its own Deep Throat in Claude Organ, a reform-minded Boys Town board member. Buffett met with Dr. Organ about the project and the surgeon-educator steered the Sun in the right direction.
"Everything was closely held," says Rood. "We were more than sworn to secrecy."
Warren Buffett
During the investigation's last few weeks Williams took the precaution of the team working out of his home's basement rec room for fear of losing the story to the Herald. Rood says a defensive Boys Town came to suspect the story was more than the routine historical piece the Sun painted it as. When the report broke, no one at Boys Town was prepared for its all-encompassing depth. The expose laid Boys Town bare.
Much more could have been published, team members say.
The Sun did many follow-ups over the next year and beyond as Boys Town changed its administration and board, opened the campus to consultants, replaced its warehousing of youth with a home-family model and developed new facilities and programs.
In 1974 a desperate Boys Town, still reeling from the fallout from the story, which went national and spawned new stories, hired Omaha PR man Bill Ramsey to help repair its tarnished image. It took time, but things turned around by the late 1970s-early 1980s.
Current Boys Town spokesperson Kara Neuverth says the institution did act on the reported misalignment of net worth and youth services:
"We listened to that feedback regarding some fund raising practices. What I can tell you about this organization today is that we are transparent and we pride ourselves on our experience. For an organization to remain at the forefront it must adjust its practices to stakeholder input, changing times, and new knowledge — just as we did 40 years ago. That is the lesson learned."
The Sun investigative team scattered to the far winds. The shared Pulitzer opened doors for Rood, Iversen, Brown and Smith. Paul Williams left to teach at Ohio State. He also co-founded IRE, Investigative Reporters and Editors, and wrote a book before his untimely death. Publisher Stan Lipsey went on to head the Buffalo News for Buffett.
The story solidified Buffet's long-held interest in newspapers — he soon acquired a major share of the Washington Post — and confirmed for him their vital role in a free society. In a letter to Berkshire Hathaway shareholders he wrote the Sun's achievement "vividly illustrated that size need not be equated with significance in publishing."
The Changing Face of Boys Town and its Finances
The following sidebar appears in the print edition of The Reader but not in the Web edition:
©by Leo Adam Biga
In 1972 you had to be a member of the Boys Town inner circle to see its balance sheet. Or, as in the case of the Sun Newspapers, you had to know about a new and therefore obscure tax form filing that required nonprofits to report their financials. Even then, it took the Sun time and expense to obtain the public records, documents and figures Boys Town dearly wanted to suppress.
Today, due in part to the Sun's disclosures of Boys Town's worth, the law requires nonprofits to be much more transparent about their assets.  The same information the Sun had to go to some lengths to get 40 years ago, anyone with access to a computer can easily and freely obtain today with a few keystrokes or mouse clicks.
In 2009, Boys Town, which now has a national reach, reported $1 billion in assets, $810 million in the Father Flanagan's Fund for Needy Children (the institution's endowment) and $122 million in liabilities for a net worth of $903 million. Five to six percent of the endowment supports annual operations.
Boys Town reports nearly 90 percent of every dollar received is spent on child care.
Charity Navigator awarded it a four-star rating for sound fiscal management. Boys Town's accountability has earned it recognition as a Better Business Bureau Wise Giving Alliance accredited charity. These are all signs of how the organization does business very differently now compared to when the Sun rattled its cage.
Related Articles
Another native Omahan who has achieved great things is Stanford Lipsey.  This publishing scion has enjoyed a full career in journalism.  A good deal of his newspapering life has been associated with billionaire investor Warren Buffett.  The two men are good friends. Lipsey retains strong ties to Omaha, where Buffett and Berkshire Hathaway are based.  This story appeared in The Reader (www.thereader.com) on the eve of the annual Berkshire shareholders meeting, which draws tens of thousands to Omaha for what's been described as a Wooodstock for capitalists. Lispey and Buffett made journalistic history back in the early 1970s with the Omaha Sun Newspapers, when an investigative report into Boys Town's vast financial holdings and wealth ended up winning the paper and its publishing team a Pulitzer Prize.  Buffett later hired Lipsey as publisher of the Buffalo News, a position he continues in today.
NOTE: See my new story on this blog about the Omaha Sun's Pulitzer winning report on Boys Town during Lipsey's reign as publisher.  The story is titled "Sun Reflection."  Lipsey is back in Omaha for the 2011 Berkshire Hathaway confab and for an exhibition of his photography at KANEKO.  He's also participating in a panel discussion at KANEKO about a life of creativity in business.  For more on KANEKO, see my story titled "Open Minds."
Of course, Warren Buffett and Berkshire are much in the news these days because of the scandal involving David Sokol, the once heir apparent to Buffett as head of Berkshire.
Stanford Lipsey at The Buffalo News in 2012. Its owner, Warren E. Buffett, hired him. 
©Credit 

Brendan Bannon for The New York Times
Buffett's newspaper man, Stanford Lipsey
©by Leo Adam Biga
Originally published in The Reader (www.thereader.com)
Omaha native and veteran newspaper publisher Stanford Lipsey has seen and done it all in a six-decade journalism career that's closely allied him to Berkshire Hathaway CEO Warren Buffett.
Lipsey climbed the ranks at the now defunct Sun Newspapers in Omaha to become owner-publisher. In 1969 he sold the Sun to Buffett, but remained as publisher. In 1972 Lipsey was at the helm when the Sun, acting on a lead from Buffett, poked into the finances of Boys Town. The Sun's probing led to sweeping changes at the charitable organization and earned the paper a Pulitzer Prize.
Buffett later appointed Lipsey publisher of the Buffalo (N.Y.) News. Lipsey is still its publisher today. In 1988 he was named a Berkshire vice president. The old friends, inducted in the Omaha Press Club Hall of Fame in 2008, may or may not get together this weekend at Berkshire's annual shareholders' meeting in Omaha.
Lipsey, who got his start as a photojournalist, came out with a photography book, Affinity of Form (2009, powerHouse Books), that can be purchased at the Qwest Center exhibition hall during the May 1 meeting or at the Bookworm. He still shoots, only with digital equipment, not the Brownie or Speed Graphic he began with. Instead of snapping news pics, he makes fine art images for galleries and books.
His life as a news hound has spanned hot type, clattering typewriters, digital off-set presses, computerized newsrooms and newspaper web sites. His training began at Omaha Central High and the University of Michigan. While in the U.S. Air Force he served as editor of the Offutt Air Force Base publication Air Pulse.
He began working at the Sun in 1952, learning the business inside and out. Lipsey said the Sun "was small enough so I could do it all." He considers a well-rounded newspapering experience an "invaluable" education most publishers "don't have" today. "In the large daily business hardly anybody has it. They come from one field. They were either an editor or an advertising manager or a business manager, but they don't have the crossover background between news and advertising," he said.
Buffett said, "He's a real journalist but he understands every aspect of the business, and that was one of the considerations why we wanted him up in Buffalo."
Under Lipsey's watch, managing editor Paul Williams guided the Sun expose of Boys Town when the still single-campus, dormitory-style, boys-only home used weepy mass mail appeals to portray itself as destitute. The Sun revealed Boys Town sat on a $162 million endowment dwarfing that of many national institutions. Property and building assets created a total net value in excess of $200 million.
"We knew there was a story there, but we didn't know how to get it," said Buffett. "I was sitting at home doing the tax return for my own tiny little foundation and there was something in the instructions that said my tax return would be public. All of a sudden it dawned on me if a tax-free institution such as this foundation of mine had to make the return public, Boys Town probably did."
The story goes Buffett called on a well-placed source who sat on the Boys Town board to verify Sun suspicions the nonprofit had accumulated a fortune. Public records confirmed the rest. Public indignation was strong.
"It's a helluva story," Lipsey said by phone. "It was so well done."
He said breaking the exclusive, which major news outlets picked up, was what the Sun needed to do to stay relevant opposite the Omaha World-Herald.
In Buffett, the paper had deep pockets and considerable clout. In Williams, who went on to help found Investigative Reporters and Editors, Inc., a solid newsman. In Lipsey, a crusading publisher.
"See, we didn't have the advantage of being a daily, so when we came out we had to have something fresh, so we did investigative reports, enterprise reports," said Lipsey. "Warren, Paul Williams and I would sit down and brainstorm — what's the story, what should we go after, and then this thing came along — it actually came along on a tip from Warren. It made for a great story."
Like Lipsey, Buffett still feels a sense of pride about what they did.
"That was a watershed. It didn't do us any good commercially as a paper, but that was probably as interesting a month or two of my life as has ever occurred," said Buffett.
The report upset the Catholic community. Defensive Boys Town officials attacked the Sun as "a yellow rag." The gutsy coverage earned the Sun the first Pulitzer given to a weekly for Local Investigative Specialized Reporting. It's the last Pulitzer, period, won by any Nebraska newspaper. The award also recognized the reforms the story instigated. A chastened, more transparent Boys Town embarked on a course serving at-risk youth in new, home-like environs across the nation. Boys Town also built the first of its major research facilities.
When Buffett acquired the Buffalo News in 1977 he asked Lipsey for help. "When I was in trouble up in Buffalo with the paper I called him," said Buffett. At first Lipsey served as a consultant, commuting between Omaha and Buffalo, before accepting the role of publisher in 1983. The two men share an abiding mutual respect. "I admire Warren. I would say he's someone who has taught me a lot. He's a steady hand. He makes decisions that are totally moral, totally wise, and for the right reasons, and they're not always necessarily for profit," said Lipsey. "He won't buy a company where the management isn't in place. The only exception to that is me."
Warren Buffett
The book The Warren Buffett CEO, Secrets from the Berkshire Hathaway Managers, devotes a chapter to "the turnaround" Lipsey engineered in Buffalo.
"You see a newspaper doesn't really match what Warren buys in companies because this paper was losing money when he bought it but he always had enormous respect and love for newspapers. But then he was short — we had a very good editor but we didn't have a good publisher here. He had to get one to come in, and he tapped me," said Lipsey. "There was a daily newspaper here in competition called the Courier Express. It became one of these fights to the death type thing. I got very interested in that. That was an enormous challenge, and I wanted to make sure we survived."
Buffett said Lipsey was well qualified coming from a small paper to oversee a big paper because he knew all phases of newspaper operations: "Stan knew the press room, he knew circulation, he knew ad sales, he knew the newsroom. Stan''s been a terrific friend and business associate. He's over 80 now and he goes to work every day with the same zest as always. There's no one I trust more."
With the dynamic pair behind it, the Buffalo News won out. Lipsey's still in charge, but the shrinking place of printed newspapers in this digital age concerns him
"Certainly right now the newspaper business is challenging. We're doing better than most papers, but we're not doing well. All our numbers are way down. Circulation, advertising, profit, volume, everything, and I think you've seen the same thing with the World-Herald, and they were enormously profitable. The trouble with newspapers is they're extraordinarily costly, so when you have a sharp fall off in revenue it's hard to cut as much as you're losing, because you have to so many people in the newsroom, so many people running the presses, so many people driving the delivery trucks. That's the problem."
Related Articles