Posts Tagged 'Bart Vargas'
Omaha artist residencies for area visual artists are popping up with more frequency. That's a welcome development in a city that for a long time pretty much only offered these opportunities to visiting artists, other than those grant funded residencies in schools and such, which left locals searching for residencies elsewhere. The Union for Contemporary Art and Carver Bank opened up the local artist residency scene here and now El Museo Latino has added to the mix. As any artist will tell you, it's important to have local residency options because artists everywhere, including here, struggle finding access to studio space, equipment and venues to show their work. A residency typically addresses all those concerns, at least temporarily, by givng the artist a concentrated period of time to focus on their practice and to grow themselves personally and professionally. If nothing else, it exposes the artist and his/her work to new opportunities, communites and networks that might lead to commissions and patrons. The barriers to practice and exhibition artists face can be even greater for artists of color and that's why the Union, Carver and Museo artist residency programs are potential game changers for participants. The Union program is undergoing some tweaking with the organization's move to the Blue Lion this fall. The Carver is dormant as the Bemis tries figuring out its purpose. That makes Museo's new program even more important. Two questions I'm sure many artists are asking are, Why aren't more arts organizations stepping up to offer artist residencies and will the same old artists get the residency slots that are available? Another question which I know fr a fact has already been asked is whether the Museo residency will be opened to non-Latinos and to non-area residents in the future.
New Artist Residency Program at El Museo Latino supports the practice of local Latino artists
©by Leo Adam Biga
Originally appeared in El Perico (el-perico.com)
Artists are a diverse lot but a fundamental issue they all face at some point is finding space to practice their craft and showcase their work. The challenge can be greater for artists of color who may lack access to facilities and materials as well as to circles of influence. El Museo Latino is helping fill that gap with its new Artist Residency Program in support of area Latino artists.
The program builds on international residencies the museum's hosted and it realizes a long-held dream of founder-executive director Magdalena Garcia to offer a residency for local artists.
Bart Vargas, Hugo Zamorano and Aaron Olivo, all of Omaha, comprise the first class. They will toil away at Museo in July and August during their two-month residencies. Garcia says each is at different stages in their careers and each works in different mediums. Supporting diverse artists where they are at and giving them a blank slate to create is the residency's mission. So, too is exposing residents to seasoned art professionals with national and international resumes.
"We have a lot of talent and a lot of need in the local Latino artist community," Garcia says. "It isn't just about giving them the space, it's about giving them the resources to develop their work. We want to provide them with a framework of opportunity and see where they can run with that."
Bart Vargas
The most established of the three, Vargas, a University of Nebraska at Omaha art educator, says, "One of the things I hope this residency does is promote awareness of Latino artists in the Omaha community. We have a thriving art scene in the metro area, but I feel Latino artists, or for that matter artists of color, are quieter or not seen as much. I hope this residency brings more visibility." He adds, "Space, materials and time to make art are all costs to the artist. Anytime an artist is given free space and financial support, it is a blessing.
Hugo Zamorano
Zamorano, a recent UNO graduate, says, "The experience will grow me in practice because I will have a space to work in outside of home. I will also be working alongside two great artists, which I think will be great for learning off each other and talking about art. I am currently working with Aaron (Olivo) on a mural at 25th and N in La Plaza De La Raza. I have never worked with Bart directly, so I am excited for that."
Olivo says, "El Museo Latino has been a part of our neighborhood for a long time and I have always felt a connection as an artist and South Omaha native. I am by no means a studied artist. This is a first for me, so every aspect will help me grow. Just the environment alone will broaden my view as an artist as well as someone who works directly in the neighborhood."
A
 Aaron Olivo
Garcia has built in a mentoring component. Mexican artist, art educator and art administrator Humberto Chavez and president-founder of the National Museum of Mexican Art in Chicago, Carlos Tortolero, will share their expertise and experience about exhibiting and venues.
"Both guests will make studio visits with our resident artists and engage in discussions with them. Hopefully we can expand our network of working with other institutions as well as other artists," Garcia says. "That's a real plus with our residency. We're not just giving you a place to work, time to work, and a stipend, but we're trying to provide some other opportunities you wouldn't necessarily be able to get otherwise."
Garcia has a history of making Museo a conduit between local and visiting artists. Just last year she developed the exhibition Maiz with  Museo de Filatelia de Oaxaca (MUFI), a postage stamp museum in Oaxaca, Mexico. Twelve local artists showed work alongside that of 10 Oaxaca artists. The theme of corn was chosen due to its importance to both Nebraska and Latin America. Prints of five postage stamps depicting different varieties of corn were selected from the MUFI collection and the artists created works inspired by the images. The exhibit ran five months here and traveled to MUFI last April, where it's on view through September. Maiz is among many cross-cultural exchanges Garcia's organized. Her opening doors for the international community of artists of Mexican descent earned her a lifetime achievement in the arts award from the Mexican government in 2015.
Her efforts include a long association with the well-connected Humberto Chavez, whose artistic relationships extend throughout Mexico. Those ties offer the possibility for Museo resident artists to get their work seen by wider audience. "That's a huge window of opportunity for our artists," Garcia says.,
Magdalena Garcia, ©photo by Bill Sitzmann
Other than showing up 15 hours a week, she says, "There are very few requirements with the residency. We're giving them the freedom to create, to experiment and to explore as they see fit. We're not demanding they have work ready to exhibit at the end. But we will accommodate their work when it's ready."
All three artists plan trying out new mediums or returning to mediums they used to practice in or to further projects already underway. Aaron Olivo echoes a shared sentiment by saying, "We are responsible for paving a path for artists here in South Omaha as well as the surrounding area" and for using the residency to its "full potential."
Garcia expects the artists to be program ambassadors. It has already drawn interest from Latino and non-Latino artists around the nation, though for now it's only for Latino artists living within a 70 mile radius of Omaha. She intends to expand the program to two or three rounds of residents in 2017. Applications for the next round open in January.
The residency is made possible in part by a $20,000 National Endowment for the Arts grant that marked the first time Museo applied for direct funding from the NEA.
"We were thrilled to receive that and hopefully people see it as a reflection of our growth and the continuation of what we started out to do 23 years ago," Garcia says.
Visit http://www.elmuseolatino.org.
Categories:

Aaron Olivo, Art, Artists, Bart Vargas, El Museo Latino, Hugo Zamorano, Latino/Hispanic, Magdalena "Maggie" Garcia, Omaha, South Omaha, Writing
Aaron Olivo, Art, Artists, Bart Vargas, El Museo Latino, El Museo Latino Artist Residency Program, Hugo Zamorano, Latino Artists, Magdalena Garcia, Omaha, South Omaha
The following cover story I did for The Reader (www.thereader.com) about a group of artists looking to take things to the next level at the Carver Bank cultural center and residency program in North Omaha has received some nice buzz. The four artists couldn't be more different from each other. Each is doing his or her own thing and having success with it but they themselves and others feel there's room for them to grow and to make an even bigger splash.  It will be interesting to observe what they do individually and collectively from this point forward.
Artists running with opportunity to go to the next level; Carver Bank resident artists bring new life to area
©by Leo Adam Biga
Originally appeared in The Reader (www.thereader.com)
The inaugural resident artists at the Carver Bank cultural center couldn't be more unalike in some ways and more congruent in others.
Carver is the new Bemis Center for Contemporary Arts and Rebuild Foundation endeavor at 2416 Lake Street that houses a Big Mama's Sandwich Shop, a gallery- performance space and artist studios. Artist and urban planner Theaster Gates of Chicago is the facilitator-instigator of the project. Caver is one of several projects he's done through his Rebuild Foundation that repurposes abandoned structures in inner cities to house art-culture activities that engage with community.
Each Omaha native participant was selected in line with Carver's mission of providing work spaces and showcase opportunities for underserved artists of color whose creativity deserves wider support and recognition
The artists cut across a wide range of disciplines and starting with the Carver's March 29 grand opening they've been displaying their respective chops in performances, readings, exhibitions.
Program director Jessica Scheuerman says the artists "care deeply about the cultural resurgence of the Near North Side," adding, "In addition to their individual practices, they have quickly taken to the role of host and are developing public programming that will enrich the space throughout the year and expand the roster of artists presented in the space."
Shannon Marie is a 20-something hip hop and R&B artist. The single mom works full time to support her dream of making it big out of her hometown.
Dereck Higgins, 58, is a pioneer of the Omaha alternative music scene as a bass player, drummer and arranger. This champion of psychedelia recently left his career as a licensed mental health professional to devote all his energies to his art.
Bart Vargas, the lone visual artist of the group, is a 40-year-old art educator and creator of salvage-based paintings and sculptures.
Portia Vivienne Love, 56, is a sometime singer and full-time poet and writing workshop presenter now also penning murder mystery short stories and novels.
Three of the four have close ties to the symbolically potent 24th and Lake area. Once the commercial-entertainment hub of the local African American community, its live music scene used to draw national artists. Love's late father, saxophonist Preston Love Sr., cultivated his music passion there as a fan and player. The catty-cornered Loves Jazz & Arts Center is named after him. Higgins' late father, James "Red" Higgins, was a contemporary of Love's and also haunted the Deuce Four.
Shannon Marie
Marie, who's real name is Ennis, grew up a few blocks from Carver. She's adamant about developing a national name for her writing and singing.
"I'm definitely confident about it," says Marie, who's produced several mix tapes. "It doesn't matter where you are, it's where you want to go. I can make it happen."
If it doesn't happen here she may leave to try her hand elsewhere, though she admits she needs more polish.
"I feel like I need to be more prepared before I step out with the big dogs."
She got serious about rapping as a junior at Benson High School. Her early professional forays taught her lessons about not selling out.
"I would contact promoters and they'd just kind of brush me off like, 'Who is this chick?' Now when they have something going on I'm one of the first people they contact. I've gained their respect. They've seen the growth and they know I have people backing me."
Her YouTube videos attract hundreds of thousands of views. Her Omaha fan following is such she gets recognized most everywhere she goes.
Gone are the days when promoters tried extracting sexual favors from an aspiring newbie. "It's a male-dominated industry and sometimes guys look at females like a piece of meat. You have to be confident to let people know, Hey, you cant treat me like this. Now they're like, 'She's just about her business. She's not about sleeping her way to the top.'
"I kind of had to learn the hard way in some cases. I still have to learn a few things.
But it's a lot better now than me being naive and saying, 'OK, let's just do music.' All that glitters isn't gold."
A dispute with a local record label resulted in some of her original music being withheld from her. She's moved on.
She plans a Carver event featuring herself and other empowered women who've overcome obstacles. She's also planning a listening party for her new work.
"Now I'm here, I've got my opportunity, everything is still possible."
Working alongside fellow residents who are "so different," she says, "is going to be interesting." She adds, "We really do vibe together. There's going to be positive stuff going on. I want to support everybody and I want them to support me, too."
She feels the love from friends, family and fans. "Everyone is excited for me." She terms the multicultural turnout for Carver's grand opening "a beautiful thing" and encourages all of Omaha to support its programs. "It's for everybody."
She's eager to add to the area's rich music legacy, saying, "Now it's our time."
Dereck Higgins
Dereck Higgins is intent on opening the Carver to a broad range of artists and audiences.
"It only makes sense that if Im going to be down here I try to get some of the people that work with me everywhere else to work with me down here," says Higgins, who jams with Nik Fackler as part of InDreama. Higgins is presenting a Night of Sound Exploration with saxophonist and electronic musician Curt Oren from 7 to 9 p.m. on June 7.
Higgins, who has his own DVH Records label and an extensive vinyl collection, makes trippy music that draws on traditional instruments as well as a panoply of electronic and ambient sounds.
"It's personal, that's ultimately what it is," he says, "and that's probably why I'm not more commercially along the way because I don't know what genre to be in and I'm not interested in it and I don't like it. When people say to me, 'I don't know what you are,' that's a great compliment and I want to stay there."
Since walking off his 30-year job at Community Alliance in 2012 he's made music his number one priority.
"I've always been a real artist-musician but a hobbyist. Making the break from the job and now doing this Carver thing is really allowing me to embrace truly, fully the role of artist-musician. I'm very thankful. This is a luxury. I can come down here and I can work, experimenting with music and sound ideas at my makeshift little audio studio. I'm already working on my next album."
He creates the collage artwork that adorns his album covers.
"I'm broker now than I've ever been as an adult but I'm happier," says Higgins, who along with his fellow artist residents receives a $500 a month stipend.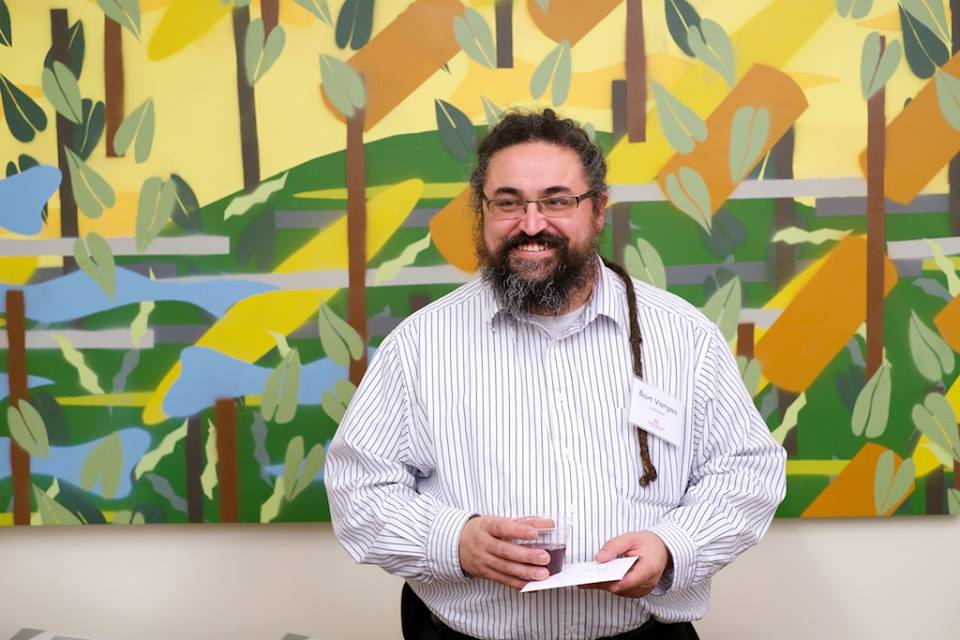 It's no coincidence that Bart Vargas, the lone Carver resident artist who's not African American, though his dreadlocks often prompt people to assume he is, makes art from salvaged materials. Just when it looked like his life was a thrown-away bust, he found salvation.
Growing up in a chaotic home with a mentally ill mother and alcoholic father Vargas sought refuge in art. "I escaped through drawing," he says. "Drawing was a way to have control over something and make believe and go other places. When I was 16 I was young, angry and confused and this other family saw the situation and offered me a safe place and took me in. So I have my biological family and what I consider my real family – the family I associate with all these years later."
Vargas, a Nebraska Air National Guard veteran, feels his salvage art parallels the Carver project and its adaptive reuse of the long abandoned Carver Savings & Loan building and plans to revitalize other long vacant North Omaha properties.
"Everything has a potential. The only place trash is made is in our head…when we decide something no longer has value."
Bemis chief curator Hesse McGraw says the hope is that by nurturing artists Carver "can generate some cultural heat and create a magnetic lure in North Omaha." Another hope, he adds, is for their work "to have an impact on public perception of the neighborhood. Imagine when the Near North Side is again known as a place that artists live and work, and where we all can be part of that resurgence."
A self-described "mixed blood" who's white and Mexican and not sure what else, Vargas used some of his Carver money to take DNA tests to determine his ethnicity.
"I've thought about doing this identity painting after finding out what my genetic markers say I am."
Or he might adapt a painted words series he began s few years ago to express musings about "my American muttness."
The University of Nebraska at Omaha and Metropolitan Community college art instructor says he's already made word paintings "specific to this place or neighborhood," adding, "I want this part of the city to become part of the work I do here. Before I even moved in I painted 'Carver.' My goal is to cover the walls in my little corner in Yeses. To have this wall of positivity. I want to start it out with really good energy."
Portia Love
Portia Love understands why she's identified with her father, whose band she sang with for several years, but music was his thing, not hers.
"The writing thing is mine," says Love, who retreated into words and stories as an "introverted" adolescent and began winning recognition for her work at Marian High School.
She went on to work in and teach human services but always wrote on the side. As a veteran artist with Why Arts she conducts writing workshops for people with disabilities. She also holds workshops through the Bemis.
She's self-published two books of poems, Eclipses of the Sun and Redefinition. She creates poems by commission for clients, placing her original works in designer boxes, frames and photo albums.
WriteLife is publishing her debut novel, The Men's Club, as well as a book of short stories, High Heel Shoes, Bright Red Lipstick and Strange Love.
Carver appeals to her for practical reasons.
"I went after it for the working space and the recognition. I'm real if nothing else. I tear my house up doing this stuff. Now I have a studio to work out of. This is my time for me and my writing. This is an opportunity that I hope is going to put me to another level. i hate anybody trying to put limitations on me and what I do."
Moving artists along is part of the idea.
"We hope this opportunity provides a crucial jump for the residents and that they are able to move their artistic practices to new levels," says McGraw.
Love says Carver's location is "significant," adding, "The whole thing is significant. I love that Hesse (McGraw) said the Bemis cannot be this white organization that ignores the fact there are people of color in this city with talent. And yes this is the perfect place for it, 24th and Lake. I think about my dad and how much he would have loved coming through here wearing the hell out of everybody. I think he would be so overjoyed to see me excelling at something that was not his."
Love's hosting a poetry reading from 3 to 6 p.m. on May 25. She's invited her fellow resident artists to add their distinct flavors.
Carver events are free and open to the public.
For Carver updates visit carverbank(at)bemiscenter.org.
Related articles