Posts Tagged 'Blues'
Omaha blues man Hector Anchondo riding high
©by Leo Adam Biga
Appearing in the August 2018 Reader (www.thereader.com)
Blues singer-songwriter-guitarist Hector Anchondo has paid the price to live the dream. Calling Omaha home for two decades, he led his Hector Anchondo Band to the 2016 International Blues Challenge finals in Memphis after reaching the semis a year earlier.
In 2017, their Roll the Dice album charted worldwide and the group won Omaha Entertainment and Arts Awards recognition for Best Blues.
After years working odd jobs to supplement his music earnings, Anchondo, 38, now supports his family doing what he loves  He also gives back to the adopted hometown that nurtured him as founder of In the Market for Blues festival. Twenty-eight bands will gig at eight Old Market venues Saturday, August 4. His band hits the stage at midnight at T. Henrey's Pub. A jam session follows.
Things are golden for Anchondo. He's getting married, He's becoming a father a second time. He's written songs for a new album (his eighth). His tour rides are in a 2016 Ford Transit 350 XLT, not the beaters he used to drive. But he was reminded of the fragility of it all last April when the night before a tour was to commence, severe stomach pains landed him at University Hospital. Surgeons removed his gallbladder.
Once through the health crisis, there were crushing medical care costs for which he had no insurance, Anchondo could see it all slipping away. But the Omaha Blues Society held a fundraiser concert at Chrome Lounge and friends launched a YouCaring campaign. He's healed now and can pay his bills.
Speaking to The Reader from Aspen, Colorado, where he solo toured last month, Anchondo reflected on the journey that's taken him from his Missouri Ozark hill country origins to this Great Plains base and beyond.
He took up guitar at 16 while living on his family's farm. He'd never played an instrument before, though he did sing in choir. It was passion at first lick.
"It was like a flip switched on. I took it very serious from the start. I've always been about the craft of it," he said.
He recalls a guitar solo in a Guns N' Roses video sealing the deal.
"I was like, That is what I'm going to do, and that's what I've been doing ever since."
He grew up influenced by Los Tigres del Norte, traditional American roots sounds, soaring Jimi Hendrix blues riffs and '90s grunge-hip hop beats.
"I always liked the blues. It's the emotional expression when you're on stage – the personality part of it. You can really be yourself."
Carlos Santana was another "big influence."
"I had an immediate connection through our Hispanic background. His Latin grooves caught me right away and I've been hooked ever since.
"Eric Clapton was also a big influence. especially his acoustic MTV unplugged album. I could not stop listening to it. Learning the songs was a complete joy."
He gigged in Missouri before moving to Omaha, where he had family, to try making it in a bigger market.
"There was a lot of not playing music out live because I was starting from scratch. I didn't know where to begin. Then I started hitting every open mic in town. I would go to those every week without fail. I started meeting other musicians. It was a real tight-knit community."
Stage Right became a second home.
"It was a lot of fun. It was a very nice, accepting, open atmosphere. I also started my own weekly gig at Caffeine Dreams."
He slept on couches and floors and worked McDonald's to get by. On stage, veteran players noticed his talent.
"A lot of older musicians came up to me and told me to never stop – that I had a good thing going, I was very fortunate to have lots of encouragement."
The natural worked to hone his intuitive gifts.
"Sometimes I would practice the same riff or part for hours upon hours until I got it right."
His pursuit of mastery attracted other artists and he formed a popular band, Anchondo, with some of them. Live performing gigs beckoned and local stations gave their music airplay, especially "She Devil."
"We were doing a lot of great touring and getting festivals, playing some auditoriums in the Midwest – but barely making any money. We were living dirt poor. Any money I've ever made I've always invested back into music."
He's spared no expense with guitars. Despite having a Fender Strat and a Dobro Resonator (anonymously left on his doorstep), his go-to is a Delaney Austin.
"It was hand-made special for me. The sound quality, the playability, the jumbo frets, the sustain, I could go on and on. Plus, it feels good to be a Delaney-endorsed artist."
Things were looking up. Then the recession hit and bookings fizzled.
"it just killed us. We stopped playing. I had to do a lot of soul searching, like, Is this when I hang it up?"
Tired of dishwasher, check-out clerk and construction jobs to make ends meet, he recommitted to his dream.
"I just couldn't stop being a musician."
He formed a new band, wrote dozens of songs and released the well-received EPs Kicking Up Dust and Young Guns with blues as his new calling card.
He strategically entered his band in the Nebraska Blues Challenge. After losing the first two years, they won the next two, thus qualifying for the international event down South. He describes that hyped stage in the nation's blues mecca "a game-changer."
"It meant getting in front of the blues worlds eye. It was a huge learning experience, too, watching other bands that competed."
He entered "uncharted waters" by hiring L.A.-based radio promoter-record publicist Frank Roszak to get Roll the Dice heard.
"I knew that was the right move to make," Anchondo said. "I knew I had to strike while the iron was still hot. It was a complete success. I finally had an album being played all over the world. We got some serious exposure out of that. It was a dream come true and something I'd been working for my entire career."
Meanwhile. he's trying to enrichen the area blues scene with the In the Market fest – now in year four.
"Every year it's grown and this year is going to kick a lot of ass," he said. "All the bands are outstanding."
He credits E3 Entertainment and the Blues Society for "doing the majority of the work to make the festival happen."
He said the Blues Society and its BluesEd program "have really grown the Omaha music scene." His drummer, Khaugman Winfield, is a BluesEd alum.
Anchondo appreciates the Blues Society coming to his aid last spring following emergency surgery.
"It was absolutely wonderful of them. So many people rallied together and helped out. My mind is still blown by all the love and support."
He's performing again in Omaha at Baxter Arena September 14 and The Waiting Room November 21.
"I anticipate continuing to be based out of Omaha and keep going with business as usual. Omaha has been such a great and wonderful springboard for my music career."
He's been down this road too long to know that "making it" doesn't ever mean being home free.
"There's still lots of struggles and sacrificing, but I have a very full life with my family and getting to play music professionally. It's my full-time job. I couldn't ask for anything more."
Except maybe time.
"I'm trying to set this next album up to where I have a lot more time to perfect certain things and to invest more in my guitar and my vocals."
Follow at hectoranchondo.com.
Visit http://www.InTheMarketForBlues.com.
Read more of Leo Adam Biga's work at leoadambiga.com.
Categories:

"The Shining - A Play", Arts-Entertainment-Culture, Blues, Hector Anchondo, In the Msrket for Blues, Music, Musician, Omaha, Omaha Music Scene, Writing
Blues, Hector Anchondo, Hector Anchondo Band, International Blues Challenge, Music, Musician, Nebraska Blues Challenge, Omaha Music Scene
Here is a tribute to the late Preston Love Sr. I culled together from various stories I wrote about him over the last decadeof his life. I actually read this as part of an event at the Loves Jazz & Arts Center named after him in his hometown of Omaha, with whom he had a complicated relationship.
Preston Love: A Tribute to Omaha's Late Hepcat king
©by Leo Adam Biga
An early January evening at the Bistro finds diners luxuriating in the richly textured tone and sweetly bended notes of flutist-saxophonist Preston Love Sr., the eternal Omaha hipster…
By eleven, the crowd's thinned, but the 75-year-old jams on, holding the night owls with his masterful playing and magnetic personality. His tight four-piece ensemble expertly interprets classic jazz, swing and blues tunes he helped immortalize as a Golden Era lead alto sax player, band leader and arranger.
Love lives for moments like these, when his band really grooves and the crowd really digs it:
"There's no fulfillment…like playing in a great musical environment. It's spiritual. It's everything. Anything less than that is unacceptable. If you strike that responsive chord in an audience, they'll get it too – with that beat and that feeling and that rhythm. Those vibes are in turn transmitted to the band, and inspire the band."
For him, music never gets tired, never grows old. More than a livelihood, it's his means self-expression, his life, his calling.
Music's sustained during a varied career. Whether rapping with the audience in his slightly barbed, anecdotal way or soaring on a fluid solo, this vibrant man and consummate musician is totally at home on stage.
Love's let-it-all-hang-out persona is matched by his tell-it-like-it-is style as a music columnist, classroom lecturer and public radio host. He fiercely champions jazz and blues as significant, distinctly African-American art forms and cultural inheritances. This direct inheritor and accomplished interpreter feels bound to protect its faithful presentation and to rail against its misrepresentation.
His autobiography, "A Thousand Honey Creeks Later," gave him his largest forum and career capstone.
"It's my story and it's my legacy to my progeny."
He's long criticized others appropriating the music from its black roots and reinventing it as something it's not.
"It's written in protest. I'm an angry man. I started my autobiography…in dissatisfaction with whats transpired in America in the music business and, of course, with the racial thing that's still very prevalent. Blacks have almost been eliminated from their own art. That's unreal. False. Fraudulent.
"They're passing it off as something it isn't. It's spurious jazz. Synthetic. Third-rate. Others are going to play our music, and in many cases play it very well. We don't own any exclusivity on it. But it's still black music, and all the great styles, all the great developments, have been black, whether they want to admit it or not. So why shouldn't we protect our art?
"When you muddy the water or disturb the trend or tell the truth even, you make people angry, because they'd rather leave the status quo as it is. But I'm not afraid of the repercussions. I will fight for my people's music and its preservation."
When he gets on a roll like this, his intense speaking style belongs both to the bandstand and the pulpit. His dulcet voice carries the inflection and intonation of an improvisational riff and the bravura of an evangelical sermon, rising in a brimstone rant before falling to a confessional whisper.
Love feels his far-flung experience uniquely qualifies him to address the American black music scene of his generation.
"The fact that mine's been a different, unlikely and multifaceted career is why publishers became interested in my book."
From a young age, he heard the period's great black performers on the family radio and phonograph and hung-out on then teeming North 24th Street to catch a glimpse and an autograph of visiting artists playing the fabled Dreamland Ballroom and staying at nearby rooming houses and hotels.
"Twenty-fourth street was the total hub of the black neighborhood here. This street abounded with great players of this art form."
By his teens, he was old enough to see his idols perform at the Orpheum and Dreamland.
"All of the great black geniuses of my time played that ballroom. Jazz was all black then…and here were people you admired and worshiped, and now you were standing two feet from them and could talk to them and hear their artistry. To hear the harmony of those black musicians, with that sorrowful, plaintive thing that only blacks have, and a lot of blacks don't get it. That pain in their playing. That indefinable, elusive blue note. That's what jazz is.
"The Benny Goodmans and those guys never got it."
The music once heard from every street corner, bar, restaurant, club has been silenced or replaced by discordant new sounds.
That loss hurts Love because he remembers well when Omaha was a major music center, supporting many big bands and clubs and drawing musicians from around the region. It was a launching ground for him and many others.
"This was like the Triple A of baseball for black music. The next stop was the big leagues."
He regrets many young blacks are uninformed about this vital part of their heritage.
"If I were to be remembered for some contribution, it would be to remind people what's going on today with the black youth and their rap…has nothing to do with their history. It's a renunciation of their true music — blues, rhythm and blues and jazz."
He taught himself to play, picking up pointers from veteran musicians and from masters whose recordings he listened to "over and over again." Late night jam sessions at the Blue Room and other venues were his proving ground, He began seeing music as a way out.
"There was no escape for blacks from poverty and obscurity except through show business. I'd listen to the radio's late night coast-to-coast broadcasts of those great bands and go to sleep and just dream of going to New York to play the Cotton Club and dream of playing the Grand Terrace in Chicago. I dreamed of someday making it – and I did make it. Everything else in my life would be anticlimactic, because I realized my dream."
He made himself an accomplished enough player that Count Basie hired him to play with his band.
"I had the natural gift for sound – a good tone – which is important. Some people never have it. I was self-motivated. No one had to make me practice…And being good at mathematics, I was able to read music with the very least instruction."
Music keeps him youthful. He's no "moldy fig," the term boppers coined to describe musicians out-of-step with the times.
He burns with stage presence with his insouciant smile and his patter between sets that combines jive, scat and stand-up. Then there's his serious side. He coaxes a smooth, bittersweet tone from the sax and flute developed over a lifetime.
If nothing else, he's endured, surviving fads and changing musical tastes, adapting from the big band swing era to Motown to funk. He's risen above the neglect he felt in his own hometown to keep right on playing and speaking his mind.
"I refuse to be an ancient fossil or an anachronism, I am eternally vital. I am energetic, indefatigable. It's just my credo and the way I am as a person."
A Soul Man to the end.
"I think the term 'soul' was first applied to us as a people to describe the feeling of our expressions and attitudes and language. It means a lot of heart and a depth of feeling. It refers to the pathos in our expression, musically and colloquially."
He says a genius for spontaneity is a hallmark of blacks in creative endeavors — from music and dancing to cooking.
"The limitations we lived under gave birth to these embellishments and improvisations. That's what we did. We were masters of embellishment."
He left his hometown many times, but always came back. Back to where his dream first took flight and came true. Back to the mistress – music – that still holds him enthralled. To be our conscience, guide, inspiration.
That January night at the Bistro, a beaming Love, gold horn slung over one shoulder, tells his audience, "I love this. I look forward coming to work. Preston Love's an alto player, and you want to hear him play alto, right? Listen to this." Supplying the downbeat, he fills the room with the golden strain of "Mr. Saturday Night." Play on, Mr. Saturday Night, play on.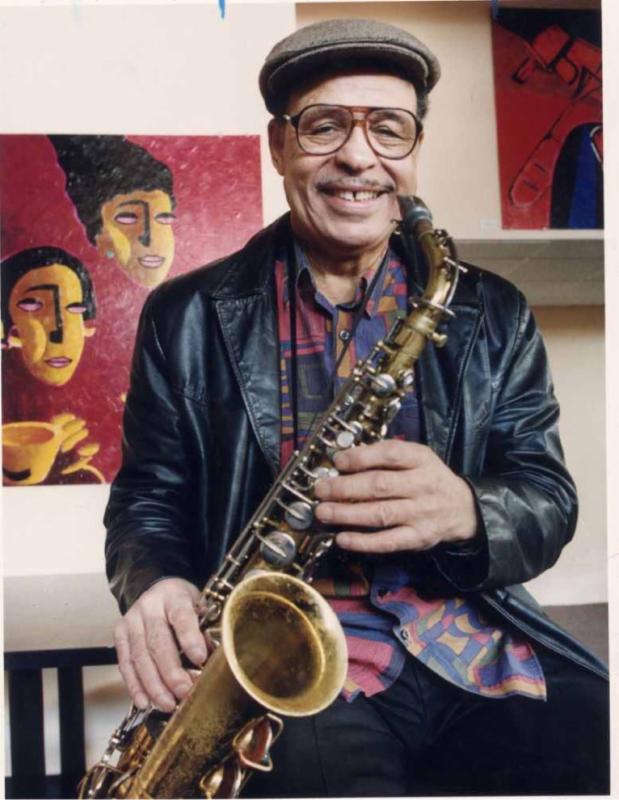 Categories:

A Thousand Honey Creeks Later, African-American, African-American Culture, Blues, Jazz, Music, Musician, North Omaha, Omaha, Omaha Black Music Hall of Fame, Preston Love, Writing
A Thousand Honey Creeks Later, Blues, Count Basie, Jazz, Motown West Coast Band, Music, Musician, North Omaha, Omaha, Preston Love
Six years ago an enthusiastic gentleman by the name of Vaughn Chatman introduced me to his missionary zeal for our shared hometown of Omaha and his mission to bring attention to its rich black music heritage. He founded the Omaha Black Music as a public celebration of the large gallery of black music artists who have come from this place. Soon, the event morphed into honored not only blacks who distinguished themselves in music but in other fields of endeavor as well, and thus the event came to be known as the Omaha Black Music and Community Hall of Fame. I have interviewed many of the inductees in the Hall, including:
Preston Love Sr.
Buddy Miles
Arno Lucas
Lois "Lady Mac" McDonald
Cathy Hughes
You'll find their stories and the stories of other inductees on this blog site. The event took a sabbatical a while back but is returning this year, July 29, at the Slowdown during Native Omaha Days. My story below appeared on the eve of the inaugural Omaha Black Music Hall of Fame .  I hope to write about this year's event.
©by Leo Adam Biga
Originally appeared in The Reader (www.thereader.com)
The fact that jazz and blues greats often played north Omaha's live music haunts is well known. What's not is this inner city's huge roster of high-caliber musical talents. Enough Omaha artists have impacted the industry to rival the legacy of homies from historical music hotbeds like Kansas City. The contributions of these O-bred and born cats may add up to one of black music's largest untold stories.
Bringing this weighty heritage to light "before it's lost" motivated native Omahan Vaughn Chatman to create the new Omaha Black Music Hall of Fame, which honors 40 artists in an inaugural awards dinner August 4 at Harrah's Casino in Council Bluffs. The inductees range from such swing era figures as the late Preston Love, big band leader Lloyd Hunter and rock pioneer Wynonie Harris, right on up to such modern artists as percussionist Luigi Waites, jazz guitarist Calvin Keys, songwriter-singer Gene "Booker" McDaniels, drummer/vocalist Buddy Miles, sideman/songwriter Arno Lucas and drummer/vocalist/keyboardist Lester Abrams.
"When you look at the overall picture, Omaha's influenced all kinds of music and still does. Half the inductees are still out there playing and influencing the world," Chatman said. "Buddy Miles came out of Omaha and went on to play with Jimi Hendrix (not to mention Stevie Wonder, David Bowie and a host of other legends). Lalomie Washburn started with Rufus and hooked up with Chaka Khan."
The "awesome" Keys has played with everybody from Earl "Father" Hines to Ray Charles to Ahmad Jamal. McDaniels has written standards for many top artists, including the mega-hit Feel Like Makin' Love for Roberta Flack. Lucas has collaborated with Luther Vandross, Al Jarreau, Michael Jackson, et cetera. Abrams headed the Omaha-based grand funk group L.A. Carnival. Lois "Lady Mac" McMorris has shared the stage and earned accolades from the likes of B.B. King.
"If Omaha's looking for something to be known for, this is what we should be known for. That we've turned out a number of artists who've achieved recognition everywhere in this country and all over the world. There was an era when this was a great place for musicians. They all influenced each other," Chatman said.
Miles, co-founder of the legendary Band of Gypsies with Hendrix, said he and his contemporaries earned their chops "doing a lot of jamming." He and many of the other inductees were peers on the burgeoning music scene here. "Everybody was into music. We all shared ideas and information. Any type of musical adventure or experience that presented itself, we went for it," Keys said. Mentors abounded, too. Keys recalled how jazz master Ed 'Cleanhead' Vinson "lived in Omaha for awhile. He used to come down on the scene, too. He taught everybody. He was the guru. There was another guitar player here named Luther 'Guitar' Woodruff. We called him Papa. He was a big influence."
Alesia Rae
Keys and company were schooled, too, by former Count Basie sideman Preston Love. "He helped a lot of us," Keys said. Visiting artists infused more inspiration. "Every time Wayne Bennett, who played with Bobby Blue Bland, would come through town, he had stories we would listen to and he had some new chords he had learned. That made us hungry to work. Omaha was a melting pot. We were right in the center of everything and we were a window for a lot of stuff going on."
Chatman, a musician-turned-attorney living in Fair Oaks, Calif., was among the young bloods learning from the hepcats, including his late older brother Percy, an inductee. Back in the day, music was everywhere. It was in the streets, the projects, the churches, the bars, the barbershops, the theaters and the nightclubs — the Dreamland and Carnation Ballrooms, the Showcase Lounge, the Elks Club, the Off-Beat Supper Club . These spots were proving grounds, launching pads, classrooms and stages where innovative chord changes, oh-so-sweet riffs and hot new licks tickled the night.
While some of Omaha's brightest talents remained, most, like Keys, left to chart music careers — in jazz, blues, R & B, soul and funk — in a myriad of back rooms, studios, concert halls and stadiums, both here and abroad. Whether on stage or in sessions, on the road or back home, the artists took a piece of Omaha with them.
Calvin Keys
"Contrary to popular belief, Omaha was not just about jazz or Preston Love. A lot of genres thrived here. A lot of music developed here. A lot of remarkable talent trained here. Cats like Buddy Miles and Lester Abrams created a unique Omaha sound, a big bass sound, that they introduced wherever they went," Chatman said.
The Hall of Fame awards dinner, which costs $35 a plate, is reuniting O-artists separated by years of touring and recording. McDaniels and fellow inductee Richetta Wilson, who perfomed with Sarah Vaughn and Ella Fitzgerald, are to do a duet that night. Coinciding with Native Omaha Days, the biennial African-American homecoming, the banquet promises a nostalgic celebration of the city's fat music times. Proceeds are to fund music scholarships for minority youths. Chatman, whose event is slated every two years during the Days, is working with local educators in the hope that a curriculum will be designed to teach Omaha's rich black music history in the public schools.
The local talent pool runs so deep there's no end of potential future inductees. Among the leading contenders are sax man Buddy Tate and bass fiddle player Alvin "Junior" Raglin, who went on to fame with Count Basie and Duke Ellington, respectively. "The list goes on and on, A whole lot of talent has come out of Omaha," Keys said. "Yeah, Omaha was a mecca to be reckoned with," Miles added.
Related articles
Categories:

African-American Culture, Entertainment, Helen Jones Woods, Jazz, Music, Native Omaha Days, North Omaha, Omaha Black Music Hall of Fame, Preston Love, Writing
African-American Culture, Arts, Blues, Jazz, Music, Native Omaha Days, North Omaha Nebraska, Omaha Black Music Hall of Fame, Pop Culture