Posts Tagged 'Count Basie'
Omaha's Love Family hosts celebration and street naming for Preston Love Sr.
Friday, July 13
6 p.m.
24th and Lake
Preston Love Sr. Street
Speakers to include John Beasley and Curly Martin sharing stories about the late jazz musician, composer, arranger, band leader, educator, commentator and author. Preston Love Sr. was a charter member of the Omaha Black Music Hall of Fame, the namesake of Loves Jazz & Arts Center and the author of the critically acclaimed memoir "A Thousand Honey Creeks Later."
Musical tribute concert immediately following at Loves Jazz & Arts Center by some of Omaha's finest artists. Featuring songs performed and loved by Preston Love.
$7 donation
ON A PERSONAL NOTE:
When I began writing about North Omaha's African-American community 20 years ago or so, Preston Love Sr. was one of the first persons I reached out to. He became a source for the and the subject of many of those early stories. He was a wise and loquacious sage with a real sense of history about his music, his people and his community.
The first article I got published in a national magazine was about Preston.
A good share of my work about him appeared around the time of the release of his long-in-the-making and highly regarded memoir, "A Thousand Honey Creeks Later."
Upon his death, I was asked to write an in memoriam piece for The Reader.
A few years ago, I wrote a new piece compiled from my many stories about him, and read it at Loves Jazz before a packed house.
I have also written some about his son Preston Love Jr. and his daughters Portia Love and Laura Love.
Whether you knew the man and his legacy or not, here is a list of articles I featured him in that hopefully provide a fair representation of the man and the artist:
https://leoadambiga.com/2016/05/05/preston-love-a-t…late-hepcat-king/
https://leoadambiga.com/2010/06/03/preston-love-192…ed-at-everything
https://leoadambiga.com/2010/06/03/omaha-blues-and-…end-preston-love
https://leoadambiga.com/2010/06/03/preston-love-his…l-not-be-stilled
https://leoadambiga.com/2010/06/03/mr-saturday-night
There are several more stories in which I quoted him about everything from Native Omaha Days to soul food or referenced him in relationship to North Omaha's live music scene and the area's attempted revitalization.
Categories:

A Thousand Honey Creeks Later, African-American Culture, Arts-Entertainment-Culture, Jazz, Loves Jazz & Arts Center, Music, Musician, North Omaha, Omaha Black Music Hall of Fame, Preston Love
A Thousand Honey Creeks Later, African Ameican Culture, Count Basie, Jazz, Jazz Musician, Loves Jazz and Arts Center, Motown, Music, Omaha Black Music Hall of Fame, Preston Love, Preston Love Sr.
Here is a tribute to the late Preston Love Sr. I culled together from various stories I wrote about him over the last decadeof his life. I actually read this as part of an event at the Loves Jazz & Arts Center named after him in his hometown of Omaha, with whom he had a complicated relationship.
Preston Love: A Tribute to Omaha's Late Hepcat king
©by Leo Adam Biga
An early January evening at the Bistro finds diners luxuriating in the richly textured tone and sweetly bended notes of flutist-saxophonist Preston Love Sr., the eternal Omaha hipster…
By eleven, the crowd's thinned, but the 75-year-old jams on, holding the night owls with his masterful playing and magnetic personality. His tight four-piece ensemble expertly interprets classic jazz, swing and blues tunes he helped immortalize as a Golden Era lead alto sax player, band leader and arranger.
Love lives for moments like these, when his band really grooves and the crowd really digs it:
"There's no fulfillment…like playing in a great musical environment. It's spiritual. It's everything. Anything less than that is unacceptable. If you strike that responsive chord in an audience, they'll get it too – with that beat and that feeling and that rhythm. Those vibes are in turn transmitted to the band, and inspire the band."
For him, music never gets tired, never grows old. More than a livelihood, it's his means self-expression, his life, his calling.
Music's sustained during a varied career. Whether rapping with the audience in his slightly barbed, anecdotal way or soaring on a fluid solo, this vibrant man and consummate musician is totally at home on stage.
Love's let-it-all-hang-out persona is matched by his tell-it-like-it-is style as a music columnist, classroom lecturer and public radio host. He fiercely champions jazz and blues as significant, distinctly African-American art forms and cultural inheritances. This direct inheritor and accomplished interpreter feels bound to protect its faithful presentation and to rail against its misrepresentation.
His autobiography, "A Thousand Honey Creeks Later," gave him his largest forum and career capstone.
"It's my story and it's my legacy to my progeny."
He's long criticized others appropriating the music from its black roots and reinventing it as something it's not.
"It's written in protest. I'm an angry man. I started my autobiography…in dissatisfaction with whats transpired in America in the music business and, of course, with the racial thing that's still very prevalent. Blacks have almost been eliminated from their own art. That's unreal. False. Fraudulent.
"They're passing it off as something it isn't. It's spurious jazz. Synthetic. Third-rate. Others are going to play our music, and in many cases play it very well. We don't own any exclusivity on it. But it's still black music, and all the great styles, all the great developments, have been black, whether they want to admit it or not. So why shouldn't we protect our art?
"When you muddy the water or disturb the trend or tell the truth even, you make people angry, because they'd rather leave the status quo as it is. But I'm not afraid of the repercussions. I will fight for my people's music and its preservation."
When he gets on a roll like this, his intense speaking style belongs both to the bandstand and the pulpit. His dulcet voice carries the inflection and intonation of an improvisational riff and the bravura of an evangelical sermon, rising in a brimstone rant before falling to a confessional whisper.
Love feels his far-flung experience uniquely qualifies him to address the American black music scene of his generation.
"The fact that mine's been a different, unlikely and multifaceted career is why publishers became interested in my book."
From a young age, he heard the period's great black performers on the family radio and phonograph and hung-out on then teeming North 24th Street to catch a glimpse and an autograph of visiting artists playing the fabled Dreamland Ballroom and staying at nearby rooming houses and hotels.
"Twenty-fourth street was the total hub of the black neighborhood here. This street abounded with great players of this art form."
By his teens, he was old enough to see his idols perform at the Orpheum and Dreamland.
"All of the great black geniuses of my time played that ballroom. Jazz was all black then…and here were people you admired and worshiped, and now you were standing two feet from them and could talk to them and hear their artistry. To hear the harmony of those black musicians, with that sorrowful, plaintive thing that only blacks have, and a lot of blacks don't get it. That pain in their playing. That indefinable, elusive blue note. That's what jazz is.
"The Benny Goodmans and those guys never got it."
The music once heard from every street corner, bar, restaurant, club has been silenced or replaced by discordant new sounds.
That loss hurts Love because he remembers well when Omaha was a major music center, supporting many big bands and clubs and drawing musicians from around the region. It was a launching ground for him and many others.
"This was like the Triple A of baseball for black music. The next stop was the big leagues."
He regrets many young blacks are uninformed about this vital part of their heritage.
"If I were to be remembered for some contribution, it would be to remind people what's going on today with the black youth and their rap…has nothing to do with their history. It's a renunciation of their true music — blues, rhythm and blues and jazz."
He taught himself to play, picking up pointers from veteran musicians and from masters whose recordings he listened to "over and over again." Late night jam sessions at the Blue Room and other venues were his proving ground, He began seeing music as a way out.
"There was no escape for blacks from poverty and obscurity except through show business. I'd listen to the radio's late night coast-to-coast broadcasts of those great bands and go to sleep and just dream of going to New York to play the Cotton Club and dream of playing the Grand Terrace in Chicago. I dreamed of someday making it – and I did make it. Everything else in my life would be anticlimactic, because I realized my dream."
He made himself an accomplished enough player that Count Basie hired him to play with his band.
"I had the natural gift for sound – a good tone – which is important. Some people never have it. I was self-motivated. No one had to make me practice…And being good at mathematics, I was able to read music with the very least instruction."
Music keeps him youthful. He's no "moldy fig," the term boppers coined to describe musicians out-of-step with the times.
He burns with stage presence with his insouciant smile and his patter between sets that combines jive, scat and stand-up. Then there's his serious side. He coaxes a smooth, bittersweet tone from the sax and flute developed over a lifetime.
If nothing else, he's endured, surviving fads and changing musical tastes, adapting from the big band swing era to Motown to funk. He's risen above the neglect he felt in his own hometown to keep right on playing and speaking his mind.
"I refuse to be an ancient fossil or an anachronism, I am eternally vital. I am energetic, indefatigable. It's just my credo and the way I am as a person."
A Soul Man to the end.
"I think the term 'soul' was first applied to us as a people to describe the feeling of our expressions and attitudes and language. It means a lot of heart and a depth of feeling. It refers to the pathos in our expression, musically and colloquially."
He says a genius for spontaneity is a hallmark of blacks in creative endeavors — from music and dancing to cooking.
"The limitations we lived under gave birth to these embellishments and improvisations. That's what we did. We were masters of embellishment."
He left his hometown many times, but always came back. Back to where his dream first took flight and came true. Back to the mistress – music – that still holds him enthralled. To be our conscience, guide, inspiration.
That January night at the Bistro, a beaming Love, gold horn slung over one shoulder, tells his audience, "I love this. I look forward coming to work. Preston Love's an alto player, and you want to hear him play alto, right? Listen to this." Supplying the downbeat, he fills the room with the golden strain of "Mr. Saturday Night." Play on, Mr. Saturday Night, play on.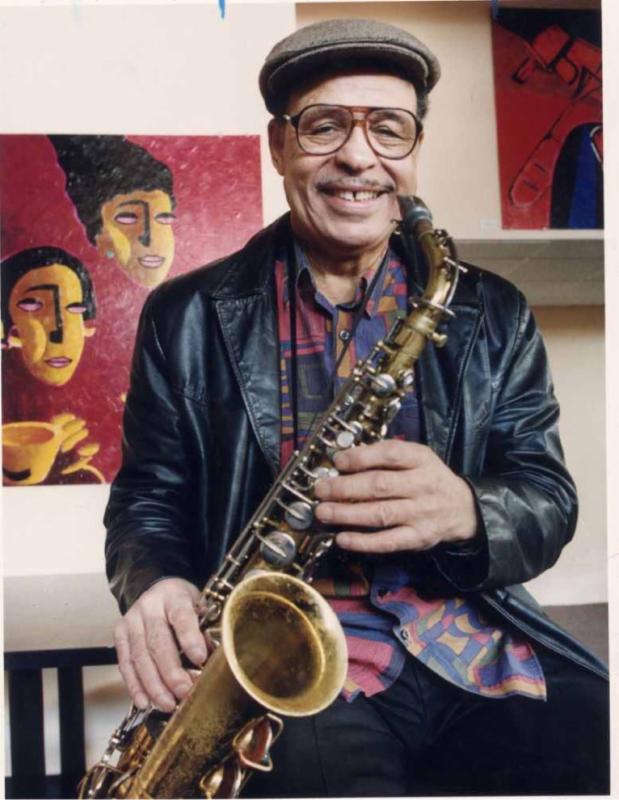 Categories:

A Thousand Honey Creeks Later, African-American, African-American Culture, Blues, Jazz, Music, Musician, North Omaha, Omaha, Omaha Black Music Hall of Fame, Preston Love, Writing
A Thousand Honey Creeks Later, Blues, Count Basie, Jazz, Motown West Coast Band, Music, Musician, North Omaha, Omaha, Preston Love
The late Billy Melton began as a source for my writing-reporting on aspects of African-American culture in Omaha and he ended up being a friend.   Like my late father, Billy was a World War II veteran.  Some 35 years my senior.  As a black man from an earlier generation Billy lived a very different life than I had as a white Baby Boomer, yet he never made those differences a barrier in our relationship.  Rather, he used his life experience as an instructional point of departure for sharing lessons he'd learned. There were many.
I quoted Billy in several stories I wrote over the years.  One of these stories, Omaha's Sweet Sixteen, focused on the Quartermaster battalion he served in during the war.  You can find that article on this blog site under the Military and African American categories or by doing a search with the key words, "Sweet Sixteen" or "Billy Melton."  The site also contains a piece, Puttin' on the Ritz, that tells the story of the black owned and operated cab company Billy drove for, Ritz Cab. Search for the article by its title or in the African-American and Entrepreneurial categories.
The article presented here, Sportin' Life, explores Billy's passion and one might say magnificent obsession with music, and more specifically, with collecting it.  Through his friendship with the late jazz musician Preston Love, Billy got to meet several jazz legends, which resulted in signed photos of these icons.  He was in his early 80s when I did tise piece and he was much concerned about what would happen to his massive collection of records, tapes, and memorabilia when he was gone.  He tried finding an institution that would accept the many thousands of items meticulously shelved and displayed in his basement.  Though there was much interest, he could never secure a deal because he wanted compensation in return for the collection, and the museum officials he talked with didn't have an acquisitions budget that could accommodate his demands.  He also wanted assurance his collection would be kept on view and made accessible for the the general public, which was another condition officials found hard to make any promises about given the size of Billy's collection.
Billy passed before anything was done with his collection.  It still occupies the basement of the home he and his widow shared.  Martha would like nothing more than to carry out Billy's wishes and find a permanent repository for the collection. I've also has the distinct pleasure of getting to know his granddaughter, Carleen Brice, a fine novelist you'll find my blog posts about on this site.
Dreamland Ballroom
Cool Cat Billy Melton and the Sportin' Life
©by Leo Adam Biga
Originally appeared in The Reader (www.thereader.com)
The sportin' life is what Billy Melton's lived the better part of his 82 years. This party animal has haunted the best night clubs and after hours spots from here to Philadelphia. He's seen the great entertainers perform. Wherever he's gone, he's hobnobbed with friends and stars. And, always, music — the subject of a lifetime collecting hobby — has been part of the action.
"I loved the social life. I had so many great friends out there. I was out roaming around the country, drinking, gambling, enjoying the single man's life. All the time, adding to my collection and getting enjoyment out of music," he said.
Even after settling down as a family man, music remained his overriding interest. But it's more than that for this gregarious man. "Music's a passion of mine. I love it. I love it all. And I've collected it all," said Billy. No where is his ardor expressed more than in the distinctive musical notes detailing on his silver Chevy Caprice and in the showplace and archive he's made his home. His modest Omaha residence houses a music collection of staggering size and breadth. He hopes it goes to a museum.

The music room in his basement is a glittering, overstuffed assemblage of music collectibles, novelties, instruments, records, tapes, eight-tracks, photos, posters, album covers and books. One of his two prized juke boxes sits there. Every inch of the floor, wall and ceiling is adorned with a musical motif, whether tiles decorated by music symbols or CDs hanging like Christmas ornaments. Another juke box shares space in an adjoining room with the washer and dryer. The bulk of the collection rests in a specially-built room just off the attached garage. Here, a maze of stacks, bins, trees and shelves hold tens of thousands of LPs, 45s, discs and tapes that encompass a world of musical styles, periods and performers, but with a special emphasis on jazz, blues, soul and Motown.
There are collections within the larger collection, including extensive, if not complete, sets of recorded works by such artists as Count Basie, his No. 1 idol.
Where It All Began
The Omaha Technical High School graduate traces the spark of his passion to the Kansas Vocational School he attended two years in Topeka, Kansas. There, in the late 1930s, he first listened to the seductive sounds of great musical artists, black and white alike. In fact, his original collection began with a Bing Crosby platter. Back in Omaha, where Billy was born and raised, his family was too poor to afford a radio. In Topeka, he scrounged up enough scratch to buy himself, first, a crystal set and, then, a Philco radio, which he listened to late at night in his dorm room. Picking up broadcasts from as far away as Chicago and New York that featured the great swing, jazz and blues bands of the day, he was hooked. "We listened to that music every night," he said. "It just sounded so good."
The Metropolitan Hall in Topeka is where he first saw Basie. The experience made him a fan for life. "I loved his music and his dynamic personality. He just lit up the house. He took it to another level. If you don't like his music…" Well, then, let's just say you're not copacetic in Billy's eyes.
As a young hep cat, Billy immersed himself in the music of the day. He fell for Duke Ellington, Cab Calloway, Lionel Hampton, Nat King Cole, Ray Charles, Jimmy Rushing, Jimmy Lunceford, Gene Ammons, Billie Holiday, Ella Fitzgerald, Dinah Washington, Jackie Wilson, Billy Eckstein, The Inkspots and others. "So many great talents. After I set to collecting these artists, I made it a point to go see them," he said." That early taste of Basie whet his appetite for more. He caught Basie, Ellington, Calloway, Hampton, Cole, Charles, et all, performing live on Omaha's then-jumping live music strip on North 24th Street and at its many downtown theaters.
"As far as the big bands," he said, "we didn't have to go to Kansas City. They were right here in Omaha. Twenty fourth and Lake was nothing but music. Did you hear what I said? This was a fun-loving, musical town. We knew how to party."
In Omaha, Jimmy Jewell's Dreamland Ballroom was the mecca. "Oh, you had to go to the Dreamland." Ask who he saw there, and he retorts, "Who didn't I see there?" In a scrapbook, he has ticket stubs from some of the countless nights he let his hair down there in the '50s. The names read: Ray Charles, Fats Domino, Johnny Otis, Wynonie Harris, the Orioles and the Nat Towles territory band. "Sometimes, I'd stand there with my mouth wide open watching those guys perform."
Jewell, Billy said, "knew music," and had connections to book whistlestop gigs by touring performers traveling between K.C. and Chicago. As often noted by the late jazz musician and author Preston Love, who was a close friend of Billy's, Omaha was ideally situated to attract top entertainers due to its central location, the presence of five major booking agencies and a happening live music scene.
The music wasn't just confined to the Dreamland, either. "Musicians got together and jammed…every night. Local musicians and out of town musicians. Even the big names — Lionel Hampton and all those guys. After they'd get done playing, they'd come out north to the bars and after hours places and jam," Billy said. Those informal improv sessions unfolded at juke joints named the Apex, the Blue Room, the M & M, Bob and Mary's Chicken Hut, the Showcase and the Backstreet. "The whites used to come out here and enjoy that," he said.
Big Fat Swingin' Fun
When not hitting night spots, Billy hosted them. He and the late Nate Mills ran a gambling emporium out of different North O sites. His partner had the bar and Billy the dice and card games. The illicit thing finally grew old. Too many raids. Too many knives and guns pulled on him. "I ran into some ticklish situations where it was life and death. Finally, it got to the point where I said, 'I'm going to have to roll away. It's not worth it.' And I pulled out." Besides, he'd married "a church lady," the former Martha Hall, who only tolerated his hijinks so much. Together now 52 years, the couple entertained like nobody's business. It was always open house at their place for the steady stream friends and relatives passing through town.
Native Omaha Days found the couple throwing an epic bash. Jukeboxes played outside, where partygoers danced, liquor flowed and laughter resounded. Stories grew embellished with each round. Martha's home made soul food fed the throng.
"It was a music thing," he said. "Everybody just wanted to hear music."
His memories of these high times always include "the people we shared them with" and the music they digged together. Music is associated with virtually all the fun in Billy's life. By the time he and Martha were hitched, they began traveling the country, by car, for vacations that lasted three to six weeks at a time. Their itinerary might include such hot spots as Chicago, Detroit, Philadelphia and Atlantic City. Wherever they went, they had friends, and whenever they could, they caught music acts at swank clubs or partied the nights away at after hours joints.
Sports, another spectator's-collector's passion of Billy's, was usually part of the mix, as the couple took in a pro baseball or football game here. Billy saw play, in their prime, such major league baseball greats as Willie Mays, Hank Aaron, Ernie Banks and Willie McCovey. He saw National Football League legend Johnny Unitas quarterback the Baltimore Colts versus the Detroit Lions. In his own expansive backyard, where a hoop was set up, athletic prodigies — from Gale Sayers to Marlin Briscoe to Johnny Rodgers — strutted their stuff in pick up games. Bob Boozer and Oscar Robertson visited.
But Billy wasn't home long. When not working two jobs, as a Union Station janitor by day and Ritz cabbie by night, he prowled the night — indulging in games of chance. He was also a shoe shiner, messenger, mail handler, waiter and bell hop. The extra dough supported his wife and three kids and underwrote his fun. "You can't smoke cigars, drink, gamble, travel, raise three kids and help grandkids through college on an ordinary salary. Working two jobs still wasn't enough for the life I wanted to live," said Billy, whose gambling earnings made up the difference. "I could always hustle some money. God gave me that energy to fulfill my dreams."
He was also fortunate to have a friend, John Goodwin, and brother-in-law, Charles Hall, whose Fair Deal Cafe was a fixture on North 24th, he could go to for loans.
Doin' the Town
Traveling's no luxury, but a lifestyle component for Billy, who "just can't sit at home." He and Martha drove old Highway 6, en route to Chicago, via Des Moines, where they got down with friends. In ChiTown, they hooked up for a ball game at Wrigley Field before a night on the town. "They knew when we got there we were ready to have fun. That's what it was all about," he said. One north side spot they hit was the Archway Lounge, owned by "Killer" Johnson. "We'd almost spend all our money in Chicago before we got to Detroit."
Doin' it up right, he, Martha and Co. dressed to the nines for pricey outings. "Once, we went to the most exclusive place in Chicago — the Blue Note. Lionel Hampton was playing. By the time we paid the cover, ordered a round of drinks and had our pictures taken, we'd spent $80. It takes money to live." At his irrepressible best, Billy sauntered over to Hampton to request a favorite tune, "On the Sunny Side of the Street." During a break in his set, Hampton joined the Meltons' table, which Billy has a picture of, before returning to the band stand. After recognizing the Omaha party, he proceeded to play a jumpin' rendition of the song.
Ebullient Billy has never been shy approaching celebrities. After shows, Basie  ("regular"), Calloway ("jovial") and Hampton ("nice") joined Billy and his bunch into the wee hours. Comedian turned-activist Dick Gregory "stayed up all night" with Billy's crew. Billy cozied up to boxing legends Joe Louis, Sugar Ray Robinson and Joe Frazier. He's got autographs of countless stars from the worlds of entertainment and athletics, with most of the signatures scrawled on $1 bills.
Native Omaha Club, photo by Lachance (Andrew Lachance)
Once, at a surprise birthday bash for his wife, he got comedian Red Foxx, then appearing in Omaha, to stop by. "He was the life of the party," Billy said. "Down and dirty." Billy's penchant for music gained him entree into some privileged ranks. Preston Love arranged for Billy and Martha to attend private parties headlined by Count Basie and Fats Domino on the same night. "That was the most exhilirating night." On one occasion, Love, a sideman with Basie in the '40s, brought Basie over Billy's house. A photograph recording the visit hangs in Billy's music room. Another time, Love had Billy join he and the Count on stage at the Orpheum Theater.
"Everybody knew I loved music," Billy said, "and it led to lots of connections." He even carried some of his music along with him on road trips in response to friends asking that he bring certain recordings they liked.
A Collector's Dream
His collecting began in 1939. By the time he went off to serve in the all-black 530th Quartermaster Battalion in World War II, his holdings were significant. After tours of duty in North Africa, Italy — where he and his GI buddies enjoyed operas — and the Pacific, he returned home, only to find his albums warped from lying flat. Undaunted, he began collecting anew. "I really got serious after the war. I started buying records 90 miles a minute. Forty or fifty at a time," said Billy, who spent a third of his $7 a week salary on music.
He purchased so many records at one music store, Lyon and Healey, that shop owner Bill McKenzie advised him to invest in a reel-to-reel recorder and tape player. It set him back $600 and took him five years to pay off. Then, from one music lover to another, McKenzie told Billy he could have his pick of any records in the store to transfer over to tape — for free. Over six or seven years, Billy estimates he brought home thousands of records that he put on tape. He "knows what's on every tape" and cartridge, too, thanks to a catalog he's prepared.
Hard-pressed to choose any aspect of his collection over another, he's proudest of "the magnitude of it" and the fact it's "not just one kind of music." Despite not playing an instrument,he professes "an ear for music." He even calls the best of rap "genius," though it's not his idea of music. Wife Martha Melton can attest to Billy's wide-ranging tastes. "There is no form of music he does not love. He just loves music, period." Indeed, his collection encompasses big band, jazz, blues, soul, gospel, spiritual, pop, rock, funk, classical, opera, international. She says he's well-deserving of his self-proclaimed Doctor of Music degree. Eclecticism aside, it's still "the black music" he "turns to" for personal pleasure. He favors "the old timers," by which he means the big bands and vocalists of his youth. "They could do it all. Their charisma made them stand out above the rest." And, for Billy, Basie's in a league of his own. "If you feel down, his music will lift you up. Just that rhythm and beat in unison." Play Basie's "One O'clock Jump," and he's in heaven.
Like many music devotees, he prefers old wax records to CDs. "It's the real thing. It takes you back. I like the scratches and the noise. You can almost see the guys."
Billy wishes he could properly display his wares. "The only disappointment I have is I don't have enough space to have everything in the same room, where I could appreciate it." He's looking for the right venue to preserve his treasures and use them as educational resources for the public. Dealers have tendered offers. He hopes a local museum, preferrably one with a black emphasis, makes him a deal. So far, he's had preliminary talks with officials from one center about it being the home for his stuff. A potential hangup is the matter of compensation. "My life is in here," he said. "I just can't give away my life."
Like the music of his life, Billy's a swingin' cat with few regrets. "My wife and I have done everything. There's nothing we haven't enjoyed from the fruits of our labor. The only sad part is we've lost so many of our friends that enjoyed life, too."
Billy, who fashions himself a homespun philosopher, has one more thing to say about music. "If people could get along and blend together in harmony like these musicians do, oh, man, would this be a great world to live in."
Related Articles
Categories:

African-American Culture, Billy Melton, Carleen Brice, Entertainment, History, Jazz, Music, Native Omaha Days, North Omaha, Pop culture, Preston Love, Writing
African-American Culture, Art, Billie Holiday, Count Basie, Duke Ellington, Entertainment, History, Jazz, Lionel Hampton, Music, Nat King Cole, Omaha, Pop Culture, Preston Love, Ray Charles