Posts Tagged 'Elaine Jabenis'
The words Omaha and fashion may seem incongruous, certainly not synonomous, and no one, including this writer, would argue the fact that as a Midwest city far removed from the fashion centers of America this place is in a perpetual state of catching up with and therefore always behind trends in clothing and accessories and other aspects of style.  Of course there's always been a fashion scene and community of its own here, just as there is in any city of a certain size, and no matter how small or insignificant that fashion conscious segment may be by national industry standards it has still produced its share of highlights and notables, even if on a scaled down size. There was a time when high fashion in Omaha was catered to by a whole range of stores, shows, and figures.  Then owing to several factors high fashion activity here faded away.  Recently though there's been a resurgence of interest and activity, much of it coalescing around the wildy popular Omaha Fashion Week, and the fact that this article is for an upcoming issue of Omaha Fashion Magazine is an indicator of just how far things have come around.  Omaha never had a fashion week or fashion magazine before.  And the same people who've made those things happen, Nick and Brook Hudson, now have the Omaha Fashion Institute in the works.  In their own way this power couple has done for fashion in Omaha what individuals and institutions like Elaine Jabenis, Nancy Bounds, J.L. Brandeis & Sons Department Store, and the Clarkson Fashion Show did in an earlier era.  There's more to come in future issues on the fashion institute.  In the meantime, think of this story as a guide to what Omaha's Fashion Past looked like and check out my other fashion stories on the blog:  a profile of fashion illustrator Mary Mitchell, who has a new book and exhibition out featuring her work; a look at Omaha Fashion Week; and profiles of past and present style mavens – Nancy Bounds and Nick and Brook Hudson.
Elaine Jabenis, center, hosting telecast of Omaha Community Playhouse opening
Omaha Fashion Past
©by Leo Adam Biga
Soon to appear in Omaha Fashion Magazine
Fashion Divas
Just as fashion is of the times, so is the infrastructure supporting it, which is why the Omaha fashion scene once looked quite different.
It used to be fashionistas frequented multi-story fine department or apparel stores. Attentive customer service ruled the day. The same way boutiques do, box stores employed a fashion arbiter to select the latest seasonal looks in men's and women's clothing and accessories from the major American and European fashion centers.
The area's penultimate arbiter was Elaine Jabenis, "Omaha's First Lady of Fashion." The radio-television personality and theater actress was fashion director for the pinnacle of department stores – J.L. Brandeis & Sons. She later served the same role for the Crossroads and OakView malls. Twice a year she visited New York, Los Angeles, London, Paris and Milan to view top designer collections.
"There was a whole way of educating the customer about what the trend was and why, and Elaine was in the forefront of that," says designer Mary Anne Vaccaro. "She was always checking on what was in fashion."
"We never let our customers down. People understood what we stood for and what was important," says Jabenis, who found a happy medium between West Coast daring and East Coast sophistication to fit the Omaha market.
 The French Room at J.L. Brandeis & Sons Department Store
Always an innovator, she integrated theatrical elements into her runway shows.
"I felt all the shows I had seen were very boring. Models just walked down and somebody talked forever. It was kind of nothing. I thought there must be a better way to do this. I wanted music, dance, interesting staging. I decided to break it up into scenes and do a color story, a trend story, transition from day to night and night to day. Brandeis really loved that and the audiences loved it too."
"Elaine's shows were great," says stylist David Scott, who with Rick Carey designed hair and makeup for Jabenis shows.
She went over-the-top with sets, actors, singers, musicians, celebrity guests.
"That kind of show could never be done today. You could never afford it," she says.
As corporate fashion merchandiser she implemented themes throughout the entire Brandeis chain, extending to window displays. Models strolled through the stores. In-store fashion illustrators and copywriters carried the themes into print ads, articulating the look and feel of garments in a few strokes and well-chosen words.
The work of fashion illustrator Mary Mitchell is now showcased at Durham Museum.
Always attuned to trends, Jabenis was a pioneer in focusing on plus-sized women. "I was really a maverick," she says. Mademoiselle and Seventeen magazines recognized Jabenis, who's authored fashion merchandising books.
"Elaine is the crowning diva queen of all fashion ever in Omaha," says Scott.
Other fashion forward figures made their own marks. The late modeling agency maven Nancy Bounds put on a smashing graduation show that launched international modeling careers, including Jaime King's.
"Nancy Bounds had a huge impact for not only opening up doors for young models but also creating a great sense of style in Omaha," says retail consultant Wendy Chapman.
Fashion Culture, Then and Now
Upscale retailers abounded (Nebraska Clothing Co., Topps, Zoob's, The Avenue). Stores, large and small, strutted their wares at the Clarkson Fashion Show – "THE huge fashion happening here," says Scott. Trunk shows featured major designer lines and sometimes the designers themselves. Vaccaro met Oscar de La Renta at Brandeis. Scott recalls Michael Kors, Bill Blass, Geoffrey Beene and Halston all coming here.
Mary Anne Vaccaro
Local designers like Vaccaro turned heads too with their custom couture works.
Though the Ak-Sar-Ben Coronation and Ball is not a fashion show per se, socialites used it as a stage to out-dazzle each other in their designer gowns.
"Everybody would wait to see who was going to wear what by these famous designers," says Scott. "Everybody held their breath for Rosemary Daly to come from Paris. As she swept in she would have on Yves Saint Laurent and the crowd would ooh and ahh."
The fabulous traveling Ebony Fashion Fair often stopped here, giving locals a chance to ogle the latest European and American lines.
When the Clarkson show ended after 1999, the era of big Omaha shows, with the exception of bridal wear events, ended too.
"The audiences became less and less. Fashion sort of became passe," says Scott. "It wasn't as prominent in people's lives because then things were coming off the racks and fashion wasn't just a one-of-a-kind thing for a woman. Anybody could go buy it."
Chapman says where the emphasis was on building wardrobes of enduring high style, "I think today some of that is lost because things are more geared to disposable fashion. It's all about getting the look and if the customer knows she's only going to wear it four times, she doesn't care if it's going to fall apart."
Many exclusive department stores, Brandeis included, disappeared. No longer, Jabenis says, did someone tailor selections to the Omaha market. The big chains, she says, "don't buy on a personal level" but rather via "a central buying office." The intimate connection between store and customer faded. "The human touch is gone, service is gone. It's not at all the kind of thing it used to be, consequently the department store is losing its foothold and the specialty shop is doing much better." Nouvelle Eve, Tilly's and Trocadero are among Omaha's high-end boutiques today.
Fashion illustrator Mary Mitchell
Chapman says department stores "need to continue to reinvent themselves to be relevant with customers."
Malls and national chains (Ann Taylor) featuring ready-to-wear designer brands became the new norm. The changing times made it tough on specialty shops too.
"People started going to Target and buying online what they bought in designer stores," says Vaccaro. "In the fashion business if you go sour or you cannot sell one seasons's collection, you're in trouble. That's the way it is. To outlast all the challenges coming at you you've got to have the strength of God practically."
Changing Times, New Directions
"This industry has just changed so dramatically, I wouldn't say either better or worse but just that fashion is moving much faster,"says Chapman. "Things are instantly knocked off and on the streets."
"Today, fashion is about celebrity and it's quick and it's highly competitive," says Vaccaro. "There's not a few big name designers, there's one celebrity designer and stylist after another."
Vaccaro has changed with the times. She still has a design studio, but she's mainly an image consultant these days. She says, "If you're not willing to change then you are not a person of fashion anymore. You have to be what it is."
Scott pines for what once was. "I miss it in the fact it was such a fantasy era," he says.
To the delight of Scott and Co. fashion matters again in Omaha, where magazines, events and organizations support the emerging local design community.
"It's an exciting look back and an exciting look forward with the evolution Omaha's gone through and what's happening now with Omaha Fashion Week," says Chapman.
A runway show at Omaha Fashion Week
Related articles
Categories:

Brandeis Department Store, Brook Hudson, Elaine Jabenis, Entertainment, Fashion, Nancy Bounds, Omaha, Omaha Fashion Magazine, Omaha Fashion Week, Writing
Brandeis Department Store, Brook Hudson, Elaine Jabenis, Mary Anne Vaccaro, Nick Hudson, Omaha Fashion, Omaha Fashion Institute, Omaha Fashion Magazine, Omaha Fashion Week, Wendy Chapman
©Photo by Bill Sitzmann
Cities the size of Omaha or smaller have their local theater legends.  Omaha claims many, including at least two figures, in Henry Fonda and Dorothy McGuire, who became legends on a much larger stage.  One of the local legends who stayed local but whose talent might have played well beyond these confines had she sought to try is the subject of this New Horizons story.  As I was growing up, Elaine Jabenis epitomized glamour by the way she carried herself in theater, in fashion, in television, and at community events.  She was a queen and a diva without the baggage. She seemed apart from yet wholly approachable.  When I finally met her seven years ago I found she is still that charming mix of Grande Dame and down-to-earth hometown girl.  She's still full of vitality and curiosity.  I must admit that I've never seen her perform in the theater, the domain where she perhaps made her biggest impact.  But I saw enough of her on television to appreciate her expressive talents. And even interviewing her at her home I was captured by her magnetic charm. She gives off a positive energy that you can't help but be energized by yourself.
As if I needed proof, not long after my story appeared Elaine appeared with Michal Simpson in the SNAP! Productions staging of Richard Alfieri's Six Dance Lessons in Six Weeks, earning as usual rave reviews. She's gone on to win a series of lifetime achievement awards. Look for a new story about Elaine and her unaging passion in a coming post.
Theater-Fashion Maven Elaine Jabenis
©by Leo Adam Biga
Originally published in the New Horizons
Elaine Jabenis
When considering her charmed life, Elaine Jabenis, that pert, pretty, petite bundle of energy Omahans have come to know as a well-versed radio-television personality, veteran stage actress, longtime fashion maven, seasoned author and perennial woman of style, has to admit it reads like "a storybook."
Take the time she was waiting out a rain storm in the Times Building as a young newlywed in 1944 New York, where her husband Mace, a Kansas City native, was stationed as a flight crew member aboard Army Air Transport Command missions over the Atlantic, when she decided, on a whim, to put in an application at that bastion of American newspapering — the New York Times.
Mind you, she'd never worked on anything but the Omaha Central High School Register staff and had only taken a few courses at Northwestern University's prestigious Medill School of Journalism before her money ran out. But, showing the penchant for imagination that would define her life, she bent the truth a little, well, a lot, by inventing from whole cloth a high-gloss work background, including a fictitious World-Herald reporting stint. What gave her the chutzpah to pull such a cheeky stunt?
"I was really doing it as a kind of lark," she said. "I exaggerated, never in the world expecting to get a job. I was just playing this silly little game. This was the sense of drama in me" coming out, a vivacious Jabenis said in an interview from the home she shares with hubby Mace in Omaha's exclusive Loveland neighborhood. The rich, tasteful decor of the home, featuring art objects from the couple's wide travels to China and elsewhere, is a reflection of Jabenis, whose well-coiffured hair, stylish ensembles and trim figure, still make her every inch the fashionable lady.
After all, there wasn't a chance in hell she'd get on at the venerable Times, right? Wrong. In a case of being at the right place at the right time, she was on her way out the building when a certain Mr. Tootle flagged her down and, much to her disbelief, offered her, on the spot, a temporary job filling-in for a secretary taken ill that day. She accepted and in typical Jabenis fashion she displayed such poise, industry and charm that at the end of her term she was kept on as an assistant in the high-octane city room. Thus, what began as a lark turned into a three-year whirlwind that provided invaluable experience and exposed her to the high-end creative world she would make her life's work. "That application was probably the best piece of fiction I ever wrote," is how she sums up the episode today.
Despite the frivolous attitude she adopted when applying at the Times and the fortuitous manner in which she got hired there, she really did have a hankering to write. Growing up one of three children of Sol and Ida Lagman, Russian immigrant grocers whose Laggie's Market was a north Omaha fixture, she said, "I always had a pencil and pad under my pillow and I was always writing poems and stories." At Central, she was encouraged to pursue writing by journalism department head Anne L. Savidge, who persuaded her to continue her studies at Northwestern.
At the Times Jabenis was first assigned to the Town Hall page and later as an aid to several experienced journalists under whose doting tutelage she learned a thing or two about writing, working under deadlines and trusting her muse. As a young reporter-in-training, she did a little of everything, from fielding phone calls to fixing copy, and sometimes accompanied beat writers on assignment, once to the first meeting of the United Nations security council.
One of her mentors was education editor Benjamin Fine, who advised Jabenis on her ambition to be a serious writer with this admonition: 'Go home and write a million words and then tell me you're a writer. The only way to be a writer is to write all the time.'" And, like a good pupil, she took his sage advice years later when, writing "every single day," she authored a suspense novel, The Burning of Georgia, set amidst the fashion world, an arena she knows well from her years as fashion guru for J.L. Brandeis & Sons Department Stores. In the early 1970s she penned the first of her two long-in-print fashion merchandising college texts published by John Wiley & Sons. She's also written the book for two musical plays. Her Generation to Generation, with music and songs by composer and producer Karen Sokolof Javitch, is "a celebration of life" about a dying Jewish woman passing on her legacy to the grandchild she won't live to see. Generation won the best new script award from the Theater Arts Guild.
Two other Times staffers she worked for, drama critic Brooks Atkinson and film reviewer Bosley Crowther, were living legends whose printed words carried much weight, but none more so than those of Atkinson whom Jabenis describes as "the most feared theater critic of all time. I mean, if Brooks Atkinson put his thumb down on a show, it could close tomorrow. He didn't pull any punches."
Looking back on her Times experience, she said, "It was a wonderful training ground. I gained so much while I was there. I was like a sponge just soaking up all that knowledge." Her association with Atkinson afforded privileged access, via her Times press pass, to stars, including rubbing shoulders with Rex Harrison at the swank Stork Club, and taking in scores of Broadway opening nights for such classics as Oklahoma and Moon for the Misbegotten. Her total Broadway immersion prompted her own passion for theater, until she knew her place was not in the audience anymore but on stage. "I began to think — I don't want to be down here, I want to be up there. I just began to love it. It was always there, that desire to act or to perform. If that basic temperament is there, it only needs cultivation to bloom."
With a hoped-for life in theater or journalism before her, Jabenis was in an envious position, but reality has a way of tempering dreams. It was, after all, wartime and she had more pressing concerns than what professional path she should take. She explains, "My husband was crossing the Atlantic on ATC missions and my mind was more on, Is he coming home safely this trip? than on what I would do" for a career.
A life in the theater did indeed come to fruition for Jabenis, only in her hometown of Omaha, where she and Mace moved a year after the war ended, not in New York, where she longed to study at the famed Actors Studio but never found the time and where she ached to trod the boards but never took the plunge. As she would soon discover, her destiny as an actress lay on the Omaha Community Playhouse stage, not on Broadway. But before launching her six-decade run of success with the Playhouse, which in July honored her with its Dick Boyd Award for lifetime achievement, she had an unexpected brush with Hollywood.
About the same time her thespian ambitions flowered in New York, she said, she was offered a screen test by a major Hollywood studio, she thinks Paramount, a heady thing to have happen to "a country girl" with stars in her eyes and greasepaint in her veins. Flattered and flummoxed by the offer, Jabenis sought the counsel of one of her Times mentors, Crowther, whose resulting bromide may have dramatically changed her life. "
He said, 'Elaine, don't do it.' And I said, 'Why, because you don't think I have the talent or the warmth or something?' He said, 'No, you probably have both, but you don't have a killer instinct and without a killer instinct they'll destroy you. You don't want to be a part of that world and those ruthless people.'" A deflated Jabenis heeded the warning, even though "it was very hard to hear," at the time, she said. "He just decided I was a nice Midwestern girl" unsuited to the cruel vagaries of Hollywood or New York. "Later, I was so grateful because after I got back here (Omaha) I had the best of both worlds. Not only could I have theater as an avocation, I had New York through my fashion career and I was able to raise my children and have a decent life."
In Omaha Jabenis wasted little time embarking on her entertainment career. "Almost immediately I got a job as a continuity writer at WOW Radio," then aligned with WOW-TV. "I wrote commercials and copy for on-the-air people," she said. Then, one day an unlikely chain of events propelled her into the performing spotlight.
As Jabenis recalls, "Shaver's Food Mart wanted a commercial tailor-made for them" and she obliged with one, which the general manager had her put on tape. "I went in the announcer's booth of a little studio and recorded it and they took it over for Mr. Shaver to hear and he liked the concept really well and bought the package." Then, the story goes, when Shaver was told, "We'll get you an announcer" to cut the spot, he balked, saying, "No, I want the voice I heard on that tape." When pointed out to him the voice belonged to a writer, he persisted, "I don't care, I like what she said and the way she said it." Acceding to "the customer is always right" credo, WOW put Jabenis on the air and, she said, "before I knew it I had a show of my own" — Saturday's Scrapbook — and a star was born.
Saturday's Scrapbook, which Jabenis co-hosted with Ray Olson, was what she calls "a forerunner of the talk show." She added, "We talked back and forth. We had music and special topics. We did it quite loosely, but I think that's what made it work."
The program was recognized by Billboard Magazine as one of the best of its kind. Soon, she joined the television side of WOW, serving as spokes-model for commercials on evening newscasts, as featured guest on local morning programs and as host of prime time special event broadcasts, such as the Ak-Sar-Ben ball. It was all live, too. "There was no such thing as teleprompters or idiot boards. You just got up there and talked. It was very stimulating," she said of those halcyon days. "Back then, television was just coming in and none of us knew what we were doing. We just did it. It was, Let's try this, let's try that."
Among the talents at WOW she worked with was a young fire brand named Johnny Carson. At the time he was hosting his Squirrel Cage TV show and one day she came on to read some prepared copy when Carson, already known for his free-spirited, anything-goes ad-libbing, forced her to improvise as she joined him on set.
"I came in scripted and he knew I was going to want to look at those notes and he just tore up the script and cleared off the desk, sending stuff flying across the studio, and he said, 'OK, Lainie, what did you want to tell me?' That taught me." From then on, she said, she knew to be ready to just wing it. Lainie is what Carson always called her and the nickname, which no one else but her mother used, endeared him to her. "It was such fun. He was always doing silly things. We always had a good time together. We were good friends. I like him a lot."
The rapport they enjoyed is evident in a 1966 interview he gave her during one of his rare Nebraska visits. On the tape, the two engage in the easy, intimate banter and horse play of old chums, as she playfully slaps him and they embrace like schoolkids. "It's so funny to be in this position of interviewing you," she tells him.
She and Carson stayed in touch over the years. Once, returning from the West Coast after having given himself a year to make it out there, he tried coaxing Jabenis to join him in L.A., where he predicted great things for her. But she declined. By then, she and Mace had started a family and well, just like the Hollywood opportunity before, who's to say whether she really would have succeeded or not and whether it was right for her or not? "I wasn't that adventurous to pack up and move my family and risk everything on that chance." Mace was in business then with his brother Eli as owners of Travelware Luggage.
In her career Jabenis has had the privilege of working with major talents. There was Carson, who forever put his stamp on the late-night talk format as host of The Tonight Show, and, more recently, there was John Beasley, a top character actor in movies (The Apostle) and television (Everwood). "Absolutely. I have found that when you're around very talented people it just brings your level up," she said. "I know when I played opposite an actor of the caliber of John Beasley in Driving Miss Daisy at the Playhouse it was a thrill because John is such a perfectionist and a professional. He really brought me to places where I never knew I could go."
 Elaine Jabenis, center, hosting live TV special atopening of the new Playhouse
Jabenis got so busy working as a freelance commercial talent with Bozell and Jacobs and its stable of clients that some nights found her hurrying from station to station to pitch products on the evening newscasts.
"I would be booked into a commercial at Channel 3 for Peter Pan Bread, which I'd have to commit to memory and do live, and then I'd get in the car with the script for another spot beside me and as I drove up to WOW I'd be reviewing the lines I had to do for MUD and its new gas ranges. And then I'd go over to host a late-night movie show on Channel 7 and do the live cut-ins." The excitement was intoxicating. "You just had to really move. But, boy, that really taught you to think fast on your feet. I loved the action. I loved the electricity of all those personalities and how ideas bounced off of each other. You began to pick up the pace of that kind of life. It was really wonderful."
While her TV career flourished, she pursued a parallel career in drama.
"There was that pull to go into the theater," she said.
So strong was the pull that in 1952, six weeks after giving birth to her second child, she played the ingenue in Father of the Bride at the Playhouse, then at 39th and Davenport. Years of award-winning lead and character roles followed, the most recent a 2001 supporting turn in My Fair Lady. Like a true calling found, the theater became her second home. "Yeah, I really loved it. I could just hardly wait to get into the next play, but it was very hard at first because I was raising our two children. I kept watching to see what was coming up next that had a good part for me." Her passion extended to all aspects of theater. "There were times I worked backstage…props, costumes…I would do just about anything because I wanted to be in the environment of the thing I loved." She could only pull it all off, she said, with "the support of Mace."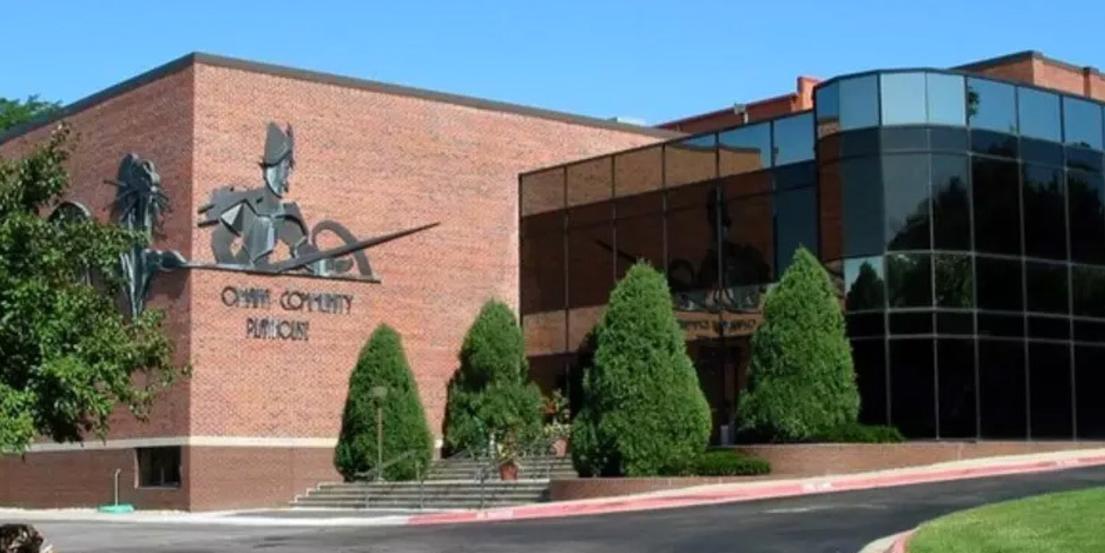 Omaha Community Playhouse
Whether as a radio-TV personality or theater actor, Jabenis proved a natural. Without any formal training, she simply took to it.
"I had an aptitude for it, I guess," is how she explains it. "Nobody had to tell me. I just think it's something you do and you know. I think it's in here," she said, patting her heart. Natural or not, Jabenis still battled stage fright. "I was terrified every time I went on camera, but the minute the light went on I was fine. That's the same way it was with the theater. I'd stand back in the wings and feel like I was going to have a heart attack before the curtain went up, but once on the stage I forgot about Elaine and became whatever I had to become."
Her absorption in her craft is complete. Take her approach to acting.
"What I think is important is to have a moment of truth with the audience…to give an honest interpretation of the author's words. It's exciting when it happens. It really is," she said. Now, forget the glamour of the theater and consider the grind of working a full-time job, as she did 23 years at Brandeis, then coming home to shower and catch a bite to eat before spending hours in rehearsal or performance. "Once I got involved with the Playhouse it was totally consuming," she said. "You have to be up every night." Her devotion is such that one night during the run of Wingless Victory the trouper went on despite a high fever. "I was just going on sheer guts," she recalls. "I just had to do it." After her final exit she was delirious in the wings. "I didn't know where I was. I was really sick. I was in bed the next two days."
Broadcasting and acting success led Jabenis into another creative field — fashion. It happened this way. Having covered the Ak-Sar-Ben ball, Jabenis "got very well acquainted with the buyers and presidents of the stores furnishing gowns for the event. Brandeis invited me to be a guest commentator for fashion shows and this and that. Then, one day I got a call from Dick Einstein of Brandeis asking if I'd like to make it a permanent arrangement."
As Brandeis fashion coordinator and, later, fashion merchandising director, she canvassed the designer market by reading the industry trades and by frequently visiting New York, Los Angeles and Europe to catch the biggest shows and identify the hottest trends. She met the top name designers — from de la Renta to Cardin — and worked with celebrities — from Irene Dunn to Vanna White. She recommended entire lines and styles of clothing for the store to purchase and pitched those fashions via all size and manner of shows.
"I was probably the first one to introduce theatrical pieces into fashion shows here when I started adding singers and dancers and that kind of thing," she said, adding that she drew on her theatrical acumen in staging events. After Brandeis was sold she formed her own fashion production company and dished-out fashion advice as a TV and print commentator. Her biggest fashion forum has become the Woman of the Year Gala she created as a benefit for the Arthritis Foundation. As she said, "All stops are pulled," for the extravaganzas. "That's right up my alley."
Reticent about revealing her age for professional reasons, it's safe to say Jabenis is years removed from traditional retirement age, but she does not concede anything to mere numbers. "I haven't retired from anything, honey," she told a visitor to her home. "I don't believe in that. I'm not going to let chronological years interrupt what I want to do." What she wants to do is continue traveling, writing and acting. She's already planning her next novel and she's awaiting the next prime part to come her way.
"I've always felt there's some kind of little angel sitting on my shoulder guiding me and taking care of me. I feel like I've led a charmed life."
Related Articles
Categories:

Advertising, Brandeis Department Store, Elaine Jabenis, Entertainment, Journalism, Media, Omaha Community Playhouse, Television, Theater, Writing
Brooks Atkinson, Elaine Jabenis, Entertainment, Journalism, Medill School of Journalism, New York Times, Omaha Community Playhouse, Omaha Nebraska, Television, Theater