Posts Tagged 'Film Streams Feature Event IV'
The Film Streams art cinema in Omaha gets more than its share of attention and deservedly so.  It operates at a world-class level under the leadership of Rachel Jacobson.  It has the likes of filmmaker Alexander Payne and novelist  Kurt Andersen as board members and advisers, not to mention guest curators and hosts.  Its visiting artists have included Steven Soderbergh, Debra Winger, Laura Dern.  And to help celebrate its fifth anniversary and raise funds for the organization it's bringing Jane Fonda in for a July 22 on-stage conversation with Payne.  The following story I wrote, soon to appear in The Reader (www.thereader.com), examines the organization's strong community orientation and considers Fonda's legendaric status.
Film Streams at Five: Art cinema contributes to transformed Omaha through community focus on film and discussion
©by Leo Adam Biga
Soon to appear in The Reader (www.thereader.com)
Just as Omaha's come of age with performing arts venues, nightlife attractions, community events and public spaces, so it's matured in cinema.
This maturation first bloomed when Alexander Payne made features here. Then the local indie filmmaking scene organized. Subsequently the Omaha Film Festival's provided an annual juried focus on movies.
But the real growth came when Film Streams launched in 2008, thus giving north downtown a vital new anchor and the metro its first year-round dedicated art cinema. Another amenity in the transformed Omaha.
More than a showcase Film Streams is viewed as a cultural center that invites discussions around movies and their themes.
"I love that there is a place to talk about complex and difficult issues and where I am learning about and appreciating film in a whole new way," says board member Katie Weitz White.
Board member Paul Smith says "films that would never be seen in Omaha but for the existence of Film Streams are shown and provoke a discussion amongst a diverse community of people who attend those showings, and I think it's very healthy and enriching to our community."
He mentions the documentaries Food Inc. and A Time for Burning as films whose subjects, the nation's food supply and racial discrimination, respectively, became talking points following screenings.
The nonprofit is part of the new community engagement model championed by young professionals here. Perhaps no one embodies that aesthetic more than Film Streams founder-director Rachel Jacobson.
The Omaha native long harbored the vision for an art cinema. She enlisted artists, entrepreneurs, community leaders and business experts to help realize it. A classic networker, Jacobson's built an enviable, pro-active board of directors and advisory board filled with heavy hitters, influencers and tastemakers.
Two celebrity players from Omaha, Payne and Kurt Andersen, are more than window-dressing names associated with it. They guest curate series and host the annual fund raiser, Feature Event. The July 22 Feature Event IV pairs Payne in conversation with Jane Fonda. Past Features brought Steven Soderbergh, Debra Winger and Laura Dern. It's no secret Payne reels in these major cinema figures.
"That's really all about Alexander," says Jacobson. "We wouldn't be able to do that without him and we are so fortunate because Feature Event provides 15 to 20  percent of the annual budget. So that's a huge deal for us as an institution."
The gala's evolution reflects how Film Streams capitalizes on relationships.
"It's been a collaboration between us and the Holland and each of the different chairs of the gala. The first chairs were Betiana and Todd Simon, the second chairs were Paul and Annette Smith. Last year it was Katie Weitz White and her husband Watie White and the Weitz family. This year's chair is Susie Buffett.
"All the different chairs and gala committees have helped shape the event and make it into this interesting thing. Alexander's been involved. It's not the kind of fund raiser where we're auctioning off stuff. We're not talking about fund raising at the event. We raise the money up front. That way the event gets to be about our mission."
It's only one night but in that small window Film Streams coalesces everything it stands for by giving film-as-art a big fat community forum.
"It's become this signature thing that's perfect for us. The fact that we get to bring these world renowned actors and directors to town is absolutely thrilling and the conversations have been I think really meaningful and one-of-a-kind," she says.
Similarly, the whole community development piece of Film Streams has been shaped by many participants. Jacobson says the one-page prospectus she devised "of what Film Streams was going to be," which amounted to her version of Charles Foster Kane's declaration of principles in Citizen Kane, "is very similar to what the organization has become. But the way that everything's been created has been very collaborative with the staff and the board and with everyone engaged with the organization. Even though it matches what was inside my head it really is outside of me now. It's something that a lot more people have a hand in authoring."
Among those varied authors is her father David Jacobson (Kutack Rock), who chairs the board of directors. The board of directors includes members of old-line art philanthropist families.
Jason Kulbel and Robb Nansel of Saddle Creek Records and Lyn Wallin Ziegenbein with the Peter Kiewit Foundation are advisory members from different generations, each exerting pull in different segments.
The broad-based support Film Streams has received from donors, granters and box office patrons has allowed it to become a vested fixture on the arts-culture landscape in a short time.
"What Film Streams has achieved in only five years in being one of the jewels in the crown of the Omaha arts scene, together with the symphony and the zoo and The Rose and the College World Series and the Bemis, is an amazing achievement as far as I'm concerned," says Payne. "I go to other cities and they don't have Film Streams."
Paul and Annette Smith support the organization monetarily and as advocates. The couple sponsored Feature Event II with Debra Winger.
"We've been a vocal proponent of Film Streams and we do that really because we believe it plays a critical role in the community," says Smith a Taneska Capital Management. "The way I think about this is it's an investment of time, talent, some treasure in an organization which is a cultural asset."
For film buffs like Sam Walker, "Film Streams has been a dream come true." Before it the University of Nebraska at Omaha emeritus professor of criminal justice made do with scattershot screenings of art and classic films at commercial theaters and other venues. Documentaries rarely showed. Visits by guest film artists were almost nonexistent. Forget about any discussion or education.
The situation worsened when local universities and museums abandoned curated alternative film series. As cineplexes became slaves to blockbusters and sequels, the metro starved for an art film fix. Enter Film Streams. It's already presented more than 200 first-run premieres and 400-plus classics, shown films from 43 nations and welcomed 222,000 patrons to 700-plus programs at its Ruth Sokolof Theater.
Forty-some visiting filmmakers and guests have spoken there. Dozens of panels and Q&As have followed screenings.
Payne sums up the seascape change with, "Omahans now take it for granted they can go see great movies, and that is an amazing development."
Alexander Payne
Guest filmmakers sing its praises too.
Louder Than a Bomb documentary producer-director Greg Jacobs says Film Streams "really was one of the favorite stops" on its theatrical tour. "It's an amazing facility and program. i just got the sense it's a creative hub." Jacobs notes what many observers do – that the organization takes its role as catalyst seriously.
Just as it occurs wherever the film plays some Omaha viewers "came up afterwards interested in Louder Than a Bomb as an event," he says. "But what makes Film Streams stand out," he adds, "is that Rachel Jacobson helped connect us with poet Matt Mason (Nebraska Writers Collective), which ultimately led to the creation of Louder Than a Bomb Omaha. I think it's something very special when people take interest not just in the film but in the outreach activities around it. The folks there were involved enough to see the film could have an impact beyond its screening."
"I get the sense Rachel's innately a connector," says Jacobs. "That's the kind of role she plays. There's a real desire to not just have people there but then to see what other things she can help create from that."
"I've always loved the social action element of film and how it can convey ideas about issues and spark important conversations," says Jacobson. "You can maximize the power of film by having discussions around them."
Film Streams screened the documentaries Restrepo and To Hell and Back and hosted ensuing discussions by veterans and heath care workers about PTSD. It screened the doc The Last Survivor and hosted discussions about genocide.
"These are tough conversations to have and I love that we're able to provide a safe place to have that kind of dialogue. That wasn't really the initial vision, but seeing that happen has been exciting."
She considers Omaha conducive to doing community outreach.
"I think a lot of it's due to the nature of Omaha and how things operate, how everyone is kind of interconnected in 12 different ways. So we just have these opportunities to link to so many different organizations and individuals who in turn are willing to collaborate.
"That aspect has been really surprising. I didn't realize how wide ranging it could be. I never really imagined how many different interest groups and demographics would be able to engage with it. It just kind of happened."
The 100-some partners Film Streams has cultivated run the gamut from arts groups to community organizations and social service agencies to school districts and universities. One partner is the Office of Latino and Latin American Studies at UNO. OLLAS-Film Streams present a biennial Cinemateca series. It returns August 12.
"The partnership became an instant expression of these two organizations' mutual commitment to community engagement and to the broadening of learning opportunities beyond traditional spaces," says OLLAS executive director Lourdes Gouevia. "We continue to explore ways to encourage the Latino and non-Latino community to experience this great theater and the beauty of Spanish and Portuguese foreign films.
"This year's Cinemateca will include food, music and audience forums guided by OLLAS faculty as well as an invited film expert from the University of Pittsburgh. The series brings in El Museo Latino as a partner."
All that engagement has a practical side, too. "It has to be that way in order to be sustainable," says Jacobson, who bends the ear of top business executives.
"It's very common to find compelling nonprofits that aren't very well run and Film Streams is a very well run organization," says Paul Smith. "I spend a good deal of time helping Rachel with organizing the financial management of her business and she's a very sharp person, a very quick study, and is an effective business manager. It's great to work with somebody like that."
Smith says while the business end is not the sexy part of Film Streams, "it's the infrastructure everything else hangs on. You need to have a good financial infrastructure. Without that you can't do the fun stuff."
Payne says the best is yet to come. "Wait till you see all the other outreach programs Film Streams is going to try to do in the next five years."
Jane Fonda: A Legend Considered
©by Leo Adam Biga
Soon to appear in The Reader (www.thereader.com)
Jane Fonda. Love her or hate her, she's a lightning rod figure like few others in film.
When the actress appears at the July 22 Film Streams Feature Event she'll not only carry the impressive legacy of her personal filmography but that of her iconic family. Alexander Payne will undoubtedly cover the Fonda family acting tree when he converses with her live on stage at the Holland Performing Arts Center.
"To have such a remarkable star and actress and icon, and with the Omaha connection, well, it's in my dreams," says Payne.
The Fondas became a noted thespian clan when Jane and brother Peter followed their father, Henry Fonda, into the family business. Papa got his start at the Omaha Community Playhouse, where the siblings did their earliest acting.
In a life and career filled with makeovers and causes, she's been sex symbol, counterculture rebel, traitor, feminist, artist, power player and fitness guru. Today, she's best known as a healthy aging advocate and author.
Her early career rested more on her famous name and fashion model good looks than acting ability. But she remade herself from sex kitten ingenue in mostly forgettable Hollywood and European romps (the latter directed by her Svengali-like filmmaking partner Roger Vadim) to serious actress and wannabe activist. Her commitment to challenging projects and roles set her apart from her peers.
At the dawn of the New Hollywood she was perhaps the most powerful woman in the industry, often developing-producing her own material, and usually choosing a smart balance of commercial and art properties.
She turned entrepreneur in the 1980s when she tapped the nascent fitness craze with home workout videos that went viral. Her marriage to politico Tom Hayden ended in 1989. She then married rogue media czar Ted Turner in 1991 and abruptly retired from acting.
Her 2005 autobiography made peace with her deceased father. That same year she returned to acting. The Omaha event comes just as she's reemerging as a screen presence. Her persona's come full circle too – from coquette to neurotic to career woman to unreconstructed yippie.
A repertory series of her work shows now through August 30 at Film Streams.
The series:
Cat Ballou
She's the fetching, spirited title character who hires gunman Kid Shelleen to meet out justice against Tim Strawn (both played by Lee Marvin) for the murder of her father. She holds her own with Marvin in this whimsical Western comedy with heart.
Barbarella
Fonda's an eye candy fantasy figure in this surreal, pan-sexual trip. She and the film's director, her then-husband Roger Vadim, push the boundaries of sexual expression and liberation on screen that he earlier exploited with Brigitte Bardot.
They Shoot Horses Don't They?
It's a harder, jaded Fonda stripped of any glamour in a bleak story of Depression-era dance marathoners intent on oblivion. The guile, vulnerability and yearning she revealed here became her signature face.
Klute
Fonda consolidated her new serious image with this post-modern take on the prostitute-with-a-heart-of-gold convention. She's both savvy and brittle as Bree Daniels, a New York call girl entangled with a small town detective (Donald Sutherland) investigating a disappearance in the big city. Her first Oscar win.
Julia 
As playwright Lillian Hellman she juggles writerly insecurities and triumphs, a tumultuous relationship with Dashiell Hammett (Jason Robards) and danger aiding a friend, Julia (Vanessa Redgrave) caught in the web of anti-Nazi intrigue.
Coming Home
Perhaps her most defining role came as a socially conscious war bride who has an affair with a paraplegic anti-war vet (Jon Voight). Her army officer husband (Bruce Dern) returns from 'Nam a shattered man and becomes unhinged when he discovers her infidelity, Her second Oscar win.
The China Syndrome
Fonda makes spunk sexy in the part of an ambitious TV reporter who stumbles upon a nuclear reactor accident story. She finds just the right chemistry with cool Michael Douglas and manic Jack Lemmon in this prescient cautionary tale.
Nine to Five
Buttoned-down Jane joins Lily Tomlin and Dolly Parton in taking extreme measures against their oppressive boss (Dabney Coleman) and his misogynistic ways in this proto-feminist comedy. She plays it straight and gets laughs.
On Golden Pond
This career grace note paired her with Henry for the only time on screen in a story deeply resonant with their own real-life father-daughter dynamics. Henry disliked her Method style. The cathartic project also teamed her with Katharine Hepburn. Jane came to the Orpheum for the film's gilded Midwest premiere and later accepted her father's Best Actor statuette at the Oscars.
At Film Streams' invitation Fonda's selected two favorite films – 12 Angry Men starring her father and the 1941 Preston Sturges comedy classic Sullivan's Travels.
Tickets for the 6:30 p.m. Feature event are $35. For pre and post-event party tickets and screening dates-times, visit http://www.filmstreams.org.
Related articles
One of the world's leading writer-directors and a legendary actress he admires from America's last golden age of film may just be made for each other, artistically speaking that is, which makes the "tete-a-tete" they will engage in July 22 at the Film Streams Feature Event in Omaha all the more interesting.  The filmmaker is Alexander Payne and the leading lady is Jane Fonda and they will undoubtedly spend a fair amount of time discussing American cinema from the late 1960s through the late 1970s, a period that Payne adores and that saw Fonda do her best work.  There's also the Fonda Family legacy to be considered, one with deep resonance to Nebraska because her famous father, the late stage and screen star Henry Fonda, was born and raised in Nebraska and began acting at the Omaha Community Playhouse.  That's where Jane and her brother Peter made their stage debuts.  When the lone picture she made with her father, On Golden Pond, premiered she accompanied the movie to Omaha for a red carpet extravaganza at the Orpheum Theatre.  Now she's back 30 years later to talk shop with a native Nebraska filmmaker. Full circle.
I have a companion story on the blog that gives details about the Jane Fonda repertory series at Film Streams to run from late June through August 30.  She also selected two favorite films that will be getting screened, her father's personal favorite among his own films, 12 Angry Men, and the great Preston Sturges social satire, Sullivan's Travels, which is also one of the most scathing looks ever at the corrupt Hollywood ethos.  Film Streams is also screening Peace, Love & Misunderstanding, which features Jane's most recent film acting performance.
Red Step
Jane Fonda & Alexander Payne
Alexander Payne talks cinema with kindred spirit Jane Fonda at Film Streams Feature Event in Omaha
©by Leo Adam Biga
To appear in the July issue of Metro Magazine
When Omaha's own Alexander Payne talks cinema with Jane Fonda at the July Film Streams Feature Event he won't be at a loss for material.
He'll converse with an intelligent artist he admires and whose best work came in his favorite decade of American movies, the '70s. Then there's all the noted directors and actors she's worked with and the legacy of her famous father and brother to discuss.
It's apropos that a renowned filmmaker from Omaha will review Fonda's own legendary career before an audience of Nebraskans since her family is so tied to this place. Her adored father Henry remains an enduring native son. The loyalty the late stage and screen star showed to the state is not lost on Jane or Peter, who are adopted Nebraskans.
The threesome's cinema paths rarely crossed. Just as Henry's career waned, Jane's and Peter's took off. But there was a golden moment when they all converged. As the Old Hollywood studio system died out a brash new group of creatives crashed the gates to usher in the New Hollywood in the late 1960s. In that emerging space of permissiveness and artistic freedom depictions of sex and violence reached new extremes, more humanistic stories came in vogue, locations gained favor over sound stages and stylistic devices, like flash cuts, took hold. Amid this liberated landscape the Fondas made films that forever changed things.
Jane paradoxically struck a blow for both misogyny and feminism in Roger Vadim's sexually bold adaptation of the adult comic strip Barbarella. Henry went rouge playing completely against type as a sadistic killer in the Sergio Leone Western Once Upon a Time in the West. Peter became a counterculture hero in the hippie, Harley, drug-fueled road picture classic Easy Rider.
Then, in a dramatic career transformation, Jane went from frothy sex symbol to first-rate dramatic actress of social conviction, winning Oscars for her risk-taking work in Klute and Coming Home. Later, she found the project that became her ailing father's cinema swan song and their only film together, On Golden Pond. Fast forward a generation and Peter channeled his father in his Oscar-nominated lead role in Ulee's Gold.
While the Fondas contributed to the unrestrained new cinema a young Alexander Payne cut his teeth on '70s films as an audience member at the Dundee and Indian Hills Theatres. As Payne acknowledged in accepting his Oscar for The Descendants last February, his mother Peggy was his most devoted filmgoing companion.
He was an intellectually precocious youth with a preternatural appetite for adult art fare. He made his own short films with an 8 mm camera his restauranteur father, George, received as a bonus from Kraft Foods for customer loyalty.
Payne, a Creighton Prep graduate, considered studying journalism but fixed on history and Spanish literature at Stanford University. He didn't formally study film until he entered UCLA, where his thesis project, The Passion of Martin, played festivals and netted him a production deal from Universal Studios.
By the time he made features in his hometown in the mid-1990s and early 2000s, repeatedly shooting in the same Dundee neighborhood where he and Henry Fonda grew up, Jane was already retired from movies.
For Citizen Ruth Payne cast a strong, socially committed woman not unlike Fonda in Laura Dern to play the title character of Ruth Stoops. Interested in making uncompromising films akin to those he fell in love with during the '70s, Payne unflinchingly took on the abortion debate in the picture.
His next movie, Election, placed Reese Witherspoon in the kind of catty vixen part a young Jane would have been just right for.
Payne's subsequent male-dominated films co-star women in roles that put men in their place. In About Schmidt Connie Ray is a trailer park wife sympathetic to Jack Nicholson recently losing his wife until he makes a pass at her and she throws him out. One can imagine Fonda in that part. In Sideways Sandra Oh is the cool wine pourer babe who goes ballistic when she discovers Thomas Haden Church has been lying to her and Virginia Madsen is the cool Earth Mother who sees past Paul Giamatti's shortcomings. Fonda's played similar characters.
As a good woman wronged in The Descendants Judy Greer finds the right balance of tenderness and rage Fonda delivered as Cat Ballou, Bree Daniels (Klute), Lillian Hellman (Julia) and Kimberly Wells (The China Syndrome).
No doubt Payne would have loved to work with Fonda in her prime. Who knows, now that she's acting again perhaps they'll be a part for her in one of his future projects. Just not his next one, Nebraska, a road movie that follows an embittered Nebraskan (Bruce Dern) living in Montana hell-bent on claiming a sweepstakes prize his estranged son (Will Forte) knows doesn't exist. The son is sure his father will come to his senses long before they reach their destination of Lincoln, Neb. The journey revisits the old man's dispiriting past and en route the sympathetic son decides to give his fool of a father the gift of saving face.
Payne's angling to shoot the project in Nebraska this fall. He and casting director John Jackson are hard at work trying to find authentic Nebraska types as extras.
Related articles
The Omaha art cinema Film Streams is making a habit of saluting prominent American screen actresses.  The way it works is a guest star comes for a special evening in which Film Streams board member and world acclaimed filmmaker Alexander Payne interviews her live on stage, ala Inside the Actors Studio.  A repertory series of her work is part of the deal.  Laura Dern got the treatment the first time.  Debra Winger came next.  Jane Fonda is this year's feted subject. Depending on your age or aesthetic or political affiliation Fonda means different things to different people.  For some, she's an enduring star.  For others, a faded one.  Depending on your tastes, she boasts an impressive body of stand-the-test-of-time work or else a decidedly uneven euvre outside a few notable exceptions.  Many still find unforgivable her anti-war protests and vilify her every move.  Many more feel affectionate and nostalgic about her as the daughter of Henry Fonda and as one of the 1960s and 1970s biggest stars.  She's prettty much done it all as a cinema diva – from ingenue to sex symbol to serious Method actress, the star of box office hits and critically acclaimed prestige pics, gobs of Golden Globe and Oscar nominations, two Academy Award wins for Best Actress, an Emmy for Best Lead Actress.  Retiring from the screen at age 50 and making a comeback at nearly 70.  Now, of course, as a woman of a certain age (74) she's a supporting player or character actress who brings a rich persona and background to any role she takes.  Part of the context of Jane Fonda today is that her adventurous personal life informs her work.  Her boarding school and debutant upbringing.  Her early modeling career.  Studying under Lee Strasberg.  Her marriages to Roger Vadim, Tom Hayden, and Ted Turner.  Her activist years.  Becoming a Hollywood Player as a producer.  Making herself a fitness guru.  Her forever strained relationship with her famous father.  And her identity today as a healthy aging advocate and author.  You'll find plenty of film stories by me on this blog.  Many happy cinema returns.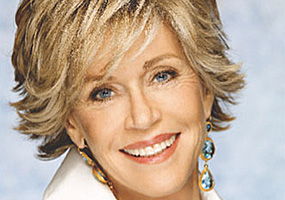 Jane Fonda
Jane Fonda Takes Center Stage at Film Streams, Where Her Life in Film is Celebrated this Summer
©by Leo Adam Biga
Appeared in the July issue of Metro Magazine
The Fonda Legacy
This summer Film Streams celebrates the many faces of actress Jane Fonda.
She and one of her biggest fans, Alexander Payne, converse live on stage July 22 at the Holland Performing Arts Center for Feature Event IV, the art cinema's annual fundraiser. A Fonda repertory series runs through August 30.
The Fonda legacy in Nebraska looms large. Her late iconic father Henry Fonda was born here. He started acting at the Omaha Community Playhouse, where Jane and brother Peter trod the boards. Henry retained deep ties to the state and the Playhouse. He once brought the entire production of his Broadway triumph Mister Roberts to town. In 1955 he, fellow Playhouse alum Dorothy McGuire and 17-year-old Jane appeared in a benefit production of The Country Girl directed by Joshua Logan.
Peter, who attended the University of Omaha, occasionally visits the Playhouse.
When the only film pairing the famous father and daughter, On Golden Pond, made its Midwest premiere at the Orpheum she came.
Unlike her father's beloved public persona, Jane's is complex.
Incarnations
For much of the 1960s she was a spirited ingenue and sometime vixen plying her cover girl looks and wiles more than her acting chops in cinema trifles. Her comedic work in Cat Ballou and Barefoot in the Park hinted at star potential.
Film Streams founder-director Rachel Jacobson, an admirer, says Fonda "always had a deeper, more introspective quality even when playing the lighter roles."
When Fonda's French filmmaker husband Roger Vadim exploited her sex symbol status in Barbarella she could have been typecast. Instead, she did a makeover from vapid party girl and blonde bimbo to social activist and serious actress.
She earned acclaim for her dramatic turns in They Shoot Horses Don't They? (1969) and Klute (1971), the latter earning her the Best Actress Oscar. That's when "she came out from behind the shadow of both her father and brother" (Peter made it big with Easy Rider), says film historian Bruce Crawford of Omaha.
She also drew ire for her anti-war comments and protests. By the time she divorced Vadim and married activist Tom Hayden she was branded "political." Fonda made socially conscious projects in Julia (1977), Coming Home (1978) (another Best Actress Oscar) and The China Syndrome (1979).
Her career peaked in the late '70s-early '80's with Nine to Five, On Golden Pond and her Emmy-winning performance in TV's The Dollmaker (1984). By then she'd morphed into a home workout video diva. After divorcing Hayden she surprised many by marrying media tycoon Ted Turner and promptly retiring from the screen at age 50. Her recent return to movies comes on the heels of her best-selling memoirs and healthy aging advocacy.
"She's continually reinvented herself and her image," says Jacobson. "She's just very deliberate about how she thinks about herself and her own evolution. She's a fascinating person."
Payne curates the Feature Event and in Fonda, 74, he's once more chosen a dynamic figure to talk cinema shop, following Steven Soderbergh, Debra Winger and Laura Dern. Jacobson says, "The people he's interested in having conversations with are really strong artists with great careers." She says Payne won Fonda over by saying her appearance would support the arts in Omaha. "That's why she's coming."
 As the title character in Cat Ballou
As the title character in Barbarella
As Gloria in They Shoot Horses Don't They? 
As Bree Daniels in Klute 
As Lillian Hellman in Julia 
As Sally Hyde in Coming Home 
As Kimberly Wells in The China Syndrome 
As Chelsea Thayer Wayne in On Golden Pond 
The series:
Cat Ballou
She hits all the right notes as an aspiring schoolmarm turned outlaw seeking to avenge her father's death. Lee Marvin steals the show in the dual roles of killer Tim Strawn and gunman Kid Shelleen.
Barbarella
She fearlessly plays an over-the-top sex object in highly suggestive scenes bordering on soft-core porn in this tripped-out fantasy directed by Vadim.
They Shoot Horses Don't They?
Her transformation began with this unadorned portrayal of a desperate, ill-fated dance marathoner under the direction of Sydney Pollack.
Klute
As high end call girl Bree Daniels she's a raw-nerved neurotic mixed up in a dangerous liaison with small town detective Donald Sutherland in the big city.
Julia 
Fonda plays the kind of strong woman, Lillian Hellman, she clearly emulates. Her playwright character embarks on a dangerous mission abroad for a friend, Julia (Vanessa Redgrave), opposing the Nazis.
Coming Home
She makes believable the evolution from naive war bride to anti-war sympathizer who falls for paraplegic activist vet Jon Voight. The fictional awakening reverberates with Fonda's own coming-of-age.
The China Syndrome
Playing an ambitious TV reporter fighting to cover a nuclear reactor accident the authorities want suppressed Fonda is in her element. Her subdued conviction is a welcome contrast to high-strung Jack Lemmon and Michael Douglas.
Nine to Five
Sardonic Lily Tomlin and sassy Dolly Parton are long-suffering office workers harassed by womanizing boss Dabney Coleman. Pert Jane is the innocent newbie. The women execute a militant plan to turn the tables in this feminist farce.
On Golden Pond
Jane plays out real life issues with her dad in this tale of an estranged daughter starving for affection from a father who has trouble giving it. Katharine Hepburn co-stars in the poignant drama.
Tickets for the 6:30 p.m. Feature Event are $35. For pre and post-event party tickets and for series screening dates-times, visit www.filmstreams.org.
Related articles