Posts Tagged 'George Pfeifer'
Here's another Boys Town sports story.  It's about tradition and legacy and giving back, George Pfeifer played for legendary Boys Town coach Skip Palrang when the school's founder, Father Edward Flanagan, was still there.  After Pfeifer graduated high school and served in World War II he came back to Boys Town to coach under Palrang.  Later, he took over as head basketball coach, leading the hoops program to some of its greatest successes. Now, many years into retirement, he's back again, this time as a kind of unofficial coach and mentor, at the invitation of current head basketball coach Tom Krehbiel.  The old coach and the young coach have bonded like father and son and together they've helped Boys Town recapture some of the magic that made the school's athletic teams juggernauts back in the day.
The story originally appeared in the New Horizons.
A Good Deal: George Pfeifer and Tom Krehbiel are the Ties that Bind Boys Town Hoops
©by Leo Adam Biga
Originally published in the New Horizons
When George Pfeifer coached the Boys Town varsity basketball team in the 1960s to great success, he used an adage with his players, "Get a good deal," as a way of impressing upon them the advantage of working the ball to get an open shot.
The 81-year-old is long retired but a special tie he's forged with current BT head basketball coach Tom Krehbiel finds Pfeifer offering kids young enough to be his grandchildren the same sage advice he gave players decades before. Krehbiel credits the recent turnaround in BT hoops — culminating in a Class C-1 state title last season — to the input of his unofficial assistant. "Coach Pfeifer is, in my mind, the school's all-time greatest basketball coach. I wanted to get him involved in the program. I reached out to him and he's been a big part of our program ever since. I don't think it's a coincidence we started winning" once he got involved, said Krehbiel, who previously coached at Omaha Skutt High School.
The association between the men peaked last season when the Cowboys' won their first state championship in 40 years. Until beating Louisville in the finals, the school hadn't won a state roundball title since 1966, when Pfeifer was head coach. That '66 crown was the second of back-to-back Class A titles won by Pfeifer's teams, squads considered two of the best ever to play in Nebraska prep history. It was an era of athletic dominance by the Cowboys.
Since the summer before the 2003-2004 season, when he accepted Krehbiel's invitation, Pfeifer's worked with BT hoops. When his arthritis isn't too bad, the tall man with the folksy manner makes his way on campus, over to the Skip Palrang Memorial Field House named after the legendary man he played and coached under and where he toiled away countless hours on drills.
He'll keenly observe practice from the sideline, noting things he sees need correcting. This recent Nebraska High School Sports Hall of Fame inductee is still a master diagnostician at breaking down systems and plays. He does the same when he goes to see a Boys Town game or analyzes tape of one, as his sharp mind dissects the action with razor precision.
"He'll notice little technical things that only someone who knows basketball can detect. He really sees and knows the game. It's amazing," Krehbiel said.
Pfeifer shares his insights with the players, kids not unlike the ones he coached years ago — boys full of attitude but hungry for love. Krehbiel said Pfeifer knows just how to prod people to improve. "He doesn't criticize — he kind of suggests."
Tremayne Hill, a starting guard from last year's team whom Pfeifer got close to, said the old coach got the most out of him with his "encouraging" words. "He told us to stay positive and to work hard in trying to overcome adversity. He was a lot like a father figure," said Hill, adding Pfeifer and Krehbiel are like a father-son team.
It doesn't surprise Pfeifer he can get through to kids weaned on PlayStation and X-Box, not Fibber Magee and Molly. You see, he was a BT resident himself from 1939 to 1943, giving him a bond he feels makes him forever simpatico with kids there. It's why his reconnection with the institution is more than a former coach returning to the fold. It's a son or brother coming home to his family. It's why the vast age difference doesn't hamper him in talking to today's kids.
"I talk their language," Pfeifer said. "I grew up there, so I know. When I first went back out there I said, 'Yeah, I'm an old fogy, but I used to be out here. I know all the tricks you guys know, so you can't trick me on anything. You can't tell me anything I haven't heard. I was just like you guys. My heart's with you guys. I know what you're going through. I'm here to be a friend of yours.'"
Hill said Pfeifer's BT roots make a difference as "he knows the type of stuff we go through. He knows how to relate to us. More than another coach would."
Pfeifer said he and the team developed a strong bond. "When I'd come out there, some of the kids warming up before the game would come over and say, 'God, we're glad to see you coach. You feeling alright? We're going to play hard for you.' That last night when they accepted the trophy the one kid held it up and said, 'This is for you coach Pfeifer…' Those are the kind of kids…." Choked with emotion, Pfeifer's voice trailed off.
When Pfeifer coached in the '60s he did something rare then — starting five African Americans. One morning after a game, a caller demanded, "Why you playing all them n______s?" "Because they're my five best players," Pfeifer replied. Ken Geddes, a member of those teams, said race "was never even an issue." Lamont McCarty, a teammate, said, "If you didn't perform, you didn't play… plain and simple. He was a wonderful coach. Same thing with Skip Palrang."
As is now a custom, Krehbiel had Pfeifer address the assembled 2006-2007 team at a mid-November practice. It was Pfeifer's first contact with the team. He'd have been there before if not for tending to his terminally ill wife Jean. Gathered round him were about two dozen players, many of them new faces after the loss of so many off last year's team to graduation. Pfeifer owned their rapt attention.
He told them he was 13 when his father died. Left unsaid was the Depression was on, and with his widowed mother unable to support the poor Kansas farm family she sent him and a brother to Boys Town. There young George blossomed under iconic founder Rev. Edward Flanagan and star coach Skip Palrang..
Pfeifer also didn't mention he became BT's mayor (as did his brother) and excelled in football and basketball. That he developed an itch to give back to youth what he'd received. After serving in the U.S, Navy during World War II he coached at Fort Hays State down in Kansas, before accepting an offer to join Palrang's BT staff. Intending to stay five years, Pfeifer, by then married with children, made it a 30-year career. He was a coach, a teacher and principal of the elementary school.
"I knew I wanted to be there to help those type of kids," Pfeifer said of BT students past and present. "You know, they come there with a hole in their heart. Nobody cares about them, nobody encourages them –- they just think there's no way they can make it. We set up goals and objectives. We praise them when they succeed. When a kid comes up to you and says, 'God, I wish you were my dad,' well, those kind of grab you. Then you know you made a difference."
The campus holds a dear place in Pfeifer's heart. It's home. The people there, his family. He stays in touch with players by phone, letter, e-mail. He's a regular at school reunions. But until Krehbiel asked him to come back as a consultant, Pfeifer hadn't really felt welcome by previous coaches.
"I think he had a desire to get back close to the program, to his home and to this community, and so the timing was right," said Krehbiel, a Burlington, Iowa native with his own ties to the place. His father worked there and as a youngster Krehbiel spent many a summer day on campus, running about and canoeing in the pond. "So I always knew Boys Town," he said. "I loved it."
As Pfeifer spoke to the kids that late afternoon in November, he was every inch the coach again, instilling values and commanding respect.
"There's nobody working here that doesn't love you, I guarantee you," he told them in measured tones." "So listen to your family teachers, listen to your coaches, work hard, study in school. You have great coaches, good facilities. You've got everything you need, except you got to do your part. You gotta keep your nose clean. Don't get in no trouble. Do what you're told. Coach is going to tell you what he wants you to learn, how you're going to do this and he's going to tell you why. Those are three really important parts of your basketball training.
"It takes a lot of hard work. You have to be focused. No matter what happens outside, you come here and be ready for basketball."
After Pfeifer wished them good luck and some players responded with, "Thanks, coach," the huddled team charged back into practice.
"If they know that you care about them and that you're there for them, they'll work for you — they'll work hard. They appreciate you," Pfeifer said.
"It's funny. Kids today are real hip-hop, you know, with this Snoop Dog slang and coach uses old school terminology that I cringe at sometimes, assuming the kids think its kind of corny, but the kids like it. I think too he provides a grandfatherly figure," Krehbiel said. "These kids, more than any kids I've ever been around, they want somebody to take an interest.
"He wants to help…It really comes down to his true interest and love for the kids in the program. He's trying to give them that last tidbit…to help them on the court and help them in life. I think when he looks at our team and he's rooting for these kids it's like rooting for his family, his own kids or his own brothers….He gets emotional when he talks about this place. It's his home."
It's that been there-done that experience Pfeifer brings that Krehbiel wanted for his players. Then there's the "link to success" Pfeifer represents.
"He laid the foundation 40 years ago for all the nice things that have been said about us the last two or three years," Krehbiel said. "I think we're all proud to carry on a rich tradition. It's just an honor to be associated with him. I was always taught to appreciate the people that came before you…You gotta respect the people who built up the history and this place is just full of history."
What Krehbiel got in the figure of Pfeifer was more than he could have imagined.
"Coach has been a great mentor to me and a great resource for us," he said. "You know he's having an impact on our kids when after the state championship one of our starting five interviewed on TV" — Dwaine Wright — "spent his whole time on camera referencing coach Pfeifer, saying, 'He told me in practice to get the good shots.' We didn't prompt him to do that. It just came out of his heart. You realize, Wow, this is an 80-some-year-old man having an affect on an 18-19 year-old kid. I was proud of our kids for the respect they showed coach. I'm proud of coach."
Pfeifer appreciates that Krehbiel sought his counsel, thus allowing him to be a teacher again. "He was so sincere and open about establishing a good relationship. He was willing to receive me and invest in some of my knowledge," Pfeifer said. "A lot of guys that coach, they think they know it all. But he's really receptive. And that's great for me because I didn't feel that with some of the other people that were out there. I said, 'I'll be happy to help you out anyway I can.'"
When Krehbiel first approached him, he had no clear expectation other than getting some advice on the special demands of being a BT coach.
"This is a unique position," Krehbiel said, "maybe as unique a position as there is in the country in high school because you're in a home for boys. There's not only the athletics parts of it but there's the home campus part of it, dealing with the troubled youth, the homeless youth, with all the things they present.
"There are very few people who've had this position. There's just a few of us around. There's even fewer that have had the kind of success coach had."
Krehbiel did some research in the BT and Omaha World-Herald archives in compiling a school record book and came away duly impressed by just "how successful" Pfeifer was at producing winning teams. In 14 years as head coach — 1959 to 1973 — his teams won 205 games and lost only 82. He led nine teams to the state tourney and guided a pair to state titles. His track and field teams were also a formidable bunch, always a threat at the state meet.
For Krehbiel, welcoming back someone like Pfeifer who'd given the best years of his life to BT was a way of honoring the man.
"My initial intention was to just try to give back to him for all the years he gave to Boys Town. My initial thought was to get him up here to one practice at the beginning of the year, and it's morphed into a great relationship and friendship," said Krehbiel, whose wife and five daughters all know Pfeifer.
Still, it took some convincing for Pfeifer to meet with Krehbiel that first time.
"I called him up out of the blue and introduced myself. He was real reluctant but I finally got him to agree to go lunch with me at Big Fred's. He told stories for hours.
That's when I told him, 'You are welcome anytime.' That fall I asked him to come out to practice. I gave him a pad of paper and a pen and said, 'Watch me coach practice. Watch our kids. Give me some feedback about our team.' He did that and from that point on he's been popping in at practices whenever he feels like it."
It didn't happen overnight. Pfeifer eased his way in, not wanting to impose himself, less he undermine Krehbiel's authority.
"When it first started we'd talk maybe once every couple weeks," Krehbiel said. "He wouldn't come to practices much. As he and I became closer and he became closer with all the other coaches, there was a comfort level. Last year he was out here about two or three times a week prior to the season opener, and we'd be talking about offenses and defenses and philosophies back and forth.
"I was reaching out initially to find out, 'How did you handle the job? How did you handle the kids? What are the issues beyond basketball I should know about?' Then when he and I started talking I found just how solid his philosophies are in basketball and in life and I really wanted to get to know him more. You just can't help but sense the way he approached things and did things is probably the best way as well as the right way to have a lot of success. I try to emulate him."
It doesn't hurt that the two are cut from the same cloth. "Our personalities are a lot alike, so there's a bond person-to-person, coach-to-coach," Krehbiel said. That's not to say these two see eye to eye on everything.
"He believes in zone defense and I believe in man to man," Krehbiel said. "But that's the fun of it — debating the merits of each. But," he added, "as far as what we demand of our players, how we treat our players," they're on the same page.
It wasn't until Krehbiel watched Pfeifer interact with the players that he understood all that the venerable old coach could bring.
"Then when I saw him around the kids and I saw how he still has a lot of viable, valuable contributions…and I saw the kids take to him, it obviously was a great idea to have him around. It's just kind of matured into what it is today. He's around quite a bit. As much as he wants to be. The door is always open."
Along the way, Pfeifer's shared some coaching secrets, including a list of offensive- defensive Dos and Donts and his mantra for teaching "technique, technique, technique" he got from coaching great Skip Palrang. Pfeifer's passed along full-court press and matchup-zone tactics that made his teams so hard to beat. Above all, he's preached taking the high percentage shot and protecting "the hole."
"He gave me a file folder of his coaching notes and a card with his pregame preparation notes," Krehbiel said. "I read through it all and I copied it down in my own words and style. That's the relationship he and I've built up. For him to give that to me, I mean, what do you say? That should tell anyone a lot about his willingness to give. I think he really, really wants this program to be successful and those are the lengths he's willing to go."
What Pfeifer does for BT hoops can't truly be measured.
"He doesn't come out and design plays and run drills. He's in the background helping the coaches. He's really helped me in my preparation for games. He talks to players one one one," Krehbiel said. "The last couple years he'd take some of our better players aside, real fatherly like, and say, 'Here's what I see in your game. Take the good shots, not the bad shots.'"
Wishing to remain in the background, Pfeifer chooses not to sit on the bench, but in the stands during games. He's always watching, however.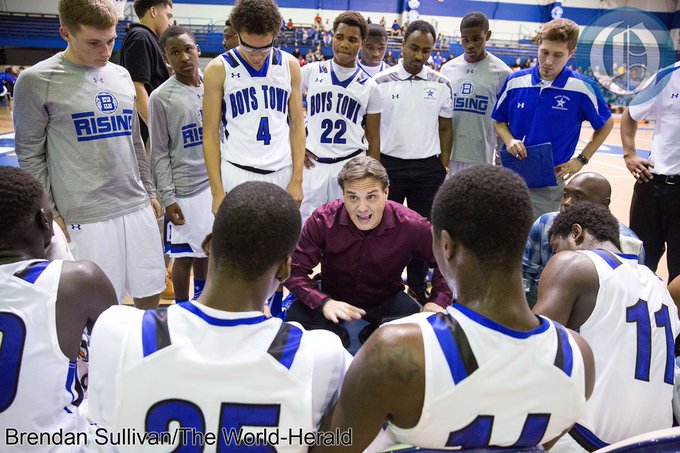 As last year's team stormed through the season, losing only four times, including twice to Wahoo Neumann, Pfeifer noted a tendency for BT players to settle for three-point shots and to play soft in the middle. With his adjustments the Cowboys avenged Neumann in the first round of the state tourney.
When last year's star player, starting center and then-BT Mayor Vince Marshall,  felt good about a game in which he scored well but recorded few rebounds, Pfeifer had a heart to heart talk with him. "I said, 'I was mayor when I was at Boys Town. You're the mayor and you got only three rebounds last game. What the hell were you doing? You're the mayor, you're going to make me look bad. Get your ass on the boards.' That's the way we talked. We were brothers."
Pfeifer's known to intervene when emotions run over. Once, after a so-so practice on the eve of state, the admittedly "fiery" Krehbiel lost his cool when he noticed a couple players cutting up. "I lose it. I go up one kid and down another. I was furious they wouldn't take this seriously," Krehbiel said. "And here comes coach. He gets off his chair and gets right in the middle of us and says, 'Wait a minute.' I immediately shut up. He takes over and says something about not getting a big head and keeping yourself together and staying in the moment.
"He was just that calming influence and that's what he's been. I've really calmed my demeanor in regards to the sidelines and the game-time stuff in my conversations with him. He's really helped me with the handling of the kids around here. He reminds me they're always watching you and they're going to play off your demeanor. He's a sounding board. I can pick up the phone and say, 'Coach, we've had this issue with a young man, how would you handle that?' He gives me tidbits on how to handle certain situations as head coach."
Pfeifer can still get fired up, as when he pulled his BT athletic jacket out of moth balls for a school pep rally to show how much he bleeds Big Blue. He told the crowd, "I've waited 40 years to wear this thing again."
There's the sense of a circle being closed. That what Pfeifer got from Palrang is being handed down to Krehbiel. Lessons from 65 years ago live on, no doubt to be carried on by the young men Krehbiel and Pfeifer work with today.
"The greatest thing for me, bar none, is to have my name linked with coach Pfeifer's name and coach Palrang's name in the same sentence. To be linked to that history is overwhelming," Krehbiel said. When Pfeifer couldn't get away to Lincoln to accept his Hall of Fame induction, he asked Krehbiel to accept in his place. For Pfeifer, Krehbiel was the natural choice. "I love him," Pfeifer said of his coaching protege. "What an honor to accept for him. That just fortified our relationship. He's a good old guy," a tearful Krehbiel said.
Krehbiel met many athletes Pfeifer coached. They were disappointed he couldn't make it. "They all love him. Guys came in from both coasts and from all over the country to honor him with this induction, which was long overdue," Krehbiel said. One of Pfeifer's favorites, Charles "Deacon" Jones, a standout BT miler and football player who became a University of Iowa All American and two-time Olympic long distance runner, was inducted into the Hall the same night.
"I know it was killing coach not to be able to go and to be on the stage with Deacon," Krehbiel said. But Deacon and the rest know Pfeifer was there with them in spirit. Like he always has been and will be. A brother under the skin.
Krehbiel never competed for Pfeifer, but considers it a privilege coaching with him and "seeing all he does around kids." He said it seems he and the players benefit more from the relationship than Pfeifer does. However, he added, "I hope we're helping keep him active." It's clear when Pfeifer talks hoops it takes his mind off, if only a little while, his wife. Krehbiel's visited Pfeifer at his house during this hard time. Krehbiel's daughters say prayers for Jean.
Perhaps the old coach's greatest joy comes from watching his young protege catch the same passion he caught for Boys Town. Pfeifer said, "I've told him, 'Tom, if you stay there long enough you're going to get what I got.' It's a fever." Krehbiel said the example of Pfeifer is one reason "why I stay here. It's why I'll always be here."
Related Articles
Categories:

Athletics, Basketball, Boys Town, Education, History, Mentoring, Omaha, Sports, Writing, Youth
Basketball, Boys Town, George Pfeifer, Mentoring, Omaha, Sports, Tom Krehbiel, Youth
I remember as a kid learning about the rich sports legacy at
Boys Town
, the youth development center founded by
Father Edward Flanagan
and forever immortalized in the
MGM
movie classic. When I looked into that athletic history a few years ago for a story I was struck by the amazing success Boys Town teams enjoyed for several decades and by how the
football
team in particular became a national powerhouse that actually traveled coast to cosat to play games against elite prep teams before big crowds in college and professional stadiums.  Flanagan and his immediate successor seized upon athletics as a healthy outlet and socialization model for residents and as a promotional tool for the campus.  The story of the football team's many triumphs and travels would make a good movie itself.  Football was the school's poster sport, but Boys Town enjoyed tremendous success and followings in
basketball
, baseball, wrestling, and track and field as well.  All the changes that came down at Boys Town beginning in the late 1960s and early 1970s resulted in the athletic program suffering several lean years.  It's only in the last decade that there's been a resurgence in Boys Town sports, not to the heights of its former glory perhaps, but enough to link this era to that earlier Golden Age.
If you're interested in another Boys Town sports story, then check out my story, "A Good Deal: George Pfeifer and Tom Krehbiel are the Ties that Bind Boys Town Hoops" on this blog.  More o f my Boys Town stories on this site cover various topics, including the classic 1938 MGM film Boys Town, the friendship of Fr. Edward Flanagan and Jewish attorney Henry Monsky, and the 1972 Sun Newspapers Pulitzer Prize-winning investigation of Boys Town finances.
The following story originally appeared in Nebraska Life Magazine. Look for more Boys Town stories in future posts.
Rich Boys Town sports legacy recalled
©by Leo Adam Biga
Originally published in Nebraska Life Magazine
"I didn't know a jock strap from a toothbrush," said alumnus George Pfeifer of his arrival at Boys Town from a Kansas farm in 1939. Like some of the finest athletes at Rev. Edward Flanagan's home for "lost" boys, the future coach had never played organized sports before coming there. Most of the boys were either poor inner city or rural kids who'd played only sandlot ball or street ball. They came from all parts of the country, boys with different racial, ethnic and religious backgrounds, and on their shoulders was built an athletic dynasty that became the envy of the nation.
From the Great Depression through the 1960s, the Boys Town football team played elite Catholic prep schools and military academies in Los Angeles, Chicago, Detroit, Pittsburgh, New York, Miami and other cites. The games attracted dignitaries and made headlines. Playing against the nation's toughest competition in large stadiums before tens of thousands of fans, the Cowboys won more than twice as often as they lost.
During the same era, Boys Town won multiple state championships in football and basketball, and produced scores of all-state athletes and individual champions, even some high school All-Americans. Its great track-and-field athletes include two-time Olympian Charles "Deacon" Jones (1956 and 1960) and quarter-miler Jimmy Johnson, who won the Pan Am Games only a few years after graduating.
It began with the dream of Boys Town's founder, Father Flanagan, who was a fair soccer and handball player in his day, and a vocal champion of sports. He made sports an integral, even compulsory part of residents' experience at Boys Town. Intramural athletics became a big deal. In those days, the boys lived in dorms and staged competitions between their respective buildings to see who were kings of the field or the court. By the mid-1930s, Flanagan hired a coach and pushed for Boys Town to compete in sanctioned interscholastic events.
Born and raised in Ireland, Flanagan made his long-held dream for Boys Town a reality through conviction, blarney and bluff. With his silver-tongued brogue and big sad eyes, he elicited sympathy and loosened purse strings for the plight of America's orphaned. With his politician's ability to build consensus, he got people of all persuasions and faiths to contribute to the home.
It didn't hurt that Flanagan harbored a bit of P.T. Barnum in his soul. Almost from the start of the home in 1917, he made use of the media to further the cause of children's care and rights. In the 1920s he hosted a nationally syndicated Sunday radio program, "Links of Love," broadcast from the old WOW studios in Omaha. On a larger scale, there was the 1938 MGM box office smash "Boys Town," starring Spencer Tracy and Mickey Rooney. Tracy won the Best Actor Oscar for his portrayal of Flanagan.
The movie made Flanagan and BT household names. He used his and the home's growing reputation to bring national figures, including sports stars, to "the city of little men." The BT archives detail visits by such sports icons as Babe Ruth, Lou Gehrig, Jack Dempsey and Joe Louis. Hollywood celebrities were also frequent visitors. "Deacon" Jones, then learning the barber trade at BT, recalls being summoned with his clippers to the quarters of Flanagan's successor, Rev. Nicholas Wegner, where he found Spencer Tracy in need of a haircut. Jones complied.
Coach Skip Palrang had a great influence on the start of Boys Town's famous sports teams
Just as Flanagan earlier made the school band and choir ambassadors for BT, so he did with football. The same year the movie "Boys Town" was released, the football squad boarded the Challenger super liner at Omaha's Union Station for a trip west, where they played a benefit game against Black Foxe Military Institute of Los Angeles. The film's producer, John Considine, Jr., made it happen. Among the 10,000 or so in attendance at Gilmore Stadium were numerous Hollywood stars. Boys Town won, 20-12.
The good turnout seems to have convinced Flanagan to take his football team on the road as a gypsy, bring-on-all-comers sideshow featuring orphans from the world-famous Boys Town. The bigger the stage, the tougher the opponent, the more Flanagan liked it.
He would often wend his way to wherever the football team appeared, posing for photos, making pre-game or halftime on-the-field speeches, and generally getting the Boys Town name in the press. A big banquet, often in his honor, usually preceded or followed the game, giving Flanagan another chance to spread the gospel.
BT alum Ed Novotny of Omaha, who played for Boys Town in the early 1940s, recalls the time Flanagan was on the field during pre-game festivities in New Jersey. Novotny says a press photographer asked to snap a few pictures of the famous priest doing a mock kickoff. Sensing a good photo op, Flanagan obliged. As he lined up for the kick, Novotny turned to an opposing player and said, "He's in a bad spot" – meaning the photographer crouched in front of the ball, holding a Speed Graphic camera overhead.
"What do you mean?" the other player said.
"Father Flanagan can kick. He'll blast that thing right over the goal post."
"Really? A priest?"
Novotny will never forget what happened next. "No sooner did I say, 'Yeah,' than he kicked that ball and knocked that camera right out of the guy's hands."
Novotny recalls Flanagan as an enthusiastic presence on the sideline or in the locker room. The priest stood in the players' circle to lead pre-game prayers. At basketball games he sat on the end of the bench with players and coaches. He greeted guys by name or with his favorite terms of endearment, "Dear" or "Laddie."
To compete with the nation's best, Flanagan hired Maurice "Skip" Palrang, who came to Boys Town after successful stints at Omaha Creighton Prep and Creighton University. Over his 29-year career at Boys Town, he led Cowboy teams to football, basketball and baseball titles. He won National Coach of the Year honors from the Pop Warner Foundation of Philadelphia, Pa., and Nebraska High School coaching plaudits from the Omaha World-Herald.
As athletic director, Palrang oversaw construction of a mammoth field house, modeled after those at Purdue and Michigan State. Its classic brick facade features sculpted panels of Greek-like figures in various athletic poses, stained glass windows and a vast arched metal roof that spans the length of a football field. Great facilities like these helped set BT apart.

Palrang hired coaches to carry BT's dominance into other sports, but it was best known for football. "It wasn't like Boys Town would play the weakest teams we could find – we'd play the baddest teams we could find," said '50s star halfback "Deacon" Jones. "We knew we played the best teams Skip could get to play. A lot of the players we played against went on to make All-American in college. Some went to the pros. We traveled to play Aquinas in Rochester, N.Y. That was like a Notre Dame prep school. And, whew, they had some tough players."
Boys Town Bus Travels to Florida for exhibition game
Under Palrang, the Cowboys went 75-33-6 in these intersectional matchups. BT also participated in intersectional basketball and baseball contests, but on a far more limited basis.
Jones said players got "five dollars per trip for eating and fun money." For some, like him, it was their first time on a train, a big deal for "kids that didn't have anything," he added. Seeing the sights was part of the experience – Chicago's Field Museum, New York's Rockefeller Center and Radio City Music Hall. But the road trips, which lasted up to three weeks, were not all fun and games. An instructor traveled with the team and made sure they kept up on their schoolwork.
Lessons of another kind came on the few road trips south of the Mason-Dixon Line. "We would go to some areas where they wouldn't allow the black kids on our team to stay in the same hotel as the whites," Pfeifer said. "A few times we had to arrange for those kids to stay with some people in the community. It was a terrible blow to Fr. Flanagan. That's probably why we didn't play that much in the South."
Wilburn Hollis was among a black contingent denied access to a hotel. Although from the Jim Crow South, he'd been shielded from the worst of segregation – the same at color-blind Boys Town. "We were buddies, but even more than that we felt like we were brothers and we just lived like that," said Hollis, a Possum Trot, Miss. native who became a high school All America quarterback at Boys Town and a signal caller for an Iowa University team that won a share of the Big 10 title. "I never heard anything racial."
"At Boys Town I never thought about ethnicity or race," said Ken Geddes, who grew up in Florida and went on to play for Nebraska and in the National Football League. "…We were all part of a family."
Within that family of athletes, Palrang was the unchallenged head of household. "He was about six-four and probably 220 pounds and he was mean as a goat," Hollis said. "But he was a wonderful coach. He loved the kids, he loved Boys Town…."
Hollis told of an incident involving Flanagan's successor, Rev. Nicholas Wegner. (Flanagan died in 1948 on a goodwill mission in Berlin, Germany). Like his predecessor, Wegner was a sports booster, but apparently didn't share Skip Palrang's competitive philosophy. Once when BT was losing a football game, the priest tried to deliver a halftime pep talk. Wegner advised the team to do their best, Hollis recalls, "and honestly he used that old cliché, 'It's not if you win or lose, it's how you play the game.' Well, Skip was pretty hot and he said, 'Bulls__t. We're going to win this game.' Monsignor was like, Oh-oh. And we went out and won the game."
But Palrang's success was based on more than force of will. Stern but fair, he was known for his precise preparation, a quality that fit his favorite hobby of watch repair. Ex-sportscaster Jack Payne of Omaha recalls Palrang in his field house office "hovered over a well-lighted table…wearing an eye shade, jeweler's glasses, meticulously at work on a watch."
An innovator, Palrang used his vast contacts to learn new offensive and defensive schemes from college and professional colleagues, often implementing packages years before anyone else at the prep level. He'd get reels of game or practice film with the latest sets to study. Sought out for his expertise, he often conducted clinics around the country. Pfeifer said that once, at the request of an old buddy, Palrang sent BT quarterback Jimmy Mitchell to Kansas State to help Wildcat signal callers learn the T-formation Skip helped initiate in high school.

The Cowboys often played far from home, so Palrang sent an assistant ahead to scout. Palrang's protégé, George Pfeifer, inherited the thankless job. In order to see distant teams, he traveled by plane, train, automobile or any available mode of transport. He once flew into Chicago's Midway Airport on his way to see an opponent that night in Wisconsin. In Chicago he was bumped from the last connecting flight north. With only a few hours until game time and hundreds of miles between him and the stadium, he was stuck. Desperate, he asked, "Is there any other way?" He was directed to a helicopter pad. For $15 and a slight case of nausea, he arrived "just about the time they were kicking off."
Boys Town graduate Charles "Deacon" Jones competes in the 1956 Olympic Games in Melbourne, Australia, finishing ninth in the 3,000-meter steeplechase. Four years later, he would finish seventh in the same event in the Rome Olympics.
Skip Palrang's physician son, Art, who played for his father one year at BT, said besides the advantage Palrang got by scouting opponents "the Boys Town kids in those days… were really tough, tough boys. They weren't very big but they were tough… There weren't a lot of distractions out there, like girls. He had kind of a captive audience."
Palrang also had the advantage of working with kids who came out of BT pee-wee, freshman and junior varsity programs imbued with his coaching systems. By the time they made varsity, kids were well-schooled in the Palrang way. It led to potent team chemistry.
Despite offers to leave, Palrang remained loyal to Boys Town. Art Palrang believes this allegiance stemmed from Skip being an orphan himself. "His mother died when he was two and left his father with three boys and three girls," he said. "He was always sympathetic to the Boys Town kids, although he was typical Irish in that he would not show his emotions."
Today, Palrang's accomplishments are commemorated in a big memorial just inside the field house dedicated in his honor. The memorial is next to a long row of display cases reserved for trophies and plaques won by Boys Town coaches, athletes and teams. There are hundreds of items. There'd be more, except Palrang made a habit of giving them away to kids.

By the time Palrang retired in 1972, he was only coaching his main passion, football. Years earlier, he'd entrusted the basketball program to Pfeifer, another coach often described as a "no-nonsense father figure." Pfeifer's basketball teams went 202-45 (two state titles), and his track teams (two titles) were always a threat. He recently joined his mentor in the Nebraska High School Sports Hall of Fame.

Like his predecessor, Pfeifer encountered racist attitudes toward his players, as when he started five black players on his state championship basketball teams of 1965 and 1966. One morning after a game, a caller demanded, "Why you playing all them n_____s?"
"Because they're my five best players," Pfeifer replied.
Boys Town's barnstorming era was prompted by publicity and the guaranteed payoff for its football games. But BT was also compelled to travel for another reason. Once it became a winner, it could find only a handful of area schools willing to schedule games.
Despite many attempts, BT was long denied membership in the Omaha Inter-City League, comprised of large Omaha area schools. Pfeifer said Wegner reportedly had to threaten to withdraw funds from local banks to gain admittance. It finally happened when the Inter-City League was disbanded and the new Metropolitan High School Activities Association was created in 1964.
Everyone has a theory about the blacklisting. Speculation ranges from envy over BT's athletic riches to rumors, denied by BT alums, that it practiced off-season, suited older student-athletes, or recruited prospects. An image of BT suiting up juvenile delinquents, true or not, may have also accounted for schools not wanting to schedule the Cowboys. BT athletic equipment manager and head baseball coach Jim Bayly said that when he was a player at Omaha South, "we were afraid of Boys Town."
Shane Hankins, quarterback for BT this past season, senses that the "jail" or "criminal" perception still haunts BT. But far from intimidating foes, he said it makes them "want to fight us even harder to prove we're not tougher." He concedes BT has some rough players, but points out that the Cowboys win sportsmanship awards.
Even without conference membership, Boys Town had a metro rival. "In the middle '40s, when Boys Town was really taking off," Art Palrang said, "Creighton Prep was also in its heyday and they played bitter, bitter battles. Rumor has it the archbishop said, 'Hey, you guys have got to stop this. We can't have two Catholic teams fighting each other.'" Adding fuel to the fire was the fact Palrang once coached Prep. There was no one he enjoyed beating more.

Aside from Prep, Palrang said, "Boys Town was obviously cleaning up on everybody and Omaha didn't want 'em in their league because… Boys Town would have won everything." By contrast, Prep had long been a conference member. And once let in, BT proved as dominant as feared by soon piling up Metro titles.
Perhaps nothing explains the ostracism better than what one alum called BT being "an island unto itself." A certain arrogance surely came with all that independence, winning and notoriety. Besides, there was the perception – if not reality – that BT didn't really need to be in a local athletic league. In fact, cross-country travel was expensive and eventually became cost-prohibitive.
The 1985-1966 Cowboys basketball team wins the school's second straight state basketball championship.
By the time Boys Town's reign ended in the mid-1970s, BT had evolved from a place where boys lived in dormitories to a family housing model where residents – girls too – live with teacher parents. Changes in the way BT works with youth lowered the number of residents from a high of about a thousand (elementary and high school combined) to about half that today, and decreased the average stay from six or eight years to about 18 months. The smaller enrollment forced BT to drop from the big school to small school ranks, and the shorter stays gave coaches less time to develop athletes and mold teams. For years, BT athletic prowess declined.
Today's BT coaches are again turning out winning teams and top athletes, their job complicated by kids who present complex behavioral disorders. BT teams again compete for titles, but in Class C1, not Class A. The football team has its rivals, but a road trip today is an hour by bus, not overnight by train.
Girls and Boys Town (as the institution has been known since 2000) still uses athletics to further its mission of helping at-risk youth develop life skills that prepare them for adulthood. Head football coach Kevin Kush sets a high bar for his players, and makes no exceptions in holding them accountable. By late September 2006, he'd already let a few of his best players go for violating team rules, which brought his varsity squad down to 26. He could have supplemented the varsity by promoting JV players, but he refused, saying, "They haven't paid the price. I'm not going to change my philosophy. I'm not going to lower my standards. See, these kids have standards lowered for them for their whole lives. We don't do that. We want our kids to be committed to something and a lot of them have never been committed to anything."
This past season's star quarterback, Shane Hankins, said he appreciates that coaches and others care enough to make football special again. "Our goal is to achieve, to shoot for something in our lives some people say is impossible for us to do since we're here. But we prove them wrong. We want to bring more winning to this campus because before we came here, most of us weren't recognized as winners."
All last basketball season, head boys basketball coach Tom Krehbiel relied heavily on an unofficial assistant, the 81-year-old George Pfeifer who, despite health woes, came to practices weekly to distill some of his wisdom to players young enough to be his great-grandchildren. Pfeifer's championship teams of 1965 and '66 are still regarded as two of Nebraska's best high school basketball teams ever.
"I wanted to get him involved in the program," Krehbiel said of Pfeifer. "I reached out to him. We ate lunch, hit it off and he's been a big part of our program ever since. I don't think it's a coincidence we started winning since then. Coach has been a great mentor to me and just a great resource for us. For our current players he's a link to success."
After last year's team won Boys Town's first state basketball championship in 40 years, guard Dwaine Wright dedicated the victory to Pfeifer live on Nebraska Educational Television.
Pfeifer said that after a period of adjustment, he and the team forged a strong bond. "When I'd come out there, some of the kids warming up before the game would come over and say, 'God, we're glad to see you coach. You feeling alright? We're going to play hard for you.' That last night when they accepted the trophy the one kid held it up and said, 'This is for you, Coach Pfeifer…' Those are the kind of kids…." Choked with emotion, Pfeifer's voice trailed off.
The experience brought him full circle to how as a kid he was welcomed and encouraged by Father Flanagan, Skip Palrang and others, and how he did the same for kids as a BT coach, vocational education teacher and middle school principal. "I knew I wanted to be there to help those type of kids," Pfeifer said of Boys Town students past and present. "You know, they come there with a hole in their heart. Nobody cares about them, nobody encourages them – they just think there's no way they can make it. We set up goals and objectives. We praise them when they succeed. When a kid comes up to you and says, 'God, I wish you were my dad'…then you know you made a difference."
Note:  The Boys Town Hall of History features displays and a film that relive some of BT's glory years in football.
Related Articles
Categories:

Athletics, Boys Town, Education, Father Flanagan, Mentoring, Omaha, Sports, Writing, Youth
Athletics, Boys Town, Father Flanagan, George Pfeifer, History, Mentoring, Omaha, Skip Palrang, Sports, Youth