Posts Tagged 'Laura Love'
This is one of the last stories I wrote about Omaha jazz and blues legend Preston Love.  It's a tribute piece written in the days following his 2004 death.  Trying to sum up someone as complex and multi-talented as Preston was no easy task.  But I think after reading this you will have a fair appreciation for him and what was important to him.  The piece originally appeared in The Reader (www.thereader.com).  I actually ended up writing about him two more times, once on the occasion of the opening of the Loves Jazz & Arts Center, which is named in his honor and located in the hub of North Omaha's old jazz scene, and then again when profiling his daughter Laura Love, a singer–musician he fathered out of wedlock.  You can find my other Preston Love stories along with my Laura Love story on this blog site.
RIP Preston Love Sr., 1921-2004, He Played at Everything
©by Leo Adam Biga
Originally published in The Reader (www.thereader,com)
Lead alto sax player with Basie in the 1940s. Territory band leader in the '50s. Arranger, sideman, band leader for Motown headliners in the '60s. Studio session player. Recording artist. Music columnist. Radio host. Teacher, lecturer, author.
Until his passing from cancer at age 82, the voluble, playful, irrepressible, ingenious Preston Love wore all these hats and more during a long, versatile career. Around here, he may be best remembered for the easy way he performed at countless venues or the nostalgic, by-turns cantankerous tone of his Love Notes column or the adoring tributes and scalding rebukes he issued as host of his own jazz radio programs. Others might recall the crusading zeal he brought to his roles as college instructor, lecturer and artist-in-residence in spreading the gospel of jazz.
His curt dismissal of some local jazz musicians made him an egoist in some corners. In Europe, he was accorded the respect and adulation he never got at home. Yet, despite feeling unappeciated here, he often championed Omaha. It took the publication of his 1997 autobiography to make his resident jazz legend status resonate beyond mere courtesy to genuine recognition of his talents and credits.
For his well-received book, A Thousand Honey Creeks Later, My Life in Music from Basie to Motown (Wesleyan Press), Love drew on an uncanny memory to look back on a life and career spanning an enormous swath of American history and culture. It was a project he labored on for some 25 years and even though he still had a lot of living left in him, it served then, as it does now, as an apt summing-up and capstone for an uncommon man and his unusual path. It's a bold, funny, smart, brutally frank work filled with the rich anecdotes of a born storyteller.
"You know how most people who write their life story have ghost writers? Well, he wrote his book. Every word," says his son, Richie Love, with pride and awe.
Artist: Preston Love
Label: KENT
Orig. Released: 1969
Catalog No.: LPKENT540
Condition: Sealed-Reissue
Format: LPRetail Price: $ 8.99 (1 available)
The ability, with no formal training, to master writing, music and other pursuits was what Billy Melton calls his late friend's "God-given talents. Preston just picked up everything. He had a photographic memory. He was remarkable." Richie Love says his father's huge curiosity and appetite for life was part of "a drive to excel" that came from being the youngest of nine in a poor, single-parent house so run down it was jokingly called the" Love Mansion." Young Preston taught himself to play the sax, abandoning a promising career in the boxing ring for the bandstand, where the prodigy's gift for sight reading became his forte. "Any kind of music you put in front of him, he played it," says former Love pianist Roy Givens.
Whether indulging in food and drink, friends and family, leisure or work, Richie Love says his father lived large. "Everything he did was larger than life. He did everything with a passion. Music. Fishing. Cooking. He was just so interesting. He was an all-around person. People loved him. People flocked to him."
"He was just a big man all the way around," says Juanita Morrow, a lifelong friend and fishing companion who experienced his generosity when she and her late husband, Edward, fell ill and Love made frequent visits to their home, bringing them groceries. "I'll remember him as a very dear friend. He never let my husband and I down. No matter where he went on tour…he always sent letters and pictures."
Frank McCants, another old chum from back in the day, says even after making it big with Basie that Love "never got the big head. He stayed regular." Melton says Love would return from the road looking for a good time. "Preston made the big bucks and when he came to town he'd look us up…and that's when the partying would begin. We let our hair down." On those rare occasions when the blues overtook Love, Melton says, "music was the antidote. He really loved it."
Although he hated being apart from his wife Betty, who survives him, Love savored "the itinerant life." Givens recalls how he made life on tour a little more enjoyable: "He was a very serious musician, but he was a joker. He kept you laughing a lot because of the things he would say and do." Traveling by bus, the spontaneous Love often heeded the sportsman's call en route to a gig. "He loved to hunt and he loved to fish," Givens says, "and on the bus we had he carried his shot gun and his fishing rod. If we went across any water, he'd stop the bus and say, 'I'm just going to see what I can catch in 15 or 20 minutes.' He'd throw in a line. When passing by a field, if he'd see a pheasant or a rabbit, he'd stop and shoot at it out the windows. If he hit anything, he'd skin it. If he caught anything, he'd put it on ice in a cooler. A lot of times we were almost late getting to the job because he would be catching fish and he didn't want to leave. The guys would just laugh."
A consummate showman, Love burned with stage presence between his insouciant smile and his patter between sets that combined jive, scat and stand up. Richetta Wilson, who sang with various Love bands, recalls his ebullience. "He would talk more than he would play sometimes. He was so funny and talented. The best person you could ever want to work with." Billy Melton recalls Love teasing audience members from the bandstand. "Almost everybody that came in the door he'd know by name and he'd call them out. He was always joking, but he could take it, too. He didn't care what you said about him."
Then there was his serious side. Love coaxed a smooth, sweet, plaintive tone from the sax developed over a lifetime of listening and jamming in joints like McGill's Blue Room on north 24th Street. As a student of music, he voiced learned, militant diatribes against "the corruption of our music." As he saw the once serious Omaha jazz scene abandon its indigenous roots, he used his newspaper columns, radio shows and college classrooms as forums for haranguing local purveyors and performers of what he considered pale imitations of the real thing.
Calling much of the white bread jazz presented here "spurious" and "synthetic," he decried the music's most authentic interpreters being passed over in favor of less talented, often times white, players. "My people gave this great art form for posterity and I'm not going to watch my people and our music sold down the road," he said once. "I will fight for my people's music and its presentation."
He delivered his eloquent, evangelical musings in free-flowing rants that were equal parts improvisational riff, poetry slam and pulpit preaching, his mellifluous voice rising and falling, quickening and slowing in rhythmic concert with his emotions.
Love's guardianship for the music may live on if the planned Love Jazz-Cultural Arts Center dedicated to him on 24th Street ever opens, which organizers say could happen by the end of 2004. The center's driving force, Omaha City Councilman Frank Brown, hopes the facility can showcase the Love legacy, including his many well-reviewed recordings. "I want visitors to know here is a person who was great and touched greatness and was part of that rich jazz history," Brown says. "People like that just don't come along every day. And I want kids to walk away with the feeling they too can achieve like he did." Richie Love says he wants people to know his dad was "a great man."
Center board members plan displaying items from the mass of memorabilia the late artist collected in his collaborations with what one reviewer of a reissued Love album called a "Who's Who of American Musicians." The star-studded roster of artists he worked with ranged from Count Basie, Lucky Millinder and Earl Hines to Wynonie Harris, Billie Holiday and Jimmy Rushing to Aretha Franklin, The Four Tops, The Temptations, The Supremes, Smokey Robinson and the Miracles, Ray Charles, Marvin Gaye, Issac Hayes and Stevie Wonder.
Richie Love is sorting through the materials, including hundreds of photos, in an effort to decide what the family will donate to the center. Many photos picture Love with the Motown artists he worked with during his decade (1962 to 1972) in California. He moved his family there at the urging of friend Johnny Otis, the blues great with whom he often collaborated. Love worked as an L.A. session player and sideman and, later, as the leader of Motown's west coast backup band, an ensemble that backed many of the label's artists performing there.
For Richie, and siblings Norman and Portia, the L.A. years were golden. Richie recalls the high times that ensued whenever his father parked the Motown tour bus outside their rented house on West 29th Place. "The kids from the neighborhood would see that bus and we'd all get on it. I'd sit in the driver's seat and act like I was driving and they'd be in the back singing like they were Motown. It was just the greatest." Other times, stars arrived in style at the Love home. "We'd look out the window and see a limo coming and say, 'Oh-oh, who's it going to be this time?' I think Dad liked to surprise us. It was always somebody different." Some visitors, like Gladys Knight or Jimmy Rushing, became live-in guests, passing the time swapping stories and playing Tonk, a popular card game among blacks. "My brother, sister and I would sit in the front room and watch and listen while they were having a ball, laughing and talking all night. We'd get up in the morning, and they'd still be there." Then there were the times when the boys accompanied their father to television tapings or live concerts and got to hang backstage with the show's stars, including Stevie Wonder. "Oh, it was the coolest," Richie says.
Having a dad who's a kid at heart meant impulsive trips to the beach, swimming pools, fishing holes, music gigs. Sitting up with him all hours of the night as he made "elaborate dinners" – from gourmet to barbecue – and "told these great stories," Richie says. "He was a great father…he turned us on to so many things in life."
By all accounts, Love was a good teacher as well. Whether holding court at the Omaha Star, where he was advertising director, or from the bandstand, he shared his expertise. "He helped musicians reach their potential," says Roy Givens. "After listening to you play, he could tell you what your weaknesses were…He would pull you aside and tell you to work on them. I know he made me a better musician."
Melton says Love often spoke of a desire "to pass his knowledge on." To see the results of that teaching, Givens says, one has only to look at Love's children. "They are all exceptional musicians, and that right there's an accomplishment." Richie is an instrumentalist, composer and studio whiz. Norman, who resides in Denver, is widely regarded as an improvisational giant. Portia is a jazz vocalist. All performed with their father on live and recorded gigs.
If nothing else, Preston Love endured. He survived fads and changing musical tastes. He adapted from the big band swing era to the pop, soul, rhythm and blues refrains of Motown. He rose above the neglect and disdain he felt in his own hometown and kept right on playing and speaking his mind. Always, he kept his youthful enthusiasm. The eternal hipster. "I refuse to be an ancient fossil or an anachronism," Love told an interviewer in 1997. "I am eternally vital. I am energetic, indefatigable. It's just my credo and the way I am as a person."
Even into his early 80s, Love could still swing. Omaha percussionist Gary Foster, who played alongside him and produced CDs featuring him, marveled at his skill and vitality. "He had a very pure, soulful sound that just isn't heard anymore. It's that Midwestern, Kansas City thing. He was part of that past when it was real — when the music was first coming and new. He had that still." He says Love was not about "coasting on what he'd done in the past," adding: "To him, that just wasn't good enough. He still wanted to produce. He was still hungry. In the studio, he was like, 'What are we doing today? Where are going to take the music today?'"
Love's musical chops were such that, at only 22, he earned an audition with Basie during an appearance of the Count's fabled band at Omaha's Dreamland Ballroom. In the same room he grew up worshiping at the feet of his musical idol, Basie sax great Earle Warren, Love won a seat in the band as a replacement for none other than the departing Warren. "Preston Love was part of this lineage of great lead alto saxophone players. With Basie, he took over for one of the great lead alto saxophone players…and he performed that role with distinction," Foster says.
Love once said, "Everything in my life would be an anticlimax because I realized my dream." That dream was making it to the top with Basie. Luckily for us, he didn't stop there. Now, he leaves behind a legacy rich in music and in Love.
Related Articles
Categories:

African-American Culture, Authors/Literature, Books, Entertainment, History, Jazz, Laura Love, Music, Omaha, Pop culture, Preston Love, Writing
Tags:

African-American Culture, Authors/Books/Literature, Celebrity, Count Basie, Entertainment, History, Jazz, Laura Love, Motown, Music, Omaha, Omaha Nebraska, Pop Culture, Preston Love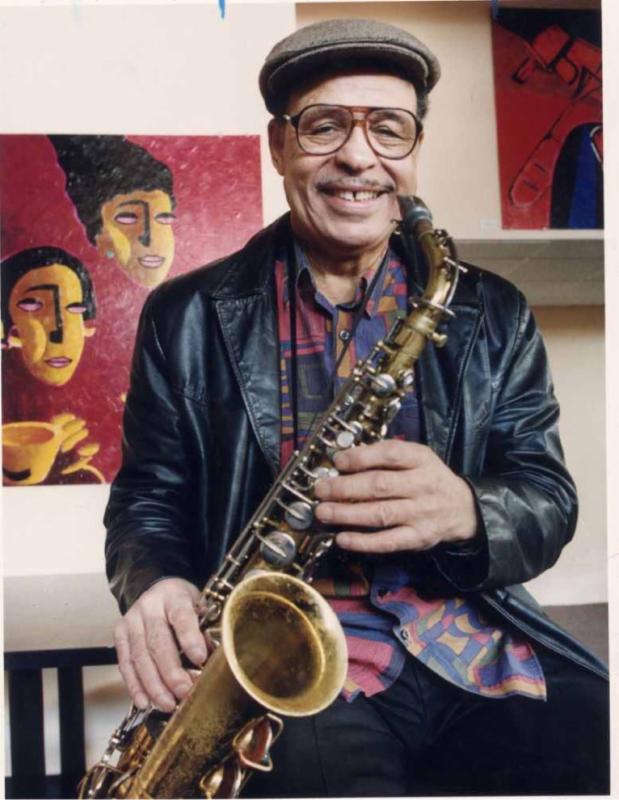 An unforgettable person came into my life in the late 1990s in the form of the late Preston Love Sr. He was an old-line jazz and blues player and band leader who was the self-appointed historian and protector of a musical legacy, his own and that of other African American musicians, that he felt did not receive its full due.  Love was a live-life-to-its-fullest, larger-than-life figure whose way with words almost matched his musicianship.  As I began reporting on aspects of Omaha's African American community, he became a valuable source for me. He led me to some fascinating individuals and stories, including his good friend Billy Melton, who in turn became my good friend. But there was no one else who could compare to Preston and his irrepressible spirit.
I ended up writing five stories about Preston.  The one that follows is probably my favorite of the bunch, at least in terms of it capturing the essence of the man as I came to know him.  The piece originally appeared in the New Horizons.  Aspects of this piece and another that I wrote for The Reader, which you can also find on this site, ended up informing a profile on Preston I did for a now defunct national magazine, American Visions.  Links to that American Visions story can still be found on The Web.  I fondly remember how touched I was listening to the rhapsodic praise Preston had for my writing in messages he left on my answering machine after the first few stories were published. After basking in his praise I would call him back to thank him, and he would go off again on a riff of adulation that boosted my ego to no end.
I believe he responded so strongly to my work because I really did get him and his story.  Also, I really captured his voice and pesonality.  And this man who craved validation and recognition appreciated my giving him his due.
Near the end of his life Preston hired me to write some PR copy for a new CD release, and I approached the job as I would writing an article.  I've posted that, too.
The last story I wrote about Preston was bittersweet because it was an in memoriam piece written shortly after his death. It was a chance to put this complex man and his singular career in perspective one more time as a kind of tribute to him.  A few years after his death I got to interview and write about a daughter of his he had out of wedlock, Laura Love, who is a fine musician herself. Her story can also be found on this site.
The Smooth Jazz Stylings of Mr. Saturday Night, Preston Love Sr.,
©by Leo Adam Biga
Originally published in the New Horizons
An early January evening at the Bistro finds diners luxuriating in the richly textured tone and sweetly bended notes of flutist-saxophonist Preston Love, Sr., the eternal Omaha hipster who headlines with his band at the Old Market supper club Friday and Saturday nights.
By eleven, the crowd's thinned out, but the 75-year-old Love jams on, holding the night owls there with his masterful playing and magnetic personality.  His tight four-piece ensemble expertly interprets classic jazz, swing and blues tunes Love helped immortalize as a Golden Era lead alto sax player and band leader.
Love lives for moments like these, when his band really grooves and the crowd really digs it: "There's no fulfillment…like playing in a great musical environment," he said.  "It's spiritual. It's everything.  Anything less than that is unacceptable. If you strike that responsive chord in an audience, they'll get it too – with that beat and that feeling and that rhythm. Those vibes are in turn transmitted to the band, and inspire the band."
His passion for music is shared by his wife Betty, 73, the couple's daughter, Portia, who sings with her father's band Saturdays at the Bistro   and sons, Norman and Richie, who are musicians, and Preston Jr.
While the Bistro's another of the countless gigs Love's had since 1936 and the repertoire includes standards he's played time and again, he brings a spontaneity to performing that's pure magic.  For him, music never gets tired, never grows old. More than a livelihood, it's his means of self-expression.  His life.  His calling.
Music has sustained him, if not always financially, than creatively during an amazingly varied career that's seen him: Play as a sideman for top territory bands in the late '30s and early '40s; star as a lead alto saxophonist with the great Count Basie Orchestra and other name acts of the '40s; lead his own highly successful Omaha touring troupe in the '50s; and head the celebrated west coast Motown band in the '60s and early '70s.
He's earned rave reviews playing prestigious jazz festivals (Monterey, Montreux, Berlin). Toured Europe to great acclaim. Cut thousands of recordings, including classics re-released today as part of anthology series.  Worked with a who's-who list of stars as a studio musician and band leader, from Billie Holiday to Aretha Franklin and Ray Charles to Stevie Wonder.  Performed on network television and radio.  Played such legendary live music haunts as the Savoy and Apollo Theater.
After 61 years in the business, Love knows how to work a room, any room, with aplomb. Whether rapping with the audience in his slightly barbed, anecdotal way or soaring on one of his fluid sax solos, this vibrant man and consummate musician is totally at home on stage. Music keeps him youthful.  Truly, he's no "moldy fig," the term boppers coined to describe musicians out-of-step with the times.
"As far as being a 'moldy fig'…that'll never happen.  And if it does, then I'll quit.  I refuse to be an ancient fossil or an anachronism," said Love.  "I am eternally vital.  I am energetic, indefatigable,  It's just my credo and the way I am as a person.  I play my instruments as modern as anybody alive and…better than I've ever played them."
Acclaimed rhythm and blues artist and longtime friend, Johnny Otis,  concurs, saying of Love: "He has impeccable musicianship.  He has a beautiful tone, especially on solo ballads, which is rare today, if it exists at all.  He's one of the leading lead alto sax players of our era."
Otis, who lives in Sebastopol, Calif., is white.  Love is black.  The fact they've been close friends since 1941 shouldn't take people aback, they say, but it does.  "Racism is woven so deeply into the fabric of our country that people are surprised that a black and a white can be brothers," Otis said.  "That's life in these United States."
Love's let-it-all-hang-out performing persona is matched by the tell-it-like-it-is style he employs as a recognized music authority who demands jazz and the blues be viewed as significant, distinctly African-American art forms.   He feels much of the live jazz and blues presented locally is "spurious" and "synthetic" because its most authentic interpreters – blacks – are largely excluded in favor of whites.
"My people gave this great art form for posterity and I'm not going to watch my people and our music sold down the road," he said.  "I will fight for my people's music and its presentation."
Otis admires Love's outspokenness.  "He's dedicated to getting that message out.  He's persistent.  He's sure he's right, and I know he's right."
Love's candor can ruffle feathers, but he presses on anyway.  "No man's a prophet in his hometown," Love said. "Sometimes you have to be abrasive and caustic to get your point over."
Orville Johnson, Love's keyboardist, values Love's tenacity in setting the record straight.  "He's a man that I admire quite a bit because of his ethics and honesty."
Love has championed black music as a columnist with the Omaha World-Herald, host of his own radio programs and guest lecturer, teacher and artist-in-residence at colleges and universities.
With the scheduled fall publication of his autobiography, "A Thousand Honey Creeks Later," by Wesleyan University Press, Love will have his largest forum yet.  Love began the book in 1965 while living in Los Angeles (where he moved his family in 1962 during a lean period), and revised it through a succession of editors and publishers.  He sees it as a career capstone.
"It's my story and it's my legacy to my progeny," he said.  "They'll know what I'm like and about by the way I said things, if nothing more."
He started the book at the urging of a friend, who typed the manuscript from his handwritten scrawl.  After Love and his family returned to Omaha in 1972, he "totally rewrote" it, adding chapters on his Motown years (1966-1972) and on Omaha.  "I did a lot of it at that desk in there," he said, indicating his cubbyhole office at the Omaha Star, where he is advertising manager.  Helping him shape the book over the years has been noted jazz authority Stanley Dance and, more recently, Wesleyan contributing editor George Lipsitz, who wrote its glowing introduction.
Love long ago rejected the idea of a ghost writer.  "It's no longer you then," he said.  "Even if I wasn't articulate enough or didn't have the literary background to write it, I wanted to reflect Preston.  And it sure and the hell does, for better or worse." As a veteran writer and avid reader, he does feel on solid ground as an author.  He said ideas for the book consumed him.  "All the time, ideas raged in my brain.  And now I've said 'em, and according to Wesleyan, I've said them very well."
An outside reviewer commissioned by Wesleyan described Love's book as more "than an account of a musician's career," but also an important document on "African-American social history, the history of the music business and institutional racism in American popular culture."
Love is flattered by the praise.  "I'm very proud of it," he said.  "Before the editorial staff acts on your book, they always bring in an outside reader, and what that person has to say has a big bearing on what's going to happen.  It had a big bearing on the contract I signed several weeks ago."
Love feels his far-flung experience has uniquely qualified him to tell his story against the backdrop of the black music scene in America.  "The fact that mine's been a different, unlikely and multifaceted career is why publishers became interested in my book."
To appreciate just how full a life he's led and how far he's come, one must look back to his start. He grew up the youngest of Mexie and Thomas Love's nine children in a "dilapidated" house, jokingly called "the mansion," at 1610 North 28th Street.  His auto mechanic father died in Love's infancy.  Although poor in possessions, the family was rich in love.
"My mother did the best she could," he recalls.  "There was no welfare in those days.  No ADC. This brave little woman went out and did day work for 40 cents an hour, and we survived.  There were no luxuries. "But it was a loving, wonderful atmosphere.  Our house was the center of that area.  Naturally, guys courted my sweet, beautiful sisters and girls pursued my gorgeous brothers."
He was steeped in music from a young age.  He heard the period's great black performers on the family radio and phonograph and hung-out on then teeming North 24th Street to catch a glimpse, and an autograph or two, of visiting artists playing the fabled Dreamland Ballroom and staying at nearby rooming houses and hotels.
"Twenty-fourth street was the total hub of the black neighborhood here.  This street abounded with great players of this art form."
By his teens, he was old enough to see his idols perform at the Orpheum and Dreamland.  He recalls the Dreamland with great affection:
"All of the great black geniuses of my time played that ballroom.  Jazz was all black then, number one, and here were people you admired and worshiped, and now you were standing two feet from them and could talk to them and hear their artistry.  To hear the harmony of those black musicians, with that sorrowful, plaintive thing that only blacks have.  That pain in their playing.  That indefinable, elusive blue note.  That's what jazz is."
He'd rush home after a night there to play the sax his brother "Dude" had saved up for and bought.  "Dude" eventually joined a touring band and passed the sax onto his brothers.  Love taught himself to play, picking up pointers from veteran musicians and from the masters whose recordings he listened to "over and over again."
He began seeing music as a way out.  "There was no escape for blacks from poverty and obscurity except through show business," Love said.  "I'd listen to the radio's late night coast-to-coast broadcasts of those great bands and I'd go to sleep and just dream of going to New York to play the Cotton Club and dream of playing the Grand Terrace in Chicago.  I dreamed of someday making it – and I did make it.  Everything else in my life would be anticlimactic, because I realized my dream."
He traces the spark for his dream and its fulfillment to an August night in 1938 at the Dreamland, when, at 17, he met his main idol – Earle Warren – Basie's lead alto sax man. Warren later became Love's mentor.
"That was the beginning of my total dedication and my fanaticism for this thing called jazz.  He was the whole inspiration for my life."
With Warren as his inspiration, Love made himself an accomplished musician.  "I had the natural gift for sound – a good tone – which is important.  Some people never have it.  I was self-motivated.  No one had to make me practice.  I did it all on my own.  And being good at mathematics, I was able to read music with the very least instruction."
His ability to sight read was rare among blacks then and became his "forte."  His first paying gig came in 1936, at 15, as a last-minute fill-in on drums with Warren Webb and His Spiders at the Aeroplane Inn in Honey Creek, Iowa.  The North High graduate eventually played scores of other small towns just like Honey Creek, hence the title of his book.
His breakthrough came in 1943, when Warren recommended Love as his replacement in the Basie band.  Love auditioned at the Dreamland and won the job.  It was his entry into the big time.  "I was ready," he said.  "I knew I belonged."  It was the first of two tours of duty with Basie.  In storybook fashion, Love returned to play the very sites where his dreams were first fired – the Dreamland and Orpheum.  He went on to play many of the famous, glittering big city clubs he'd envisioned.
Love enjoyed the spotlight playing with Basie and the bands of Lucky Millinder, Lloyd Hunter, Nat Towles and Johnny Otis.  "Touring was fun," he said.  "You played the top ballrooms, you dressed beautifully, you stayed in finer hotels.  Big crowds.  Autographs.  It was glamorous." Life on the road agreed with he and Betty, whom he married in 1941.  "The itinerant thing is what I love.  The checking in the hotels and motels.  The newness of each town.  The geography of this country.  The South, with those black restaurants with that flavorful, wonderful food and those colorful hotels.  It was my culture, my people."
His book vividly describes it all.  Including the difficulties of being black in America and the reversals of fortune he's experienced.  He has some harsh things to say about Omaha, where he's witnessed the Dreamland's, demise, North 24th Street's decline and the black music scene dry up.
He's left his hometown many times, but has always come back.  Back to where his dream first took flight and came true. Back to the mistress – music – that still holds him enthralled.  To be our conscience, guide, our inspiration.
That January night at the Bistro, a beaming Love, gold horn slung over one shoulder, tells his audience, "I love this.  I look forward coming to work.  Preston Love's an alto player, and you want to hear him play alto, right?  Listen to this." Supplying the downbeat, he fills the room with the golden strain of "Mr. Saturday Night."  Play on, Mr. Saturday Night, play on.
Related Articles
Categories:

African-American Culture, Authors/Literature, Celebrity, Entertainment, Jazz, Laura Love, Music, Omaha, Personalities-Characters, Pop culture, Preston Love, Race, Writing
Tags:

A Thousand Honey Creeks Later, African-American Culture, Aretha Franklin, Authors/Books/Literature, Billie Holiday, Count Basie, Entertainment, History, Jazz, Johnny Otis, Laura Love, Music, New Horizons, Omaha, Orville Johnson, Pop Culture, Preston Love, Race, Ray Charles, Stevie Wonder, United States
As a journalist I knew the late Omaha jazz musician Preston Love Sr. fairly well, but I didn't know about his daughter, Laura Love.  By the time I learned of her, Preston was gone. My work as a  journalist and the relationship I had with her father led me to Laura, whom I first got to know through her autobiography. Then I heard her music.  Then I interviewed her, by phone, and I felt as if I'd known her all along.  Like her father, she's an immensely talented musician and author.
My story about her appeared in a somewhat truncated form in The Reader (www.thereader.com).  I offer it here because I would like to introduce more people to her and her work.
Hard times ring sweet in the soulful words of singer-songwriter-author Laura Love, Ddughter of the late jazz man, Preston Love Sr.
©by Leo Adam Biga
A version of this story appeared in a 2006 issue of The Reader (www.thereader.com).
Hard times never sounded so sweet as sung by Laura Love, the Seattle jazz-folk-R & B-gospel fusion artist whose bittersweet Nebraska past informs her soulful work.
The singer–songwriter-bass player was born and raised in Lincoln, along with her sister Lisa. The girls did part of their growing up in Omaha. Meanwhile, their single mother, Wini Jones, a lithe, sophisticated, swing-era big band singer-turned social worker, bounced around as mad as the March Hare. Paranoia gripped her. Between psych ward stays, undergoing electric shock treatments, her sanity wavered. Her young daughters awaiting the next breakdown. There were attempted suicides. Once, heeding the voices inside her head, she readied herself and the girls to hang themselves before the family cat interrupted the proceedings.
"A lot of the things she did were irrational, illogical, but when you're a kid you go, 'Oh, that's just Mom.' You don't necessarily have a label for it. You don't necessarily notice it as a pathology or a psychotic reaction," Love said. "You just know that it's really damaging. Then you get good at gauging where it's going and when it's going to come on — what's going to trigger it."
From the 1960s to the mid-1970s, the sisters flitted in and out of foster care homes as their mother went in and out of mental hospitals. With Wini unable to hold a job for long, bills piled up and creditors hounded them. Living on the edge, the family rarely stayed in one place more than a few months. Amid the dysfunction and chaos, they improvised a survival strategy that somehow staved off fatal disaster.
Just when Laura and Lisa staked their independence as teens, they discovered the father they'd been told was dead was alive. His name — Preston LoveSr. Omaha's ebullient jazz icon. He'd been a sideman with Count Basie and played with scores of other legends. He'd hired Wini to front his touring band in the late '50s and the married man with kids had an affair with his lead singer. Laura and Lisa were the result. It was not his first affair and the girls were not the only children he sired out of wedlock. As if that wasn't mind-blowing enough, Laura, then a budding musician, found a man who looked and sounded just like herself, yet whose cavalier attitudes about fatherhood challenged her ideas of Daddy Dearest.
"At 16 I'd lived my whole life not having a father. And when you don't have one you make up the perfect father," said Love, who found hers didn't share her storybook fantasies. "Meeting him was just such a huge deal to me and I was so sure it would be for him, too. I just longed and yearned to have this family connection with him and to really understand who he was. It was a life changing experience for me and it took me many years to realize it wasn't the same experience for him."
That first meet came in 1976 at Lincoln's Zoo Bar, where Preston was performing. She saw an item in the local paper about the return of the veteran musician to the area music scene after years heading up Motown's west coast band. The name was the same but could this possibly be the same man whom her mother said died in a car accident? When she approached him after a set to inform him she thought she was his daughter, he confirmed it. They spoke at length and saw each other more times over the years. Lisa met him, too. Laura even sat in to sing with Preston and his band on stage. Once, he dedicated the classic ballad "Laura" to her when she surprised him by walking in unannounced to see him perform in a London club that was part of one of his many European tours. "That was sweet," she said.
He offered no apology for his wicked ways. He rationalized it as rites-of-passage for men on the road. Laura couldn't square such nonchalance with his warm persona.
"As affable and good-natured and smart and talented as he was," she said, "he really didn't have any sense of responsibility for me whatsoever. He had an incredible distance and familiarity at the same time. He was so accessible and inaccessible, just a walking contradiction. He never denied me access to him, but I never really got access to him either, unless I sought him out. We never didn't get along, it's just that we didn't have a great connection either. He was just kind of a happy-go-lucky guy that went through life sort of hedonistically, doing what he pleased. On the one hand, it was a cool way to live your life and on the other hand there was this kind of trail of carnage left."
Preston Love Sr.
The times she reached out to him posed problems for Preston, his wife Betty and the family. Betty made it clear Laura and Lisa were unwelcome at the Love home. A few years ago Laura was touring with The Temptations when Preston was booked to serve as the band leader for the group's Omaha concert. It was a gig he'd handled before. As Love tells it, "At the last moment he begged off and took another gig…because it was a very sore subject with Betty that I was in existence, that I was in the world. It was their agreement to sort of ignore that. Her agreement, I think, with him was, I don't like it, but if you're going to do it, don't put it in my face. So, in order to be respectful to her, he just bailed out…"
Despite feeling unappreciated here, Preston was undeniably a big fish in this small pond. He didn't want a scandal to sully his name. He was a major presence by virtue of the steady gigs he performed locally, the long-running music column, "Love Notes," he wrote for the Omaha World-Herald, the public radio jazz program he hosted for years on KIOS-FM and the many talks he gave about jazz as a visiting artist and lecturer. An opinionated and brilliant man, he spoke frankly and eloquently about black music and would not hesitate to call out or slam musicians he felt disrespected the art form. He was also an oft-quoted observer of the north Omaha scene. He wore well the term "legend" so often attached to him.
By 2000, Preston was pushing 80. Back in Omaha he basked in the glowing reviews of his 1998 book, A Thousand Honeycreeks Later, while in Seattle she enjoyed breakout success in her own career. After a period when they spoke very little, he began pressing her to come visit him in Omaha. In 2002, she did. Preston, his wife Betty and their children Norman, Richie and Portia were there. It came just in time, too, as Preston fell ill in 2003 and passed away the next year.
"It was a very sweet gathering. I enjoyed everyone's company so much. They were warm and generous and loving to me. It was a great experience to have before he died," Love said. His death came months before the release of her own acclaimed memoir and companion CD, You Ain't Got No Easter Clothes (Hyperion Books and KOCH Records), which focus on her Nebraska odyssey. Chapters correspond to songs. References to north Omaha's ghetto include Sacred Heart School, where she and Lisa went, and the Spencer Street Barbershop, where they took refuge from bullies under the watch of resident poet-barber-philosopher Ernie Chambers.
She bravely revisits her perilous early years in clear, simple prose and lyrics. Despite all she went through, Love's words soar with a wry, forgiving tone that avoids any of the woe-is-me self-pity that she would have been justified expressing.
"I don't feel sorry for myself. I do really feel grateful for those experiences now. I see people growing up now that don't have nearly the resources I had. I mean, I had a really hard life growing up, but my mother, crazy as she was, gave me the tools to have a good life. She introduced me to reading and literature and musicals. If you can read, you can go anywhere and you can leave any horrible circumstances, at least for that time. I look at kids I know now that have no idea how to live in the world or how to cope with adversity or have no interest in reading and are intellectually impoverished. Or, kids that have been really well taken care of financially but have no rudder — no sense of how to do anything.
"So, one of the things I really treasure now is that even though we were really poor and had these really humbling and humiliating experiences my sister and I were also — through living in foster homes and all-white neighborhoods — exposed to how the other half lives. It's kind of one of those, If-you-can-see-it, you-can-be-it, things. We understood there weren't people living the way we were living. They were all around us. Some of them were our friends. We understood we had things in common with very poor and very wealthy people. We understood, especially living with a bipolar person, one day can be bad and the next can be just a blast."
The irony, she said, is that her sense of La Dolce Vita mirrors that of her father, who emerged a bon vivant even though he came from a poor single-parent home himself. Preston was one of 11 children raised by Mexie Love in a ramshackle house jokingly called "the mansion." He didn't meet his father until he was a young man.
"I think a part of my basic personality is a lot like Preston's," Love said, "in that I just feel like life is good, and if today sucks tomorrow might be just incredibly fun."
After two years at UNL, Love left Nebraska at 20 to follow a guitar player named LeRoy, whose band she sang in. Years later, she confronted her past in her work when fans encouraged her to expand on the rough childhood she alluded to in the liner notes of her early records. Mining that past proved healing.
"The whole experience was incredibly cathartic for me," she said. "I remember I would just sit there, pour myself a shot of whiskey and start typing on the computer and start getting into the story. There were times I was almost scared to start writing because I'd left off at a place that was still painful or I was coming up to a place that was painful and I had to finish the story and to examine deeply how I felt and look back at what happened. Then I'd put the computer away and I'd get out the tape recorder and there I was again, having to think about it in a different way as I put it down lyrically in some way that made sense and evoked some kind of emotion. So, before the catharsis there was pain."
Leaving Nebraska years earlier was cathartic for her in a similar way. She said getting away can be a healthy thing, even if you venture into uncharted waters as she did in the Pacific Northwest, where she and LeRoy no sooner arrived than broke up, leaving her to figure out a future alone.
"I think one of the things you need to do is leave comfort to challenge yourself. It wasn't very nurturing or comfortable for me when I first got out to Portland and then to Seattle. It was hostile. I didn't know anyone. I didn't have an advanced degree or anything. It made me have to dig deep and look for a job, look for a friend. I just like hit the pavement as far as music went."
Left high and dry in Portland, Love clung to one truth. "I didn't know if I was going to have a career in music but I knew I absolutely needed it in my life."
She scoured local papers "looking for anyone who was jamming" or "might possibly have gigs." Again, she pushed beyond her comfort zone. "I got into sort of a funk garage band. It made me step put of myself and establish friendships with people and do things normally I'm not that great at, like being social. I was in a little Pop 40 band for a minute called Desire. It really is a huge education to go out there and just try to find people who are where you are musically or just a little bit further."
Fixing on who she was as an expressive artist proved daunting. "I didn't know what kind of music I really wanted to do. I mean, I was really drawn to jazz as well as funk as well as folk and pop music, and so to find out what I wanted to do I had to keep finding out what I didn't want to do," she said. Being African-American, she's struggled with others' expectations of what music she should or should not make.
"Oh, yeah, constantly. When I was kind of dabbling in funk music, we did a couple gigs in some black establishments and I just remember being stared at by the crowd and them thinking I wasn't black enough. There'd be like dead silence after every tune. It was a really good band, too, but we only had three black people, including myself, and the rest were white. I remember saying, 'We're going to take 10 minutes and we'll be right back,' and this woman yelled out, 'Hell, take twenty.'"
Confusing the matter even more is the fact many people "can't quite tell often if I'm black, so they can't quite tell what I should be playing. People always ask me, 'What are you?' I think one of the reasons they ask is they want to infer or have some notion about what I should be playing."
The pull of music not deemed black still tugs at her.
"Even now, I'm just really, really loving bluegrass music, and there's not a lot of black folks in bluegrass music. And folk music — you don't run into a lot black people there. So, at times I have a little identity crisis there, thinking I don't fit cleanly into any genre. Because I like so many, I have never really settled on a genre. I just write what feels good to me and sounds good to me."
Those diverse roots set her richly-layered music apart.
"Yeah, I think it's my strength and my curse sometimes that I love all kinds of music. When I write a song it's like there'll be bluegrass and folk and funk and jazz in it. And I love to do that. It's not like I consciously seek out all these influences — they're just in me. I listened to all kinds of music growing up in Nebraska. Radio was so much better in the '60s and '70s. I remember listening to WOW Radio in Omaha and KFOR in Lincoln and hearing this huge array of music. You'd hear James Brown and then Joni Mitchell, and it wasn't like insulting to your intelligence. It didn't occur to DJs and programmers back then that you couldn't like folk because you liked rap or that you couldn't like R & B because you liked country."
Music labels prefer specialization to eclecticism, as she found in her dealings with Mercury Records, whom she was signed to for awhile.
"Particularly when you're on a major label, they really want you to fit cleanly into a genre and kind of push you into that. And I think there is a lot of frustration among the labels about — What radio stations are going to play this?"
Her maturation as an artist coincided with her move to Seattle in the mid-'80s.
"I fell smack dab in the middle of the grunge scene, which is great, because I really wanted to learn how to play an instrument and with grunge you didn't really have to know how to play an instrument, you just kind of had to have one. I remember buying a bass and getting a gig really before I even knew how to play it."
Devoted to teaching herself to play, she made ends meet growing and selling pot.
"I bought a lot of records and I learned how to play with them. I listened to how the bass lines worked inside these records and things like that. I'm an ear player, but I had a lot of time on my hands to kind of figure things out."
Her musical voice emerged in the process.
"The early '90s is when I really started putting down chords and melodies and writing my own music and that's when I really started to define what I wanted to hear as my own sound. To some extent, it was limited by my ability to play guitar or bass and to play and sing at the same time. So, I was somewhat defined by my limitations as well as my broad musical experiences."
Love said she writes when the mood "hits me," adding she doesn't have the "this-is-a job" discipline artists in music cities like L.A. or Nashville exhibit. However laidback she appears, she concedes to business realities. "Occasionally I write songs just for the fun of it and just because a melody hits me or something like that, but I have to have the motivation of a record deal to write songs."
She's musing over a possible new album that would mix original songs with her renditions of such beloved American tunes as "This Land is Your Land," "Shenandoah," "John Henry," "Erie Canal," "Red River Valley" and "Five Hundred Miles." She feels these American classics are unfairly maligned or ignored. "They're profound and incredibly powerful songs. Just beautiful songs. Just because we learn them when we're younger doesn't mean they have no value." This project comes on the heels of her writing eight songs for a new musical, No Boundary, that premiered in New York.
With the success of her book and her music, she's in a good place professionally. Her touring finds her playing festivals and clubs from coast to coast. More importantly, she's in a good place emotionally. She shares a house with three other women — her partner Pam, her manager Mary McFaul and her sister Lisa. In 2002 Laura and Pam became foster parents to a baby, Chrsity, they've since adopted.
Her realization she is gay took time.
"Well, you know, as I got older I realized I like boys and I like girls, but I really, really like girls," she said, laughing. "I've had a few really serious, long-term relationships with men. I was engaged a couple times actually. I just never quite felt comfortable there. I've jusr realized in my adult years that my deepest partnerships and connections were with women. I ended up falling in love with a woman who was actually dating the same man I was dating." That was 20-odd years ago. She and her current partner Pam have been together nine years.
Laura's mother is still alive. After years of separation, Love moved her out west and built a home for her. Untreated, Wini's mental state worsened. One crisis after another convinced Love "I'd bitten off more than I could chew." When asked to voluntarily commit herself Wini resisted but finally relented. Since being put on the newest psychotropic drugs, she's thrived in a group home setting. "She's very happy there. She's very able to be regal and queenly and above it all," Love said.
The specter of mental illness is something "I often think about," Love said. Referring to her and her sister Lisa, she added, "We're both prone to depression and despair and those kinds of things. I don't know whether those things are learned or genetic. But, you know, I find my responses to things sometimes very much mirror my mother's. I just have more coping strategies than my mother ever did." Lisa is also doing fine, having just been accepted into an RN program.
Wini "doesn't know of" her daughter's book. "She's in this isolated community there and I don't want her to know of it," Love said. "I just think it would hurt her because she's never admitted to having any mental illness at all."
What Love's father would have made of her book is a mystery to her, except she notes, "He didn't really do guilt, so I don't think he would have felt guilty."
For a long time she harbored hard feelings toward him, dismayed by the blase way in which he held her. She's since come to terms with it all. "You know, he did what he could. He did what he was capable of," she said. She's even come to the point where, she said, "I'm grateful for the independence and autonomy his absence fostered in me. In the small amount of time I spent with him in my life, I never really heard him complain about his own deprivation. He never bemoaned his own fate. You just do. You realize your life is what you do with it."
She did not attend his funeral. He died in 2004 after a long illness. His wife Betty is also deceased. Love maintains an awkward relationship with her half-brothers Norman and Richie and her half-sister Portia. She's never met another half-brother, Preston Love, Jr., who's recently returned to Omaha.
"I talked to him when he was in the hospital and kind of made my last peace with him and told him I loved him," she said. "You know, I did not have that really big a connection to him in life other than he was my father and…I just thought it would be an odd thing to have people coming up to me offering me their condolences. I was one of his children biologically, but not really in day to day life."
She regrets not having got to know him better but feels he's a part of her, from the way she looks to the way she holds court on stage. "It's funny because now that I make my living at music I see so many similarities in my performance to his, as far as being happy and talking to people and feeling very fortunate to be able to do all this. He would play some of the most beautiful ballads and play them with such soul but still this underlying playfulness, and I'm very much like that, too."
Again, not unlike her dad, she's apt to say politically incorrect things. While he rarely did on stage, she makes a habit of it, enjoying, as she describes it, a "definite free-association, stream-of-consciousness kind of thing going on there." She proudly proclaims her Green Party sympathy and anti-Republican antipathy, using the stage as a kind of platform for her beliefs. Airing her political views has cost her work, she said. "Sometimes I wish I could suck the words back up into my head." Still, she added, "it's kind of a game to see how many ways you can screw The Man. It makes life more interesting and more fun."
All of her CDs can be found at www.LauraLove.net.
Related Articles
Categories:

African-American Culture, Authors/Literature, Family, Laura Love, Music, Omaha, Preston Love, Race, Writing
Tags:

African-American Culture, Arts and Entertainment, Authors/Books/Literature, Laura Love, Music, Omaha Nebraska, Preston Love, Singer-songwriter, Writing, You Ain't Got No Easter Clothes
Alexander Payne: His Journey in Film
Check out my brand new Facebook page & Like it–
Alexander Payne: His Journey in Film
https://www.facebook.com/AlexanderPayneExpert/
The work-in-progress page is devoted to my acclaimed book about the Oscar-winning filmmaker and his work.
"This is without question the single best study of Alexander Payne's films, as well as the filmmaker himself and his filmmaking process. In charting the first two decades of Payne's remarkable career, Leo Adam Biga pieces together an indelible portrait of an independent American artist, and one that's conveyed largely in the filmmaker's own words. This is an invaluable contribution to film history and criticism – and a sheer pleasure to read as well." –Thomas Schatz, Film scholar and author (The Genius of the System)
The book sells for $25.95.
Available through Barnes & Noble, on Amazon, for Kindle and at other bookstores and gift shops nationwide.
Purchase it at–https://www.amazon.com/dp/B01MRORX1U?ref_=k4w_oembed_c1Anr6bJdAagnj&tag=kpembed-20&linkCode=kpd
You can also order signed copies by emailing the author at leo32158@cox.net.
Mini-Profile
Author-journalist-blogger Leo Adam Biga resides in his hometown of Omaha, Nebraska. He writes newspaper-magazine stories about people, their passions, and their magnificent obsessions. He's the author of the books "Crossing Bridges: A Priest's Uplifting Life Among the Downtrodden," "Alexander Payne: His Journey in Film" (a compilation of his journalism about the acclaimed filmmaker) "Open Wide" a biography of Mark Manhart. Biga co-edited "Memories of the Jewish Midwest: Mom and Pop Grocery Stores." His popular blog, Leo Adam Biga's My Inside Stories at leoadambiga.com, is an online gallery of his work. The blog feeds into his Facebook page, My Inside Stories, as well as his Twitter, Google, LinkedIn, Tumblr, About.Me and other social media platform pages.
Personal Links
Join 7,010 other subscribers
Calendar of Blog Posts
March 2023
M
T
W
T
F
S
S
1
2
3
4
5
6
7
8
9
10
11
12
13
14
15
16
17
18
19
20
21
22
23
24
25
26
27
28
29
30
31
Categories from A to Z and # of Posts
Subjects/Themes
RSS Links
Top Clicks
Goodreads
Upcoming Events
No upcoming events