Posts Tagged 'Nebraska High School Soccer'
The Omaha South High boys soccer program is a dynasty in the making. The only thing missing is a run of state championships. They have one, in 2013, and it came in record-setting, dominant fashion. There have been other state finals appearances, but so far that title three years ago is the only end of season, top dog bragging rights the Packers have been able to claim. Year in and year out for a decade now though the Packers are a threat to go all the way. This year is no different. This El Perico story I wrote appeared just as the 2016 state tourney got underway on Thursday, May 12. No. 3 ranked South expected to have it easy against wildcard North Platte but instead the Packers were extended to the limit before pulling out a 2-1 win. With the opening round win, South plays Saturday, May 14 against the state's No. 1 ranked team, Omaha Westside, at Morrison Stadium on the Creighton University campus. It will be the teams' first meeting this season. Should South win, the Packers will play for it all in the Tuesday, May 17 finals,, where they go up against their arch rival, Omaha Creighton Prep. But getting past Westside will pose a huge challenge. Then again, South seems to rise to the occasion more often than not.
Omaha South soccer poised for another state title run
©by Leo Adam Biga
Appearing in El Perico
The 18-2 No. 3-ranked Omaha South High boys soccer team is back in the state tournament a seventh straight time after winning the District A-3 championship at its own Collin Field on May 3.
South meets wildcard entry North Platte in the Class A quarterfinals on May 12. If the Packers win as expected they meet the winner of the Omaha Westside-Kearney match in Saturday's semifinals. Westside is the top seed. The Packers and Warriors have not met this year. At state the only way South can face arch rival Omaha Creighton Prep, who beat the Packers in the regular season, is in the May 17 finals.
The state tournament is being played at Morrison Stadium on the Creighton University campus.
South topped Nebraska's prep rankings the first half of the year and gained national bragging rights at the Smoky Mountain Cup in Gatlinburg, Tennessee. The team went unbeaten there to win its division. Back home a 3-2 loss to Millard South at the Metro Conference tournament, followed by a 1-0 setback to Prep, knocked South from the No. 1 perch. Inconsistent play nearly cost South more games.
"I feel when we got back from the mountains and the big emotional ride of that the kids' legs were definitely tired and some of the kids were mentally tired, too," Coach Joe Maass says. "We struggled a little bit.
We'd impose our will on a team and then kind of let up and let them come back. The Northwest game right before districts we were up 3-0 and they came back to make it 3-2. We won 4-2 but it wound up being a closer game than it should have been."
In his team's two losses and in several close calls Maass expressed frustration with South's tendency to settle for long balls instead of playing to its midfield strength and controlling possession. South won its own Van Metre Invitational against a tough field but then scuffled in its last two regular season games before regaining form and swagger in district play. The Packers avenged their loss to Millard South by beating the Patriots 2-0 for the title.
"When we got to districts we were a little more focused, like we were in a must-win situation. Whenever our backs are against the wall is when our kids play the hardest and we're the toughest."
As has happened all season, South's quality depth made the difference. Regular goalkeeper Luis Gama, a senior, missed districts due to injury but his backup, sophomore Adrian Felix, pitched two shutouts, including several outstanding saves against the Patriots. Midfielder Poe Reh had scored three goals all season before districts but netted four in back to back games.
Maass praised Felix for rising to the occasion, adding he always had confidence in him. He wasn't surprised by what Reh did, either.
"Poh Reh was probably one of our better practice players during the season. In the games he would come close to making big plays but maybe didn't have as much luck as some of the other players. But he's been really a solid player throughout and then he just got hot that weekend with four goals in 24 hours."
Through the 2016 campaign, even late in the season, Maass brought up several players from South's dominant freshman, sophomore, JV teams. The late additions all made contributions. He says players are prepared to enter the bigger varsity stage by intense competition at practice. "In practice they're competing on a level as if it's a game."
Individual and team expectations run high through the program.
"Our culture is based a lot on just belief that we can win every time. We are expecting to compete and win. It's not good enough to just play on the team and walk around in your jersey in class. It's about getting Ws.
You have to earn your spot and you have to maintain your spot."
That winning mindset, he says, is "hard to beat." "In Tennessee we were down two goals one game but we came right back and scored two and ended up winning. We just have the belief we can come back at all times. We beat Papio South in the 87th minute. We beat Omaha Central in the 99th minute in overtime." He says it helps to have a senior-laden team. "They've played together for a long time."
Then there's South two sets of twins who demand excellence. "These four kids are very competitive, feisty and aggressive and they expect everybody else to play aggressive. Jimmi Becerril in particular. He's the verbal guy that will get on people for not practicing as hard as they should. His brother Jordi is tough as nails but a little more soft spoken. But he pushes the pace as well. The other twins, Israel and Issac Cruz, are our defensive specialists and those guys have been really solid."
Maass feels South's poised for a good run at state. "We're playing confident. We're going to go just do our thing." Adding to the confidence is that Morrison Stadium's large field mirrors South's home Collin Field.
"Our game is built around using the whole field and space to get around other teams' size and athleticism. Once we get them out in space where they have to actually have skill on the ball, we have the advantage. A lot of teams just pack it in and hope to keep us out, playing for a shootout, because they know they're not going to beat us if they play us straight up. It's harder for teams to bunker in on a big field because there's still space there."
Having a team with a community behind it the way South does sure helps. "I know we'll bring a lot of fans – we always do," Maass says.
Keeper Luis Gama is expected back for state. His return could be key as Adrian Felix will miss the opener serving a one-game suspension for a red card violation in districts. No sweat for Maass. He feels secure in a third keeper he has ready, Fredy Nava. "He's pretty good, too."
At South, it's always next man up.
When this story I wrote about the Omaha South High boys soccer team was originally published the second week of April in El Perico, the then-unbesten and top ranked Packers were freshly returned from winning their division at a national tourament in Tennessee. They were heading into the Metro Conference tourney with great confidence. But the Packers got upset there by Millard South and then dropped a second match to Omaha Creighton Prep a week and a half later. Having seemingly lost their momentum, they quickly regained it by winning their own Van Metre Invitational against a tough field and then dominating the A3 District playoffs, taking the title in a rematch with Millard South that the Packers won 3-0 to send the school to its seventh straight state tournament. I'm working on a new story about the team to preview its prospects for the tourney. Nothing's ever a gimme in sports, but these Packers have overcome lots of injuries, including the loss of their goalkeeper late in the year, and then righted the ship after that mid-season swoon. Their depth and resiliency may be what leads them to the finals and a shot at the program's second state championship. I would not bet against them.
As this story alludes to and as my profile on Coach Joe Maass from last year mentions more explicitly, South soccer has earned national attention in recent years as one of the country's best high school squads. It's also been singled out on the national stage for being part of a turnaround in South Omaha that is Hispanic-led. My new story and any subsequent stories I do on the program will continue this thread because it is at the heart of the bigger story that South soccer's success represents. Somehow I missed until just now that the program got featured in Sports Illustrated in 2015. The feature is part of a larger series on the changing face of sports in America, as demographic shifts compel changes on and off the field at every level of sport. Titled "American Dreamers," the article highlights the Packers' journey from an after thought to a perennial power. It also looks at the ongoing transformation of South Omaha and South High and how this immigrant community takes great pride in their soccer team and the impact it's had across the state. After South cemented its elite status by beating arch rival Omaha Creighton Prep for the 2013 championship players wrote to then-Nebraska Governor Dave Heineman asking him to work to help improve the lives of those in their community. The story also highlights "new life" at Omaha South, including an energized community and recent academic achievements.
South High soccer keeps pushing the envelope
©by Leo Adam Biga
Originally appeared in El Perico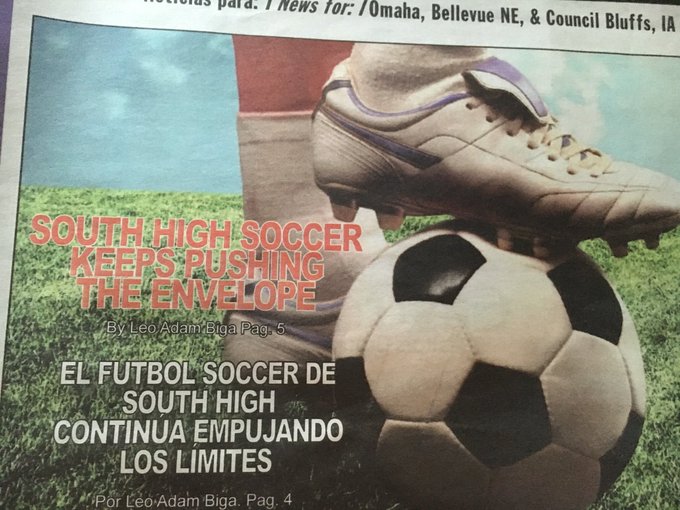 Since capping a rebuilding effort with the Class A state title three years ago, the Omaha South boys soccer team now looks to new challenges.
South didn't repeat after winning it all in 2013 but seeks getting back to the finals this year. A new goal became seeing how it stacks up versus top teams from the Southeast in the April 1-3 Smoky Mountain Cup in Gatlinburg, Tennessee. South, the No. 1 team in Nebraska and the No. 7 team in one national rankings, went 3-0 to win its eight-team bracket. The Packers played their best soccer to cement their own elite status.
"We went into uncharted territory to see how we measure up with other states," Coach Joe Maass says. "We played against some of the best and did well and won, so maybe that shows Nebraska soccer is a little bit better than people would give it credit for on a national level. We didn't just represent South, we represented the state of Nebraska. Our club teams go to national tournaments but we'd yet to see a hIgh school team do it. The fact we broke through is huge."
Before the trip Maass expressed concern over how him team would fare with opening round foe Farragut (Tenn.) and its two Division I recruits and senior-laden roster. But South overcame a 2-0 deficit to force a shootout and won the kicks 5-3 to advance. In another comeback South beat McGill-Toolen (Alabama) 3-2 in the semifinals. In the finals South beat Station Camp, (Tenn.) 3-0 for the division title.
It was an impressive showing for a team Maass had openly questioned despite heading to the event unbeaten. He complained South was "winning" ugly and "not finishing" at the net though he did like its ball possession, defense and depth. Sweeping three unfamiliar opponents brought the team closer to the potential Maass sees for it.
"I think we came together, especially offensively."
In what he called South's "biggest team effort" to date, he felt his players finally began "to figure out their roles."
Due to some key injuries South needed more players to step up besides leading goal scorer Alvaro Elizarraga and points leader Jimmi Becerril, and more players did.
"Juvenal Jacinto had a hairline fracture in his foot and was slowly trickling back in, but when we played McGill-Toolen he scored a really nice goal. He was really productive throughout the whole weekend. We brought up a JV player who had never even played in a game and he scored a goal against Farragut. He showed his ability to be productive up top as well.
"Our second or third leading scorer Ernesto Perez didn't travel due to a hamstring, so it was really nice to see we have other options out there. I'm more confident in a few more players. Our depth showed. When somebody gets hurt, like Ernesto, it's a huge loss but I think other teams would be hurting more."
In addition to new contributors. Gatorade Player of the Year finalist Elizarraga scored three goals and steady hand Becerril had a big weekend scoring and assisting.
Maass says, "I think this year's team is maturing. Our freshmen and sophomores are pressing for varsity time, so every day is a competition at practice. When we started the season I don't think the younger kids believed they could actually get to the varsity level. Well, we've had some kids do that, so now they're starting to believe. Every day in practice has been more of a battle than I can remember. I would say depth-wise we're sitting pretty close to as good as we've been. That's eventually going to get us closer to the state championship."
He says besides the confidence boost that came with winning, the trip afforded "team-building" benefits.
"The overall experience of everybody going down and spending a few days together, riding around in a bus and sleeping in a cabin, it kind of covered everything you need to build a strong program behind the scenes," he says. "It was almost like going on a retreat. It pulled us together like a family."
"And the fact that we won reinforced everything. It might actually propel us into the end of the season."
He adds that the chance "to experience life in a different area" was special. "None of our kids had been to the Smoky Mountains. It's not like we're a school with a bunch of rich kids that can just pile up and go somewhere. It was really a great opportunity for a school like ours."
Maass felt better about his team coming out of the Smoky Cup and going into the Omaha Metro Tournament ahead of a key home contest with rival Creighton Prep on April 19. Then South hosts its four-team Van Metre tourney April 22-23 before closing the regular season on the road. Then its districts and a presumed date with state.
"Everybody assumes were No. 1. It makes the target always on us. When I started 17 years ago we were a bad team, so opportunities then were just to get our kids playing club. Now it's progressed so far that we've won a state title and a national title. To me, winning the Smoky Cup was just another thing pushing the envelope."
With South High boys basketball finally winning state, the school now has two championship-level teams that came from nothing. Only he and South hoops Coach Bruce Chubick know what it took to get there.
"Go back 10 years and you would see both programs were not built overnight," Maass says. "Until you have done it, you really can't understand the day-to-day challenges and stress. It takes a different type of personality to stay the course when things are going bad and there are setbacks. You do it because it's about the kids being successful in life. In some cases, our programs create avenues-opportunities that can save the hardest of individuals."