Posts Tagged 'Preston Love'
Here is a tribute to the late Preston Love Sr. I culled together from various stories I wrote about him over the last decadeof his life. I actually read this as part of an event at the Loves Jazz & Arts Center named after him in his hometown of Omaha, with whom he had a complicated relationship.
Preston Love: A Tribute to Omaha's Late Hepcat king
©by Leo Adam Biga
An early January evening at the Bistro finds diners luxuriating in the richly textured tone and sweetly bended notes of flutist-saxophonist Preston Love Sr., the eternal Omaha hipster…
By eleven, the crowd's thinned, but the 75-year-old jams on, holding the night owls with his masterful playing and magnetic personality. His tight four-piece ensemble expertly interprets classic jazz, swing and blues tunes he helped immortalize as a Golden Era lead alto sax player, band leader and arranger.
Love lives for moments like these, when his band really grooves and the crowd really digs it:
"There's no fulfillment…like playing in a great musical environment. It's spiritual. It's everything. Anything less than that is unacceptable. If you strike that responsive chord in an audience, they'll get it too – with that beat and that feeling and that rhythm. Those vibes are in turn transmitted to the band, and inspire the band."
For him, music never gets tired, never grows old. More than a livelihood, it's his means self-expression, his life, his calling.
Music's sustained during a varied career. Whether rapping with the audience in his slightly barbed, anecdotal way or soaring on a fluid solo, this vibrant man and consummate musician is totally at home on stage.
Love's let-it-all-hang-out persona is matched by his tell-it-like-it-is style as a music columnist, classroom lecturer and public radio host. He fiercely champions jazz and blues as significant, distinctly African-American art forms and cultural inheritances. This direct inheritor and accomplished interpreter feels bound to protect its faithful presentation and to rail against its misrepresentation.
His autobiography, "A Thousand Honey Creeks Later," gave him his largest forum and career capstone.
"It's my story and it's my legacy to my progeny."
He's long criticized others appropriating the music from its black roots and reinventing it as something it's not.
"It's written in protest. I'm an angry man. I started my autobiography…in dissatisfaction with whats transpired in America in the music business and, of course, with the racial thing that's still very prevalent. Blacks have almost been eliminated from their own art. That's unreal. False. Fraudulent.
"They're passing it off as something it isn't. It's spurious jazz. Synthetic. Third-rate. Others are going to play our music, and in many cases play it very well. We don't own any exclusivity on it. But it's still black music, and all the great styles, all the great developments, have been black, whether they want to admit it or not. So why shouldn't we protect our art?
"When you muddy the water or disturb the trend or tell the truth even, you make people angry, because they'd rather leave the status quo as it is. But I'm not afraid of the repercussions. I will fight for my people's music and its preservation."
When he gets on a roll like this, his intense speaking style belongs both to the bandstand and the pulpit. His dulcet voice carries the inflection and intonation of an improvisational riff and the bravura of an evangelical sermon, rising in a brimstone rant before falling to a confessional whisper.
Love feels his far-flung experience uniquely qualifies him to address the American black music scene of his generation.
"The fact that mine's been a different, unlikely and multifaceted career is why publishers became interested in my book."
From a young age, he heard the period's great black performers on the family radio and phonograph and hung-out on then teeming North 24th Street to catch a glimpse and an autograph of visiting artists playing the fabled Dreamland Ballroom and staying at nearby rooming houses and hotels.
"Twenty-fourth street was the total hub of the black neighborhood here. This street abounded with great players of this art form."
By his teens, he was old enough to see his idols perform at the Orpheum and Dreamland.
"All of the great black geniuses of my time played that ballroom. Jazz was all black then…and here were people you admired and worshiped, and now you were standing two feet from them and could talk to them and hear their artistry. To hear the harmony of those black musicians, with that sorrowful, plaintive thing that only blacks have, and a lot of blacks don't get it. That pain in their playing. That indefinable, elusive blue note. That's what jazz is.
"The Benny Goodmans and those guys never got it."
The music once heard from every street corner, bar, restaurant, club has been silenced or replaced by discordant new sounds.
That loss hurts Love because he remembers well when Omaha was a major music center, supporting many big bands and clubs and drawing musicians from around the region. It was a launching ground for him and many others.
"This was like the Triple A of baseball for black music. The next stop was the big leagues."
He regrets many young blacks are uninformed about this vital part of their heritage.
"If I were to be remembered for some contribution, it would be to remind people what's going on today with the black youth and their rap…has nothing to do with their history. It's a renunciation of their true music — blues, rhythm and blues and jazz."
He taught himself to play, picking up pointers from veteran musicians and from masters whose recordings he listened to "over and over again." Late night jam sessions at the Blue Room and other venues were his proving ground, He began seeing music as a way out.
"There was no escape for blacks from poverty and obscurity except through show business. I'd listen to the radio's late night coast-to-coast broadcasts of those great bands and go to sleep and just dream of going to New York to play the Cotton Club and dream of playing the Grand Terrace in Chicago. I dreamed of someday making it – and I did make it. Everything else in my life would be anticlimactic, because I realized my dream."
He made himself an accomplished enough player that Count Basie hired him to play with his band.
"I had the natural gift for sound – a good tone – which is important. Some people never have it. I was self-motivated. No one had to make me practice…And being good at mathematics, I was able to read music with the very least instruction."
Music keeps him youthful. He's no "moldy fig," the term boppers coined to describe musicians out-of-step with the times.
He burns with stage presence with his insouciant smile and his patter between sets that combines jive, scat and stand-up. Then there's his serious side. He coaxes a smooth, bittersweet tone from the sax and flute developed over a lifetime.
If nothing else, he's endured, surviving fads and changing musical tastes, adapting from the big band swing era to Motown to funk. He's risen above the neglect he felt in his own hometown to keep right on playing and speaking his mind.
"I refuse to be an ancient fossil or an anachronism, I am eternally vital. I am energetic, indefatigable. It's just my credo and the way I am as a person."
A Soul Man to the end.
"I think the term 'soul' was first applied to us as a people to describe the feeling of our expressions and attitudes and language. It means a lot of heart and a depth of feeling. It refers to the pathos in our expression, musically and colloquially."
He says a genius for spontaneity is a hallmark of blacks in creative endeavors — from music and dancing to cooking.
"The limitations we lived under gave birth to these embellishments and improvisations. That's what we did. We were masters of embellishment."
He left his hometown many times, but always came back. Back to where his dream first took flight and came true. Back to the mistress – music – that still holds him enthralled. To be our conscience, guide, inspiration.
That January night at the Bistro, a beaming Love, gold horn slung over one shoulder, tells his audience, "I love this. I look forward coming to work. Preston Love's an alto player, and you want to hear him play alto, right? Listen to this." Supplying the downbeat, he fills the room with the golden strain of "Mr. Saturday Night." Play on, Mr. Saturday Night, play on.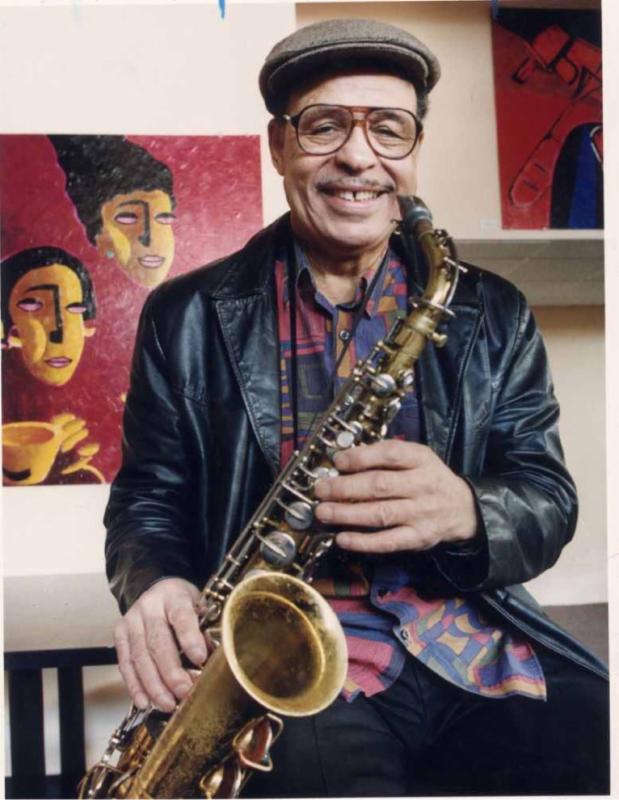 Categories:

A Thousand Honey Creeks Later, African-American, African-American Culture, Blues, Jazz, Music, Musician, North Omaha, Omaha, Omaha Black Music Hall of Fame, Preston Love, Writing
A Thousand Honey Creeks Later, Blues, Count Basie, Jazz, Motown West Coast Band, Music, Musician, North Omaha, Omaha, Preston Love