Posts Tagged 'Social Activism'
Heartland Dreamers have their say in nation's capitol
©by Leo Adam Biga
Originally appeared in El Perico (el-perico.com)
Self-described social justice warrior, activist and community organizer Amor Habbab-Mills cannot sit idly by while lawmakers decide her fate as a Dreamer and Deferred Action for Childhood Arrivals (DACA) recipient.
With President Donald Trump's deadline for Congress to revamp DACA unmet last fall, she organized a September 10 rally in South Omaha. Dreamers and allies gathered to show solidarity. She then shared her story in a Lincoln Journal-Star op-ed and in the locally produced documentary and play We Are Dreamers.
"It was great because people got to know a little more about our struggle," she said.
Two weeks ago, with the March 5 deadline looming and redoubled U.S. immigration enforcement efforts placing more undocumented residents in detention, awaiting possible deportation, tensions ran high. True to her "drive to speak up against injustice," she led a group of Nebraska Dreamers to Washington D.C. to join United We Dream demonstrations demanding Congress act to pass protections and paths for citizenship. It did not.
Thus, those affected like her remain in limbo with DACA provisions slated to end pending a new program.
She's in the process of obtaining her Green Card.
Before she and her fellow travelers could make the trip, they had to find funds to cover air fare. United We Dream picked-up meals. She donated the hotel tab.
"We raised $1,676," she said. "It was nice to see our community had our backs and they wanted us to go to D.C. This trip was so important to me and the local movement."
The Omaha contingent arrived Feb. 28 and returned March 6. They were joined by activists from Centro Hispano in Columbus, Nebraska. The groups coordinated schedule to walk in a planned march.
"My goal was to be there when the Dream Act passed. I had a lot of hope the government would act on March 5 or before," she said. "I wanted to be there to witness history happen. It did not happen. It was sad. But it was good to be there with other Dreamers. We just get each other. We know exactly what each other has been through. We all share the same heartbreak, the same roadblocks, the same fears.
"The trip opened our eyes about what's going on in our government and how the Trump administration is pushing its racist agenda on our community.'
She won't soon forget the experience of rubbing shoulders with thousands of kindred spirits, voicing pro-DACA chants, carrying signs with slogans, and seeing some protesters engage in acts of civil disobedience that resulted in arrest. All unfolding in front of national symbols of power, including the White House.
"It was empowering. It was a breath of fresh air and a reminder we're not alone in the fight. it made me feel not as afraid, not as worried. It put things into perspective.
"The march was really the highlight of the visit. That's why we went there. We walked to Capitol Hill. We had an 'artivism' moment where we put some paper flowers on the ground that read: 'We Rose Unafraid.' We wanted to beautify the word undocumented to bring attention that we're not afraid" (and not apologetic).
"It was a great experience. It opened my eyes to how much support we actually have," trip participant David Dominguez-Lopez said.
The local group plead their case to Nebraska Republican Congressman Don Bacon.
"We did a (peaceful) office takeover of Rep. Bacon's office," Habbab-Mills said. "We went there because he's said he supports Dreamers. We appreciate that. But we don't appreciate him supporting bills, such as the Secure and Succeed Act, that will harm our community."
The proposed legislation seeks to secure the border, end chain migration, cancel the visa lottery and find a permanent solution for DACA tied to building a wall.
"We were there sharing our stories, chanting and asking him to not vote for the Secure Act. It's this horrible bill that would build a stupid wall, give more money to the Department of Homeland Security so they can do raids and put more agents on the street."
Given the Republican majority's anti-immigration stance, Habbab-Mills is leery of promises. Distrust intensified when leaked government memos revealed discussions to use the National Guard to maintain border security
She's concerned "more families are going to be apart" in the wake of immigration crackdowns.
"On a personal level, if my mom were to get pulled over by a cop who does not like immigrants, she faces a good chance of being deported. The fact I cannot help her, breaks my heart. Under the current political climate, we need a way to protect family members under attack."
Another goal of the trip was "to plant the seed of social justice with the Dreamers who went," she said, "and that's what's happened," adding, "Everyone's ready to get things going back home to stop the Secure Act."
"it inspired me to learn more and be active in my community and to work with Amor and the rest of the 'D.C. gang,'" said Dominguez-Lopez.
Habbab-Mills traces her own social activism to seeing disparity growing up in Mexico City and to doing Inclusive Communities camps here. She earned high marks at Duchesne Academy and Creighton University. She founded the advocacy group Nebraska Dreamers. She works as a legal assistant at a law firm and is eying law school. She hopes to practice immigration and human rights law.
Meanwhile, she amplifies Dreamer's voices for change.
"If we're not the ones speaking up, who else will? We want people to know we are educated and even though we cannot vote, we have the power to influence people on how they vote. Social media is huge for us.
"Bringing awareness to the issues is a way of creating change. Planting that seed will bloom into a more just society one day. I think it's a duty to speak up when something's not right. If i don't, I'm part of the problem."
Follow Nebraska Dreamers on Facebook.
Categories:

Civil Rights, DACA (Deferred Action for Childhood Arrivals), Dreamers, Immigration, Latino/Hispanic, Nebraska, Omaha, Politics, Social Activism, Social Justice, Writing
Tags:

DACA (Deferred Action for Childhood Arrivals), Dreamers, Immigration, Latino/Hispanic, Nebraska, Omaha, Politics, Social Activism, Social Justice
Frank LaMere: A good man's work is never done
©by Leo Adam Biga
Originally appeared in The Reader (www.thereader.com)
Frank LaMere, self-described as "one of the architects of the effort to shutdown Whiteclay," does not gloat over recent rulings to deny beer sellers licenses in that forlorn Nebraska hamlet.
A handful of store owners, along with producers and suppliers, have profited millions at the expense of Oglala-Lakota from South Dakota's nearby Pine Ridge Reservation, where alcohol is banned but alcoholism runs rampant. A disproportionate number of children suffer from Fetal Alcohol Syndrome (FAS). Public drunkenness, panhandling, brawls and accidents, along with illicit services in exchange for alcohol, have been documented in and around Whiteclay. Since first seeing for himself in 1997 "the devastation" there, LaMere's led the epic fight to end alcohol sales in the unincorporated Sheridan County border town.
"This is a man who, more than anyone else, is the face of Whiteclay," said Lincoln-based journalist-author-educator Joe Starita, who's student-led reporting project — http://www.woundsofwhiteclay.com — recently won the Robert F. Kennedy Human Rights Journalism grand prize besting projects from New Yorker, National Geographic and HBO. "There is nobody who has fought longer and fought harder and appeared at more rallies and given more speeches and wept more tears in public over Whiteclay than Frank LaMere, period."
LaMere, a native Winnebago, lifelong activist and veteran Nebraska Democratic Party official, knows the battle, decided for now pending appeal, continues. The case is expected to eventually land in the Nebraska Supreme Court. Being the political animal and spiritual man he is, he sees the Whiteclay morass from a long view perspective. As a frontline warrior, he also has the advantage of intimately knowing what adversaries and obstacles may appear.
His actions have gotten much press. He's a key figure in two documentaries about Whiteclay, But his social justice work extends far beyond this specific matter.
"I've been involved in many issues in my life," he said.
Indeed, he's stood with farmers, immigrants, persons with disabilities, police misconduct victims, child welfare recipients. He's opposed the Keystone XL Pipeline.
"I must have marched a hundred times in my life and not always on Native interests. If somebody's being mistreated and I have time and they come ask me, I don't care who it is, I'm going to go there. That's what it's all about. That's what drives me in my work."
LaMere's fought the good fight over Whiteclay, where he sees a clear and present danger of public health and humanitarian crisis. As a Native person, it's personal because Whiteclay exists to exploit alcohol intolerance among the Pine Ridge populace. He's cautiously optimistic things will get better for residents, assuming the courts ultimately uphold the denial of the liquor licenses.
"We'll see where things go from there," he said, "but rest assured, things will never be the same at Whiteclay. The only thing I know is that the devastation will never be like it was. I truly believe that."
Just don't expect him to do a victory lap.
"There are no wins and losses at Whiteclay. Nobody won, nobody lost, but all of us decided maybe we should begin to respect one another and find a better way. I think we will after the dust settles."
The state Liquor Control Commission, a district judge and the Nebraska attorney general oppose beer sales happening there again but LaMere knows powerful opposing forces are at work.
"I think Nebraskans have good sense. We know what's right. But there's money involved. Whoever controls alcohol at Pine Ridge-Whiteclay controls money, controls county government and until very recently even controls state government. I am unequivocal on that. I understand what's going on here. You're talking about tens of millions of dollars and we're threatening that, and when you threaten that, you know, you get a reaction."
He said he's received threats. He and fellow Whiteclay advocate, Craig Brewer, went there the day after the sellers lost their licenses.
"There was a foreboding I had all that day I've never had in my life," LaMere said. "It was strange to me. I've been dealing with things my whole life and never been afraid. But this time I was looking at different scenarios having to do with the volatility there and if things didn't work right what could happen to me. Maybe it's aging. Maybe it was the newness of the situation. I don't know.
"We got up there very apprehensive about what we were going to encounter, maybe from the beer sellers or from those who support the sellers or maybe from their hired associates. We didn't know what to expect, but we went up there because that's what we do – and everything worked out. The right thing happened."
The sellers did not open for business.
"I told a reporter we went up to look the devil in the eye and the devil wasn't there, and I don't think the devil's coming back."
He said attorney David Domina, who represents the interests opposed to alcohol, appeared the same day there in the event something amiss happened.
"It was no coincidence," LaMere said. "We were to be there that day. A lot of prayers went with us."
LaMere will maintain a wary watch. "I will continue there to be careful, to be apprehensive, but I'm still not afraid."
He knows some contentious situations he steps into pose certain dangers.
"I'm a realist, I know how things are."
He and his wife Cynthia made an unwritten pact years ago not to be at rallies or protests together to ensure they won't both be in harm's way.
"I do a lot of things in a lot of places and Cynthia grounds me. She critiques whatever approach I'm taking, always asking, 'Do you have to do it?' I've learned she's protective of me. But I also hear from her on many of these issues, 'Well, why didn't you say that?' because she knows Frank, what he's committed to, and she never questions that.
"I can do something I feel good about and I'll come home and she'll tell me the downside that maybe I don't always want to hear. She'll give me a perspective I need to hear that sometimes other people won't give me. She'll tell me the brutal honest truth. Cynthia's tough, engaged, committed."
His admirers marvel at his own doggedness.
"He's an indefatigable worker and once he latches onto an issue that he sees as a moral challenge, he does not let go, and Whiteclay is a case in point. He's the most principled man I know," said Nebraskans for Peace coordinator Tim Rinne.
Joe Starita said LaMere is "hard working for his causes to the point of physical and mental exhaustion."
"He's a man who shows up for allies when nobody else is looking," Nebraska Democratic Party chairman Jane Kleeb said.
Setbacks and losses he's endured have not deterred him, including a serious stroke that required extensive speech therapy, and the death of his daughter, Lexie Wakan, who was a Creighton University student.
"He's a man who's had hardship, yet still continues to get up and stand up," Kleeb said. "For me, that's what Frank's all about – he always shows up."
For LaMere, it's a way of life.
"Every day's a fight, and if you keep fighting you win because others watch that. The impact of Whiteclay will manifest itself hopefully with a win in the Supreme Court and perhaps in some young leader who cares about these things. I've been in a hundred struggles in my life, lost almost all of 'em, but I was never afraid, and that's what I want people to understand.
"If you're not afraid, people see that as a victory because you cause others to take heart, to persevere, to take action."
He's glad his resilience to keep agitating, even in the face of intransigence and tragedy, inspires others.
"I'll accept that because that's what it is – you just keep working."
He likes to say Whiteclay's implications are "bigger than we can ever fathom."
"Years from now, we will understand it is way bigger than us. I got to be a bit player. The creator of all things, said, Frank, I'm going to have you see what you can do, and along the way I'm going to cause you to struggle. I'm going to knock you down, and I'm even going to take something from you, and if you keep going, maybe I'll let you change something.
"That's the greatest work we can do."
Reflecting on Whiteclay, he said, "This was an emotional roller coaster for all Nebraskans." He chalks up the recent breakthrough to divine intervention.
"There's things happening that are so strange," he said.
He recalled a hearing in Lincoln on LB 407 introduced by Neb. State Sen. Patty Pansing Brooks to create the Whiteclay Public Health Emergency Task Force. LaMere testified. His son, Manape LaMear, sang a sun dance song. After finishing his sacred song, Manape asked if someone from Sheridan County was there to speak.
"A big guy got up and testified," said LaMere. "He was asked, 'Do you have enough law enforcement to take care of Whiteclay?' and he answered, 'Absolutely not.'"
"This man said some things absolutely nobody expected him, maybe not himself. to say. If you're with those (monied) interests of Whiteclay, you're not supposed to say that, you're going to be ostracized. But for whatever reason, he told the truth. I attribute that to the powerful prayers said that day.
"You're watching at Whiteclay a very spiritual journey. There's something much bigger than us that has brought us to this point – that we would make such a great change for the Oglala Lakota people. I think it's God's work. From that I hope things will be better."
He's convinced "the greatest impact will not be felt for generations," but added, "I've seen immediate impact right now."
"I believe there's a child whose mother and father were together at home and did not drink. I believe children are feeling very good Whiteclay is not open. I believe there's been prayers by children that their parents be sober. I believe their prayers are very powerful. I think what we're seeing may have to do with these children and their suffering and their prayers."
LaMere has disdain for arguments that banning alcohol at Whiteclay will only move the problem elsewhere, thus increasing the danger of drunk drivers.
"Worrying about someone driving down Highway 87 who might get hurt by a drunk driver can't be our greatest concern. Our greatest concern has to be the health and well-being of hundreds of children crippled in the womb by fetal alcohol syndrome (FAS). I've called out many on this. Where are pro-life people? Where's the church? Children are crippled in the womb tonight and nothing's said about it because there's money involved. That's troubling to me.
"We've crippled hundreds of kids in the womb on Pine Ridge – all so somebody can get rich, wrap themselves in a flag, and talk about this model of free enterprise. We cherish that more than we cherish life. It's ugly to hear that but that's what we've done. But we've always been afraid to accept that."
Attorney John Maisch, whose documentary Sober Indian, Dangerous Indian includes LaMere, said, "I would say Frank's empathy is what drives him. Frank is in a perpetual state of mourning. Frank has lost many family members and friends to addiction. I think that is partially what drove him to tackle Whiteclay. Frank lost his daughter, Lexie, and I think that is why he's particularly drawn to fighting for those children, whether Native children lost in our foster care system or suffering from FAS as a result of their mothers drinking on the streets of Whiteclay. He's drawn to suffering of others because he has also suffered great loss."
LaMere acknowledged he's "redoubled" his efforts since losing his daughter.
"And it's not in any way substitution," he said. "I don't see it that way. I look at it very simply that now I stand on the shoulders of my daughter. In all of the things I'm doing right now perhaps I'm as bold as ever, and there's a reason for that, for that is what she would have me do. If I hedge, she'll say, 'Why are you doing that? That is not who you are.' I even heard her say in her young life: 'This is my father, this is who he is, and this is what he does, and he does this for the people.'
"All I do for the rest of my life will be done in remembrance of my daughter because she was so committed at a very young age to the things I'm still committed to."
LaMere's glad Nebraska may finally own up to its sins.
"At long last Nebraskans have said perhaps it's time for us to look at this. For once I'm pleased Nebraskans are not going to merely beg the question, they're going to look at the impact of Whiteclay and maybe we're going to act and make some of it a little bit better."
As LaMere sees it, the whole state's culpable.
"We as Nebraskans are unwittingly, unknowingly responsible for it. We need to act and to mitigate some of those things we've helped to cause at Pine Ridge. Even after all this, I say Nebraskans are fair – fair to a fault. Sometimes it takes us so damn long to act."
The real culprits, he said, are "those in Sheridan County" who've turned a blind eye.
"The beer sellers and the rest are going to have hell to pay, not from Frank LaMere, but from the Supreme Court, the Liquor Control Commission, the attorney general, all these other interests, because when they take a good, long hard look at what's happened, there there's no way you can reconcile that as being anything close to normal or acceptable."
As watchdog and conscience, LaMere said he lives out a covenant he made with his creator to serve others.
"I've traveled a million miles, spent everything I have, taken time from my family, taken time from myself. At some point, there's a moral authority you feel. Nobody can give it to you or bestow it on you. Once you acquire it, it means nothing unless there's a moral imperative that goes with that. I've tried to achieve some moral authority and the moral imperative that goes with it.
"I hear every day in my work with different agencies the words 'by the authority invested in me.' Means absolutely nothing to me. Doesn't impress me at all. I don't care how much authority you have – if you do not use it and if there's no moral imperative to make things better, it's meaningless. I meet with those people all the time. They have the authority, but they don't use it. I'm not being cynical. I have the truth on my side."
Whiteclay offered duly elected and appointed officials decades of opportunities to act, but they didn't. LaMere never left the issue or let authorities forget it.
"Sometimes I can go into a room with a hundred people and I have the least amount of authority-power-title, but they have to listen to Frank because he's put time and energy into it and he's acquired that moral authority and he uses it. He scares them. They wish he would go away. People have to listen to Frank because he never goes away and there's nothing in it for him.
"That's why we made some changes at Whiteclay and that's how we're going to make change in our society – gain that moral authority and act."
LaMere said his greatest asset is the truth.
"Any issues of change, even Whiteclay, you stand with the truth. I've learned that over many years. Because once the press conferences, the conventions, the rallies are done, the arrests are made, the petition drives are over, the legislative efforts go by the wayside, the only thing that's left is the truth. It's very important you stand with the truth and be recognized having stood with it.
"That's the only thing that keeps me going. I'm firm, forthright and respectful and always telling the truth. Of late, it has worked in some respects for me."
If Whiteclay confirmed anything, he said, it's that "nothing changes unless someone's made to feel uncomfortable and you have to make yourself uncomfortable." In dealing with Whiteclay, he said, he expressed his "healthy disrespect for authority."
"Maybe it's a character flaw," he said, "but you can put me in a room with a hundred people and if there's a bully, before the night's over I'll probably butt heads with him."
As a young man he was active "on the periphery" of the American Indian Movement. Later in life he got close to AIM legends Russell Means and Vernon Bellacourt. The men became allies in many fights.
"I saw Native people and non-Native people be bullied simply because somebody felt they had a position of power over them and whenever I see that I naturally react to that. I don't care what the issue is, I'll ask, 'Who do you think you are? Why are you doing that? Why are you treating him or her that way?' I've said that. I've always grown up with that feeling that if somebody is being mistreated, I will always speak up for them."
Whiteclay offered a microcosm of predatory behavior.
"When I first went to Whiteclay 20 years ago, I took one look and you could see the Natives who went there did not have a voice and were not held in high regard. The owners and residents paid little attention to them. The other thing I saw there was the lawlessness and the mistreatment of vulnerable people being taken advantage of. I saw it and so could everybody else. Then I saw how nobody acted, so I thought perhaps I should give some voice to them."
The still unsolved murders there of Little John Means, Ronald Hard Heart and Wilson Black Elk weighed on him. The alcohol-related illness and death of others haunted him.
"The alcohol coming out of Whiteclay has killed scores of Lakotas and we're still waiting for that one white man or white woman, God forbid, who dies on the road between Rushville and Whiteclay.'
The documentary The Battle for Whiteclay shows LaMere at a hearing railing against "the double standard" that overlooks Native deaths.
"It means we feel there's two classes of citizens here in this state. Would we allow the things in Whiteclay in western Omaha or southeast Lincoln? I don't think so. Scores of our people … victimized, orphaned, many of our people murdered. God forbid that one young white woman, one white man, die at Whiteclay tonight. We'd shut the damn thing down in the morning, and the pathetic thing about that is we all know that's the truth."
LaMere feels that double-standard still exists.
"We want everything at Whiteclay to be just right, but we cannot even take care of the clear and simple. There's one thing you know you can do under the law – you can shut them down, and they've done that, and they're having problems keeping them shut."
He refuses to be patronized because he's learned from experience that playing the game doesn't get results.
"You'll pat me on the head and say, Frank, you're a great guy, I appreciate what you're bringing to us, but I know in the back of your mind you don't want to change anything. You'll even give me a permit to march or picket. But I bet you won't do that for 20 years. You can handle a year and then say – this damn guy never goes away, perhaps we should sit and listen to him."
LaMere regrets the one time he took things for granted.
"I made a mistake many years ago. I raised the issue of Whiteclay. We got a lot initiated with then-Gov. (Ben) Nelson. He put together groups of officials from Sheridan County, Pine Ridge, state agencies, and we talked about the lawlessness issues up there. So we got something in the works a long time ago and I appreciated that process. I made the mistake though of thinking it's a no-brainer. I thought all I have to do is bring this back to Lincoln and Nebraskans will change it.
"I was too hopeful. Many Nebraskans would change it but those in power did not. Where there's money involved, nothing is a no-brainer. People are going to weigh the money and the impact. Those with influence and monied interests are probably going to win out. That's what I watched. Whiteclay is perhaps the poster child for greed, not in Neb. but maybe in the whole nation. It ranks up there with Flint (Mich.)."
For too long, he said, the attitude about Whiteclay was, "We know what we're doing but it's going to cost us money, it's going to cost me to do my job in the public trust. Just leave it the way it is." Because the problem was allowed to persist, he said, "Whiteclay will go down in our history as something we tolerated and that we will forever be ashamed of, and we're only going to understand that when the Supreme Court makes that final decision to shut 'em down. Then we're going to take a look at what we've truly done."
Meanwhile, LaMere won't rest easy. When well-meaning people offer condolences about Lexie and lament her unfulfilled promise, he said he accepts their sympathy but corrects them, saying, "There's no unfulfilled promise – it's more for you to do, it's more for me to do.
"That's how it is. That keeps me going. That's the way I'll be until I'm not here anymore."
Read more of Leo Adam Biga's work at leoadambiga.com.
Categories:

Addiction, Alcohol, Frank LaMere, Health/Wellness, Illness, Native American, Nebraska, Police/Law Enforcement, Politics, Public Health, Social Activism, Social Justice, Whiteclay, Writing
Tags:

Alcohol, Frank LaMere, Native American, Nebraska, Protests, Public Health, Social Activism, Social Justice, Whteclay
Social movements are part of the American fabric. Black Lives Matter (BLM) began in response to violent deaths of African-Americans. It now addresses all systemic inequities and disparities affecting blacks. Some Omaha BLM activists believe the disfrachisement that holds back many blacks in the U.S. is a root cause of blue on black, black on blue and black on black violence. BLM is a platform for activists to engage such issues. But these activists don't want all the energy behind BLM to be expended only on protests and dialogue sessions. They want BLM efforts to spur change that improves social conditions, police-community relations, law enforcement practices and policies. so that as concerned citizens they won't have to still be holding rallies a decade or two from now but can count on elected officials and lawmakers to do the right thing.
SARAH HOFFMAN/THE WORLD-HERALD
Black Lives Matter: Omaha activists view social movement as platform for advocating-making change
©by Leo Adam Biga
Appearing in the September 2016 issue of The Reader (www.thereader.com)
Borne from outrage over violent African-American deaths, the grassroots Black Lives Matter movement espouses a social action platform to end systemic violence against and mass incarceration of a people. BLM's loose-knit activists advocate diverting funds from militarized to community policing and to supporting quality of life indicators.
All this resonates across the nation, In Omaha, tensions exist between the African-American community and police and gaps persist in black health, education, housing and employment. BLM activists here and elsewhere have inserted themselves into the political process through protests aimed at disrupting the status quo and campaigns raising awareness about social injustice. This movement without a leader or structure is a catalyst for citizens getting involved to address issues.
The Reader spoke with local BLM activists whose voices are engaged in various public forums.
Michelle Troxclair, ©photo by Bill Sitzmann
Nebraska Writers Collective deputy director Michelle Troxclair has long railed against perceived wrongs, including wrongful killings. She's seen initiatives come and go.."In all this protesting we have to have a unified message of what we want – that we are not disposable people. Throughout our history we have been considered everything from chattel to cattle, and based on studies I've seen not much has changed. So Black Lives Matter represents our voice that we deserve respect and basic human rights guaranteed in the constitution – life, liberty and the pursuit of happiness.
"The movement's about self-love and self-empowerment as well as making systemic changes. I've seen it in the way black men and women wear their hair, dress and walk. I look at our young people and they are not apologetic for their blackness."
She likes BLM's strong language.
"There's a war on terror, a war on drugs and to that extent, yes, there's a war on black people. To maintain power and notions of superiority you have to eliminate the competition through education, dehumanization, emasculation and economic means. This is how you completely decimate a community."
Poet Allen Stevenson said, "I definitely support the movement expressing frustration over the brutality." He and others have their say on heavy topics at open mic nights.
Musician Dominique Morgan, co-administrator of the Omaha BLM page, said despite differences "our blackness is what unites us. We cant allow division. That's what will hinder us in the long run – folks trying to appropriate a whole movement."
Troxclair's organized and attended rallies, held signs, spoken her mind. She's drafted and circulated a petition of demands. Now she wants others to assume the mantle.
"When I look back at how long i've been doing this and nothing's changed, I'm ready to pass the baton to others on the front-lines. I feel like my calling is as a poet with a microphone – that's where I think I can make the most difference."
Dominique Morgan, ©photo by Bill Sitzmann
Until BLM, Morgan's activism was confined to LGBT rights but he said, "This the first time I've seen a movement where my sectionalities as a gay black man meet. These identities that so strongly represent who I am made it doubly important for me to be aware and also to have a voice in what's happening, especially in a place I call home. I realized I have a stake in this. It made me go harder in advocating for black folks.
"This movement is waking people up."
Art educator Gabrielle Gaines Liwaru awakened years ago and uses BLM to reach disaffected youth.
"When I work with kids I try to teach them to question things and not to accept everything they're told – to keep searching for the whole truth and story and needing to move with purpose."
Gabrielle Gaines Liwaru
She said BLM provides a vehicle to discuss "absent narratives about black life and history," adding, "There are certain systemic racist powers that prefer it to look like our contributions don't matter and that hyper showcase negative aspects and issues to deconstruct or denigrate black lives."
BLM's emboldened her to speak out. At a recent public hearing she advocated the city budget fund mandatory anti-bias, diversity and mental health training for police.
Gaines Liwaru said BLM must not be just media fodder or a stage for a few. "The movement continues whether televised or not because we have solidarity for a cause. But I see it fizzling out if people don't do behind-the-scenes rallying to demand the reform within policies. We can't assume someone else will carry the torch for justice … at hearings or in elections. Rallies won't mean change or justice – unless we show up to have a say."
Stevenson said, "I applaud what the movement is doing because people are standing up and making life uncomfortable. The racism discussion is being had. When you have a group feeling suppressed for an extremely long time, something has to give. That frustration and rage needs to go somewhere and that's where it's happening."
Minister Tony Sanders said, "If this emotion is not channeled in the right direction, you will have continued civil unrest or rogue individuals taking the opportunity to further divide us instead of unite us."
Stevenson said it's hard remaining calm after a new blue on black incident claims another victim. "Even if there's an investigation, the determination is there's no crime and we're left with nothing except to stew on that frustration," he said. "Then the next thing happens and the cycle continues. How much of that can you really stand?"
He gets that BLM is a platform for people to vent or debate, but, he said, "once you create this discussion, what do you next? I would like to see something different. It can't be just like the same old."
"My hope is our collective voices speaking about the injustices of our people will migrate into calls for action and overdue change," said Voice Advocacy founder-director Clarice Jackson. "I believe we are seeing that happen now and will see more of this in the future."
Dominique Morgan said, "There are fires going. We have to fan it to make it grow stronger."
Some are not waiting for change. Thirty-something social entrepreneur Ean Mikale is running for mayor with the slogan, "Be the change."
Maurice Jones with Hillary Clinton
Seventeen-year-old Maurice Jones, vice chair of the Nebraska Democratic Party Black Caucus, is running for the Omaha City Council.
"I hope my candidacy will inspire others my age to enter public life," said Jones, adding that he wants to amplify the voices of people who go unheard by the political system.
On the streets, Stevenson said blacks face real fears of being profiled. "If you get pulled over by the police, you tell yourself, 'Survive through this – cooperate.' But there are people who cooperated and still faced horrible fates. For us to have to teach this extra element is stressful because you have to confront some of your worst fears over something that shouldn't even be. I think of my sons and I'm like, I need you to live."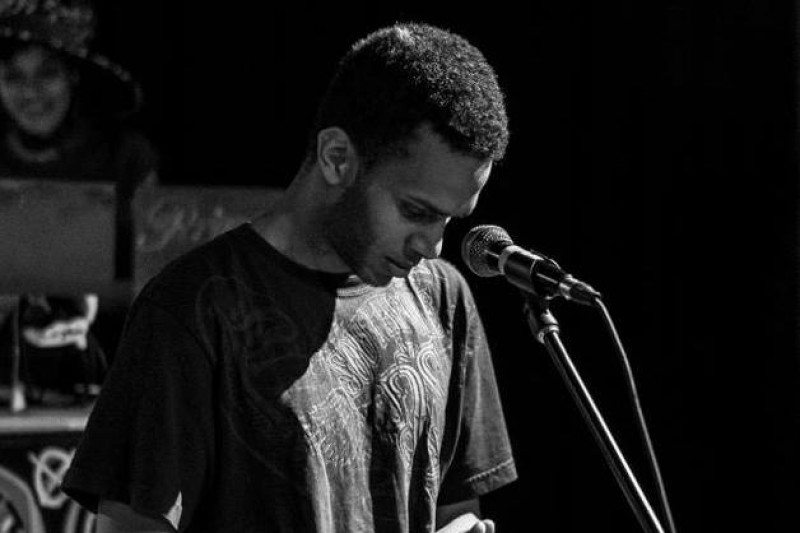 Allen Stevenson
Rev. Sanders confronts fear head-on in town halls he hosts called S.O.S. (Saving Our Sons).
"The first installment, 'The Talk," taught African-American males how to interact with law enforcement should they encounter them," he said. "No one ever had that conversation with me. I had to learn it the hard way. That's more common than not."
Michelle Troxclair bemoans the lengths she must go to to instruct her son on what to say and do should he be detained.
"I'm resentful white mothers don't have to have these conversations. It's not a question of cops doing their jobs or good cops versus bad cops, – it is the innate belief some officers have when they enter into an encounter with African-Americans."
She asserts some officers are prone to overreact because they assume blacks are threats. She acknowledges that's not the whole story. "All officers are not bad people. I learned that when I coordinated the Michael Brown protest. I had bail money in the glove compartment of my car. Instead, I was met with kindness and great cooperation."
Tony Sanders
Sanders calls for unity from the pulpit and the street.  He's part of coalitions working with police to remedy alleged discrimination.
"We're standing, working and moving forward together for there to be a change in policing," Sanders said. "There has to be more transparency and accountability. We're working on specific things to make that action and change a measurable, tangible reality. We're sitting down saying, OK, what can we do to resolve this issue? How do we learn to coexist?
"There will never be equality if there's a segment of the population not viewed as equal. How do I change that in you?  I can't legislate that. No policy can make you see me as equal. We have a tendency to be afraid of and treat differently about which we don't understand. It requires we get together so we learn about each other. Then our fears dissipate and we look at each other from a humane perspective."
He's planning table talks to discuss elephants in the room like black on black crime.
Clarice Jackson
Clarice Jackson said, "For some, BLM is solely about the wrongful deaths of blacks at the hands of law enforcement but as a mother who lost her daughter, Latecia Fox, to gun violence this applies to black on black violence as well. Black on black crime is a huge issue of concern and I feel just as passionately about the injustice of it and the families it hurts as I do when some police officers feel they have the right to be judge, jury and executioners of black people."
Until action-based change results, expect BLM's social critique that freedom still hasn't been fully won to continue.
Categories:

African-American, Allen Stevenson, Black Lives Matter, Civil Rights, Clarice Jackson, Dominique Morgan, Gabrielle Gaines Liwaru, Michelle Troxclair, Omaha, Social Activism, Social Justice, Tony Sanders, Writing
Tags:

African American, Black Lives Matter, Civil Rights, Dominique Morgan, Gabrielle Gaines Liwaru, Michelle Troxclair., Social Activism, Social Justice, Social Movement, society
Alexander Payne: His Journey in Film
Check out my brand new Facebook page & Like it–
Alexander Payne: His Journey in Film
https://www.facebook.com/AlexanderPayneExpert/
The work-in-progress page is devoted to my acclaimed book about the Oscar-winning filmmaker and his work.
"This is without question the single best study of Alexander Payne's films, as well as the filmmaker himself and his filmmaking process. In charting the first two decades of Payne's remarkable career, Leo Adam Biga pieces together an indelible portrait of an independent American artist, and one that's conveyed largely in the filmmaker's own words. This is an invaluable contribution to film history and criticism – and a sheer pleasure to read as well." –Thomas Schatz, Film scholar and author (The Genius of the System)
The book sells for $25.95.
Available through Barnes & Noble, on Amazon, for Kindle and at other bookstores and gift shops nationwide.
Purchase it at–https://www.amazon.com/dp/B01MRORX1U?ref_=k4w_oembed_c1Anr6bJdAagnj&tag=kpembed-20&linkCode=kpd
You can also order signed copies by emailing the author at leo32158@cox.net.
Mini-Profile
Author-journalist-blogger Leo Adam Biga resides in his hometown of Omaha, Nebraska. He writes newspaper-magazine stories about people, their passions, and their magnificent obsessions. He's the author of the books "Crossing Bridges: A Priest's Uplifting Life Among the Downtrodden," "Alexander Payne: His Journey in Film" (a compilation of his journalism about the acclaimed filmmaker) "Open Wide" a biography of Mark Manhart. Biga co-edited "Memories of the Jewish Midwest: Mom and Pop Grocery Stores." His popular blog, Leo Adam Biga's My Inside Stories at leoadambiga.com, is an online gallery of his work. The blog feeds into his Facebook page, My Inside Stories, as well as his Twitter, Google, LinkedIn, Tumblr, About.Me and other social media platform pages.
Personal Links
Calendar of Blog Posts
Categories from A to Z and # of Posts
Subjects/Themes
RSS Links
Top Clicks
Goodreads
Upcoming Events
No upcoming events