Posts Tagged 'Tom Krehbiel'
Here's another Boys Town sports story.  It's about tradition and legacy and giving back, George Pfeifer played for legendary Boys Town coach Skip Palrang when the school's founder, Father Edward Flanagan, was still there.  After Pfeifer graduated high school and served in World War II he came back to Boys Town to coach under Palrang.  Later, he took over as head basketball coach, leading the hoops program to some of its greatest successes. Now, many years into retirement, he's back again, this time as a kind of unofficial coach and mentor, at the invitation of current head basketball coach Tom Krehbiel.  The old coach and the young coach have bonded like father and son and together they've helped Boys Town recapture some of the magic that made the school's athletic teams juggernauts back in the day.
The story originally appeared in the New Horizons.
A Good Deal: George Pfeifer and Tom Krehbiel are the Ties that Bind Boys Town Hoops
©by Leo Adam Biga
Originally published in the New Horizons
When George Pfeifer coached the Boys Town varsity basketball team in the 1960s to great success, he used an adage with his players, "Get a good deal," as a way of impressing upon them the advantage of working the ball to get an open shot.
The 81-year-old is long retired but a special tie he's forged with current BT head basketball coach Tom Krehbiel finds Pfeifer offering kids young enough to be his grandchildren the same sage advice he gave players decades before. Krehbiel credits the recent turnaround in BT hoops — culminating in a Class C-1 state title last season — to the input of his unofficial assistant. "Coach Pfeifer is, in my mind, the school's all-time greatest basketball coach. I wanted to get him involved in the program. I reached out to him and he's been a big part of our program ever since. I don't think it's a coincidence we started winning" once he got involved, said Krehbiel, who previously coached at Omaha Skutt High School.
The association between the men peaked last season when the Cowboys' won their first state championship in 40 years. Until beating Louisville in the finals, the school hadn't won a state roundball title since 1966, when Pfeifer was head coach. That '66 crown was the second of back-to-back Class A titles won by Pfeifer's teams, squads considered two of the best ever to play in Nebraska prep history. It was an era of athletic dominance by the Cowboys.
Since the summer before the 2003-2004 season, when he accepted Krehbiel's invitation, Pfeifer's worked with BT hoops. When his arthritis isn't too bad, the tall man with the folksy manner makes his way on campus, over to the Skip Palrang Memorial Field House named after the legendary man he played and coached under and where he toiled away countless hours on drills.
He'll keenly observe practice from the sideline, noting things he sees need correcting. This recent Nebraska High School Sports Hall of Fame inductee is still a master diagnostician at breaking down systems and plays. He does the same when he goes to see a Boys Town game or analyzes tape of one, as his sharp mind dissects the action with razor precision.
"He'll notice little technical things that only someone who knows basketball can detect. He really sees and knows the game. It's amazing," Krehbiel said.
Pfeifer shares his insights with the players, kids not unlike the ones he coached years ago — boys full of attitude but hungry for love. Krehbiel said Pfeifer knows just how to prod people to improve. "He doesn't criticize — he kind of suggests."
Tremayne Hill, a starting guard from last year's team whom Pfeifer got close to, said the old coach got the most out of him with his "encouraging" words. "He told us to stay positive and to work hard in trying to overcome adversity. He was a lot like a father figure," said Hill, adding Pfeifer and Krehbiel are like a father-son team.
It doesn't surprise Pfeifer he can get through to kids weaned on PlayStation and X-Box, not Fibber Magee and Molly. You see, he was a BT resident himself from 1939 to 1943, giving him a bond he feels makes him forever simpatico with kids there. It's why his reconnection with the institution is more than a former coach returning to the fold. It's a son or brother coming home to his family. It's why the vast age difference doesn't hamper him in talking to today's kids.
"I talk their language," Pfeifer said. "I grew up there, so I know. When I first went back out there I said, 'Yeah, I'm an old fogy, but I used to be out here. I know all the tricks you guys know, so you can't trick me on anything. You can't tell me anything I haven't heard. I was just like you guys. My heart's with you guys. I know what you're going through. I'm here to be a friend of yours.'"
Hill said Pfeifer's BT roots make a difference as "he knows the type of stuff we go through. He knows how to relate to us. More than another coach would."
Pfeifer said he and the team developed a strong bond. "When I'd come out there, some of the kids warming up before the game would come over and say, 'God, we're glad to see you coach. You feeling alright? We're going to play hard for you.' That last night when they accepted the trophy the one kid held it up and said, 'This is for you coach Pfeifer…' Those are the kind of kids…." Choked with emotion, Pfeifer's voice trailed off.
When Pfeifer coached in the '60s he did something rare then — starting five African Americans. One morning after a game, a caller demanded, "Why you playing all them n______s?" "Because they're my five best players," Pfeifer replied. Ken Geddes, a member of those teams, said race "was never even an issue." Lamont McCarty, a teammate, said, "If you didn't perform, you didn't play… plain and simple. He was a wonderful coach. Same thing with Skip Palrang."
As is now a custom, Krehbiel had Pfeifer address the assembled 2006-2007 team at a mid-November practice. It was Pfeifer's first contact with the team. He'd have been there before if not for tending to his terminally ill wife Jean. Gathered round him were about two dozen players, many of them new faces after the loss of so many off last year's team to graduation. Pfeifer owned their rapt attention.
He told them he was 13 when his father died. Left unsaid was the Depression was on, and with his widowed mother unable to support the poor Kansas farm family she sent him and a brother to Boys Town. There young George blossomed under iconic founder Rev. Edward Flanagan and star coach Skip Palrang..
Pfeifer also didn't mention he became BT's mayor (as did his brother) and excelled in football and basketball. That he developed an itch to give back to youth what he'd received. After serving in the U.S, Navy during World War II he coached at Fort Hays State down in Kansas, before accepting an offer to join Palrang's BT staff. Intending to stay five years, Pfeifer, by then married with children, made it a 30-year career. He was a coach, a teacher and principal of the elementary school.
"I knew I wanted to be there to help those type of kids," Pfeifer said of BT students past and present. "You know, they come there with a hole in their heart. Nobody cares about them, nobody encourages them –- they just think there's no way they can make it. We set up goals and objectives. We praise them when they succeed. When a kid comes up to you and says, 'God, I wish you were my dad,' well, those kind of grab you. Then you know you made a difference."
The campus holds a dear place in Pfeifer's heart. It's home. The people there, his family. He stays in touch with players by phone, letter, e-mail. He's a regular at school reunions. But until Krehbiel asked him to come back as a consultant, Pfeifer hadn't really felt welcome by previous coaches.
"I think he had a desire to get back close to the program, to his home and to this community, and so the timing was right," said Krehbiel, a Burlington, Iowa native with his own ties to the place. His father worked there and as a youngster Krehbiel spent many a summer day on campus, running about and canoeing in the pond. "So I always knew Boys Town," he said. "I loved it."
As Pfeifer spoke to the kids that late afternoon in November, he was every inch the coach again, instilling values and commanding respect.
"There's nobody working here that doesn't love you, I guarantee you," he told them in measured tones." "So listen to your family teachers, listen to your coaches, work hard, study in school. You have great coaches, good facilities. You've got everything you need, except you got to do your part. You gotta keep your nose clean. Don't get in no trouble. Do what you're told. Coach is going to tell you what he wants you to learn, how you're going to do this and he's going to tell you why. Those are three really important parts of your basketball training.
"It takes a lot of hard work. You have to be focused. No matter what happens outside, you come here and be ready for basketball."
After Pfeifer wished them good luck and some players responded with, "Thanks, coach," the huddled team charged back into practice.
"If they know that you care about them and that you're there for them, they'll work for you — they'll work hard. They appreciate you," Pfeifer said.
"It's funny. Kids today are real hip-hop, you know, with this Snoop Dog slang and coach uses old school terminology that I cringe at sometimes, assuming the kids think its kind of corny, but the kids like it. I think too he provides a grandfatherly figure," Krehbiel said. "These kids, more than any kids I've ever been around, they want somebody to take an interest.
"He wants to help…It really comes down to his true interest and love for the kids in the program. He's trying to give them that last tidbit…to help them on the court and help them in life. I think when he looks at our team and he's rooting for these kids it's like rooting for his family, his own kids or his own brothers….He gets emotional when he talks about this place. It's his home."
It's that been there-done that experience Pfeifer brings that Krehbiel wanted for his players. Then there's the "link to success" Pfeifer represents.
"He laid the foundation 40 years ago for all the nice things that have been said about us the last two or three years," Krehbiel said. "I think we're all proud to carry on a rich tradition. It's just an honor to be associated with him. I was always taught to appreciate the people that came before you…You gotta respect the people who built up the history and this place is just full of history."
What Krehbiel got in the figure of Pfeifer was more than he could have imagined.
"Coach has been a great mentor to me and a great resource for us," he said. "You know he's having an impact on our kids when after the state championship one of our starting five interviewed on TV" — Dwaine Wright — "spent his whole time on camera referencing coach Pfeifer, saying, 'He told me in practice to get the good shots.' We didn't prompt him to do that. It just came out of his heart. You realize, Wow, this is an 80-some-year-old man having an affect on an 18-19 year-old kid. I was proud of our kids for the respect they showed coach. I'm proud of coach."
Pfeifer appreciates that Krehbiel sought his counsel, thus allowing him to be a teacher again. "He was so sincere and open about establishing a good relationship. He was willing to receive me and invest in some of my knowledge," Pfeifer said. "A lot of guys that coach, they think they know it all. But he's really receptive. And that's great for me because I didn't feel that with some of the other people that were out there. I said, 'I'll be happy to help you out anyway I can.'"
When Krehbiel first approached him, he had no clear expectation other than getting some advice on the special demands of being a BT coach.
"This is a unique position," Krehbiel said, "maybe as unique a position as there is in the country in high school because you're in a home for boys. There's not only the athletics parts of it but there's the home campus part of it, dealing with the troubled youth, the homeless youth, with all the things they present.
"There are very few people who've had this position. There's just a few of us around. There's even fewer that have had the kind of success coach had."
Krehbiel did some research in the BT and Omaha World-Herald archives in compiling a school record book and came away duly impressed by just "how successful" Pfeifer was at producing winning teams. In 14 years as head coach — 1959 to 1973 — his teams won 205 games and lost only 82. He led nine teams to the state tourney and guided a pair to state titles. His track and field teams were also a formidable bunch, always a threat at the state meet.
For Krehbiel, welcoming back someone like Pfeifer who'd given the best years of his life to BT was a way of honoring the man.
"My initial intention was to just try to give back to him for all the years he gave to Boys Town. My initial thought was to get him up here to one practice at the beginning of the year, and it's morphed into a great relationship and friendship," said Krehbiel, whose wife and five daughters all know Pfeifer.
Still, it took some convincing for Pfeifer to meet with Krehbiel that first time.
"I called him up out of the blue and introduced myself. He was real reluctant but I finally got him to agree to go lunch with me at Big Fred's. He told stories for hours.
That's when I told him, 'You are welcome anytime.' That fall I asked him to come out to practice. I gave him a pad of paper and a pen and said, 'Watch me coach practice. Watch our kids. Give me some feedback about our team.' He did that and from that point on he's been popping in at practices whenever he feels like it."
It didn't happen overnight. Pfeifer eased his way in, not wanting to impose himself, less he undermine Krehbiel's authority.
"When it first started we'd talk maybe once every couple weeks," Krehbiel said. "He wouldn't come to practices much. As he and I became closer and he became closer with all the other coaches, there was a comfort level. Last year he was out here about two or three times a week prior to the season opener, and we'd be talking about offenses and defenses and philosophies back and forth.
"I was reaching out initially to find out, 'How did you handle the job? How did you handle the kids? What are the issues beyond basketball I should know about?' Then when he and I started talking I found just how solid his philosophies are in basketball and in life and I really wanted to get to know him more. You just can't help but sense the way he approached things and did things is probably the best way as well as the right way to have a lot of success. I try to emulate him."
It doesn't hurt that the two are cut from the same cloth. "Our personalities are a lot alike, so there's a bond person-to-person, coach-to-coach," Krehbiel said. That's not to say these two see eye to eye on everything.
"He believes in zone defense and I believe in man to man," Krehbiel said. "But that's the fun of it — debating the merits of each. But," he added, "as far as what we demand of our players, how we treat our players," they're on the same page.
It wasn't until Krehbiel watched Pfeifer interact with the players that he understood all that the venerable old coach could bring.
"Then when I saw him around the kids and I saw how he still has a lot of viable, valuable contributions…and I saw the kids take to him, it obviously was a great idea to have him around. It's just kind of matured into what it is today. He's around quite a bit. As much as he wants to be. The door is always open."
Along the way, Pfeifer's shared some coaching secrets, including a list of offensive- defensive Dos and Donts and his mantra for teaching "technique, technique, technique" he got from coaching great Skip Palrang. Pfeifer's passed along full-court press and matchup-zone tactics that made his teams so hard to beat. Above all, he's preached taking the high percentage shot and protecting "the hole."
"He gave me a file folder of his coaching notes and a card with his pregame preparation notes," Krehbiel said. "I read through it all and I copied it down in my own words and style. That's the relationship he and I've built up. For him to give that to me, I mean, what do you say? That should tell anyone a lot about his willingness to give. I think he really, really wants this program to be successful and those are the lengths he's willing to go."
What Pfeifer does for BT hoops can't truly be measured.
"He doesn't come out and design plays and run drills. He's in the background helping the coaches. He's really helped me in my preparation for games. He talks to players one one one," Krehbiel said. "The last couple years he'd take some of our better players aside, real fatherly like, and say, 'Here's what I see in your game. Take the good shots, not the bad shots.'"
Wishing to remain in the background, Pfeifer chooses not to sit on the bench, but in the stands during games. He's always watching, however.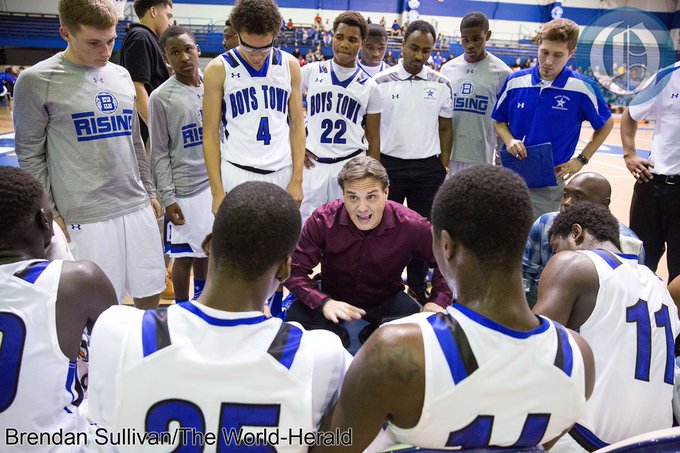 As last year's team stormed through the season, losing only four times, including twice to Wahoo Neumann, Pfeifer noted a tendency for BT players to settle for three-point shots and to play soft in the middle. With his adjustments the Cowboys avenged Neumann in the first round of the state tourney.
When last year's star player, starting center and then-BT Mayor Vince Marshall,  felt good about a game in which he scored well but recorded few rebounds, Pfeifer had a heart to heart talk with him. "I said, 'I was mayor when I was at Boys Town. You're the mayor and you got only three rebounds last game. What the hell were you doing? You're the mayor, you're going to make me look bad. Get your ass on the boards.' That's the way we talked. We were brothers."
Pfeifer's known to intervene when emotions run over. Once, after a so-so practice on the eve of state, the admittedly "fiery" Krehbiel lost his cool when he noticed a couple players cutting up. "I lose it. I go up one kid and down another. I was furious they wouldn't take this seriously," Krehbiel said. "And here comes coach. He gets off his chair and gets right in the middle of us and says, 'Wait a minute.' I immediately shut up. He takes over and says something about not getting a big head and keeping yourself together and staying in the moment.
"He was just that calming influence and that's what he's been. I've really calmed my demeanor in regards to the sidelines and the game-time stuff in my conversations with him. He's really helped me with the handling of the kids around here. He reminds me they're always watching you and they're going to play off your demeanor. He's a sounding board. I can pick up the phone and say, 'Coach, we've had this issue with a young man, how would you handle that?' He gives me tidbits on how to handle certain situations as head coach."
Pfeifer can still get fired up, as when he pulled his BT athletic jacket out of moth balls for a school pep rally to show how much he bleeds Big Blue. He told the crowd, "I've waited 40 years to wear this thing again."
There's the sense of a circle being closed. That what Pfeifer got from Palrang is being handed down to Krehbiel. Lessons from 65 years ago live on, no doubt to be carried on by the young men Krehbiel and Pfeifer work with today.
"The greatest thing for me, bar none, is to have my name linked with coach Pfeifer's name and coach Palrang's name in the same sentence. To be linked to that history is overwhelming," Krehbiel said. When Pfeifer couldn't get away to Lincoln to accept his Hall of Fame induction, he asked Krehbiel to accept in his place. For Pfeifer, Krehbiel was the natural choice. "I love him," Pfeifer said of his coaching protege. "What an honor to accept for him. That just fortified our relationship. He's a good old guy," a tearful Krehbiel said.
Krehbiel met many athletes Pfeifer coached. They were disappointed he couldn't make it. "They all love him. Guys came in from both coasts and from all over the country to honor him with this induction, which was long overdue," Krehbiel said. One of Pfeifer's favorites, Charles "Deacon" Jones, a standout BT miler and football player who became a University of Iowa All American and two-time Olympic long distance runner, was inducted into the Hall the same night.
"I know it was killing coach not to be able to go and to be on the stage with Deacon," Krehbiel said. But Deacon and the rest know Pfeifer was there with them in spirit. Like he always has been and will be. A brother under the skin.
Krehbiel never competed for Pfeifer, but considers it a privilege coaching with him and "seeing all he does around kids." He said it seems he and the players benefit more from the relationship than Pfeifer does. However, he added, "I hope we're helping keep him active." It's clear when Pfeifer talks hoops it takes his mind off, if only a little while, his wife. Krehbiel's visited Pfeifer at his house during this hard time. Krehbiel's daughters say prayers for Jean.
Perhaps the old coach's greatest joy comes from watching his young protege catch the same passion he caught for Boys Town. Pfeifer said, "I've told him, 'Tom, if you stay there long enough you're going to get what I got.' It's a fever." Krehbiel said the example of Pfeifer is one reason "why I stay here. It's why I'll always be here."
Related Articles
Categories:

Athletics, Basketball, Boys Town, Education, History, Mentoring, Omaha, Sports, Writing, Youth
Basketball, Boys Town, George Pfeifer, Mentoring, Omaha, Sports, Tom Krehbiel, Youth